Boy oh boy, are we ever having F-U-N at the QHC Show in Lancaster! The students in my classes are absolutely wonderful and we are having the BEST time ever! It has been a complete creativity recharge for everyone, (especially me) and the special events, such as the quilted wearables fashion show which was organized by my good friend and quilt artist extraordinaire, Diane Herbort, have been spectacular!
Rather than tell you all about it, let me share it with you in pictures. (Photos of the fashion show will come in the next post…..) Enjoy!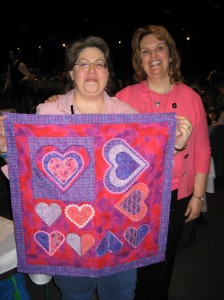 One of my students, Darlene, surprised me with her outstanding version of "Wild At Heart" (my original quilt which was featured in the February, 2009 issue of McCall's Quilting Magazine). She said she had a ball using the EZ Hearts Cut Tool to make this gorgeous wall hanging. You should see the creative embellishments. Well done!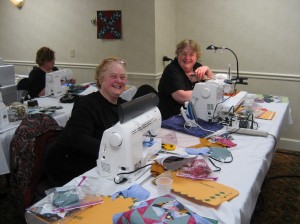 Ianthe (L) and Bea (R) met in my mystery class on Wednesday and then sat together on Thursday in my Flying Geese Crossing class. They had so much fun it seemed like they have been friends for years!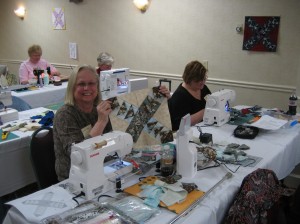 The gals in the Flying Geese Crossing class were 'feeling the love' as their flying geese units flew together without any stress using the Easy Star and Geese Ruler!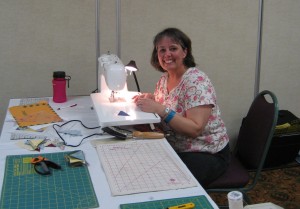 Sweet smiles and a day of stress-free stitching….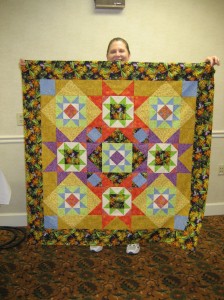 Robin, who has taken my classes previously, brought a "show and tell" to the Ooh La La Corset class — her finished Bermuda Triangles quilt top from last year's class! All I can say is WOW — those colors are FABULOUS!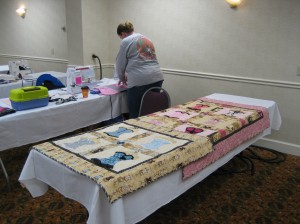 My sample quilts for the Ooh La La Corset class. You may remember the pink and black version from the February, 2008 issue of McCall's Quilting Magazine. For this class, I recently made the smaller blue version and had just as much fun embellishing my "girls."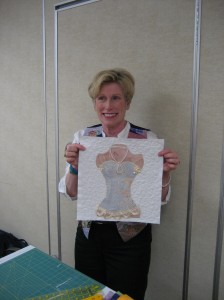 Nancy has taken my classes in previous years, and I was delighted she returned for not just one, but two classes this year! We spent Thursday together in the Flying Geese Crossing class, and she returned on Friday to make this elegant lady in the Ooh La La Corset class. Love the pearls and embellishments!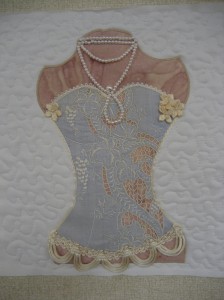 Have a closer look….notice the open cutwork design along the right side? This gorgeous piece of fabric was a remnant Nancy had in her stash for years. She embellished her corset with beautiful satin loop trim, silk ribbon flowers, decorative machine stitching and pearls. Ooh la la – tres' magnifique!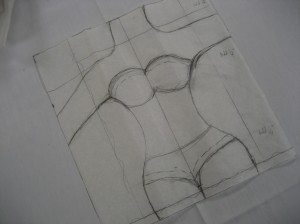 Carolyn redesigned the corset to be a bikini gal, which more closely related to her focus fabric. Her new design is tres chic!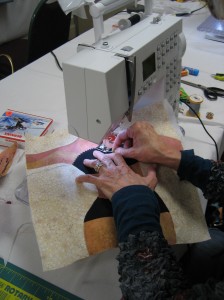 We utilized the decorative stitches on our Bernina sewing machines to the fullest advantage. Here, Carolyn is using decorative stitches on her bikini lady, including a tatoo!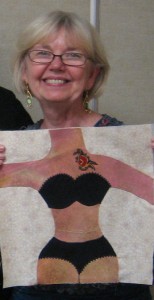 This picture just makes me giggle. This gal's got it!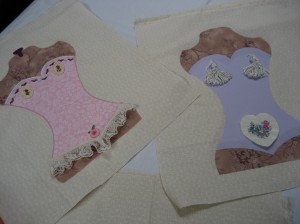 With a twinkle in her eye, Barbara strategically placed extra girly embellishments — embroidered pasties and tassels! (BIG smile)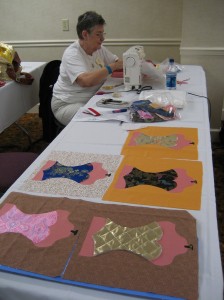 Patricia used silks and quilted metallic fabrics to make her corsets elegant and extra special!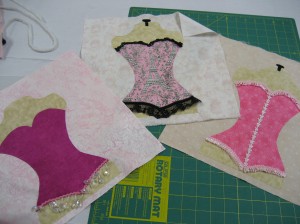 Robin really added dazzle, lace and fancy beaded trims to her corsets. She is planning to redecorate her bathroom to match her corset quilt. Send me photos, Robin…..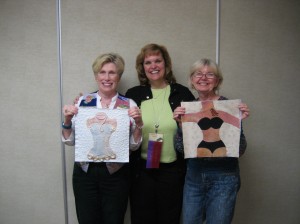 Yours truly in between our classroom "good girl" and "bad girl." All in the spirit of fun, of course!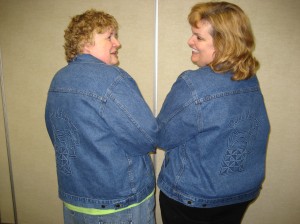 Bea has taken several of my classes throughout the years. Here, we're sporting our matching jean jackets with quilting motifs in embossed denim on the back.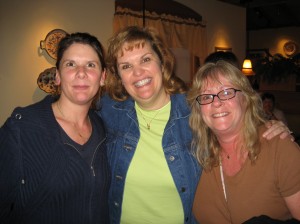 After a day of teaching, I met two new "friends" (students) at the local Olive Garden. Kate (L) and Linda (R) recognized me in the waiting area and told me they are signed up to take my mystery quilt class on Sunday. Can't wait!
Stop back at the blog….more updates coming soon!