On Sew Mama Sew's blog, she posted a list of questions about the sewing industry in 2011 and 2012. Reading through them sure gave me some "food for thought," so I thought it might be fun to answer the questions and post them here. Mind you, I'm going to answer these questions pretty much "off the cuff" — without too much time or angst over the answers. Here goes:
Looking back at the 2011 sewing scene, what trends stand out in your mind?
I think fresh patterns, bold colors, clean modern designs and innovation were the biggest trends this past year. I think quilters became more daring with their quilts — and let their individuality shine through. Precuts continued to be very popular and have shown no signs of slowing down.
What were some of your favorite things related to sewing this past year?
New thread! Seriously; I had been using the same brand of silk-covered 40wt cotton thread for the past decade and had always liked it. But in 2011 I was introduced to Aurifil's 50wt cotton thread and using it has had an unbelievably tangible impact on my piecing and obtaining an even more perfect 1/4″ seam allowance! My sewing machine loves it and so do I.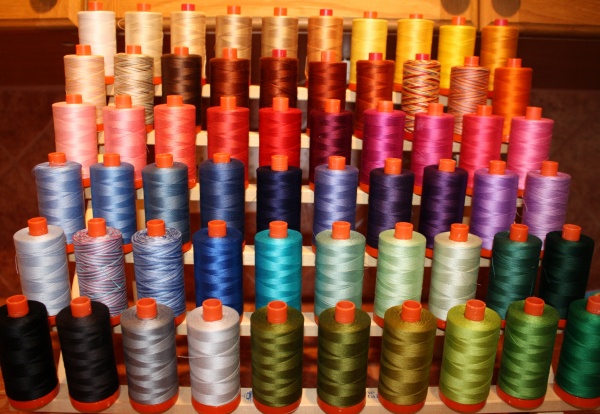 And of course, quilters themselves. It has been a profound privilege and honor to have met so many wonderful quilters this past year. Their creativity, talent, passion, kindness, and generosity has been a joy to witness and share. As a teacher, I am blessed in so many ways.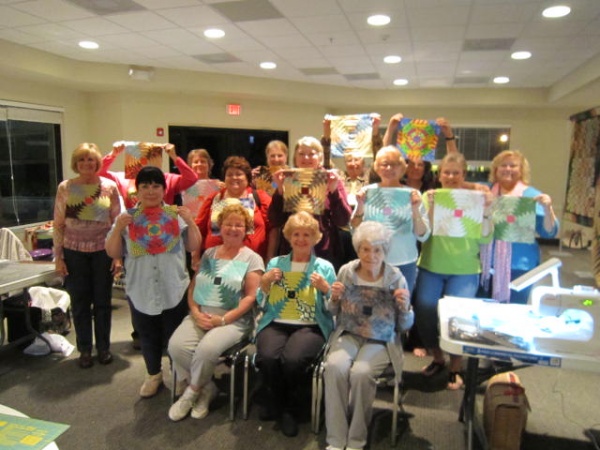 What did you make that you're most proud of? (Share a photo in your post!)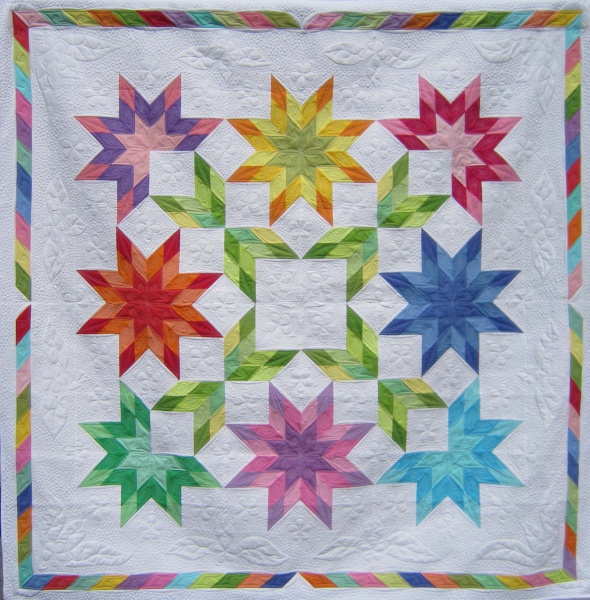 Plumeria Stars has to be my favorite quilt from 2011. It was a collaboration with Birgit Schueller, who masterfully machine quilted it. It is even more stunning in person (if I may be allowed to emote a bit.) We had such fun working on this quilt while she and her family visited us for a couple of weeks this past summer. She even designed the quilting motifs by sketching plumeria blossoms on the trees in our backyard (hence, the name.) This is my contest quilt for 2012. First stop? Road to California, where it is right now awaiting judging. Fingers crossed!
What sewn projects have you seen this year that you absolutely love?
I'm part of a group of international quilters called the Jelly Angels (because we've sewn several group challenge projects with Jelly Rolls.) As a favor to me and at my request, they each designed and created quilts from blocks and components which will be featured in my next book, which is due out later this year. Their quilts are absolutely breathtaking! I can't believe how creative they were – and I can't wait for the opportunity to share their quilts with you all!
Do you have a favorite sewing book or pattern from the past year to recommend?
Well, I'd have to say Jelly Roll Quilt Magic (because I'm very proud of it!) but I also love Sue Cleveland's newest book, Precision and Panache.
Are there any trends you're over and done with?
For me personally, I'm completely over soft, muted, dull, boring floral fabrics. Muddy, country-grunge style fabrics seem SO "yesterday." Give me clear, crisp, bright, interesting print fabrics any day. They're IN.
What are your thoughts about social media? How is it going for you? What do you love or hate?
I enjoy Facebook, but I admit that mostly I'm a lurker. I enjoy reading a few of my favorite blogs, too. But I am trying to be very careful how I spend my time on the computer because the Internet can be a huge time-waster! I'd rather be writing, designing, or sewing. I don't use Twitter at all.
Did you have a favorite fabric collection or print in 2011?
I've never met a batik fabric I didn't LOVE.
What do you predict for 2012 in the sewing industry?
Smarter, more informed quilters with individual design sensibilities
Improved product lines for notions and quilting accessories
Sewing machines with terrific price points and easier user interfaces
Better customer service in general from quilt shops and online quilting websites
And as for colors…..gray, chartreuse, tangerine, and periwinkle!
Can you tell us what to expect from you in 2012? Any big projects or life-changing goals?
I'll be on the road traveling, teaching, lecturing, and judging more than I ever have before! 2012 will not see me slowing down. I have some fabulous opportunities coming this year I'm totally excited about, including my third return trip to teach at the Prague Patchwork Meeting in the Czech Republic! My fourth book will be published by the American Quilter's Society  later this year, so the word "bored" just won't be part of my vocabulary…. I feel very blessed to have such amazing opportunities to meet so many quilters from around the country (and the world!) in the coming year!