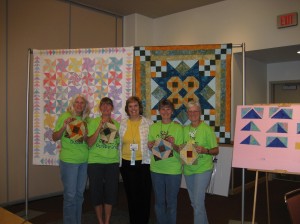 I met so many wonderful folks at the recent 2008 AQS Quilt Show in Des Moines. In particular, I got to know four sisters who took my mystery quilt class together. These talented ladies live in different states around the country and met at the show to enjoy a "sisters' quilt reunion!" They were just delightful — and all four of them are quilters! (How blessed can one family get?)
They took my advice and stopped to see Chris Brown, Executive Editor of American Quilter Magazine, in the press room while they were at the show.  I just received an email from one of the sisters, Linda Apple. There is a terrific photo and story about them featured on the AQS website. If you have a moment, please check it out. Their story is featured on the Thursday, November 20th blog entry.
Thanks for sharing, gals. Hope to see you all again soon!