There's a new SENSATION in my studio!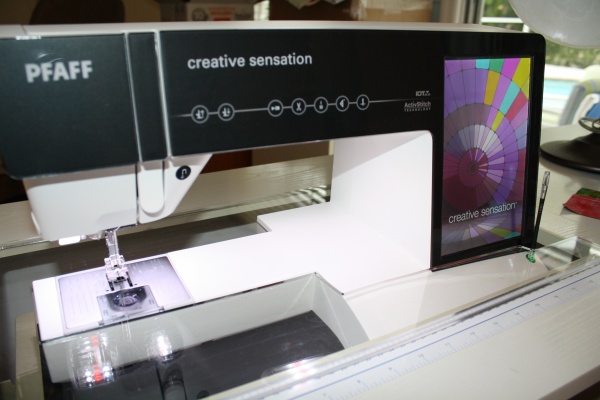 As much as I loved using my Creative Vision, I couldn't resist all the fabulous new
features of Pfaff's newest addition to their lineup of sewing and embroidery machines.
So I traded in my Creative Vision and brought home the Pfaff Creative Sensation! I LOVE it!
But alas, my Creative Vision is in need of a new home where it can receive some special TLC like I used to give it. Click here to find out how you can get your hands on my previous machine. Its been to the "spa" and is tuned up and ready to go! Tess at Scrap and Sew has all the details:
Previously Loved Creative Sensation $2,999
Kimberly Einmo has traded in her Creative Vision for a Creative Sensation!
And she has agreed to autograph the machine at your request. This machine has been well cared for by Kimberly and is photographed in her latest book. Terry Pokorny, co-owner of Scrap and Sew has done all the service and maintenance and this machine great condition!
But if you're thinking about getting a new Pfaff Creative Sensation under your Christmas tree this year, call Tess today and sign up for her fabulous SENSATIONAL event on Wednesday, December 7th. I'll be there — and I'll be making the terrific project right along with the special folks here plan to be there that day with the Pfaff Educator who is flying in just for this event!
CSI

at Scrap and Sew




(Creative Sensation Investigation) Only 3 seats left for each time slot.



Have you seen the new Pfaff Creative Sensation? Come check out the new ActivStitch
technology and make "tension" a thing of the past. This 3 hour event will change the way you
look at machine embroidery. December 7th only with two time slots available, 9am or 1:30pm.
Please call Tess at 813-749-0888 and reserve your seat today.
See you there!