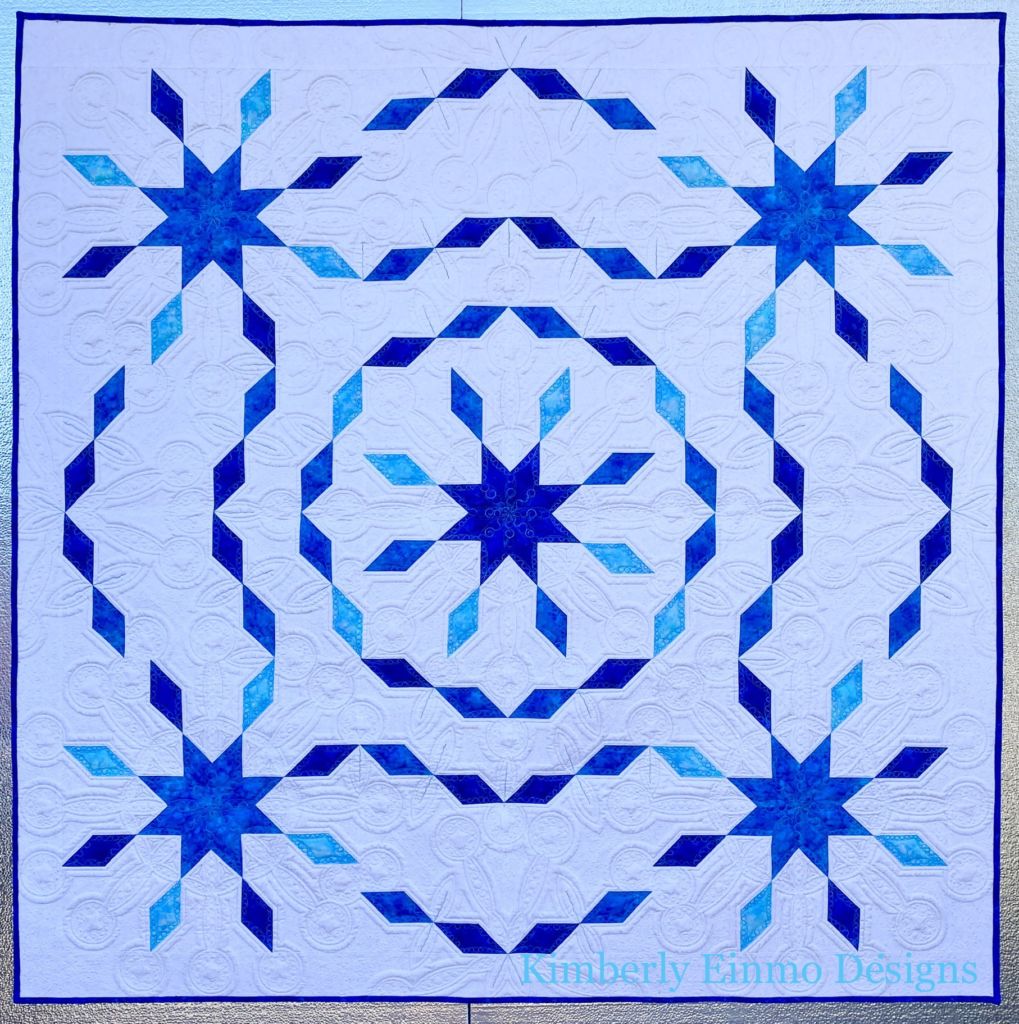 63″ x 63″
I'm very excited to announce I'll be teaching my newest quilt design, Snowflake Stars, as a class! This virtual class, held on the ZOOM platform, will be:
Saturday, October 10th
11am – 4pm EST
This completely interactive, professionally moderated class will be held in real-time class (not taped) just as if we were meeting at a quilt show or in-person quilting event. Class size will be limited so I can interact with everyone personally through the Zoom platform. I'll be doing live demos, will have excellent samples to share of each step in the construction process, plus photos through a detailed PowerPoint presentation. You'll be able to sew using your own sewing machine in the comfort of your own studio, and have the ability to ask questions as we go through the steps.
If you've never used Zoom before or if you don't feel tech savvy, not to worry. We are happy to help walk you through the process. You'll be sent a link prior to the class and approximately thirty minutes before the class begins, you'll simply click the link on your computer or tablet and it will take you directly to the Zoom Room where you'll join Trista, the moderator, and myself. You will need to have access to a working camera on your computer, tablet or cell phone so the class experience can be fully interactive to ensure you get all the personal attention you need! Plus, I want to be able to see you, your project, and help when necessary.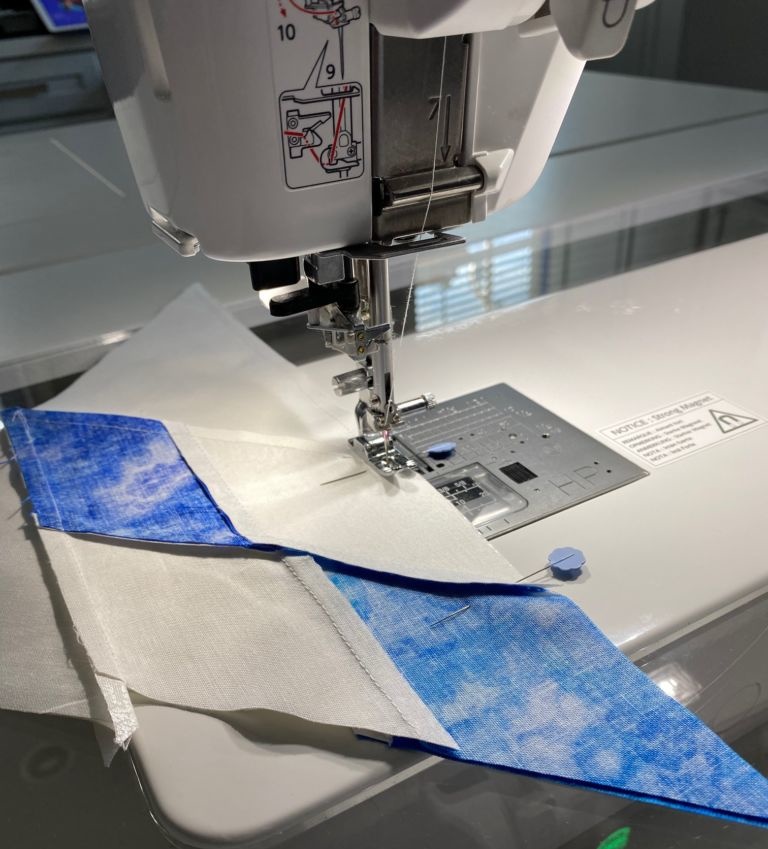 Cost of the class is $65. 
CLICK HERE TO SIGN UP!   
You may choose fabrics from your stash to create the quilt, but I am also offering FULL and PARTIAL KITS using the exact Timeless Treasures fabrics I used to make my version of the Snowflake Stars quilt. The full kits includes all the fabrics to complete the top, including the very hard-to-find Pearle background fabric, plus binding. The cost of the full kit is $90. The partial kit contains all the fabrics to make the top including binding EXCEPT the background fabric.  Cost of the partial kit is $30. Kit fabrics will not be precut; you will receive yardage and you'll need to cut your fabrics according to the supply list provided. Kits will be shipped via USPS Priority Mail and can only be shipped to US residents only. (Sorry!)
UPDATE: ALL FABRIC KITS WILL BE SHIPPED ON (or before) SEPTEMBER 26TH!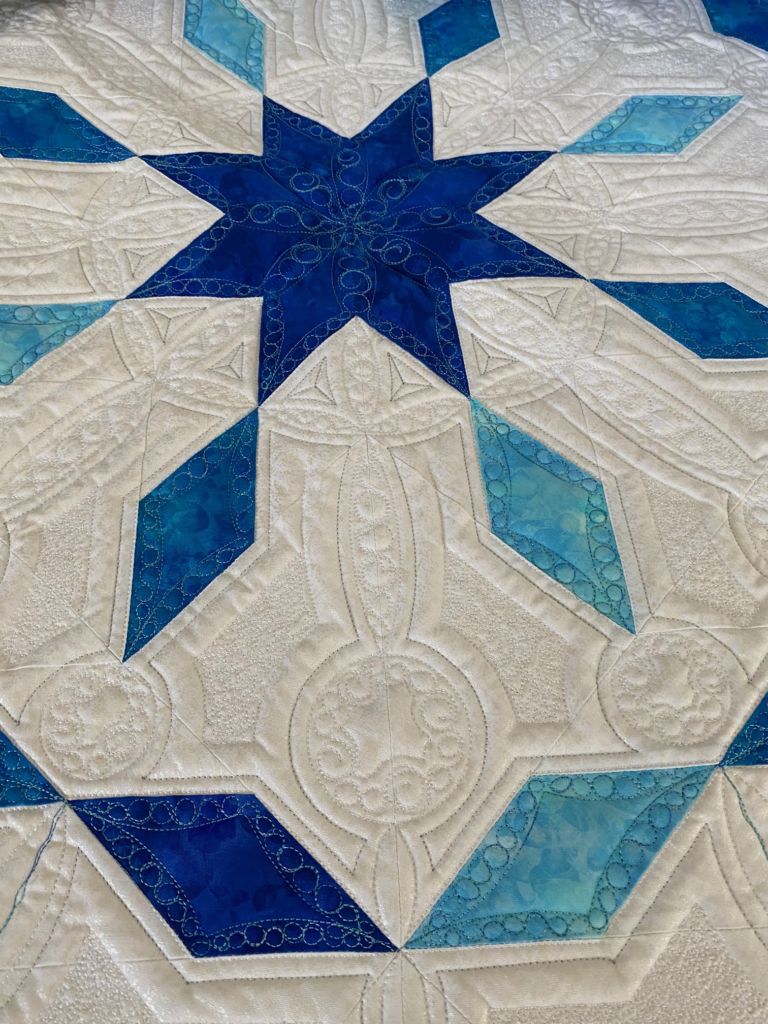 You'll also want to use the Precision Precuts Ruler (or the Precision Jelly Roll Ruler can also be used) to make the blocks for this quilt. We'll be using the 45 degree line and other highlighted, mint green lines on the ruler to make the cutting and construction process accurate and easy throughout the day. While you can use either ruler, the Precision Precuts Ruler takes you all the way through the entire process of cutting to squaring-up your blocks for pure piecing perfection! 
I'm really looking forward to having YOU join me in this intermediate-level class! You'll enjoy a great day of stress-free sewing while creating a lovely quilt in your own studio and I'll be there as your own personal quilting coach!
Thank you so much for your support. I'm really looking forward to this new, virtual adventure with you.