Ok, so my momentum was humming along this morning, and I was getting a lot of work done. The stack of fabrics I have been gathering together for the quilts I have planned for BOOK TWO has been growing on my cutting table.  I decided I needed to take time to organize each individual project by putting the fabric bundle with its intended quilt pattern folder in one of these clear plastic bins I like to use for projects in progress.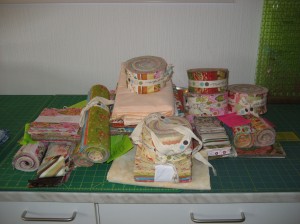 Incidentally, I love these plastic pizza-style boxes. They are a great invention, and make it so easy for me to stay organized in my studio, while still being able to clearly see the project inside. Plus, they have a handy carrying handle and are made to stack neatly on top of each other. What's not to love?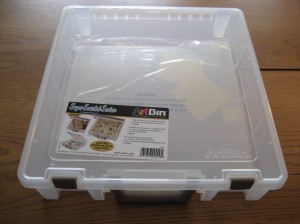 Each new box comes with a sticker on the top and a plastic-wrapped set of project dividers inside. In the past I've torn off the plastic wrap surrounding the plastic dividers inside each box dozens of times. But this morning, it just struck my funny bone and I got the giggles. You see, inside each plastic-wrapped package, there are handy little stickers to put on the outside of each box (plus some extras for the ever-changing box contents) so you can label each box clearly with the project inside. Neat idea. Handy. Useful. Practical. "Well done, you box packaging manufacturers."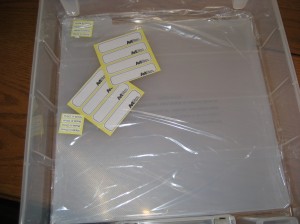 But look closely. There are several other little stickers included in each plastic-wrapped divider package. Can you see what they say?
Made in China.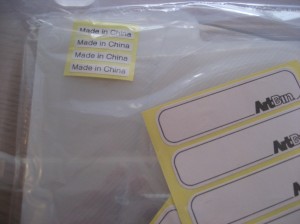 And there's not just one or even two, "Made in China" stickers included. There are EIGHT! This is what gave me a good case of the giggles, and the thought that came to my mind was, "Can you say dumb idea?"
So, at the expense of losing some of my much needed, gained work momentum, I took time to pull up the online thesaurus. I typed in the phrase "dumb idea." It gave me the word IDIOTIC. Then, it gave me the definition:
Idiotic: adjective. Very stupid.  Synonyms: asinine, batty, birdbrained, crazy, daffy, daft, dull, dumb, fatuous, foolhardy, foolish, harebrained, imbecile, imbecilic, inane, insane, lunatic, moronic, senseless, silly, squirrelly, thick-witted, unintelligent.
Now, let me ask you. Do you think there is one quilter (notice, I didn't say person) on this earth who would actually pull one (or more!) of these idiotic little Made in China stickers and actually affix it to her plastic project box? You know, there are some really nutty people out there, so I'll bet someone has actually opened the plastic wrap, and taken time to carefully line up this sticker and stick it on the box as a reminder of the origin of its creation. But a quilter? No way. Just like the ones that came with my plastic-wrapped package today, those 'waste-of-trees-ink-space-and-money' Made in China stickers went straight in the wastebasket (because they are non-recyclable) and will someday soon take their place in yet another landfill.
You know, I don't think its so funny anymore. It's really irritating. Can you imagine some "suit" out in the world somewhere writing a memo directing that these stickers actually be printed and included in the box packaging? I'd like to meet this bozo and give him a piece of my mind. Does this guy's wife know about his MEMO-WRITING BIG EXECUTIVE DECISION? If she did, I'm sure she would have strung him up by his thumbs or his arm pit hairs for making such an idiotic decision about waste and the stupidity of these useless, dumb little stickers.
Thanks for listening to my rant today. And now, back to my regularly scheduled momentum-building day!