At the AQS Quilt Show I met the most interesting and FUN people! One of the students in my class, Mary Bellwood, of Des Moines, had the funniest pin on her tote bag, and it is just too good not to share it with you all!
 Take a closer look: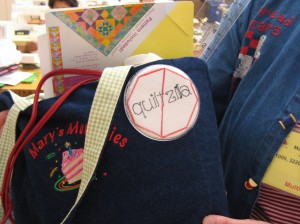 I thought this button was too funny! Unfortunately, we all have encountered the typical "quiltzilla" from time to time, but fortunately, 99.9% of the quilters in the world are NOT this way!
Thanks, Mary, for sharing your fun creation and your great sense of humor with me!