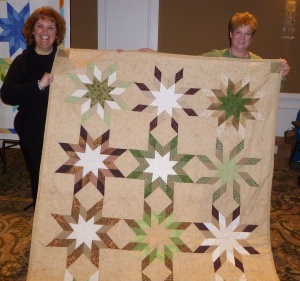 A few weeks ago I traveled to the Chicago area to present a lecture and a few workshops for the Northwest Suburban Quilt Guild. While I was there, one of the guild members, Joanne Bina, surprised me by bringing her quilted version of my Lone Starburst design. She had made the quilt with some encouragement and support of her husband and had enlarged the pattern to make it into a size large enough to be used in her family room. I LOVE it!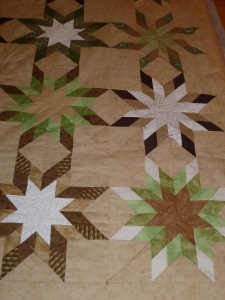 And while I was there teaching two workshops, another sweet lady – Clare Carlsen – brought her finished Keukenhof Tulips quilt to show me. Years ago I had sent her the pattern along with a hand written note, and she had kept it and brought her book/note to show me. Look at this gorgeous quilt: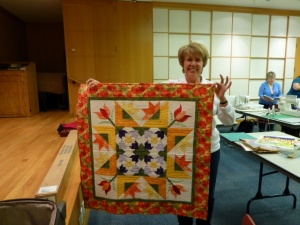 Thanks for all the comments and support about whether or not I should continue to blog. I received some wonderful, encouraging comments after that blog posting, and many more emails sent to me personally. I appreciate it so much! It means the world to know that there are wonderful people out there (you all know who you are!) who enjoying reading my blog postings and want me to keep them coming. So please check back for more postings — hopefully more frequently than in recent weeks!