This past January, I had the privilege to meet a VERY special lady at Road 2 California. Her name is Alice Borge.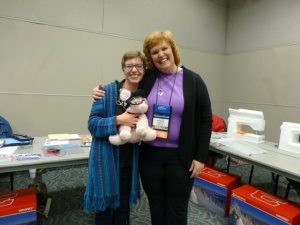 This very talented lady teaches quilting classes at a shop near Phoenix.
A few months ago she wrote to ask if she could teach my Lone Starburst quilt techniques to
some very excited students. Of course I was thrilled that she would want to teach the class!
Much to my complete delight, she sent me photos from the class she just taught.
I couldn't wait to share these with you here!
These were Alice's class samples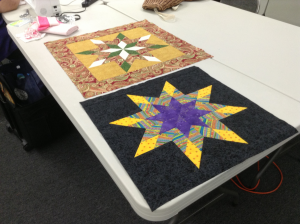 Alice made this version of Lone Starburst in my class at Road 2 California. It is GORGEOUS!
How are you going to quilt it, Alice?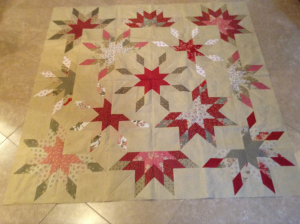 This is Laverne. Love the colors!
Also notice the small version of the Lone Starburst on the wall behind Laverne.
This was also made by Alice as a sample for the class. So patriotic and wonderful.
I think I need to made a small version now!
Connie's version is oh-so-pretty in pink!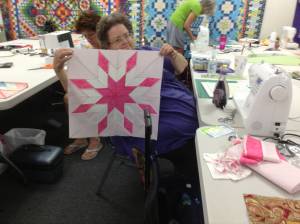 Say "hi" to Cyndy, everbody! She did a beautiful job making a red star. Love it!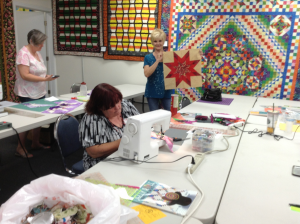 Carol did a great job doing a unique layout with alternating diamond wedges. Ooooh!!!
I think I need to make one like this now, too!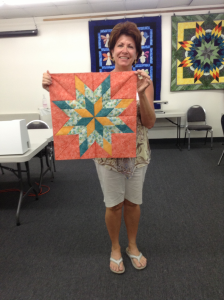 Aryn's quilt is very summery-fresh in green and white. I love the print she used for the background fabric!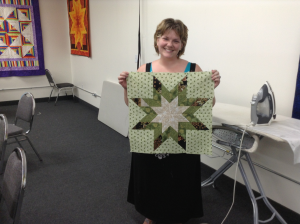 Karen's teal and purple version just makes my heart sing! Those quilts behind her are gorgeous, too!!!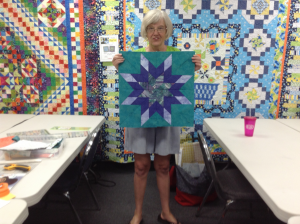 And check this out, everyone. Alice used all her leftover diamonds to make one LARGE
Lonestar!!! It is spectacular! I can't wait to see this star made into a finished quilt.
You are one talented lady, Alice!
Thank you for sharing your student's amazing quilts with us!!! There's almost nothing
better than a fun "show-and-tell"! (And Alice, do let me know if I left anyone out, ok? Because
it certainly wasn't my intention. I hope I got all the photos you sent!!)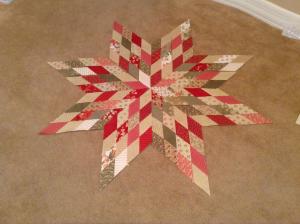 Wow. All this creativity makes me want to go make another Lone Starburst right now. Who's up for round 2?