Thank you all so much for the wonderful, overwhelming response to my previous blog featuring the before and after photos of my new studio! I can't begin to thank you enough for your sweet comments! Initially, I tried to answer each and every one, but couldn't keep up — so please rest assured that I read each and every comment and tried to answer any question you asked.
As promised, here is part two — with detailed pictures of some of my storage systems, organizational ideas, and a few of my cherished and favorite things. On a side note, I love the orientation of our house to the direction the sun crosses the sky throughout the day. My sewing studio gets the late afternoon sunshine streaming through the windows and especially at this time of year, I find the fading November sunlight simply enchanting.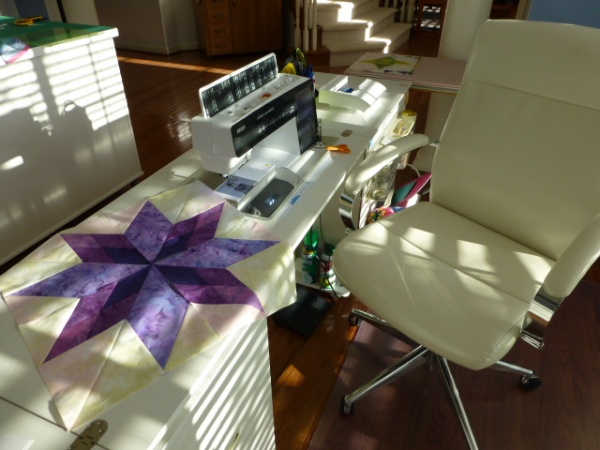 Here you see a new quilt in progress (book #5!) at my machine. I admit — the white leather chairs were a splurge and you should have seen my sweet husband roll his eyes when I told him that I wanted to buy two of them. But ultimately, he grinned and gave in. If you find you can't live without your own white leather chair, you can find them at Staples. Since the wood floor is new, the plastic mats were a necessity — not a splurge. There is one here at my machine and another one underneath the chair at my desk. I have a pretty floral wool rug on order to go beneath the cutting island, but it hasn't arrived yet.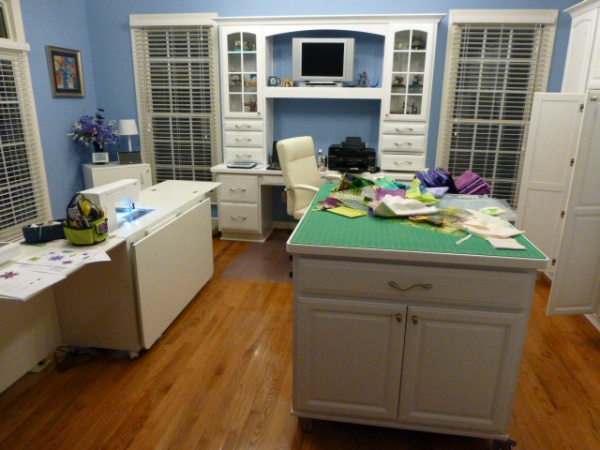 I was tickled with so many emails and comments asking me if my room is always so organized, so I want to offer proof that it isn't. Sometimes I make a mess, as evidenced here. But I admit that I am a "neat-nick" and I do take time to tidy up every evening so that I can start each day with a fresh start.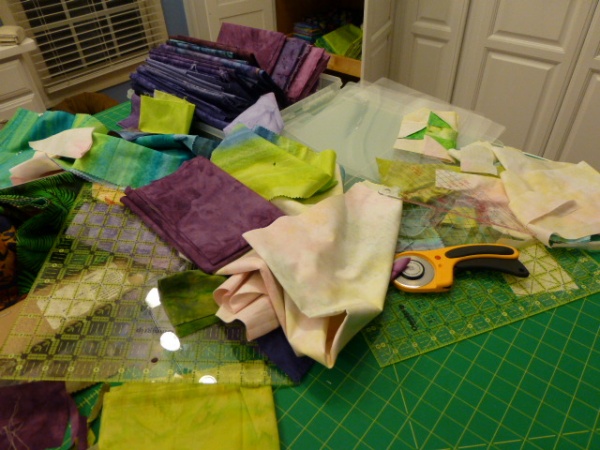 This is what my cutting island has looked like lately. I've been playing in my stash of purple and green batiks for that new quilt you got a sneak peak of which is meant for book #5.  Don't you just love the colors? Oooohhhh, I'm seriously in love with this new "modern" design with a traditional twist. The fact that I used fabrics from my stash without any new fabric purchases makes me pretty happy, too.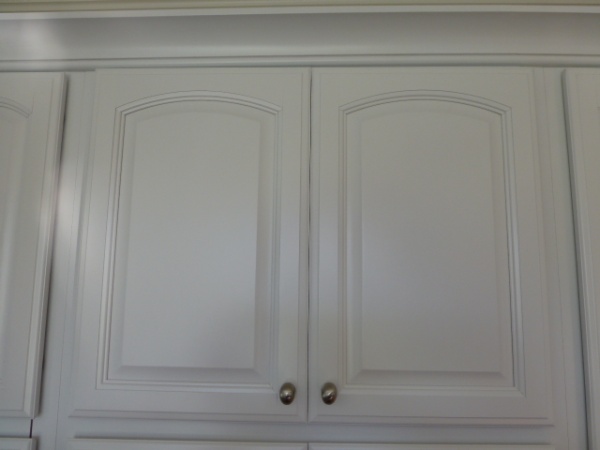 Many of you asked to see what I store behinds those gleaming white cabinet doors.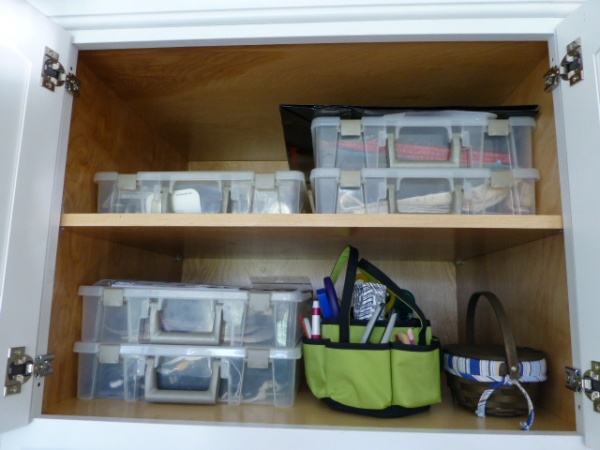 I utilize plastic storage bins and baskets to hold projects and all sorts of miscellaneous items. The little brown basket on the right contains some hand sewing (yo-yo's!) for when I travel on road trips. The green carryall holds all sorts of useful notions and things I keep handy and close to my machine.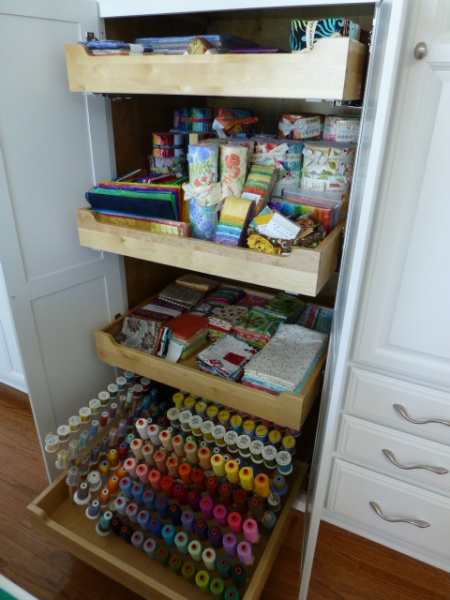 The cabinet below has roll out wooden shelves that give me quick and easy access to my favorite threads and precut fabric bundles.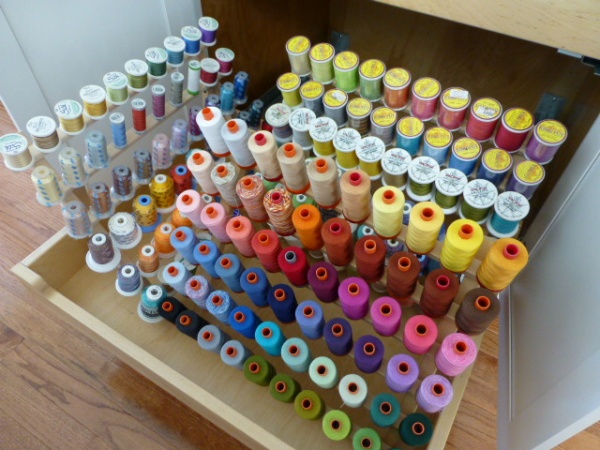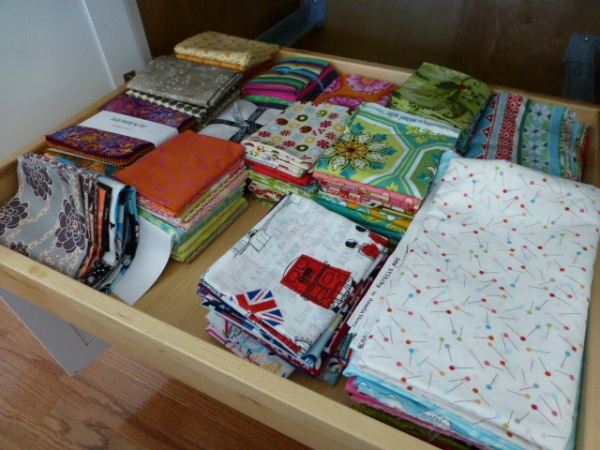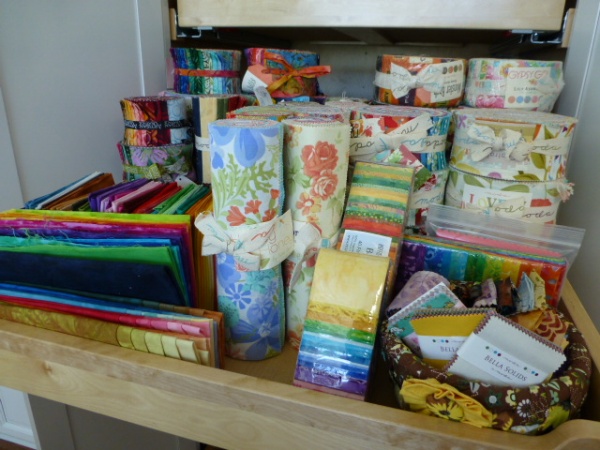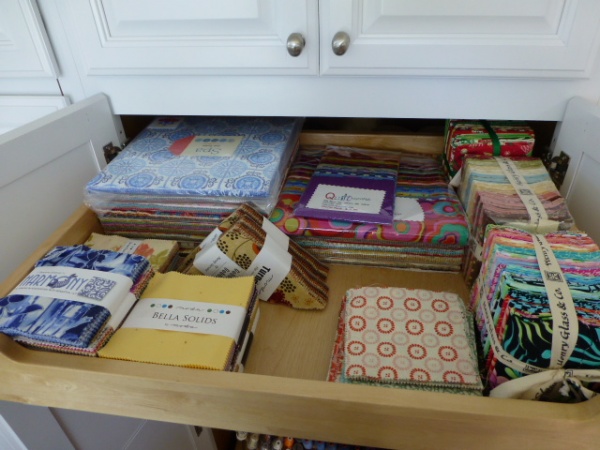 The down side to this studio (yes, there is a down side) is that the room isn't large enough to store the bulk of my fabric stash. That is stored downstairs in our basement area where I have cabinets lined up along the wall and my fabric is stored similarly to this: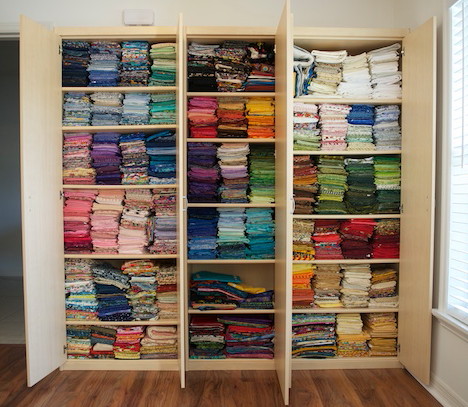 I designed the center cabinet (12″ wide) to be tall enough on the inside to hold my BIG BOARD ironing board folded and standing up, a broom, my ultra-necessary STRIP STICKS, a drying rack (not for wet laundry, but for hanging fabric strips and blocks in progress) and a shelf for a few cleaning supplies.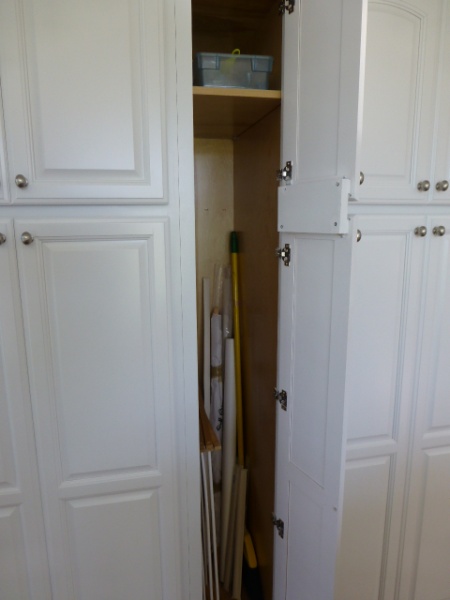 Behind another cabinet door I store some extra mats and most of my rulers. They are within easy reach of my cutting island and I can find what I am looking for at a glance.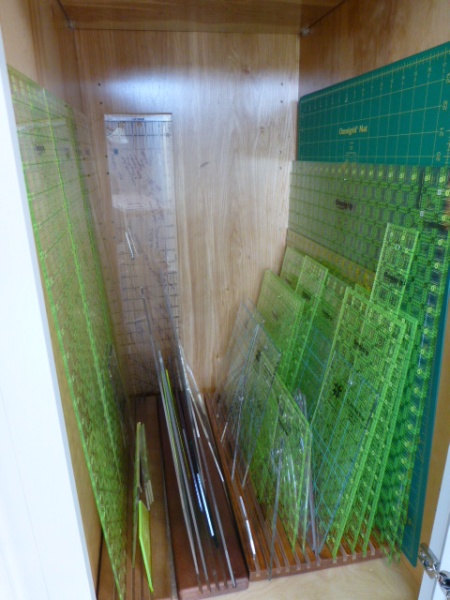 More specialty threads for embroidery and a couple of extra lights…..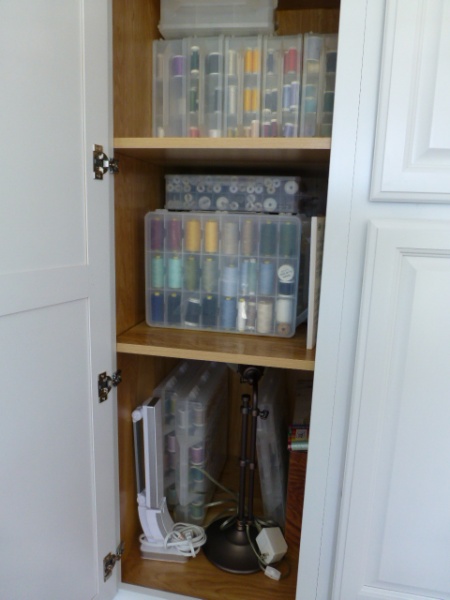 My secret is out! I love to do machine embroidery, too! (Although I rarely have time to do it anymore...) In one of my roll-out wooden shelves I store all my machine hoops.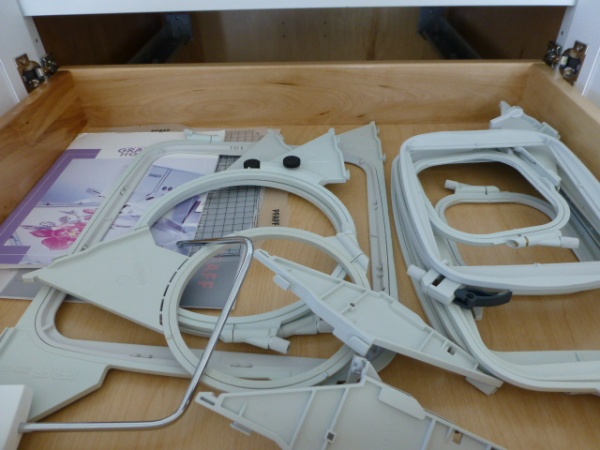 In this set of cabinets I keep instruction manuals, travel cases for notions and gadgets for my machines, a couple of Vera Bradley tech storage cases (for electronics and charging cords), my projector, and a laptop case. The red yarn? To make yarn balls for the kitties, of course.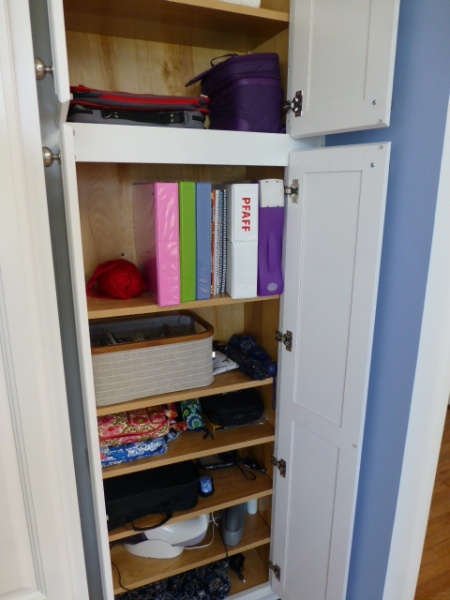 Here's what's in the top drawer of my cutting island. I just love this neat little fold-out drawer that holds my rotary cutters! Originally, this island began as two standard sink cabinets that the carpenters put back to back and created an island with a white Corian top that measures 36″ x 48″. (The size of the top was no accident. I chose it because I could use two – 24″ x 36″ mats to cover the surface perfectly.) The second drawer holds large rulers and other items that don't fit in the wall cabinets.
Peek-a-boo! Look who I found hiding in the bottom drawer while I was taking photos!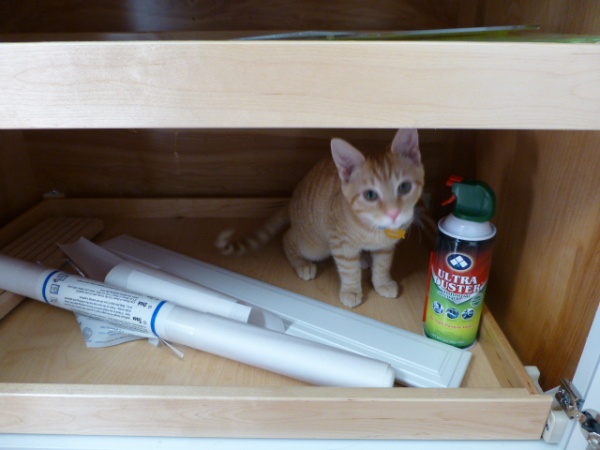 A drawer on the other side of the cutting island holds extra cutters, various scissors, and a sticky-tape lint roller.
In one of the two large drawers below the scissor drawer, I have several tins I collected when we lived in Europe that I use to store notions and sewing items. Although not original or terribly creative, the plastic box is a fishing tackle box that holds all my extra sewing machine presser feet, empty bobbins, and other things I need specifically for my sewing machines.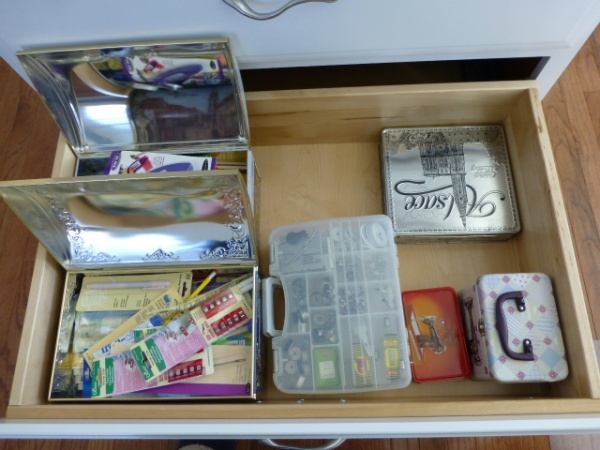 I think every sewing space needs to have a few special, sentimental or personal touches to make it truly feel like home.  I truly treasure these two items. The glass stingray is a gift from my 13 year old son after we went swimming with the stingrays in Stingray City, Cayman Islands.  And the metal figurine is a gift from the Command Chief Master Sergeant after she commissioned me to create a memory quilt for the four-star general and his wife when my husband was the Deputy Director of Staff for USAFE.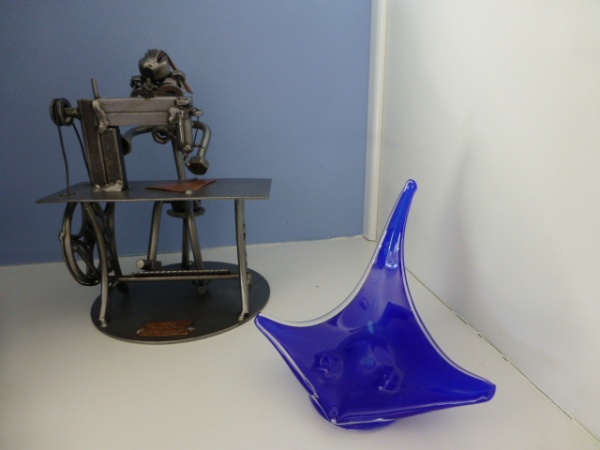 A few more things I treasure: a pretty mug from the first year I judged and taught at the Vermont Quilt Festival, two very special military coins awarded to me while we were in Europe, and a paperweight I was given at the premiere of the TV series, the American Quilter in Paducah, KY.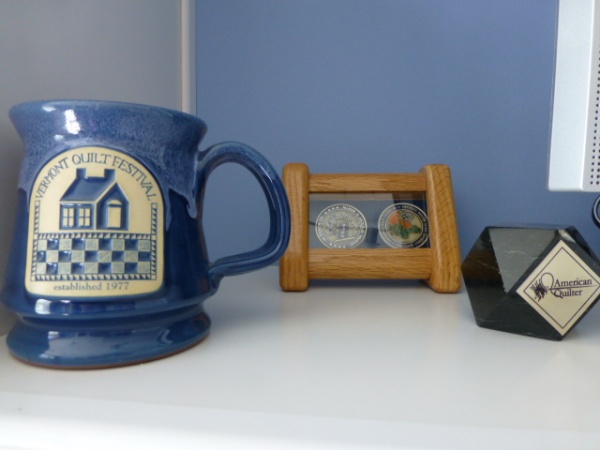 I love this corner of the room. This storage cabinet contains stencils, computer discs, template plastic and templates and a variety of other things. I made the floral arrangement from silk flowers I bought on sale at Michael's and a vase I found at a flea market for twenty-five cents! The speaker is a birthday present from my sweet husband so I can listen to my favorite tunes while I sew. And the photo is of my very best friend and college roommate, Beth. We've been best friends for 30 years (even though I have never been able to convert her to become a quilter.) May I ask you to say a prayer or send healing thoughts for Beth right now? She is bravely battling Stage IV cancer. So far, the chemo is winning……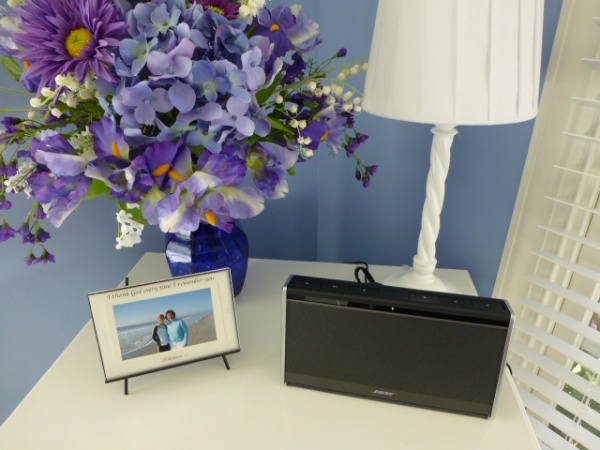 The lighted cabinets on my desk hold my antique toy sewing machines. I admit — these cabinets were a bit of a splurge, too. I wanted to showcase these in a way that would keep them relatively dust-free and on display in a pretty way. Want to know which of the machines is my favorite?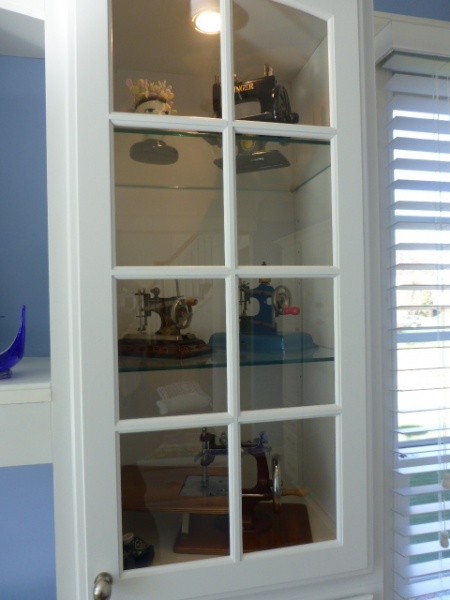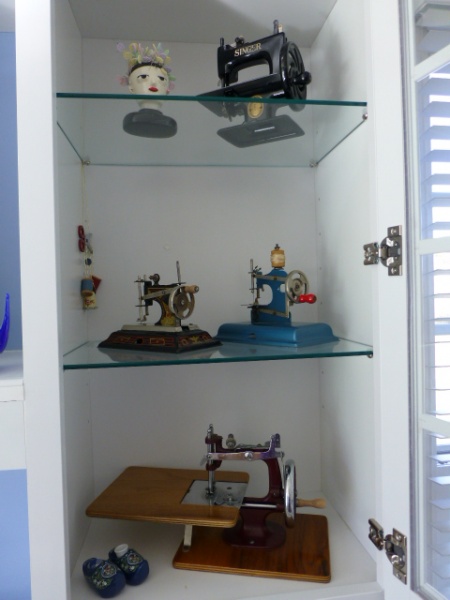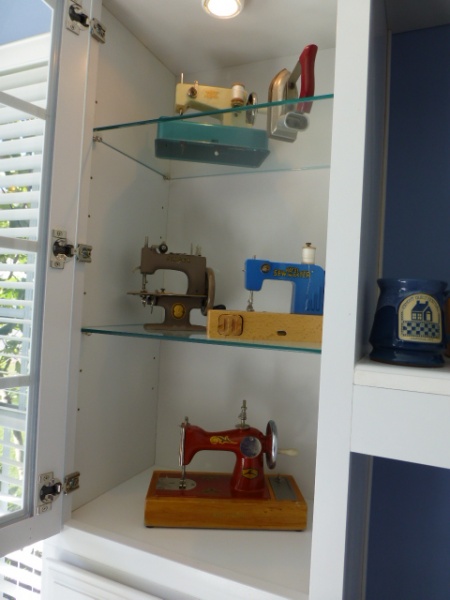 My favorite is the machine on the bottom of the right side cabinet with the cute little wooden extension arm. My husband and I found this neat little English brand of machine in a stall on Portobello Road in London. It is the only antique toy sewing machine we've ever seen with an extension table!
Sitting right next to my sewing machine is my favorite basket (made by my sweet friend, Katie. She sells these wonderful baskets, in case you're interested!) This basket holds some of my favorite sewing tools including my pink pincushion, seam ripper, lint duster, the stork scissors I bought in Switzerland, fabulous snips (a gift from Karen Kay Buckley) and a scissor fob with my name made by one of the ladies from the Manatee Quilt Guild at their retreat last year. The hedgehog magnetic pin holder was a gift from my dear friend, Sue Hausmann. (Years ago, on a trip with the Pfaff and Viking Sewing Stars to Sweden hosted by Sue and her husband, Herb, my husband found and picked up a baby hedgehog. Since then, he has been collecting hedgehog items and friends send them to him, too.)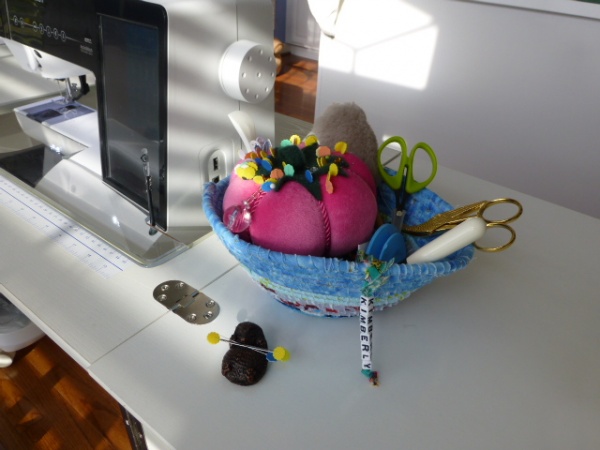 This pretty blue/white bowl is a new addition! Early last week, Katie had a link on FB about the new bowl she had just made. She received tons of comments about it, but I instantly emailed her to see if she would sell the bowl, and guess what? Lucky me — it is now mine. Don't you think it fits perfectly in my studio?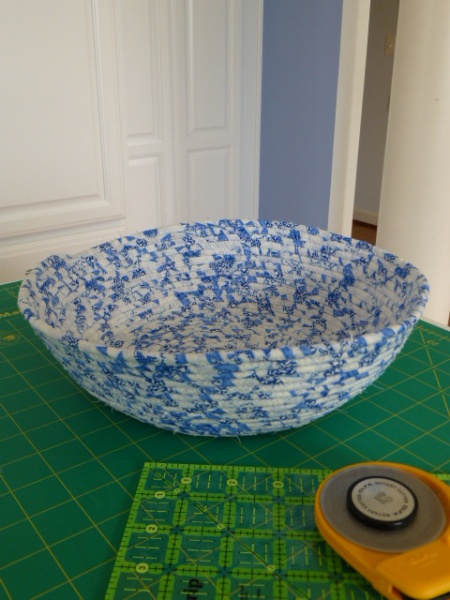 Thank you so much for taking the tour of my studio. I hope you may have found some good ideas to implement in your own sewing space. The most important thing is to carve out a place for yourself and make it feel like someplace you want to be — where you want to create. Make it personal. Tidy up or organize if the clutter is out of control or you feel overwhelmed. Not everyone can create in organization — and not everyone can create in chaos. Find what works for YOU.
As I finish up this blog post, this is the view from my studio window right now. There is just something about the late autumn sky that I find so peaceful and beautiful. My wish for you is that you find peace and beauty all around you — no matter where you live!
Thank you again for stopping by!