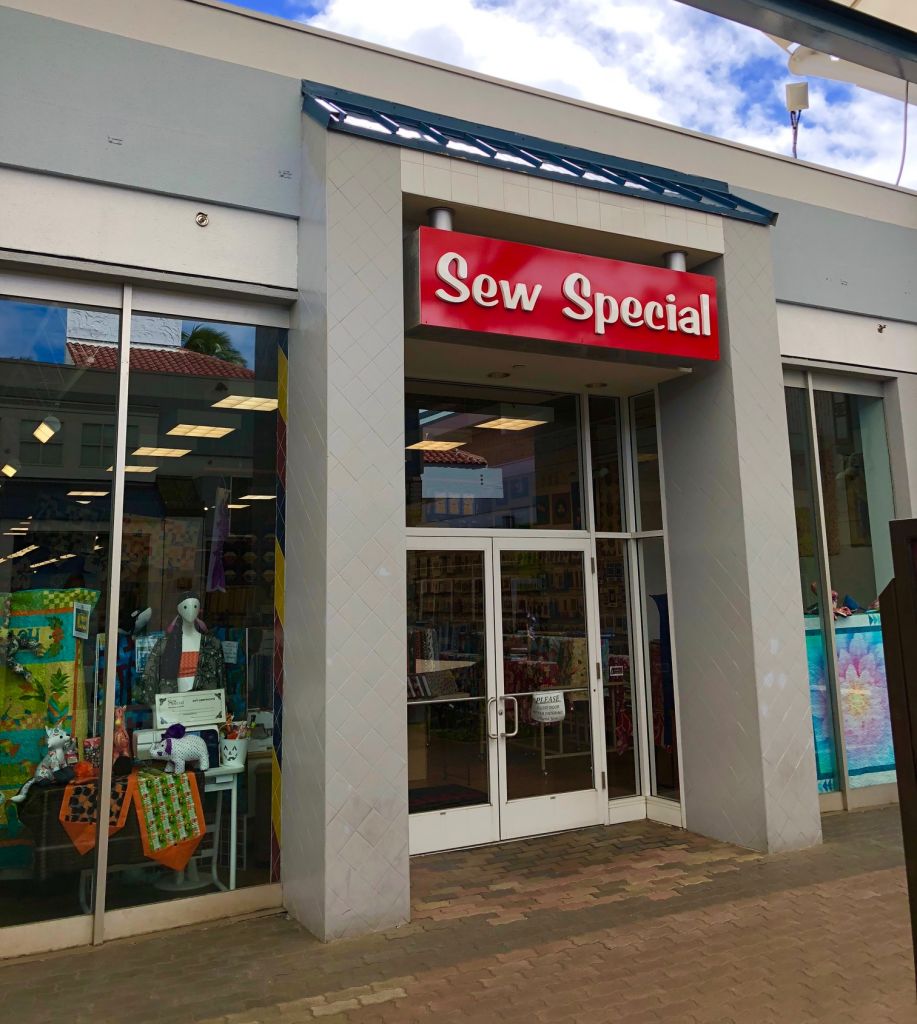 As the National Spokesperson for Janome, I decided it would be fun to start a new trend of visiting as many Janome dealerships as possible whenever I'm traveling for business or pleasure. I'm going to call these surprise, drop-in visits "Janome Shop Stops." And during our recent trip to Maui, I had the opportunity to visit a fabulous shop called Sew Special.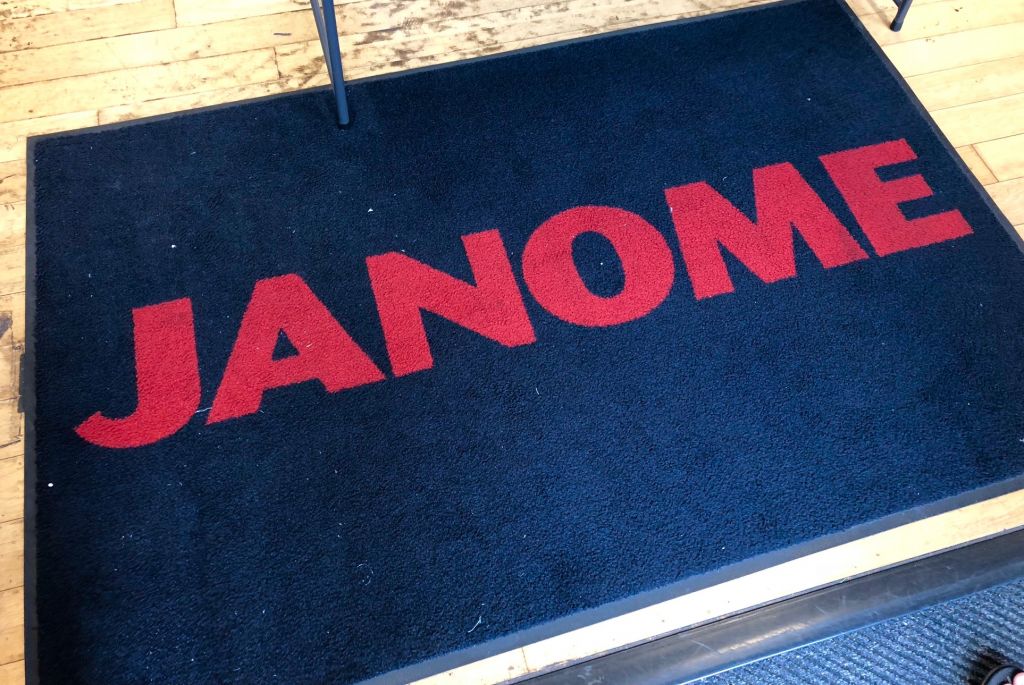 Kent and I spent several hours visiting Barbara and Roy Huntley at Sew Special in Kahului, Maui…. and it was a very special shop indeed! As we entered their store there was so much to see I could hardly get past the entrance and the welcoming Janome mat! They have the Janome machines prominently displayed at the shop's entrance, and the aisles and walls of this bright, light, and airy shop are filled with bolts and bolts of fabric, notions and supplies!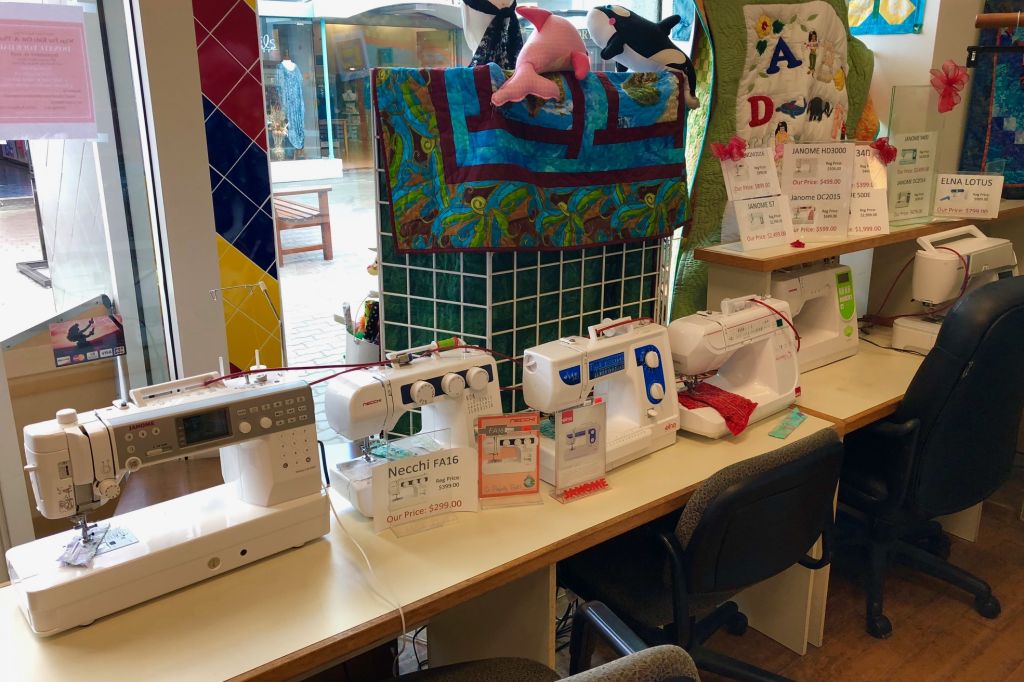 The shop features an impressive number of Batik fabrics and a huge selection of Hawaiian themed fabrics and patterns. There is an entire wall devoted to patterns of every imaginable kind, with an emphasis on Hawaiian quilting patterns and designs.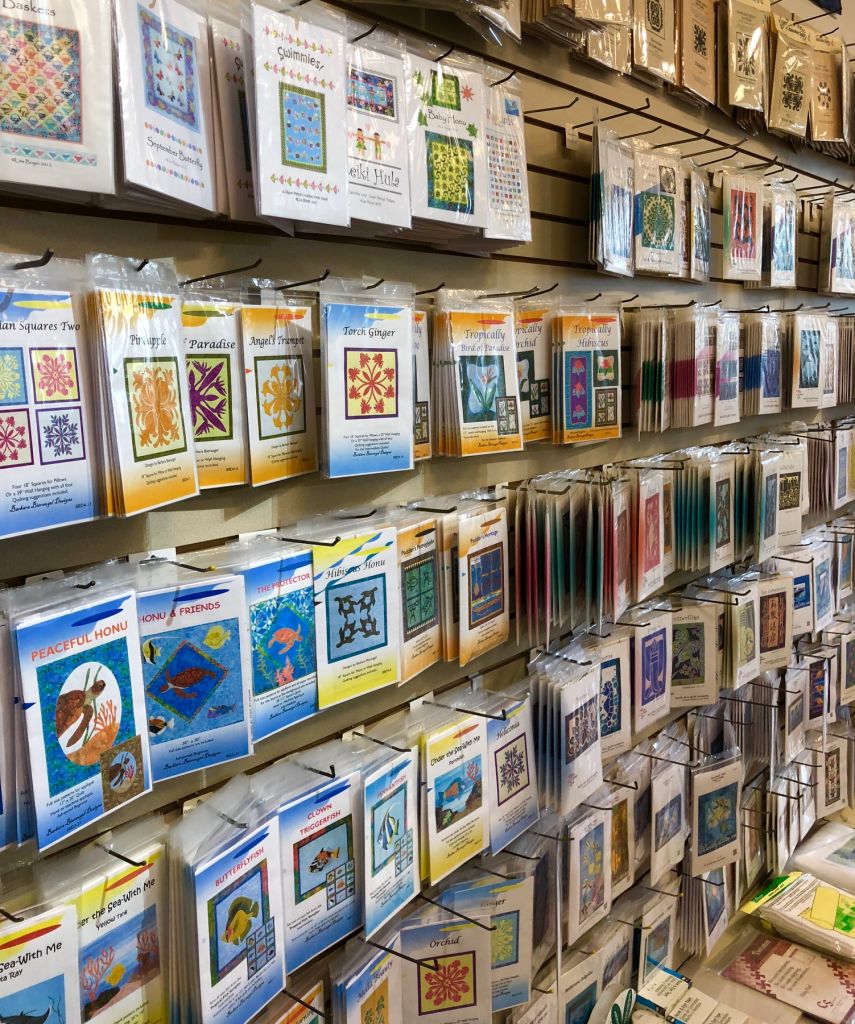 One of the shop's employees is the well-known, fabulous Mark Hordyszynski, who has designed fabrics for Michael Miller and is the original designer for every quilter's favorite Fairy Frost fabric! I was so happy to meet and get to know him.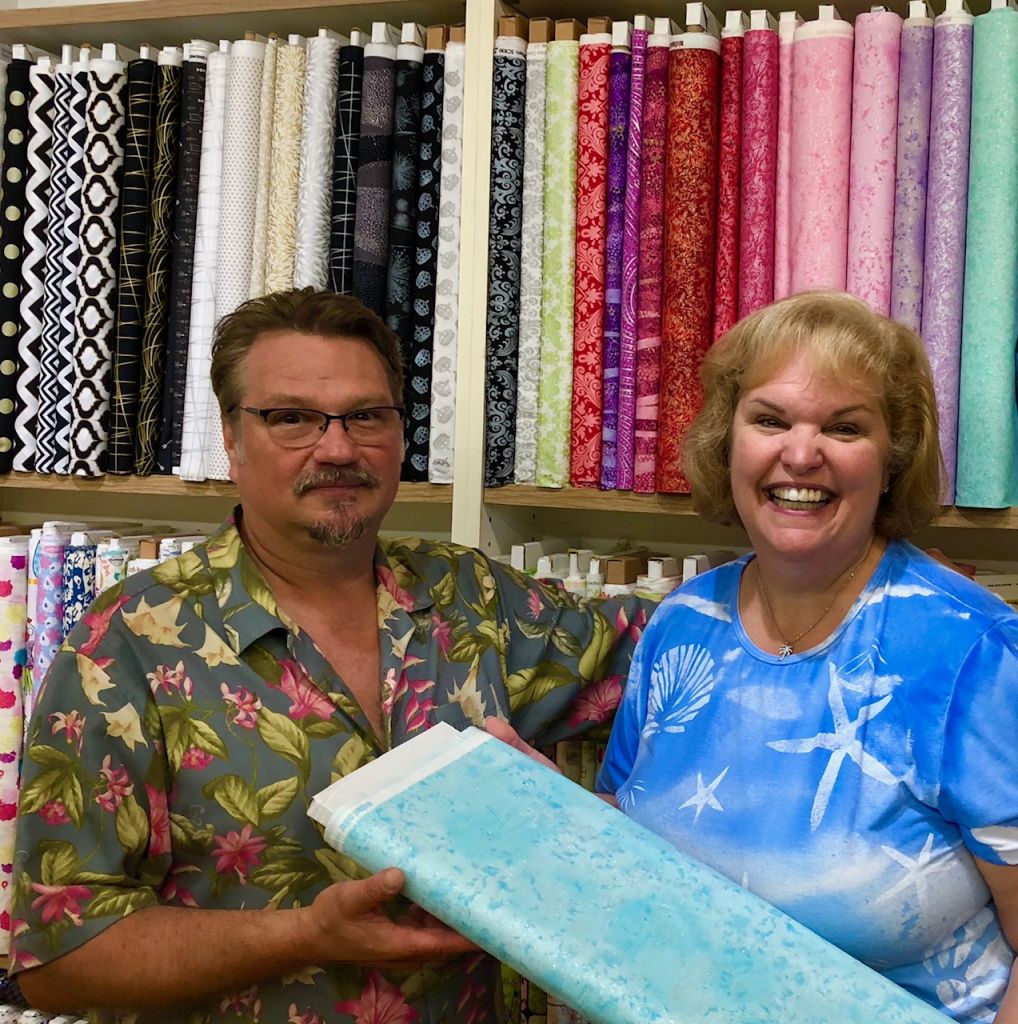 The shop has a spacious classroom in the back and they supply wonderful Janome machines for the classes. It is a family-run business with their sweet and talented daughters helping to run the shop and keep it amply stocked with quilter's favorite supplies.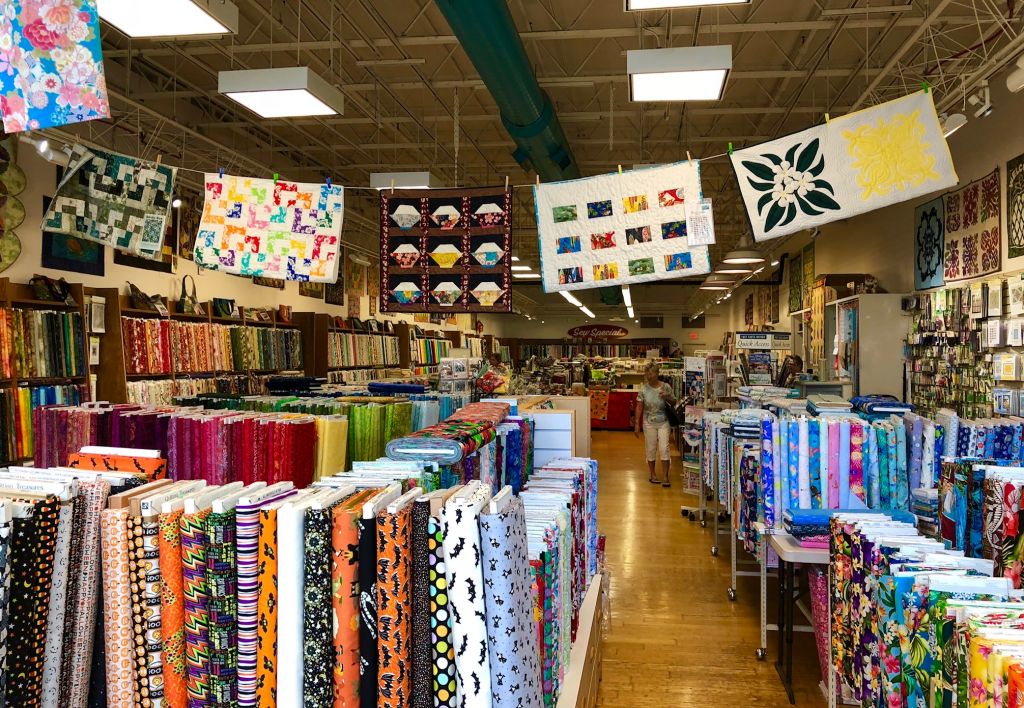 Roy and Barbara are a treat to meet. They genuinely care about their customers and have been in business for many years! They offer classes, top-notch service, new owner's classes and training, and tons of Janome machine accessories. Its easy to see why quilters come from all over Maui and the Hawaiian islands to visit their store!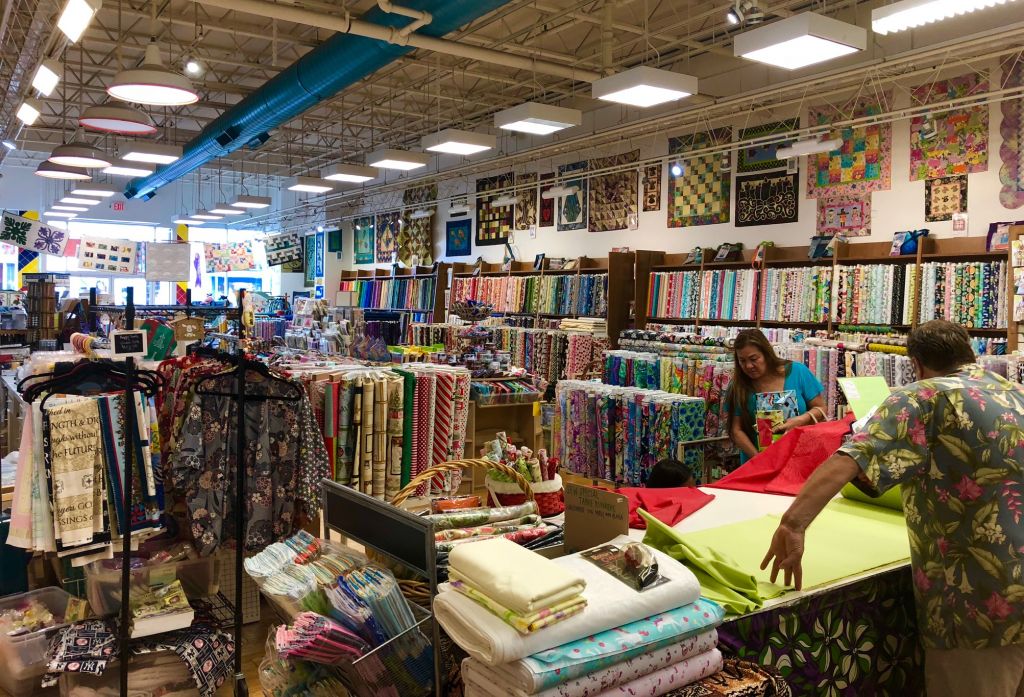 If you find yourself in Hawaii, especially in Maui, be sure to allow time to visit Sew Special and meet Roy, Barbara and their amazingly attentive staff.
You might even get a chance to rub shoulders with Mark and ask him about his amazing fabric designs. While you're there, be sure to stock up on batiks, Japanese and Hawaiian fabrics and patterns and maybe even buy a new Janome machine or upgrade your current model. This shop is located in paradise. A visit should be on your travel itinerary. Trust me, you'll be glad you did!
Contact information for Sew Special:
Sew Special
Queen Kaahumanu Center
275 Kaahumanu Avenue, #1048
Kahului, Maui, Hawaii 96732
Email: moc.liamg

null

@iuamlaicepswes

www.sewspecialmaui.net
www.facebook.com/SewS[ecialMaui