Wow! I am overwhelmed by the positive response from all you quilt surfers and bloggers to the FREE MYSTERY QUILT I have posted on my website! To date, I think there are more than a hundred of you who have downloaded the supply list and first installment. I hope you are having fun and will remember to download the clues each week. I appreciate everyone who is participating, and hope you will look forward to Fridays as new clues are posted. I think I'll call it "Mystery Fridays with Kimberly" or something like it…. 🙂
My friend and mystery quilt participant, Pat Deck, sent me photos of her two mystery quilts in progress so I could see the fabrics she chose for both of her versions. She has a bright batik version, and a traditional – very elegant – version with fabrics to match her decor. She also shared a great tip with us: she used cookie sheets to hold her cut fabric pieces and keep things organized. The cookies sheets stack together nicely, and she's ready to go each Friday when the next clue is revealed.
I also loved the photo she sent of her cutting table. She bought some "risers" from a home improvement store to raise up her table to a suitable height to keep her back from becoming strained or sore. And she purchased one of those super large cutting mats so she can make great use of every inch of the table top. Well done, Pat, and many thanks for sharing such great tips. I can't wait to see the finished quilts!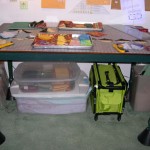 Liz Vickers sent a photo recently of her completed mystery quilt top from the recent AQS Show in Des Moines, Iowa, and I just have to share it with you all. Her quilt is beautiful, and I'm delighted she took time to send the photo!
As you are figuring out the clues to the first mystery quilt, I'm hard at work on many deadlines including THE BOOK (#2), several magazine feature articles, projects for a cruise with Quilt Seminars at Sea in 2010, and designing and writing the instructions for a brand new, free mystery quilt for the website to begin right after Christmas as my special New Year's gift to you!
Happy quilting!