As promised….it's time to share photos from the fabulous fashion show  which was organized and hosted by the multi-talented, super sweet, Diane Herbort at the Quilters' Heritage Celebration Show last Friday. I'm sorry it has taken me so long, but I haven't had a chance to sit at the computer once since my last posting. I taught another class before the show closed, spent a long day traveling back home (made it safe and sound) and I've been trying to unpack, get organized, clean the house, do piles and piles of laundry…(you know how it goes.)
Diane completely outdid herself with the garments she presented in this year's collection. The show was wonderful and truly one of the highlights of the week in Lancaster! I must say, however, that I was extra excited and proud because my dear friend, Birgit Schuller (Germany) had three spectacular garments in this year's show and her cocktail dress, jacket and matching clutch were showcased as the grand finale for the event! You should have heard the "ooohs and aaawwws" from the audience. Her garments were completely amazing. I was sitting at right down in front of the stage — best seat in the house! (I think it pays to have friends in high places….smile). Want to see for yourself? Sit back, relax, and enjoy the following photos: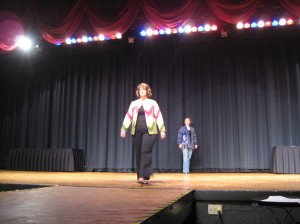 Birgit's beautiful bargello jacket. The colors were so vibrant!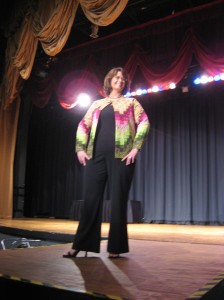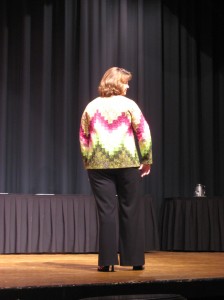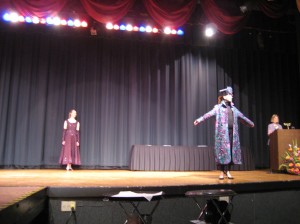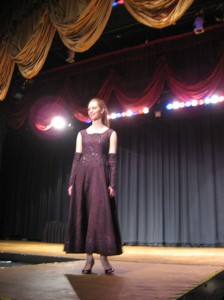 Birgit's original evening dress design. This stunning gown just sparkled under the bright lights. Truly, the photos don't do it justice. It was gorgeous!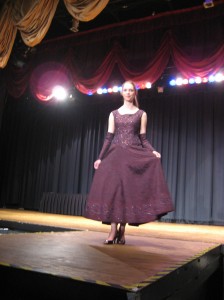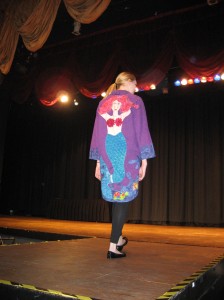 A bright, fun, unique jacket with a cute, quirky mermaid on the back. There were lots of chuckles and smiles from the crowd when the model turned to walk toward the back of the stage!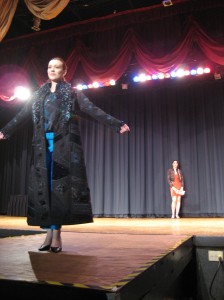 The fashion show finale of Birgit's original cocktail dress and jacket was preceded by this elegant black coat and coordinating aqua ensemble.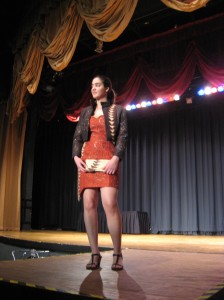 The highlight of the QHC fashion show! Birgit Schuller's original dress, jacket, and matching clutch design. Absolutely stunning!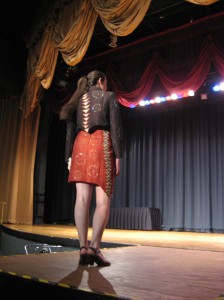 The audience just adored this outfit. And I heard from Diane after the event that the models were actually quibbling back stage as to who would get to wear this gorgeous ensemble!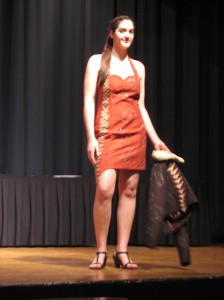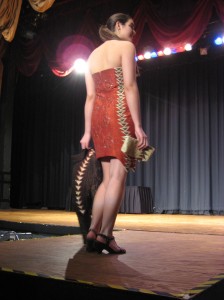 The QHC fashion show was the first stop on an international tour for Birgit's dress. It has since been sent to another national event for judging. I'll bet you'll be hearing more about this dress as it is sure to win major awards!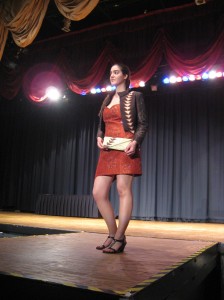 Thank you for taking time to view some of the highlights from the QHC Quilted Wearables Fashion Show. Be sure to stop back here at the blog soon. Next time, I'll share some fun treasures and surprises from my trip!