The email from Roseanne showed up in my inbox last Wednesday. Unfortunately, someone had become ill and had to back out at the last minute. Was anyone interested in taking her spot at the guild's quilt retreat?
Deadlines were looming, I had a million tasks pressing. The work was stacked up high on my desk. But when I read the email that an opening had become available for the Rhineland Pfalz Quilt Guild's biannual quilt retreat, I thought to myself, "I need to just pack up and get the heck out of Dodge for some quilting F-U-N this weekend."
Hubby graciously jumped on board and told me to have a great time. No angst, no guilt. Just have a blast. So, that's just what I did.
Well, the room looked like this: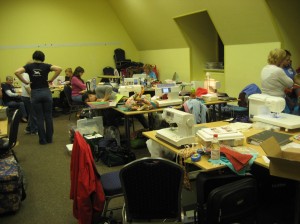 And we did some of this: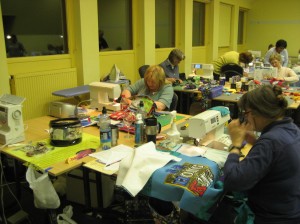 And a whole lot of this: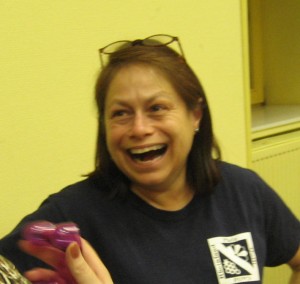 And there was talking, and laughing, and cogitating about block settings….
and despite perhaps being a little too overstocked in some ways,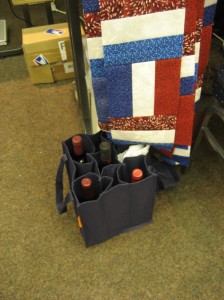 straight lines were being sewn.
And quilts were getting DONE. 
And we did more of this: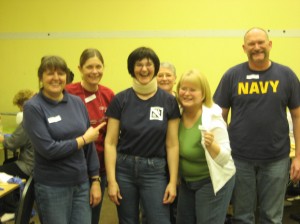 …with lots of silliness (and back rubs!) too!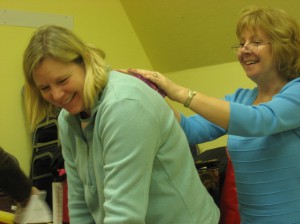 But there was also lots of learning, tip sharing and trying new techniques:
And everyone had a great time. Especially me!
Although when I slept a bit late on Saturday, there was a note waiting for me on my sewing machine from the early risers: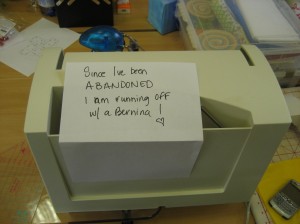 Ha Ha! So much for being an early bird.
Anyway…..just look at the results of the weekend!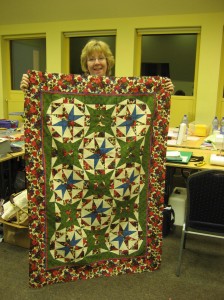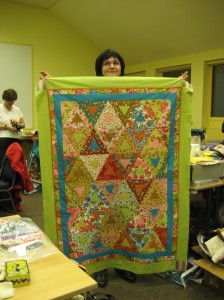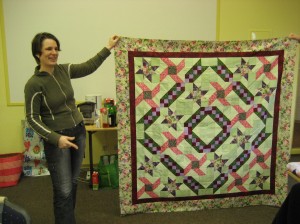 And we even had a surprise guest appearance from Sally Jesse Raphael!
Well, not really. That's just Carla with someone else's glasses! But my goodness — the resemblance…. (love the microphone…) 🙂
And I even got a lot DONE. Like this little Pineapple quilt top made from a bundle of those Honey Bun strips for an upcoming workshop I'll be teaching….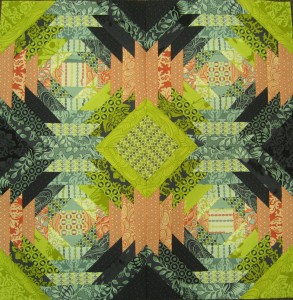 What a weekend. What FUN! It was just what I needed. I'm back home, feeling refreshed, already unpacked, and ready to get back to work now.
And I even came home with a precious gift from my friend, Birgit. She gave me this little quilting "angel" and I have hung her on my favorite rotary cutter as a reminder of how precious quilting friendships truly are.
The memories will last a long time. Thanks, everyone!