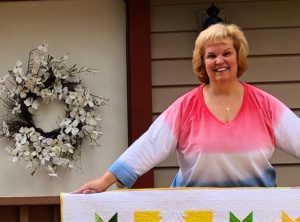 For the past five years or so, I've had an idea in my mind for a quilt I wanted to design and make for no other purpose than the thought of it simply made me happy. 
But there was never enough time. 
I keep myself so busy making quilts for publications, quilt samples, or step-outs and demos for the classes I teach there is never time to make quilts "just because." Don't get me wrong; I'm not complaining. I love to design and make quilts no matter what the end purpose may be. But the idea of making a quilt which was not meant for teaching or publication purposes always took a back seat to other pressing deadlines. 
Right after Christmas this past year I finally decided to carve out a bit of time to make the quilt I couldn't stop thinking about.
I found myself either doodling on paper or playing with blocks and design options in my EQ8 software. I kept tweaking the design until it was finally where I wanted it to be. Then I carefully selected fabrics and even did a little shopping to add just the right colors and textures.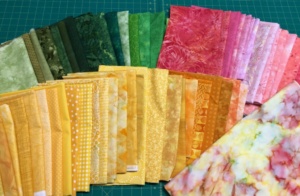 I would cut fabric or work on the blocks when I had a few minutes to spare.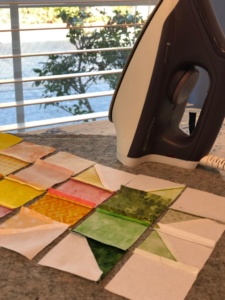 If you follow me on Facebook (Kimberly Einmo Designs) and Instagram (@keinmo), you may have caught some sneak peeks in the past couple of months.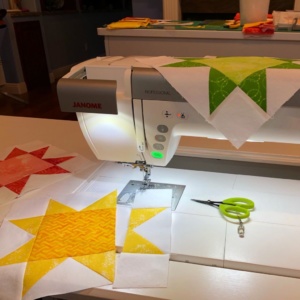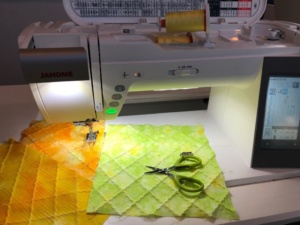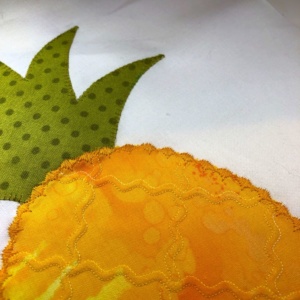 Of course, I had help in the studio along the way. My Quality Control Managers kept a paw on my progress and did their part to add fiber content to the fabrics.
And you may have seen a post about my attempt to paper piece some of the blocks. That effort lasted all of an hour and forty-five minutes before this partial block went into the "round file." I am NOT a paper piecer. It does not bring me joy. Technically, I am more than capable of foundation piecing, but apparently not without the wringing of hands and gnashing of teeth. (Just keeping it real, folks.)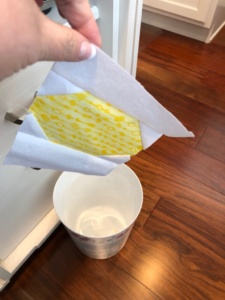 But as the blocks added up and were arranged on my design wall, I became more and more excited! In February, I finished the quilt top and sent it to my dear friend and fabulously talented longarm quilter, Carolyn Archer, of Ohio Star Quilting. She knows how much I adore pineapples; these motifs have showed up consistently in my quilts throughout the years. So I told her to go a little crazy on the custom quilting and then, I turned her loose to do her thing.
When she sent the finished quilt back and I opened the box, my heart literally skipped a beat! I am absolutely thrilled with how beautifully she "frosted" my quilt! So without further delay…..
Introducing: Pineapple Punch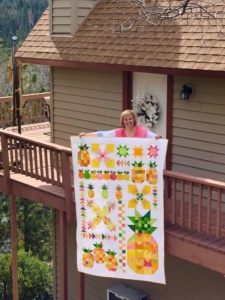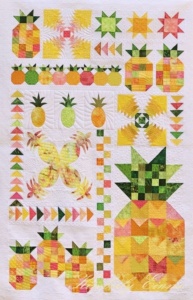 I simply couldn't be more pleased with the final results. This quilt makes me happy! I loved designing it and sewing all the pieced and appliqued elements. 
The machine quilting makes the layout and design of this quilt sing! Carolyn put so much thought and effort into making each individual element truly unique and special. (Thank you, Carolyn!) To see the details in this quilt, I'll share portions or blocks from the front and then the quilting on the back side.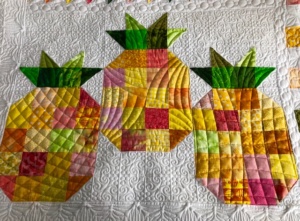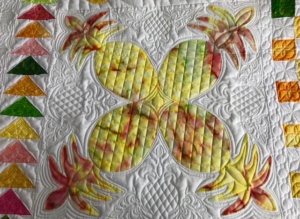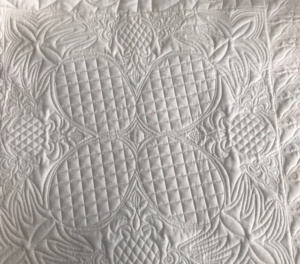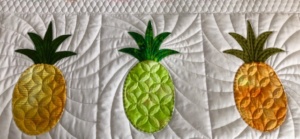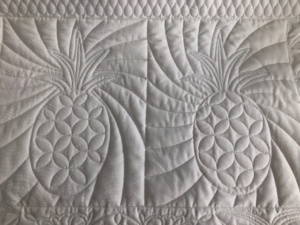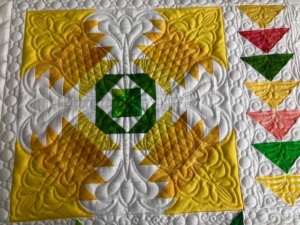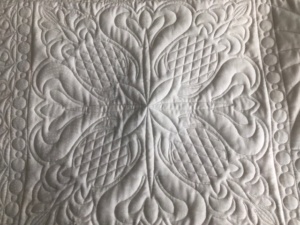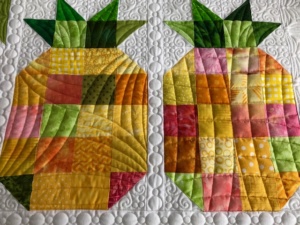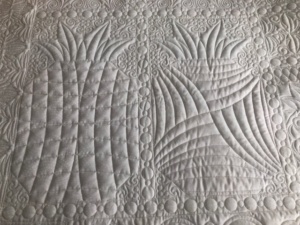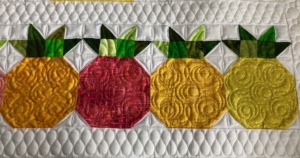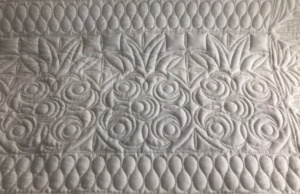 I have nothing in mind for this quilt other than to enjoy it. Will it become a pattern? Perhaps. It depends on the interest from others. But it was a labor of love — and truly fun — from beginning to end to make. That's the best part of all!
UPDATE: Pattern coming early 2020! Stay tuned!