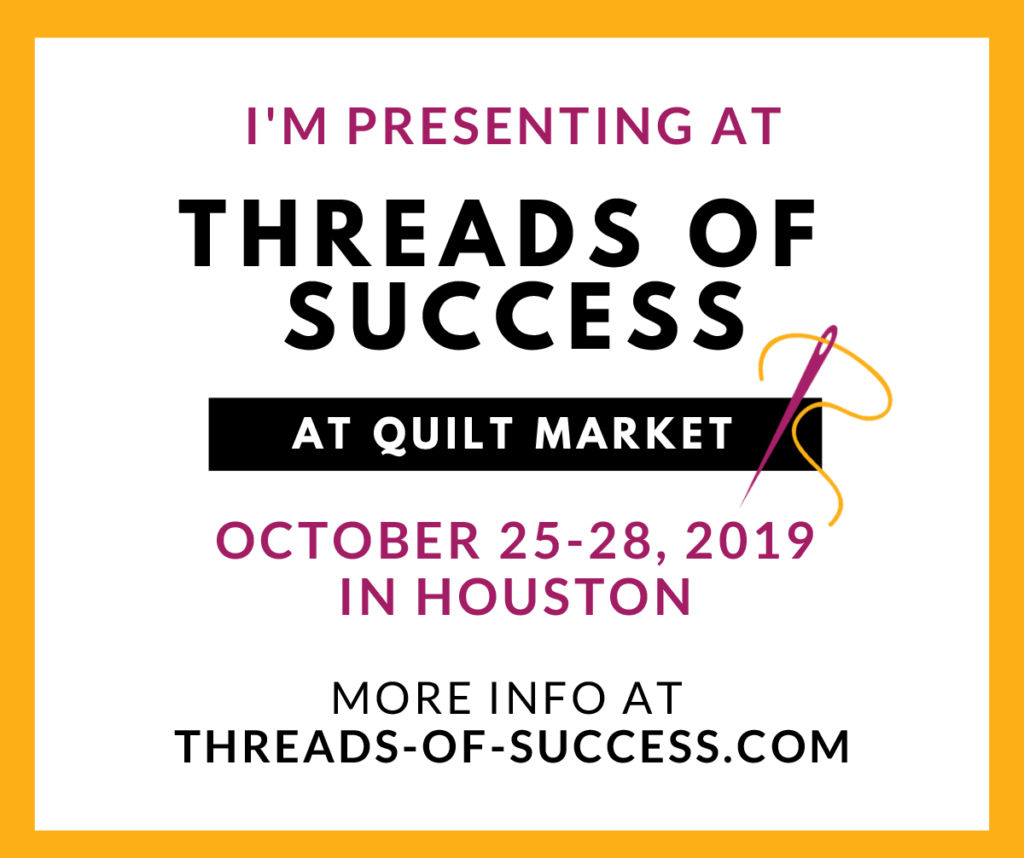 I'm thrilled and oh-so-honored to announce I will be giving a Keynote presentation and also leading a break-out session at the new THREADS OF SUCCESS Conference in Houston this fall at Quilt Market!
WHERE DO I FIT IN? FINDING YOUR NICHE
Saturday, October 26, 2:30 – 3:15 PM
When you're trying to establish yourself in this industry, it can be difficult to know where you fit in. Let Kimberly offer practical suggestions for establishing your own unique imprint. With options to guide you, including networking, creative opportunities, and making a name for yourself, Kimberly will share tried-and-true ideas to help you define your talents.
LUNCHEON SESSION: SAY YES! (THEN FIGURE IT OUT)
Sunday, October 27, 12:15 – 2:15 PM
To get your foot in the door, it takes courage and a leap of faith. Speaking from more than 25 years of experience in the quilting industry, Kimberly will share her experiences for jumping in head first and figuring it out as you go. The journey to success isn't always a straight path and there will certainly be detours along the way, but those detours are sometimes the best thing to ever happen! Enjoy practical advice, inspiring and humorous anecdotes, and more encouragement than you can imagine as you prepare to make your own big leap into the industry.
This brand new conference is for anyone who is thinking about — or has already begun — a career in the quilting or needlecraft industry. I can't recommend this fantastic new conference enough! There are so many fabulous speakers, lots of great sessions and plenty of networking and mentoring opportunities by some of the top names in the business! 
To find out more, simply CLICK HERE. And when you register to attend this fantastic, all-inclusive event, would you please mention my name on the registration form that you "heard it from me?" I would appreciate it very much! To register,  CLICK HERE.
Many thanks….and I look forward to seeing you at Threads of Success!