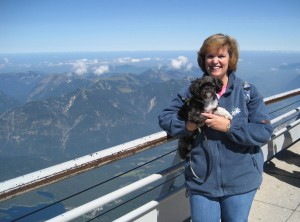 The Einmo family spent a wonderful Labor Day weekend in Garmisch, Bavaria, which is one of my most favorite places on earth. We were blessed with spectacular weather — it was sunny, warm, and simply gorgeous. We stayed at our favorite hotel, The Riesersee Hotel, which is nestled high on a hill next to Lake Riessersee, and close to Germany's tallest Alp, the Zugspitz.
We love this hotel — we've stayed there almost every time we have visited Bavaria. And they welcomed our dog, Divot, to stay in the room and even accompany us to the dining room for breakfast in the morning! I do love and appreciate how most Europeans welcome dogs just about anywhere — provided the dogs are well-behaved and owners keep them on a leash.
On Saturday, we took the cable car, to the top of the Zugspitz. The views were spectacular. When I look out at the vistas from this height, I feel like I'm on top of the world! We enjoyed a delicious lunch at the summit, and the boys (including Kent) enjoyed a snowball fight in August with some snow from the glacier.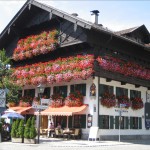 We descended the mountain on the cog railway. This thirty minute ride is always amazing to me. The scenery is more breathtaking around every bend, and I have always felt that if God ever walks among us here on earth, surely he must walk through the forests and mossy-green hillsides among these mountains. Unfortunately, the boys didn't quite share my 'spiritual' experience. Josh played his Game Boy, and Andrew fell asleep!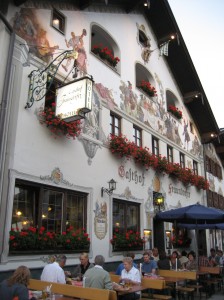 On Saturday evening, we dined at our favorite restaurant, The Frauendorfer. They feature the liveliest, traditional Barvarian music and delicious food, and we celebrated Kent's birthday in style! One of the highlights of the evening is always watching the young German boys do a traditional "slap dance."
 On Sunday we visited Ettal and Oberammergau, and took time to select the perfect German hats for the guys!  On our way back to Sindelfingen on Monday afternoon, we stopped in Munich and visited the world-famous Brauhaus! It was a fabulous weekend, and I'm eager to return (hopefully in the fall to see the gorgeous autumn colors) soon.
Kimberly