Recently, I received the following photo from Ginny Andersen, of Spokane Valley, WA, who is an American Quilter Magazine reader. Ginny completed the Trail to Paducah mystery quilt, one of my original designs, which ran as a featured series article in 2008.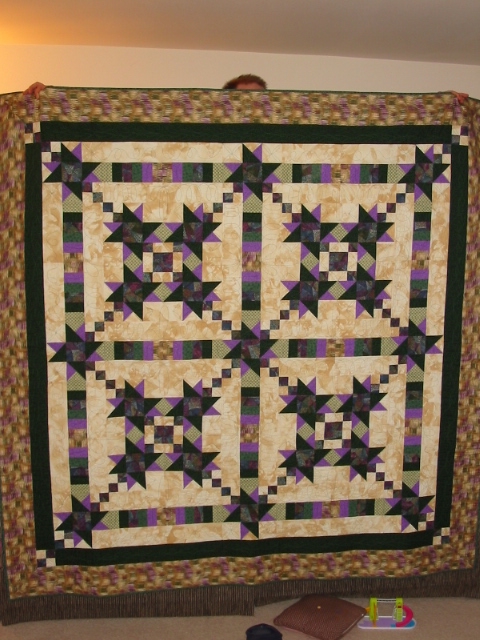 Ginny wrote, "The fabrics included were originally bought in Poulsbo, WA, during a visit to my father's, for a now long forgotten project, with only a couple additions to get the required values needed. I made this for my brother, Dave (who is holding the quilt in the image), and his wife, Gwen, for this last Christmas. This is the first mystery quilt I've ever made and was a bit apprehensive to begin with, but felt better and better as the blocks came together and my color choices became more and more pleasing together. I won't hesitate at all when you offer another 'Mystery' to solve."
Thank you so much, Ginny! I'm absolutely delighted to know you had such a great experience with your first-ever mystery quilt. I hope you'll consider making more of my original designs in the future. In fact, I have two free mystery quilt patterns available to download on my website. Check it out on the home page.
And thank you for sending the photo of your beautiful version of Trail to Paducah to share with all my blog readers.  I'm sure your brother and his wife are thrilled with your gift made with love!