Click on over to the American Quilter Magazine blog and check it out; but then come right back here…..
Pretty cool, huh?
I was very excited that Chris Brown, Executive Editor for American Quilter Magazine featured these two readers' gorgeous quilts on the AQS blog recently and I thought you all would enjoy seeing their quilts up close and personal – cyber style!
Trail to Paducah
by Cody Anne Moss
Trail to Paducah
by Debra Svitil
Debra wrote, "My friend, Cody Anne Moss and I challenged each other to complete the Trail to Paducah Mystery Quilt designed by Kimberly Einmo. We were thrilled to have them exhibited in the entryway of the Bulloch Hall Historical Home in Roswell Georgia. Visitors were able to see our very different interpretations side-by-side! Cody Ann titled hers One White Diamond. Can you find it in the white quilt? Mine is called Daisy Chains; I quilted it in a daisy motif and have the words '..he loves me…he loves me not' in the purple border. Bring on the next Mystery Quilt…we're ready. Thanks!"
And I received this email from Cody Anne just this afternoon, "I made the quilt with the white background and I used Cherrywood fabrics.  Two of their grab bags I bought in Houston from previous IQF shows. My Friend Betty Alonsius, long armed quilted contemporary feather vines and wreaths. Debra and I enjoyed the mystery.  We did not show each other our work or our fabric choices until the top was put together!"
Wow, ladies! Your versions of "Trail to Paducah" are simply stunning! I love your choice of fabrics, and how truly unique they look using such different, exquisite fabrics. Job well done Cody Anne, Debra, and Betty!
I also received the following photos from Pat Ball, who sent them for her friend, Brenda Stover. Check out Brenda's beautiful version of the same pattern: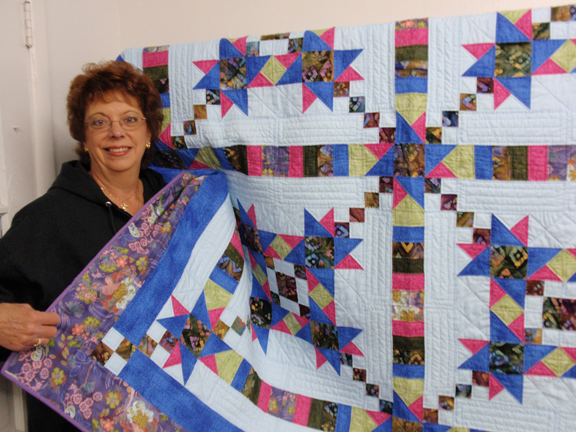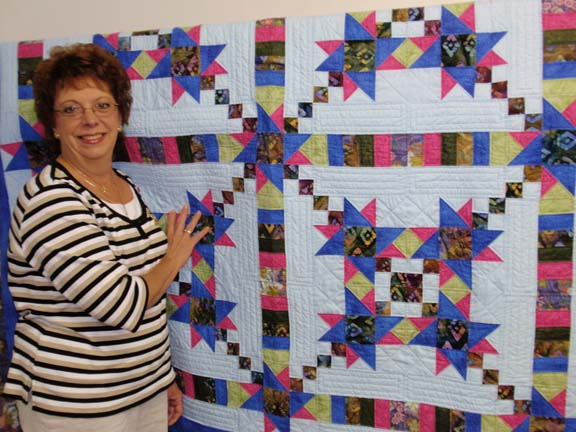 Trail to Paducah
by Brenda Stover
I'm so excited to see these unique and gorgeous versions of my original design. Thank you all for taking time out of your busy days to send me the pictures. I'm smiling all the way down to my toes!
I hope you all out there enjoy the mini quilt show today. Hopefully, your week is off to a great start. I know mine is!
Cheers –
Kimberly