Oh, how I hate to say good-bye. I don't want to say it, but I have to because we're moving. (Yes, for those of you who have followed my blog for some time……you read that correctly.) We're moving. Again. 
One of the few things in life I'm absolutely certain about is that nothing stays the same and things change when we least expect it. We thought we'd be living in our current home for many years so we put down roots last year when we bought this home. But my sweet husband's job situation changed late last year so we're off once again. This is our 4th move in the past 6 years for anyone keeping count (and move #14 in the last 24 years!) I've learned to bloom wherever I'm planted. And it is a choice.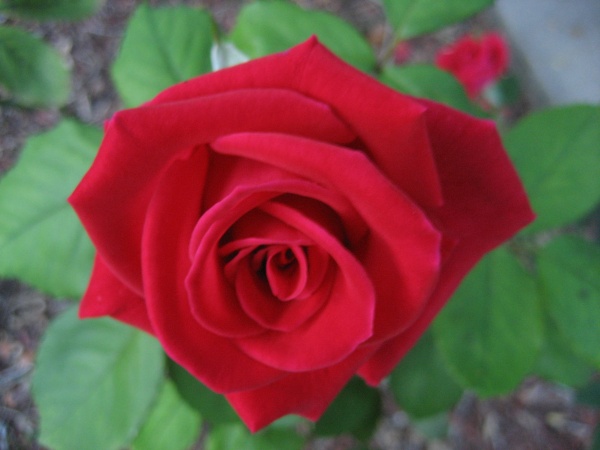 I chose to bloom where the roses grew profusely in our backyard in Ohio.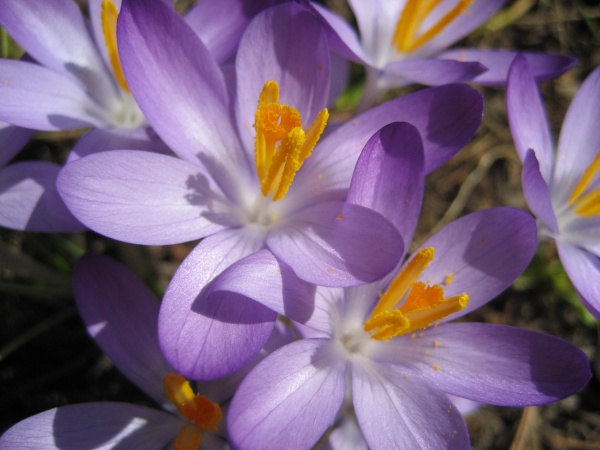 I chose to bloom where there were gorgeous crocuses in my backyard in Germany.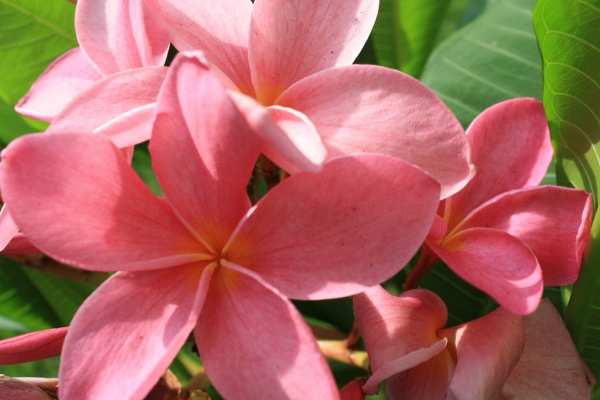 And I chose to bloom where there were pretty plumerias here in Florida.
And I am certain there will be new blooms to appreciate in our new backyard in Virginia. And I will choose to enjoy them for as long as time permits before life offers us the opportunity to bloom somewhere else. Of this I am certain.
But in the meantime, it is especially difficult to say good-bye to good friends I have made here. In fact, just a few days ago many of those dear friends surprised me with a wonderful going away party. I was completely touched by their outpouring of love and friendship!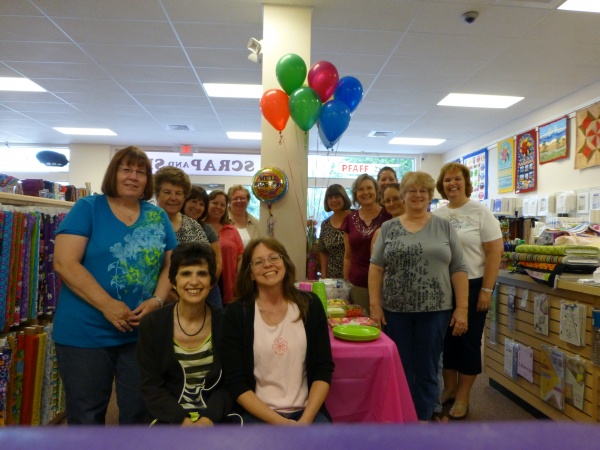 They brought all sorts of goodies — the completely yummy kind and some more fun and/or practical! I was overwhelmed by their generosity and thoughtfulness! (Thank you all SO much, ladies!)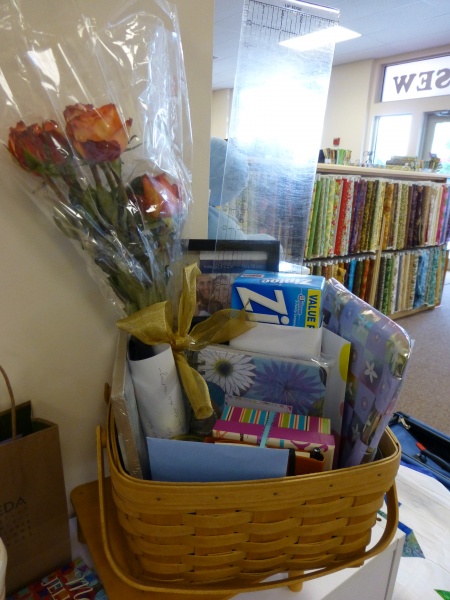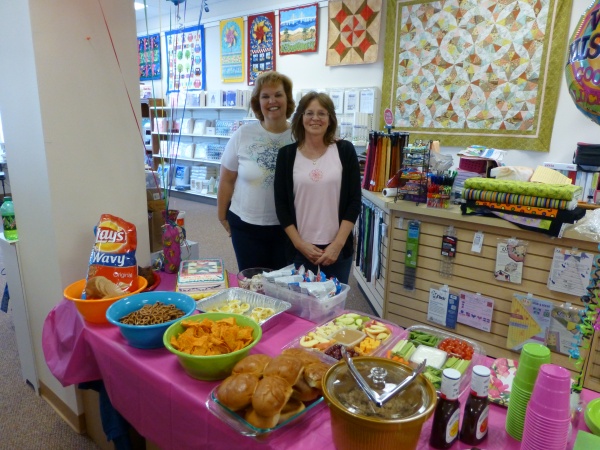 We all had such a great time. We laughed ourselves silly and enjoyed so much good food.
It was seriously one of the BEST. TIMES. EVER!!!!
One (of many) of my most favorite things was the CAKE. Check this out: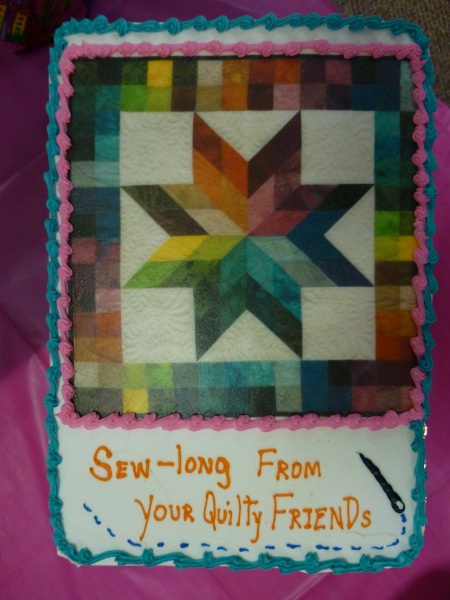 They had a picture of my Checkerborder Rainbow Star quilt printed on top of the cake itself and it was completely edible!
And just look at the darling details….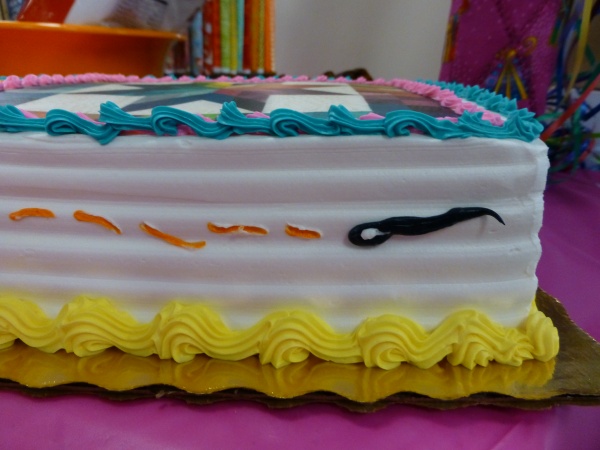 Of course I cut the cake with a rotary cutter. Okay, not really. Just kidding….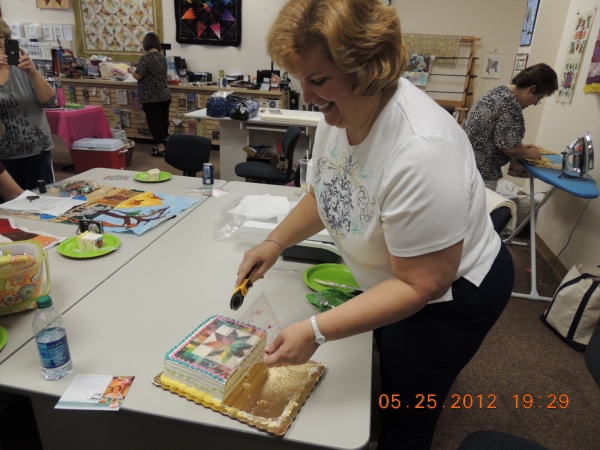 But it still hurts to say good-bye to these wonderful, amazing, creative, interesting, and completely talented women. Even though I know we'll stay in touch through email and Facebook, it won't be quite the same. And I sure will miss those Friday sewing nights at Tess's shop, Scrap and Sew.
So I won't say good-bye. I'll just take a cue from another bouncy friend of mine. Tigger said it best:
TA TA FOR NOW!