They are all projects I stitched yesterday!
Would you like a sneak peak of the Jelly Roll top I finished piecing? I don't want to reveal too much until it has been quilted by Birgit, but at least you'll get an idea of what it looks like: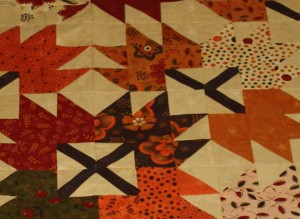 This quilt is the result of our Jelly Roll Challenge:
1 Jelly Roll + 1 other fabric (1 1 /2 yds background fabric)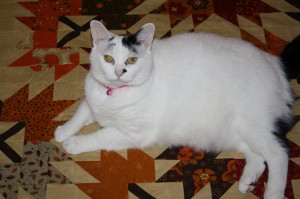 As soon as I laid it out on the floor to take pictures, Poppy came out from hiding and made herself right at home smack dab in the middle of my quilt! Her quilt radar is amazing. I think she approves of this pretty, new design.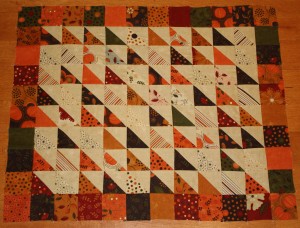 And this cute little number is what I whipped up with the leftover bits. It reminds me of the day after Thanksgiving and that age old question of, "What do you do with the turkey leftovers?"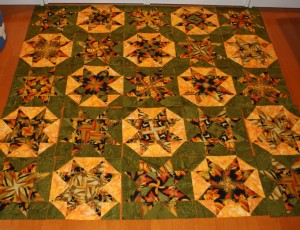 All this stitching with autumn print fabrics reminded me of a UFO languishing in my closet. I began this quilt (no kidding) in August, 2008, and I worked on a few more of the blocks last October. But other deadlines were pressing, so this project was boxed up and stored in a plastic pizza-style box in a closet. Until now. I thought it would be fun to resurrect this project, finish it, and send it out the door for machine quilting. Which in my mind, means I can consider it done!
I think this wraps up my need to fondle fall fabrics for this year. Hmmmmm……now I'm on to Christmas!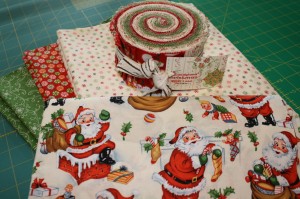 What to do….what to do…..what to do…..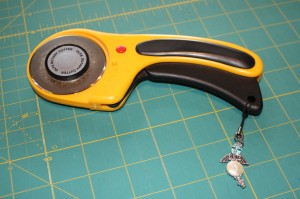 Rotary cutter ready!
So, do tell. What are you working on?