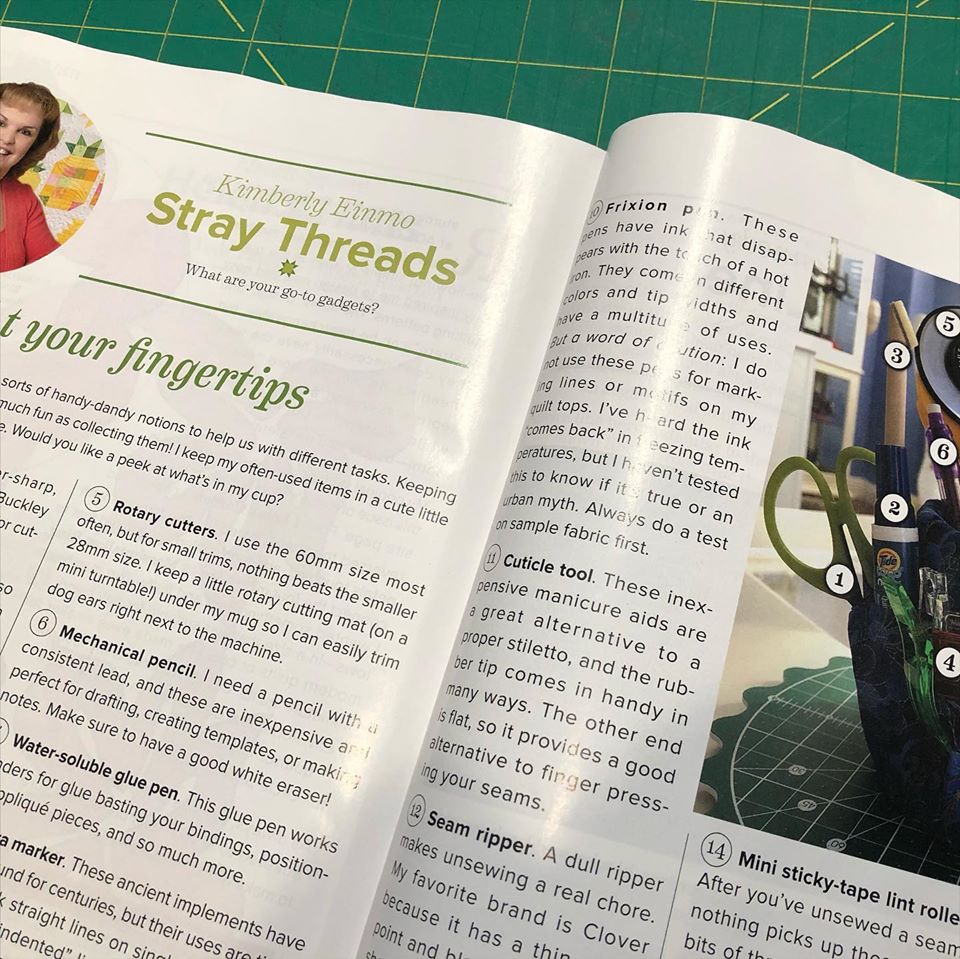 I just love it when readers of American Quilter Magazine (and in particular, my column, Stray Threads) write to comment about the column or share their tips and ideas with me. I welcome comments, correspondence and compliments and am reachable through email at moc.omnieylrebmiknull@ylrebmiK. 
In the January, 2020 issue of AQ Magazine, my column was entitled, "At your fingertips" and featured my personal favorite notions caddy, which I keep right next to my sewing machine. In the column, I listed each notion and why I keep it close at hand when I'm creating and sewing. (If you haven't read the column, there's still time to pick up your copy of the magazine either at local quilt shops, craft stores or online by CLICKING HERE. 
Yesterday I received an email from JaneAnn Gifford, of Ft. Myers, Florida with a photo of her beautifully crafted clay pot which she uses to hold her favorite notions. She writes, "As a member of AQS, I enjoyed your article in the January 2020 magazine.  I loved the way your notions mug is covered. Neat. For the past two years I have used a clay bowl created by our granddaughter as a sample in her pottery class. As she became more proficient with her pottery making she was happy to pass this sample on to me which I immediately put to work. I placed a small plastic bowl in the bottom in case I accidentally pushed my large scissors down too hard.  When our granddaughter came by and saw it she commented, 'Wow, that holds a lot doesn't it?' I held my breath that she was not hoping I would ask if she could use it but I found out she was happy I could. Yea."
JaneAnn also shared a fabulous tip for catching threads that I think you'll just love! I asked her if I could share it with you and she was happy to oblige….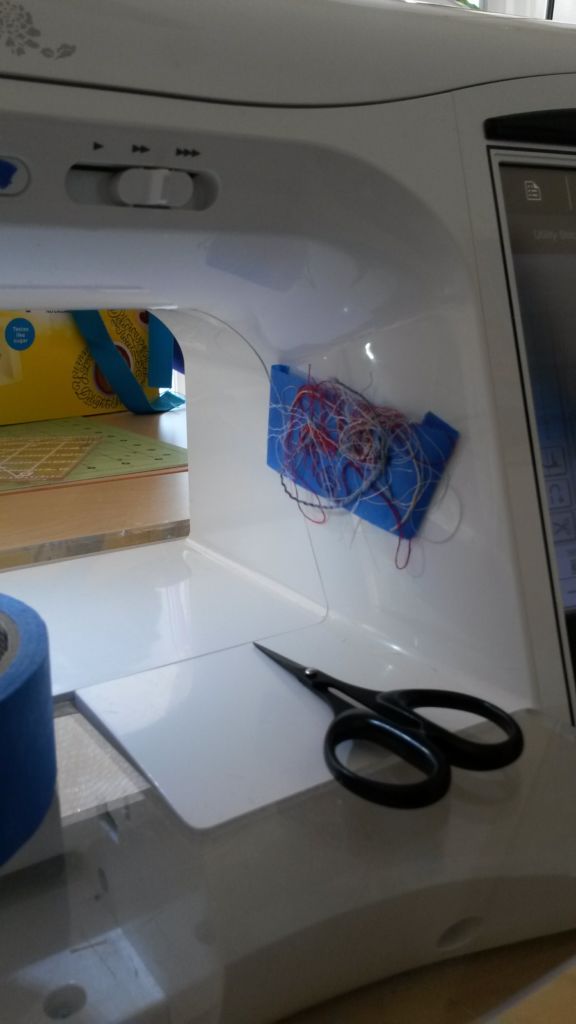 She says, "I have learned to catch my little threads as I sew and clip using a piece of wide painters tape attached to the inside of the arm of my machine.  Obviously this tape is full [in the photo, above] and needs to be replaced. This is so close and handy and keeps me from aiming at the trash can beside my chair and then find a multitude of threads on the floor. I could use a 'thread catcher' taped to my cabinet but this is so easy to pitch and replace. Thanks again and keep giving us these great tips and ideas. JaneAnn."  Thank YOU, JaneAnn. This is a fabulous tip and one I'll be implementing in my own studio!
I also got the nicest email from Diane Sala, of Hilton Head, South Carolina. She writes, "I just read your article on "Stray Threads" in the AQS magazine. I love my cup of notions! Here is a picture of my cup and the following notions are in there: 1″x 6″ ruler, small scissors, seam pressers, snips, back scratcher (lol), 1/4″ plastic seam line measurers, seam rippers (various ones), Purple thang, tweezers, needle threader, stiletto, bodkin, machine cleaning brushes, pencils, Pigma pen, Frixon Pen, Rosanne pencil, and rubber band." Those are ALL great notions to keep handy. Personally, I think I need to add a back-scratcher to my cup!
And finally, Nancy Fiedler posted a photo of her notions caddy which is unbelievably cute. Knowing how I love cats, I NEED to get one of these for my studio, don't you think?
Sew….what do you use to hold your favorite notions close by your sewing station? I'd love to know! Send me a photo or leave a comment below. And if you have any good tips to share, we'd love to read those in the comments section, too!
Thanks for writing, everyone and happy stitching!