I'm back after a brief hiatus! I took a few days last week to work on some creative projects and it was a wonderfully refreshing, productive time. Now I've got some really fun and clever things to share with you all in the coming days. Starting with……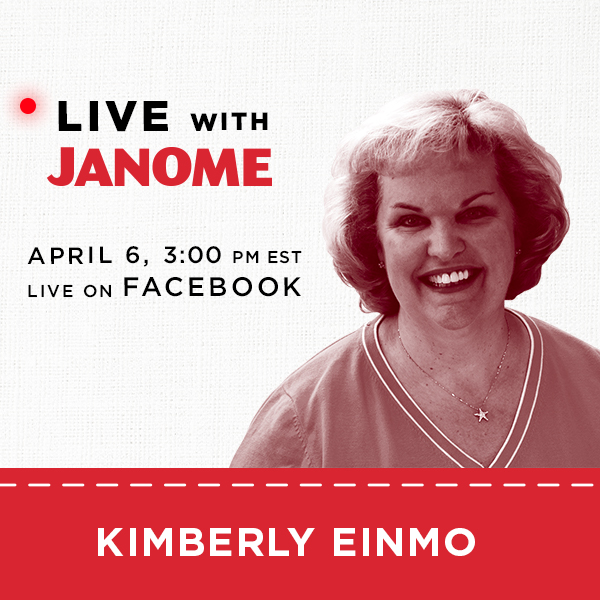 I'm personally inviting you to join me on Monday, April 6th at 3pm Eastern Standard Time for my first-ever, FACEBOOK LIVE Event! You'll be able to find this on the Janome Sewing Machines page on Facebook. If you can't join me for the LIVE EVENT, it will be posted on my home page and also on the Janome Sewing Machines page for later viewing. 
You won't want to miss this. It will be my very first time doing a Facebook Live event! I'll be talking about one of my favorite features on the machine, the AUTO PIVOT feature (available on the Continental M7, Memory Craft 15000, 9540, Skyline S9 and S7.) Even if you don't have one of these Janome machines, I hope you'll attend because I've got a few fun surprises for you including a guest appearance by Cheeto! 
During these unprecedented times, the talented Janome educators felt especially moved to do something to help create a sense of community while we're all at home doing our part to maintain social distancing. So every Monday – Friday, at 3pm EST, you'll find a FACEBOOK LIVE event where one of these talented folks will be sharing a favorite feature or top tip with you. We're all doing our best to make this a fun time of gathering through technology so I hope you'll mark your calendars and set your alarms to join us every day during the week. These events will only last ten minutes or so, but it would be awesome if you could log on and let us know from where you're watching! It is my hope we'll be able to circle the globe and share our love for sewing and Janome sewing machines together. And if you have a question or want to simply share a "thumbs up;" that's wonderful, too. Hope to see you there!