I've had some fun these past few days working on a new quilt design and reading some quilting blogs in between sewing times. It's been good just to get back to doing what I love — without having to work on a specific deadline. I came across an interesting idea on a blog herewhich has given me a lot to think about, and I happen to agree with the blogger. While I enjoy looking at finished quilts on other people's blogs, I find it incredibly interesting to read more about the "process" other quilters go through to arrive at their finished designs. It is inspiring for me to read about their lives, their families, and the things which influence them and their quilts. Are they suffering from "quilter's block"? How do they work through their design challenges? Where do they find their inspiration? Why do certain fabrics speak to them?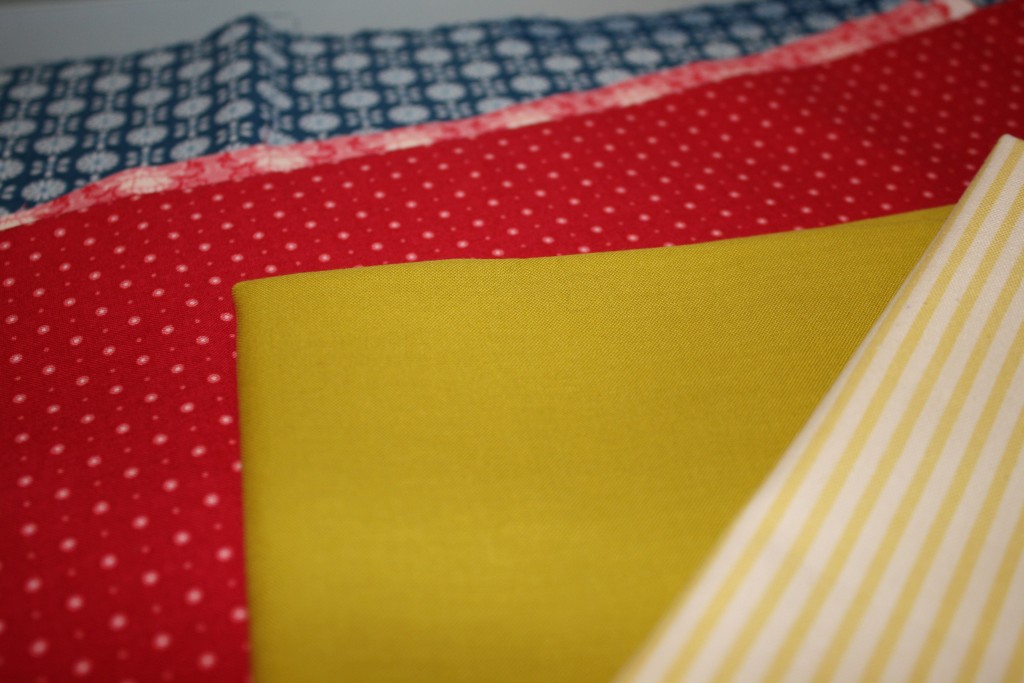 But blog reading aside….and back to the fun I've been having with these special Danish fabrics for the past few days. I really didn't have a clear-cut idea in mind when I began as to what exactly I would do with these fabrics other than I knew I wanted to incorporate that amazing, eye-catching chartreuse fabric with the delicious pinks and blues.
I began by constructing basic pinwheel blocks from my three blue fabrics. Cute, don't you agree?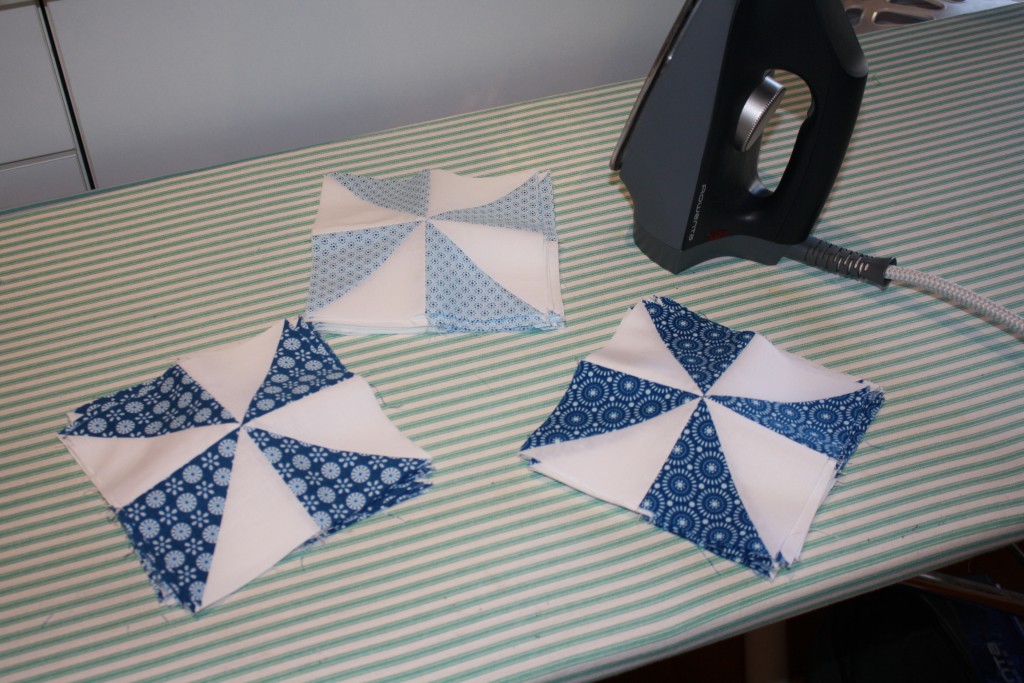 Then I moved on to make simple companion blocks from the chartreuse and six pink fabrics.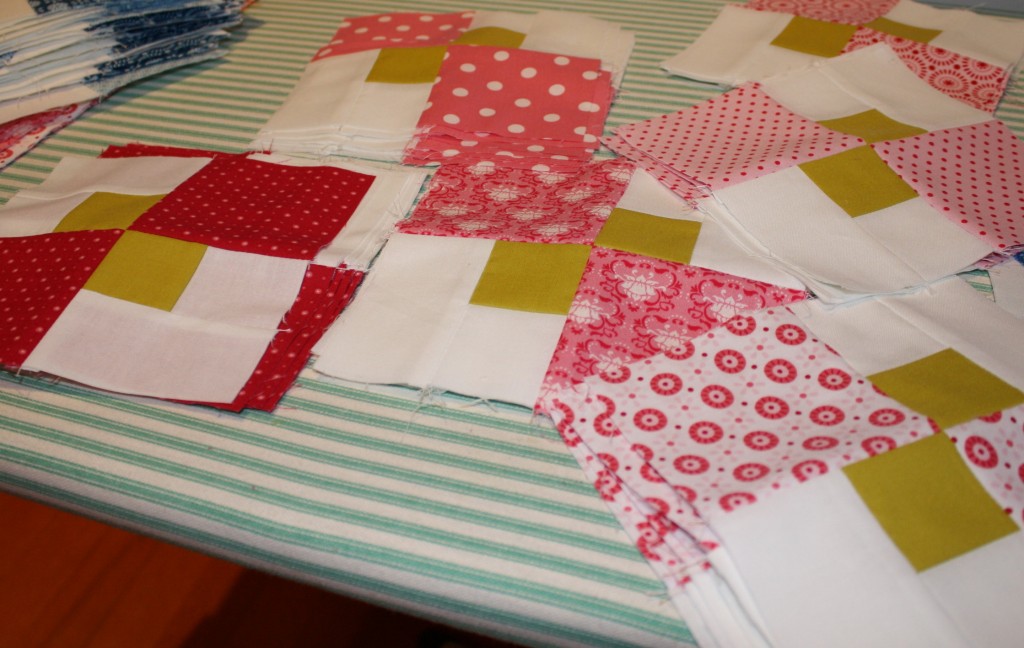 There was one additional fabric I really wanted to use. It is the same color chartreuse in the form of a dainty stripe. There was only a fat quarter, so I had to cut carefully and use it wisely. This is what I came up with: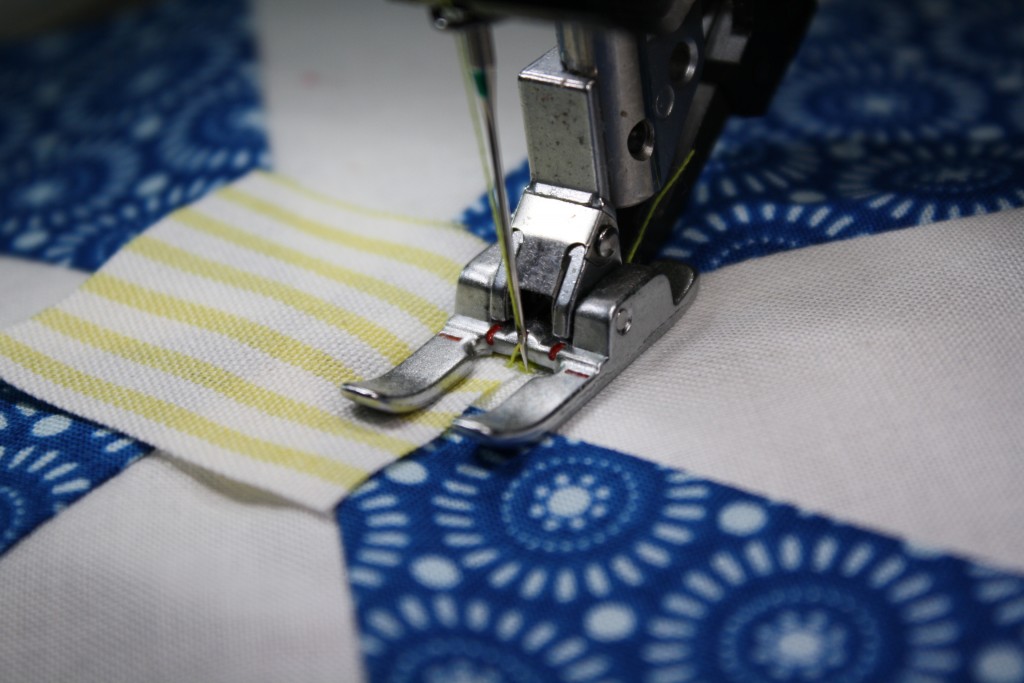 There was one problem though. The stripe fabric was pretty thin, so the dark blue fabric really shadowed through to the front.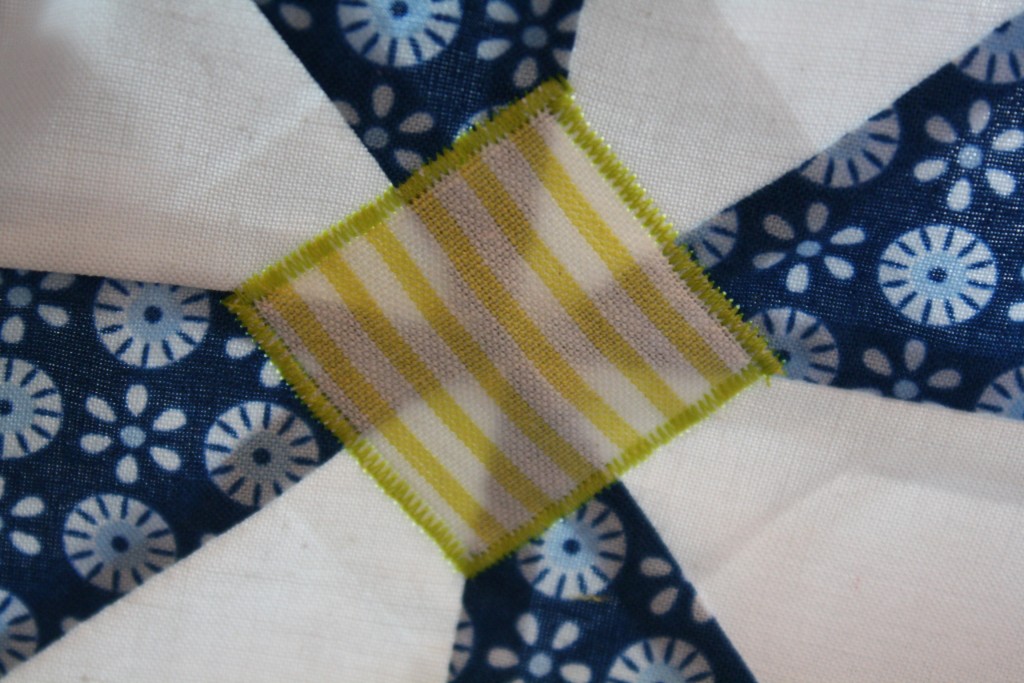 I decided it would be best to cut the fabrics out from beneath those little 1 1/2″ square patches of striped fabric. Rather tedious work, but I watched one of my favorite DVDs while I carefully cut. It made the time pass quickly on those 30+ blocks.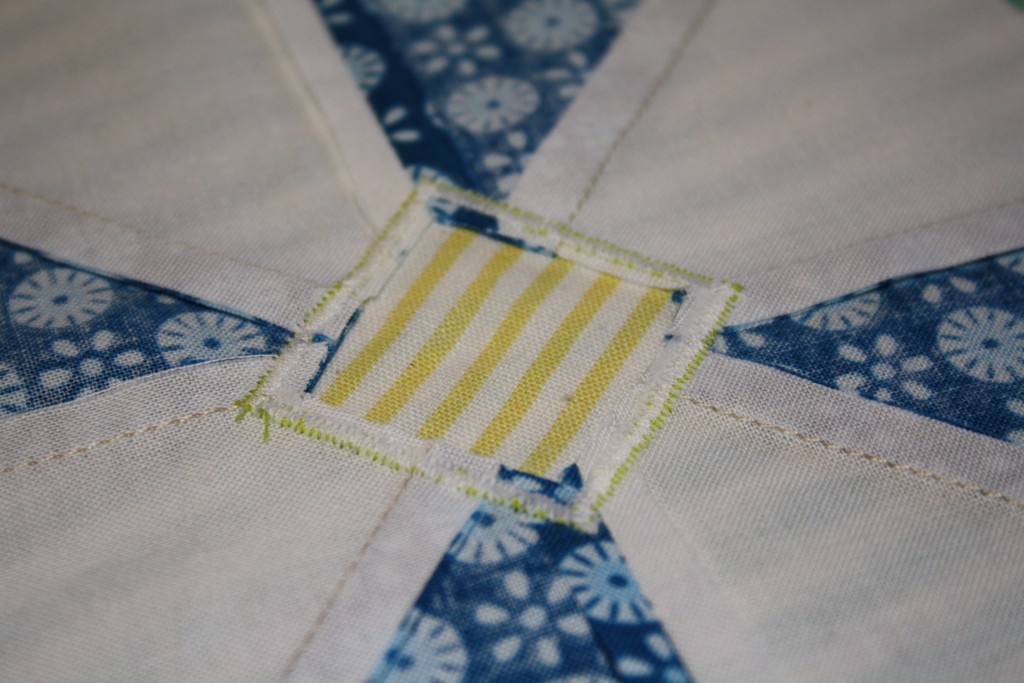 My thought process went something like this: "Aaahhh, better. But maybe a little boring. Hmmm…. what if I made the blocks into circles?" I pulled out my favorite tool for making perfect circles. The EZ Circle Cut Tool.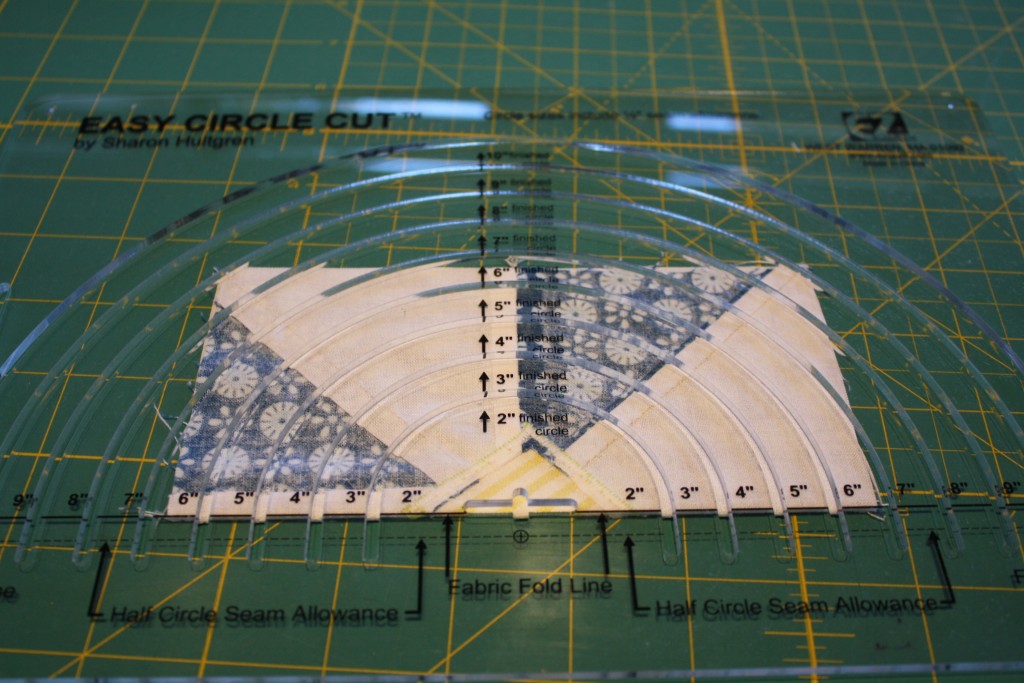 Next, I fused the circles to a background square and satin stitched them in place using matching blue thread. Yes, it was more interesting than the classic pinwheel block. But something still seemed to be lacking. It was still a snooze fest in my opinion.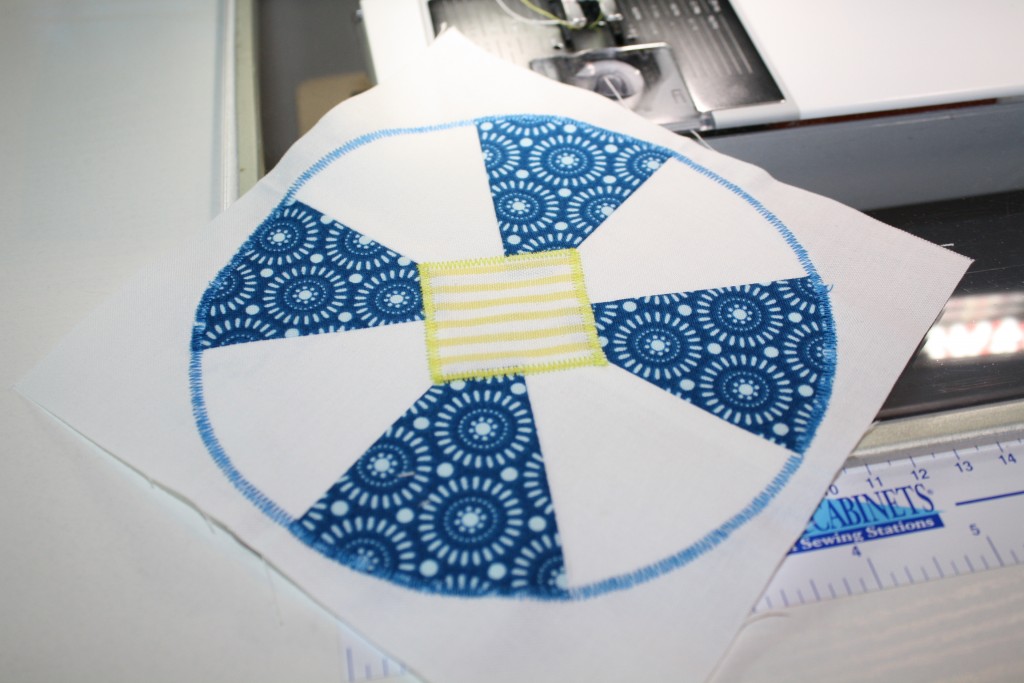 At this point, I wasn't particularly 'feeling the love' with the direction these blocks were going. I sat and really pondered the possibilities. Then I got creative and started testing various decorative stitches on my machine.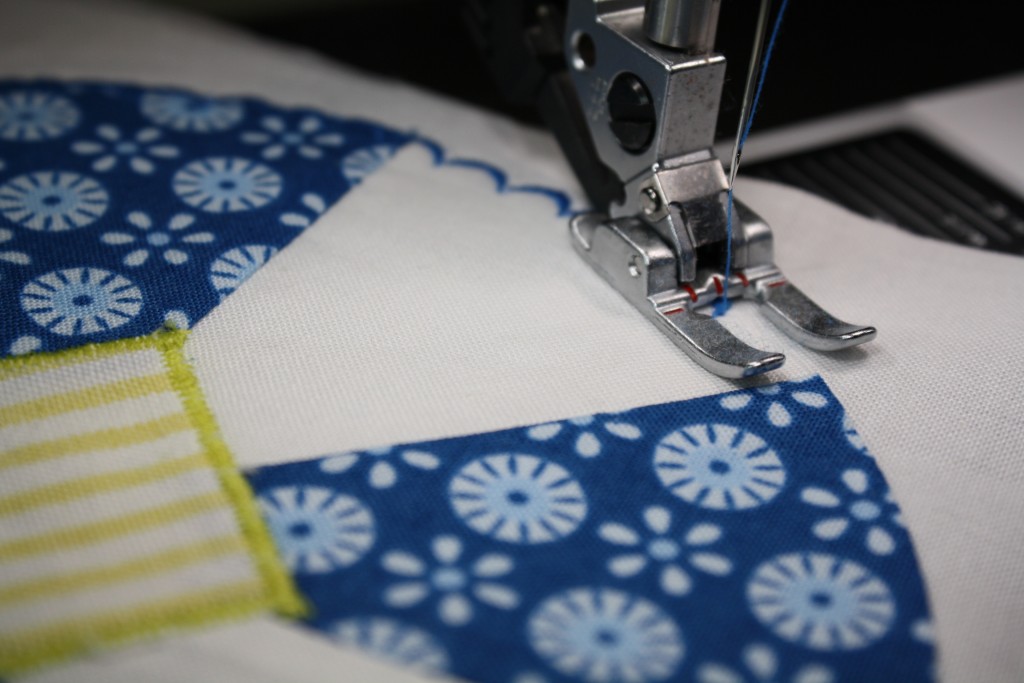 Voila! Now I'm really happy with how they're turning out. What do you think of the difference?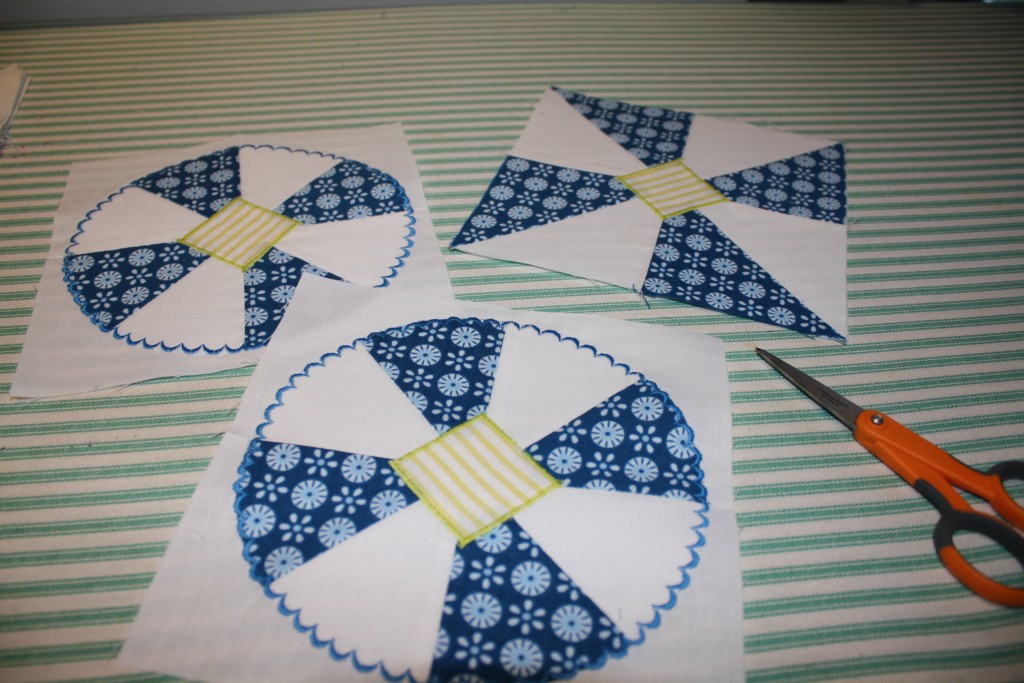 Two blocks down, more than 30 left to go. But I'm feeling the love now, baby!
What are you all up to on this Saturday? I'm heading back to stitch…..