I just got home. Literally, a few minutes ago. I haven't even unpacked yet! But I just had to share: The Quilters' Paradise Retreat sponsored by Quilting By The Bay in Panama City was simply THE. BEST. QUILTING. RETREAT. EVER! Oh my gosh, we had a ball. There were almost 70 quilters who attended this sold-out annual event, and boy, oh boy….these gals could stitch. And stitch….and STITCH! They sewed late into the night on Friday (working on one of my mystery quilts) and then they got up and sewed ALL DAY on Saturday taking one of three available classes. After dinner, many of them sewed until the wee hours again. And there was more sewing on Sunday (although I did steal them away from their machines for about an hour this morning while I presented a lecture, Powerpoint presentation, and trunk show.) Then many of us met up for a quick "retreat reunion" at the quilt shop after the retreat ended about noon. Leave it to quilters, we bonded. Every single person I met this weekend was a treasure. We giggled. We laughed. We talked, and ate. (Delicious food — all prepared, ready and waiting!) I feel so unbelievably blessed to do what I do. (How on earth did I ever get so lucky?) Rather than ramble on and on, how 'bout a quick photo recap of the weekend's festivities?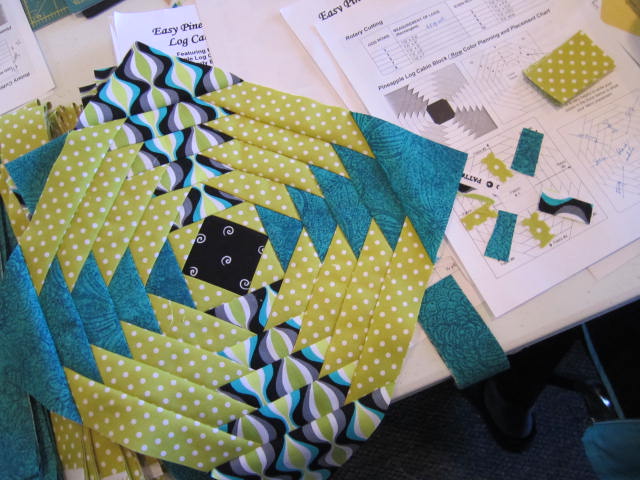 I was tickled to be able to influence so many "pineapple converts" this weekend!
Hey, everybody…..same time next year?