….that the only thing predictable in life is unpredictability.
Too true.
Do you remember earlier this year when I blogged about my loss of momentum and feeling discouraged? Well, it was much due to the fact that life threw us a curve ball we just didn't see coming. And the uncertainty of it all pretty much consumed our winter and spring months. But summer is here (big sigh of relief) and the warm winds of change are blowing.
Yep, we are moving again. And nope, we didn't plan for this. We had hoped to stay here for an extended period of time. But God sees the big picture for our lives and we're on our way again. Another overseas move – our second in twelve months. (Sheesh. Didn't I just finish unpacking a little while ago?)
My blog entries have been a little few and far between recently because I've been packing boxes. Lots of boxes. But we have completed our pack-out and now two extra large containers are on the high seas headed toward American soil. Gosh, I hope that cargo ship doesn't take a route by way of Somalia. Otherwise, there could be some pirates who end up with one heck of a fabric and quilt stash! (just teasing….)
I think one of the hardest parts for me was saying goodbye to my cute little prickly friends who came every evening to my sewing studio door for the all-night buffet.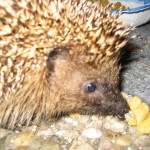 I told the new tenants about them and how they prefer their entrees. Al-dente. I just hope they remember to feed them like I did. Oh yes, and Boo Kitty. I sure will miss her, too.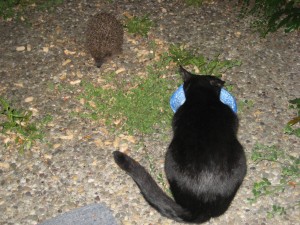 But there are good things on the horizon. New adventures, new beginnings. And I'm sure there's another sewing studio in my future. (I'm already designing and setting it up in my mind….)
And although life is unpredictable, isn't it exciting? Wish me luck!