My husband's grandmother, Mary Wright, was a beautiful woman. From what I've learned about her, she was classy, refined, and sophisticated. I saw a photo of her once where she looked like Betty Grable; an incandescent, glamorous bombshell with a brilliant smile and sparkling eyes. I've also been told she was charming and kind. She passed away long before I would have a chance to meet her. Apparently, she died in her early 50's from a dreadful disease that snuffed out the life of this vibrant woman.
We have only two heirlooms from the Einmo side of the family. But recently, through the thoughtfulness and generosity of Kent's older sister, we now have another lovely Einmo family heirloom in our possession which once belonged to this stunning lady. 
Recently, Kent's sister was going through her things while remodeling her home. She came across Mary's wedding china, a Wedgwood Queensware pattern, with embossed celadon leaves on cream. Pam is at the age and stage where she isn't entertaining so she reached out to me to see if we'd be interested in having the china. I jumped at the chance and we're thrilled to have something which once belonged to Mary and Fred Wright! 
 So Pam carefully boxed up all the pieces she had and although it's not a complete set as some pieces were either broken or lost over the years, we are thrilled to have it!
This is such an unexpected treasure! I am excited to entertain and use these in our home. When I do, I'll think about beautiful Mary and the full, active life she lived. I'll picture in my mind's eye all the dinner parties she might have given for Fred's clients (he was an attorney), or the luncheons she hosted with neighborhood ladies or perhaps her bridge club.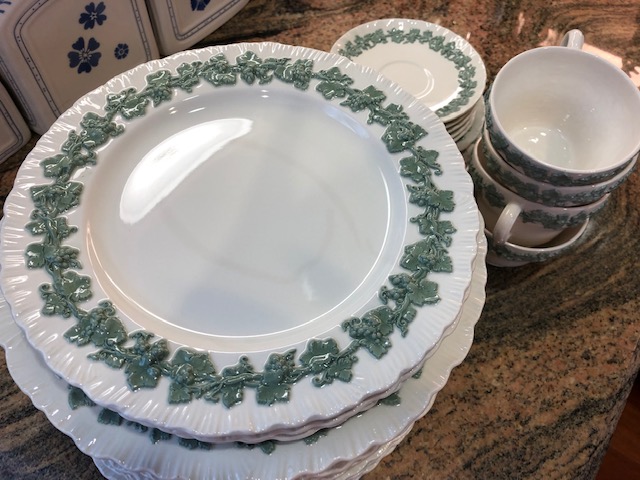 Someday, I hope to pass these down to perhaps a future daughter-in-law who will cherish them and think about her husband's great-grandmother, Mary. I think Mary would be so happy to know they are cherished, as I'm sure she cherished them when she was alive. And I think she'd be so tickled to know her lovely wedding china will adorn the tables of her descendants for many years to come.