Thank you all SO much for your words of encouragement and support over the loss of my little quilt (see the last post). I'm feeling better today and looking for ways to move forward in a positive manner. I searched the Internet for charm packs of that exact fabric line, Woodland Blooms, and even contacted the fabric designer, Lila Tueller, to see if I could get replacements of that fabric so I can make another quilt exactly like the one that is missing. Truly, though, the thing that helped me the most was reading all your comments and knowing there are SO MANY TERRIFIC, WONDERFUL PEOPLE out there who really care. Thank you so much!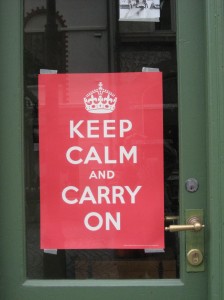 My new book is featured on the AQS Publishing blog right now, which also brightened my day! Click here to check it out. (Thank you, Andi Reynolds for that nice write up and overview of my book.)
Another autographed book giveaway is still in the works until midnight on Friday, January 22nd, so please leave me a comment here on the blog — or send me a photo of a quilt you've made using strips or a precut fabric pack to moc.omnieylrebmiknull@ylrebmiK for your chance to win.  I love hearing from all of you!
Toodles!