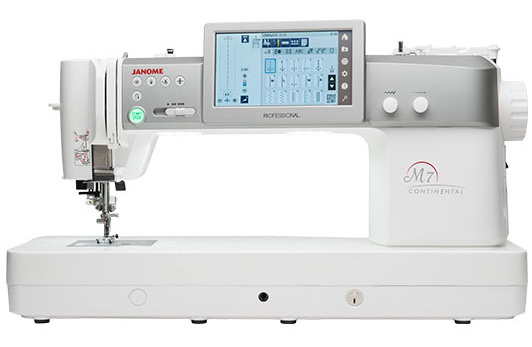 I have wanted to write a complete and thorough review about Janome's newest sewing machine, the Continental M7, for many months. I was first introduced to this machine before the official launch during the summer of 2019 and then a new M7 arrived in my studio last November. I'm glad I waited to formulate my thoughts and put them in writing until now for many reasons. The main reason is that while I've been at home during the pandemic, I've had large chunks of uninterrupted time to dive deep and really get to explore and learn about this machine and all it's capabilities. I've done more than give this machine a test drive; I've had the opportunity to really put it through it's paces. From this experience and what I've learned, I'd like to share honestly with you. 
When I flew to Janome headquarters in July of last year to experience the machine and test it firsthand, I expected to find Janome's high-level of quality which is standard on every machine. I had been very happily using Janome's Memory Craft 15000 and the Horizon 9450 QCP for more than three years to create quilts and many other sewing and embroidery projects. I would teasingly say I was so bonded with both of these machines I would never let another machine turn my head, so to speak. So, I was admittedly a teensy bit resistant as I flew to the Janome headquarters in NJ to meet the "new kid on the block" because I was quite convinced I already had the equivalent of sewing machine perfection back home in my studio. (And rest assured, those machines are still perfection — and still in use in my studio today.)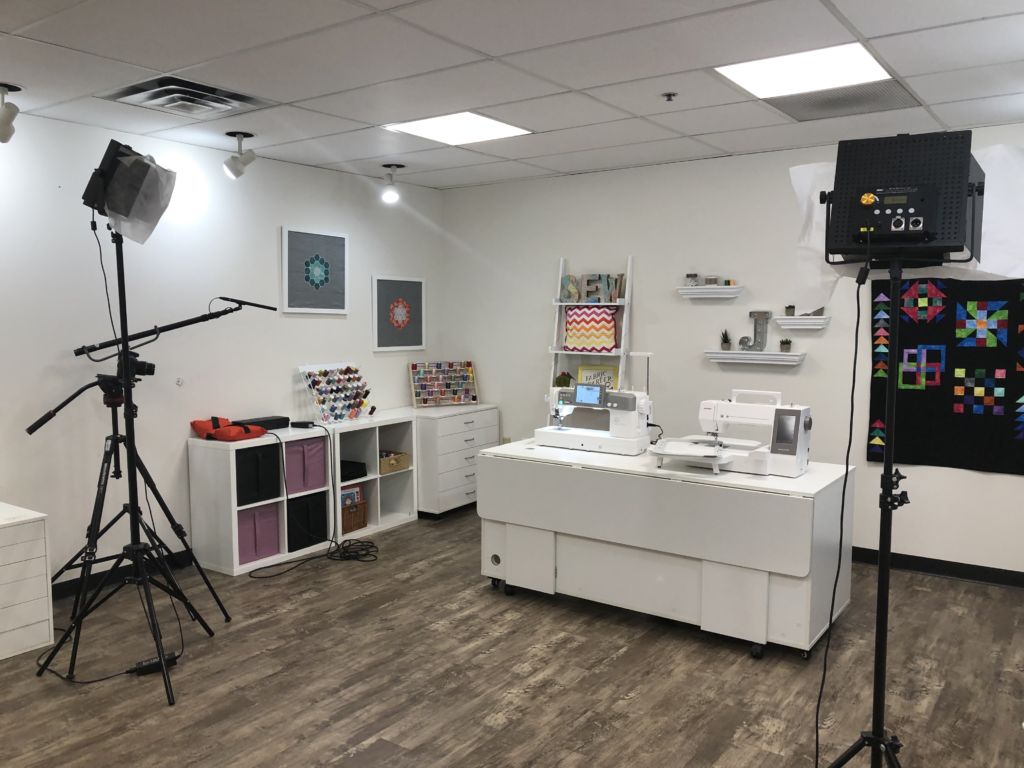 But I was not prepared for all the innovative new features on the Continental M7. When I first entered the room and saw the sheer size of the M7, I was truly taken aback. This machine has the largest open area of throat space of any sit-down, domestic sewing machine on the market! There are more than 13″+ of space from the needle to the arm of the machine and the clearance in height is more than other machines, too. The machine itself is not only sleek but incredibly sturdy. However, ALL Janome machines are sturdy — so I expected nothing less and was not disappointed.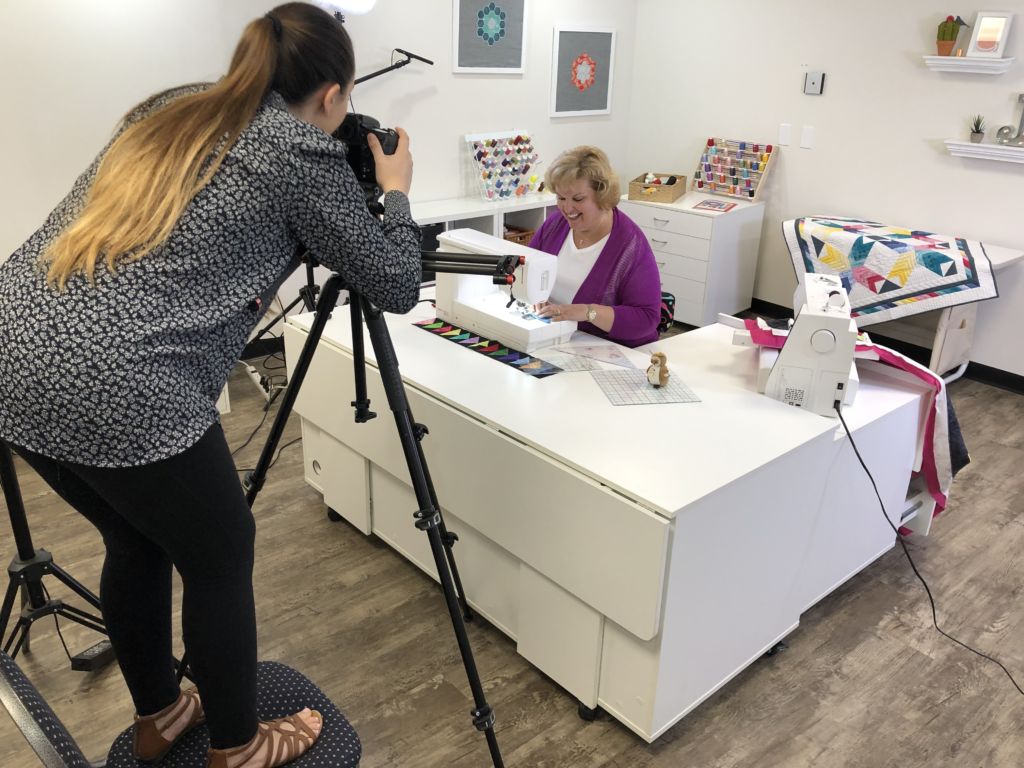 I turned on the machine and threaded it easily with the smooth-path, one-button, needle threading system. Most impressive! Immediately, I noticed the unobstructed line of sight with almost 4″ above the needle; there is nothing to impede your view! This was another delightfully unexpected design feature of the carriage itself. 
The brightly-lit, 7″ high definition color touch screen is strategically located for easy accessibility and the interface is very user-friendly for even the most beginning level sewist. In other words, the icons and touch-screen buttons simply make sense to most people. Although the instruction manual is an excellent reference guide, you may not even need it to decipher commands and features or how the buttons are to be used. A true beginner could easily use this machine and not feel intimidated.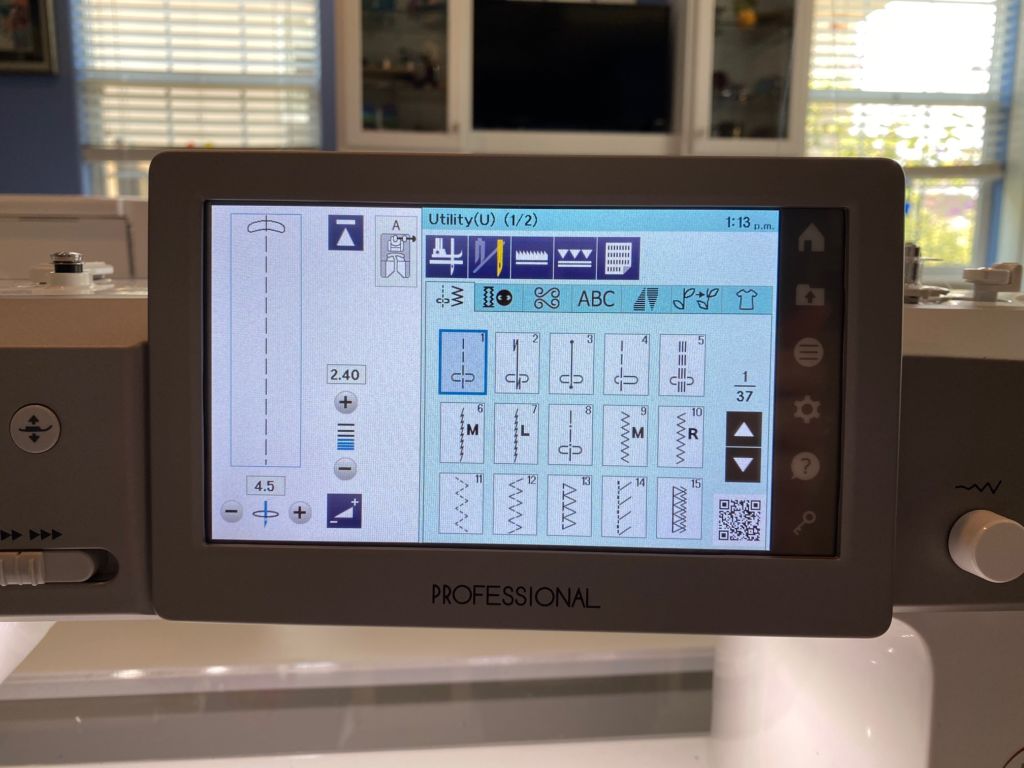 When I began testing different stitches, it whirred quietly like the fine-tuned machine it is. The stitch quality? Oh-so incredibly smooth, balanced and well… perfect.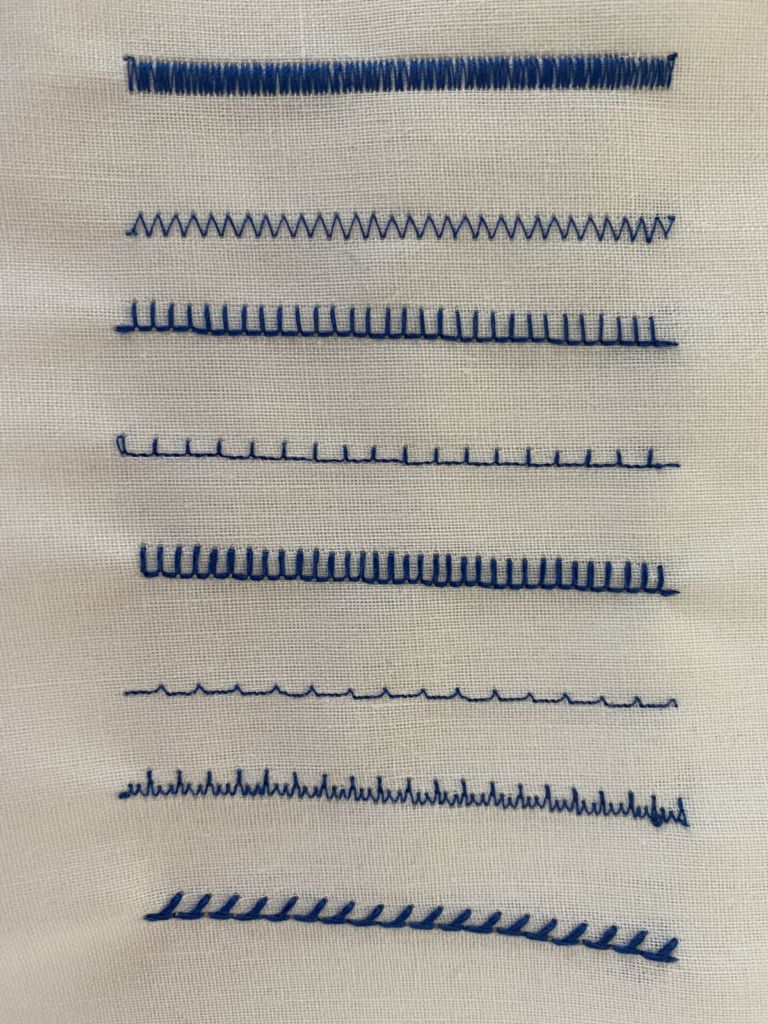 There is an adjustable lever for the ultimate in precise speed control but this machine can sew a whopping 1300 stitches per minute! Again, this has everything you would expect from Janome's "dependability by design." And the motor is incredibly powerful. I was given twelve layers of denim and stitched through those layers like a hot knife through butter. Really.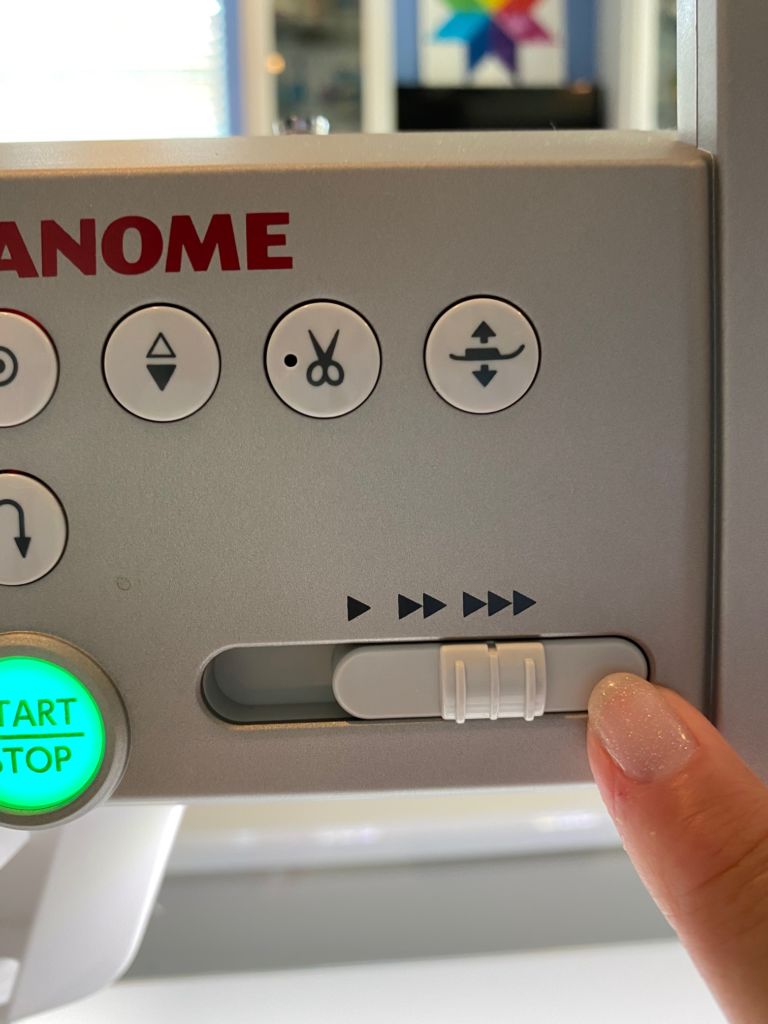 Then I was asked to change the needle plate. Instead of pushing an actual button or lever on the machine you simply touch the locking "key" icon on the screen and instantly — magically — the needle plate automatically lifts so you can change it for any one of three needle plates which come standard with the accessories. Once removed, you simply line up one side of the plate you wish to insert and it is pulled securely in place through the fully computerized system. I was so enthralled, I went through this process several more times for the fun of it! This brilliant feature will save many polished nails from being chipped; let alone the hassle of having to use a screwdriver or tools to change a needle plate!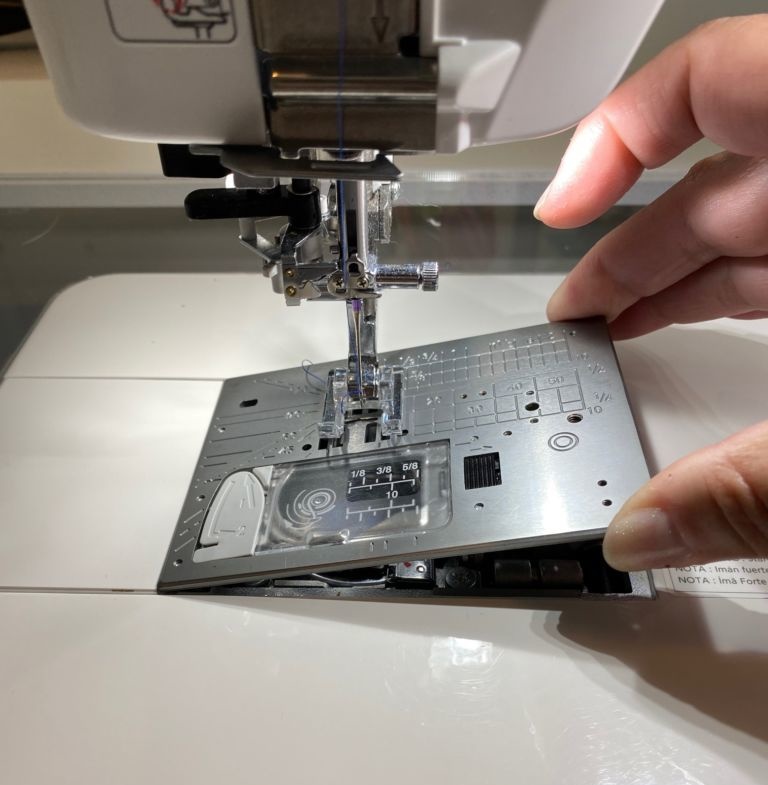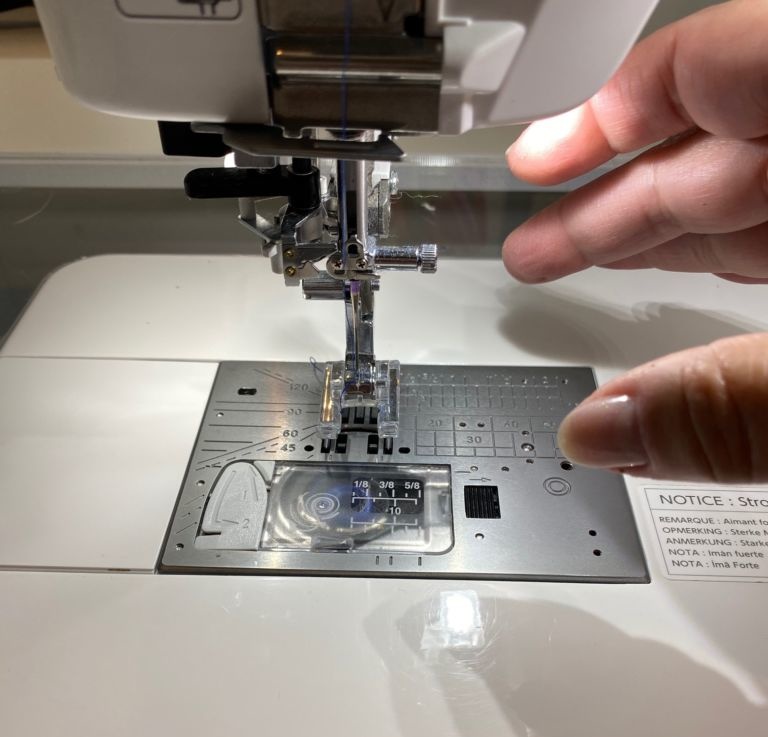 And of course, the M7 comes standard with the incredible HP foot and plate system (the HP plate, HP foot and HP2 presser foot) which is my most favorite method for achieving the perfect scant 1/4″ seam with ease . (In case you missed it, you can read about the definition and how to achieve that otherwise elusive scant 1/4″ seam by CLICKING HERE.) If you're ready to perform curved piecing with absolute ease, NOTHING does it better than the HP system!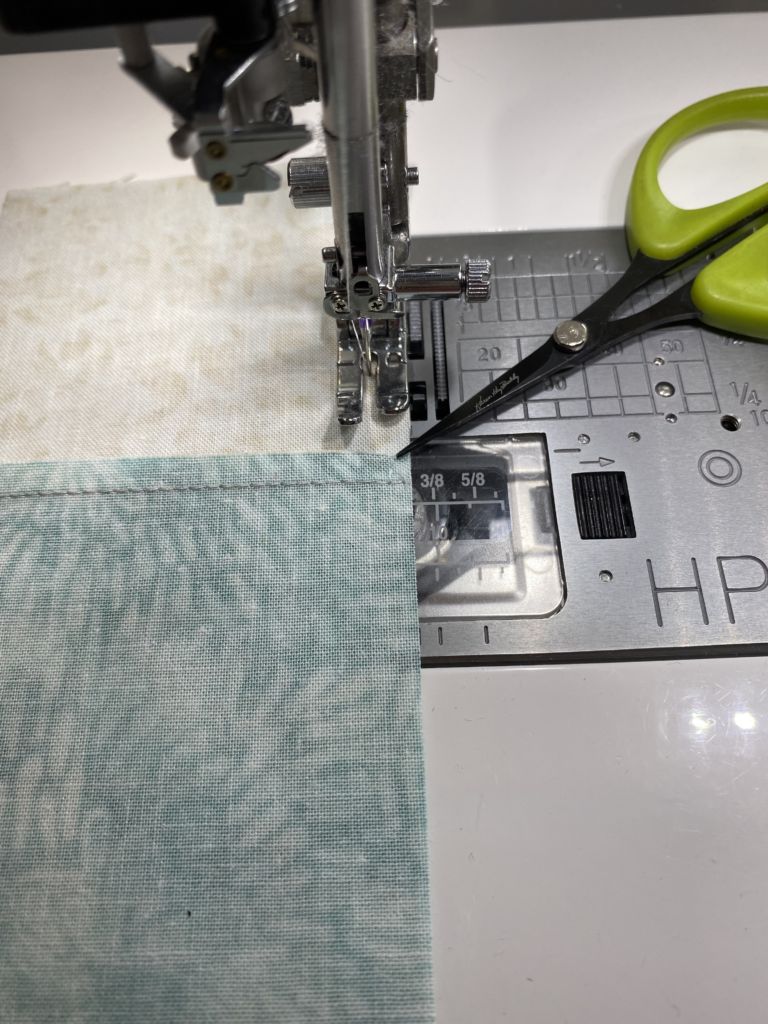 If I hadn't already been excited about the M7 by this point (which I was) the next feature absolutely cinched the deal for me. The AcuSpark App, which incidentally, isn't even on the machine itself, is available as a free download for iOS or Android users to any smartphone or tablet. This powerful little app is jam-packed with information about every feature and function on the Continental M7. On the bottom right side of the M7 screen there is a small UPC code which changes with each stitch or function you select. Simply open the AcuSpark App, scan the UPC code, and up pops all the information about that particular feature or stitch selection! You may never need the user manual because this little gem provides almost everything you could ever want or need to know. I think this new feature alone is worth its weight in sheer sewing gold!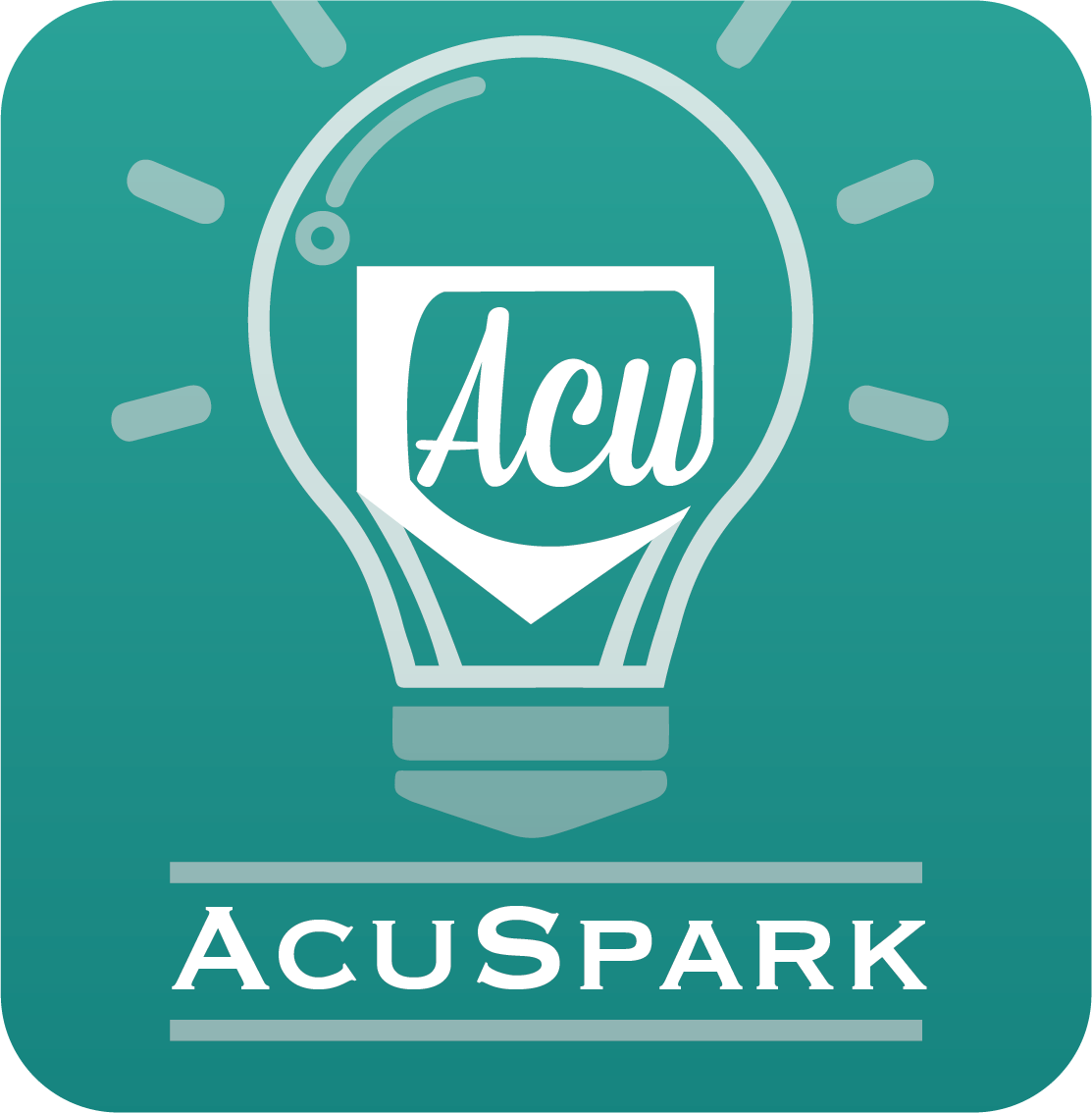 The M7 has another fabulous new design called the SFS-I. What does this mean for you? This intelligent feed-dog system allows the feed dogs to always end lowered beneath the needle plate surface when you stop sewing so when you move or position your fabric underneath the presser foot, there is nothing to cause "drag" on your fabric. When you begin sewing (whether you use the foot pedal or the start button), the feed dogs instantly lift and engage your fabric with the presser foot to move it with precision and accuracy. It's positively brilliant — especially when you are maneuvering a quilt sandwich for either free motion or ruler work quilting!
Some of my other personal favorite features on this fabulous machine include:
Independent bobbin winding motor. You can wind bobbins at the same time you continue to sew. It's a great time-saver and allows me to multi-task.
Automatic Presser foot lift / hoover feature. I use this feature ALL THE TIME. You can even program how high — or low — the presser foot lifts which is handy for different sewing applications.
Quilt Block Advisor. Choose from a variety of traditional quilt blocks in customizable sizes and the machine will tell you the size of each piece to cut and how to construct the block. 

Optical bobbin sensor. 

You can turn this feature on or off in the Settings Menu, but it is very accurate and saves me from sewing untold seam lengths without bobbin thread. 

On-Screen clock. 

You wouldn't think this little feature would make such a big difference but it does. I am surprised at how much I use this time-keeping feature to keep me on task for meetings or deadlines….or for when I need to go to bed!

AcuFeed Flex Plus upper feed system. 

I absolutely love this even-feed system and have all the different sole plates for my AcuFeed Flex Foot. Once you've used this, you'll never want to go back to using any other walking foot or dual feed system. It's THAT GOOD.

400 built-in stitches. 

I have enjoyed using many of the decorative stitches for so many different applications! These stitches, which can be altered in dozens of ways by changing the stitch length and width, give me so many options that I'll never be able to exhaust them all!

Snap-on presser feet. The ease of switching out the different presser feet is second to none. They make it so easy even for arthritic fingers!

Ruler work mode.

All the rage in the quilting world these days, this allows quilters to use a variety of quilting rulers to create the most stunning quilts! I've only just begun to really scratch the surface on how this function will change the way I quilt my quilts in the future. 

Stitch Tapering function. Is there a way for me to express just how much I adore this amazing feature? This might be my most favorite feature on the machine of all! There is a menu of a wide variety of stitches which lend themselves perfectly to tapering the beginning and ends of the stitches by changing the angles. There are so many amazing sewing applications for this feature, I think I would buy the M7 for this alone! Perfect for machine applique and so much more, there are an infinite number of ways to customize the stitch angles for the most professional quality results ever. Bar none!
Sashiko stitches by machine. This feature, also found in the Stitch Applications guide (the little t-shirt icon on the screen), literally blew my socks off! You can easily create hand-look quilting stitches or Sashiko stitches by machine that look just like they were done by hand! The potential for different sewing applications for using this feature alone boggles my mind. I have so many ideas of what I want to create using this. You'll be hearing more from me about this in the future. 

Twin needle safety setting.

Completely goof-proof. Inset a twin needle, set the machine and never break those expensive twin needles again!

Start/Stop button. I never thought I could get used to sewing with a start/stop button in lieu of the foot pedal, but I must admit….this feature is mighty nice and there are times when you'll really want to use it!
Stitch Composer software. 400+ stitches aren't enough? No problem. You can create your own originally designed stitches right on the screen. Brilliant! 

Locking stitch button.

This s

tarts and stops your stitches with a locking stitch so you can trim your thread tails right down to the fabric and never need to bury the threads again. 

Scissors button.

The ultimate in automatic thread cutters. It leaves enough thread after cutting so your needle will not come unthreaded. There is also a small foot pedal you can attach to a plate next to your large foot pedal which cuts your threads with the tap of your toe. Brilliant!
These are the standard accessories which come with the M7: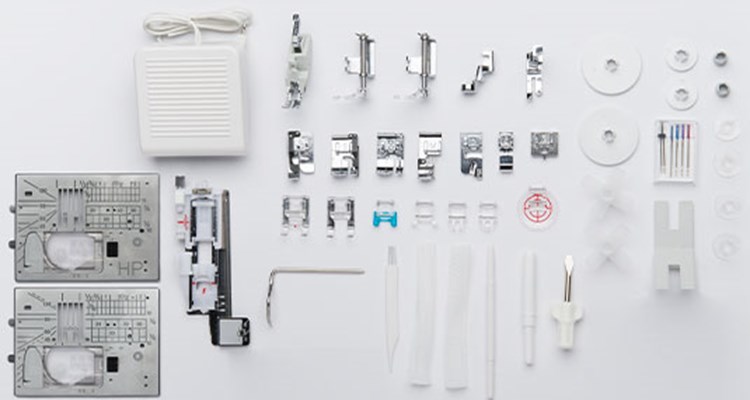 My secret wishes?
In all honesty, there are a couple of things about the M7 which might have been nice and in a perfect universe, I would ask to change. For one, perhaps it would be a nice touch to include a scrolling accent light which changes pretty colors (like the 15000) on the front of the machine. And sometimes I miss having the optional "spot light" on the left side of the machine as there is on the 15000 and the 9450. Although truthfully there is plenty of bright, true light focused right on the bed of the M7. So lighting is not an issue in the least. 
Also, the machine's extra large size meant I couldn't use my current sewing cabinet because the opening to hold the machine was not large enough. So I had to buy a new sewing cabinet. I chose an Arrow Cabinet and you can find out more by CLICKING HERE  and HERE. Or, you can go to your local Janome dealer and order an Eddycrest Janome exclusive cabinet to hold your M7. Find out more by CLICKING HERE. But still, I wouldn't consider this an actual problem.
Finally….
As if all the reasons I have listed above weren't enough to love Janome's Continental M7, the ultimate reason is this: it is 100% Cheeto approved. He's a large boy and he takes his Quality Control duties seriously. With the M7, there is plenty of room for him to supervise while I stitch.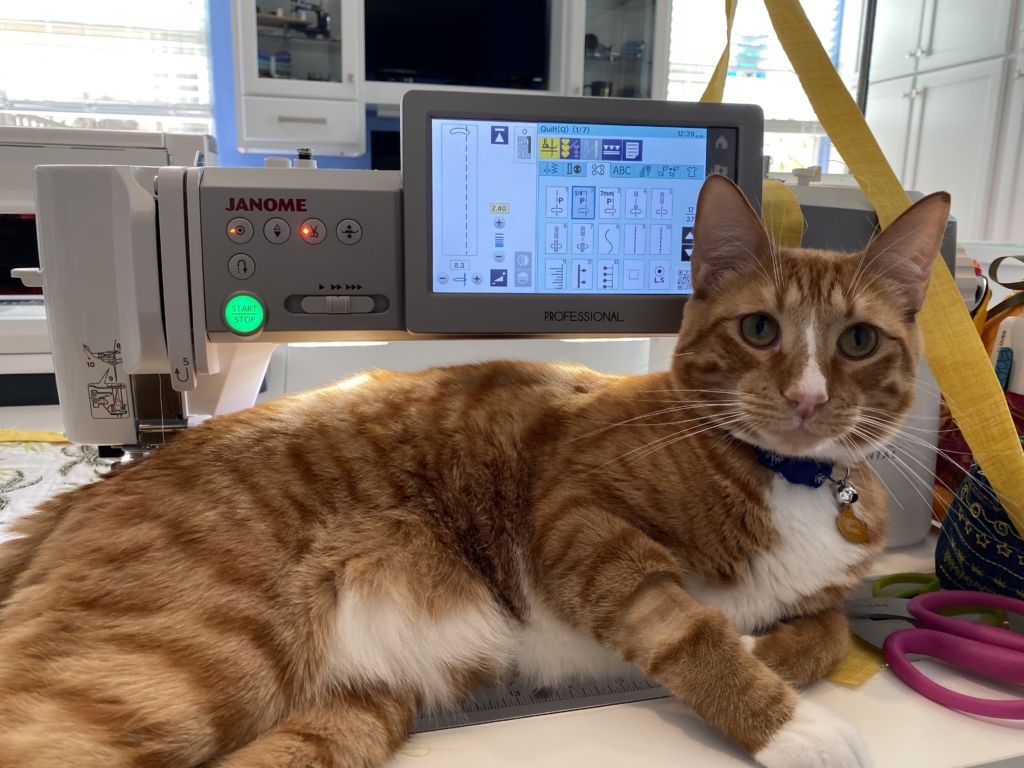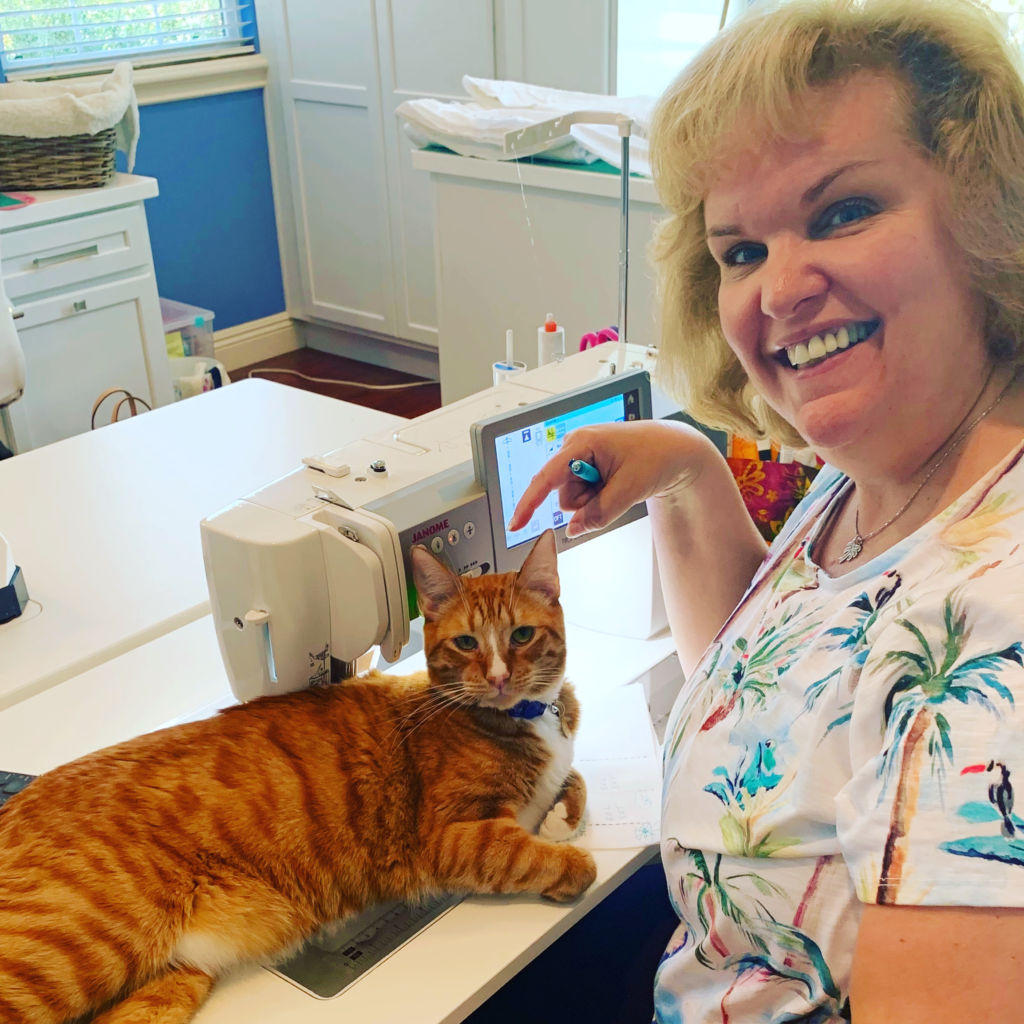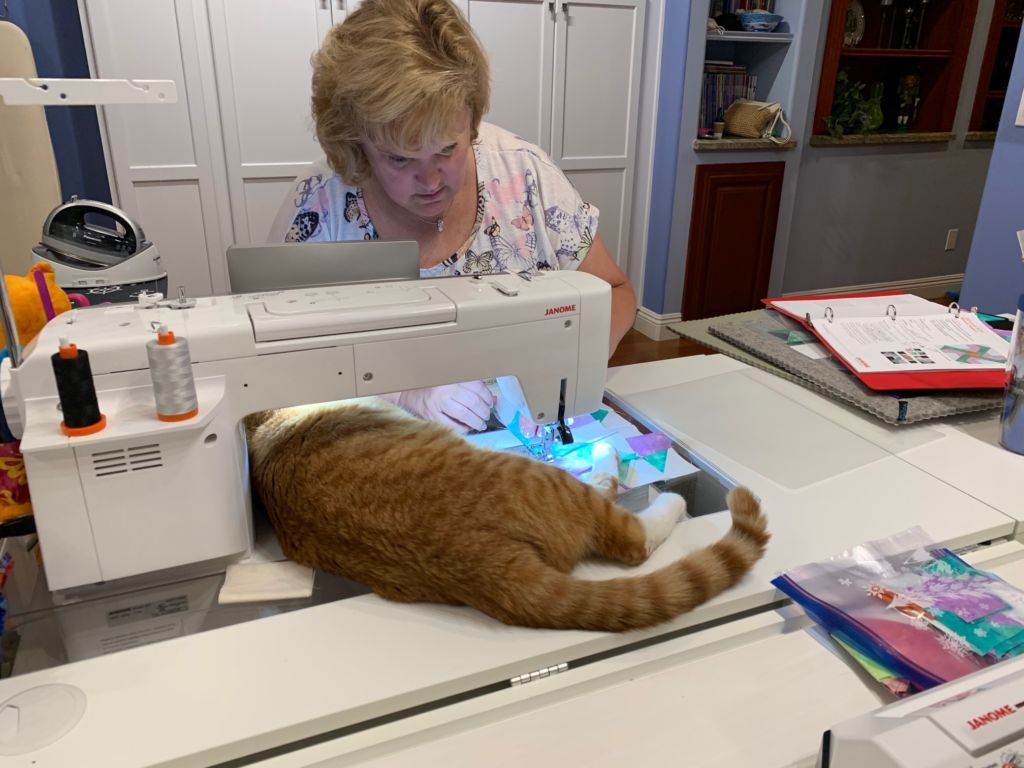 For someone like me who thought Janome couldn't find a way to improve on perfection, they did. Not to worry, though. My 15000 and 9450 are still loved and frequently used. But we've made space for the Continental M7 as the resident of honor in my studio and I often have my 15000 embroidering while I'm stitching on the M7 at the same time. This is double duty and multi-tasking at it's finest!
Bottom line: the M7 will turn the head of the most discerning sewist or quilter; it's simply that amazing. It certainly turned mine!
Thank you, Janome. For setting the bar high and surpassing it yet again.