Unattainable goal or within easy reach?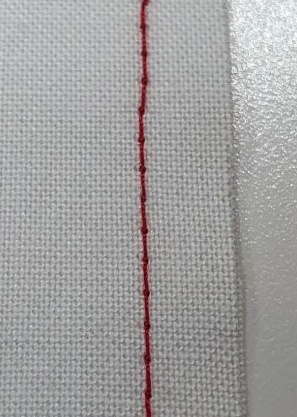 Quilters the world over continually strive to perfect the elusive scant 1/4″ seam allowance much like golfers strive for a hole in one or gourmet chefs painstakingly prepare the perfect souffle. The truth is, the perfect scant 1/4″ seam allowance is something every quilter can master with the right tools and practice. If you love precision piecing as much as I do, then stitching the perfect scant 1/4″ seam allowance is something you strive for every time you sit at the sewing machine to piece your fabrics into pretty blocks. And you want to be able to do it with ease.
For years, I've heard quilters discuss and debate what actually constitutes the perfect scant 1/4″ seam. If you ask twenty different quilters you'll likely get twenty different answers. And if you put those same twenty quilters in front of their sewing machines and ask them to stitch a scant 1/4″ seam, you'll likely get twenty different variations measuring anywhere from a much-too-skinny 1/8″ to a chunky 1/4″ seam. So why all the fuss?
Why do quilters need to use a scant 1/4″ seam?
When it comes to pieced units in quilting (unlike appliqué), it truly is all about the math and in particular, geometry. Units such as squares, rectangles, and triangles need to be cut accurately then sewn together accurately so they will measure accurately when the units are combined to create a larger block.
Unlike garment sewing where the industry standard is a 5/8″ seam allowance, piecing dictates a 1/4″ seam be used to sew fabric units together to create pieced blocks. Somewhere way back in history, quilters realized in order for seams to be pressed to one side they needed to allow for the bulk of the fabric itself to be folded over. A scant 1/4″ seam was far more effective and accurate to allow for this fabric bulk taking up space in the seams.
Even the weight of the thread you use to piece your seams produces bulk and takes up space! For instance, have you ever pieced your blocks with 50wt thread and then switched to 30wt or 40wt thread and continued to piece your units? If not, try it. It will feel like you are stitching with rope instead of thread! The weight of your thread makes a huge difference and that's why I highly recommend 50wt cotton thread for piecing: the thread is strong enough to hold the fabric together without breaking but thin enough not to produce too much bulk or take up too much room in the pressed seam allowances.
What exactly is a scant 1/4″ seam? 
Quite simply, a scant 1/4″ seam is about three fibers (in the cotton fabric) shy of a full 1/4." 
Now that you know what a scant 1/4″ seam should measure, how do you achieve it? 
Fortunately, there are many options to help you achieve the perfect scant 1/4″ seam. For me, the most perfect scant 1/4″ seam ever is sewn with the HP foot (which stands for High Performance) and is available on the Janome Memory Craft 15000, the Horizon Memory Craft 9400 and the newest in the Professional Series, the 9450 QCP. This fabulous foot and throat plate system is beyond amazing. (You can read my review of this system by CLICKING HERE and HERE.)
When you have the HP foot installed on your machine, it aligns the needle to the left position which is actually directly over the hook and loop mechanism so you'll get the most perfect stitches available anywhere. The tension and balance of the stitches are second to none. Seriously, the quality of the stitching is that good. The throat plate itself has a single hole for straight stitching which won't allow any fabric to be caught in the bobbin casing area. The HP foot is smaller than a typical 1/4″ piecing foot but within a few minutes you'll feel absolutely comfortable and wonder why you ever hesitated to switch to the HP system. 
Proper fabric alignment.
It's easy to align the fabric to the right edge of the HP foot to achieve the perfect scant 1/4″ seam allowance. I used to love sewing with a 1/4″ piecing foot with a guide. But with the HP foot, I don't need the guide because it's so easy to align my fabric with the edge of the foot. To be clear: the fabric aligns to the right edge of the foot but does not extend even a teensy bit beyond the foot itself. Look at the succession of photos below. The photos are taken without my hand moving the camera and as I sit directly in front of my machine, the fabric aligned with the HP foot looks like this:
It may take some experimentation and practice on your part. Or you may get it right on your first try! But really, it's about finding your own personal "sweet spot" when you align the fabric to the edge of the foot as you stitch your scant 1/4″ seam. 
A side view looks like this: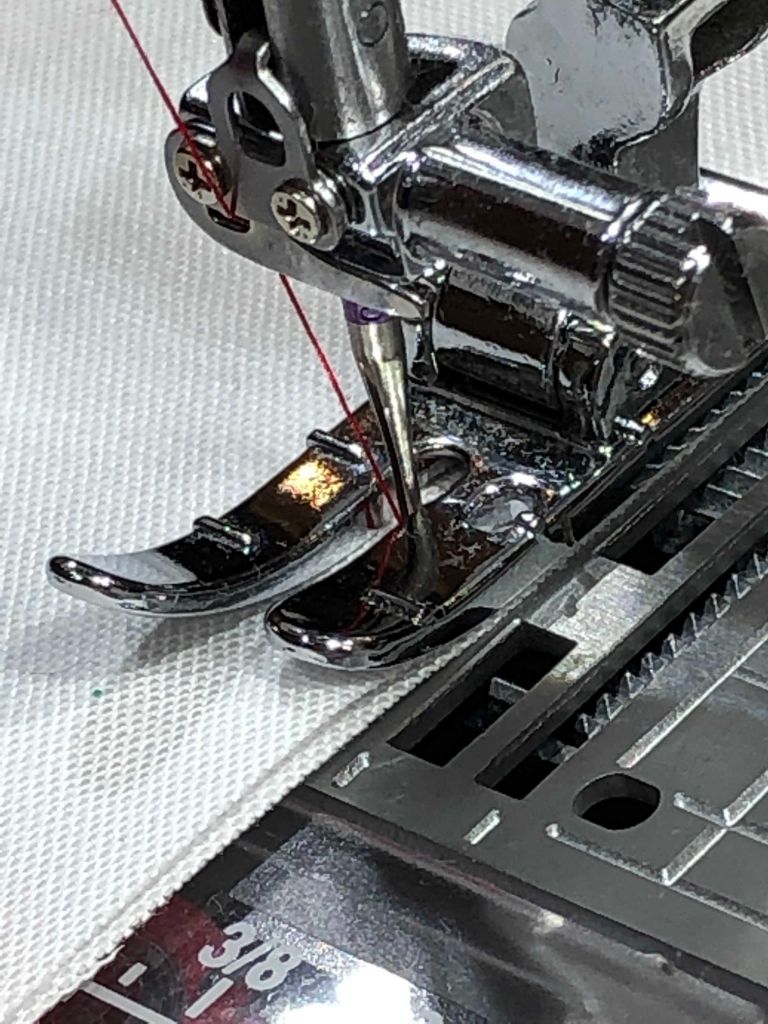 Simply allow the HP foot and the feed dogs do the work of pulling the fabric underneath the presser foot. Your hand will simply act as a guide to keep the fabric straight as you sew. And here's another great tip: the HP system is absolutely brilliant when it comes to achieving perfectly curved piecing, too!
Still not convinced?
If you try the HP system and find that it just doesn't feel comfortable to you, that's perfectly okay because Janome has many other outstanding 1/4″ presser feet and there will be one or more that feels natural and will suit your individual needs! And that's truly what quilting is all about: being comfortable and having fun while you stitch so you get the most perfect results. 
For starters, there is the ultra-popular and much-loved O foot and it comes with or without the guide on the right side of the foot!
But there are even more options to help you get that perfect scant 1/4″! If you haven't already done so, be sure to check out Janome's clear quarter inch presser feet options. There is the OV foot and the OM foot with red markings to help you align seams and turn corners with ease when you're piecing.
And if you'd rather not use a quarter inch presser foot at all, there are still more choices. You can select the A presser foot which comes standard on the machine, and simply adjust the needle position and use the 1/4″ stitch from the menu of stitches as shown below!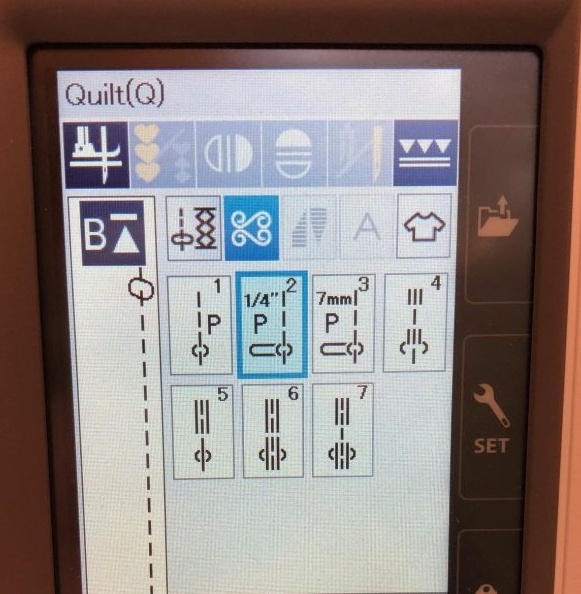 And that's not all…
There are so many options available to help you find your own personal scant quarter inch seam. Once you find the 1/4″ presser foot that suits you best, you can tweak the stitch settings even more by moving the position of the needle! In fact, on the Memory Craft 15000, Creative 9400, and Professional 9450, there are 92 needle positions so you can adjust the needle until the seam is absolutely perfect and feels comfortable for YOU.
Just think about that for a minute: there are 92 needle positions! 
So now that you know what a perfect scant 1/4″ seam allowance should look like, I encourage you to take a few minutes and practice stitching a scant 1/4″ seam. Take the time to measure and make adjustments accordingly until your seam allowance is perfect. Once you find the "sweet spot" for you — you'll see dramatic improvements in your piecing overall.
It's all about having fun.
Ultimately, you shouldn't feel stress, pressure or angst. Quilting — piecing in particular, is supposed to be fun and relaxing. Don't stress yourself out while you find your personal perfect scant 1/4″ seam. Just practice. Take your time. Experiment with the HP foot. Experiment with your own 1/4″ foot, no matter your machine make or model. Adjust the needle positions (if your machine has that option) until you find the position which works the best for you. And if you've never tried the HP system, I personally invite you to visit your local Janome dealer. Just tell them I sent you. Ask to see the HP foot in action and try it yourself. I think you'll just love it like I do. And remember, the perfect scant 1/4″ seam is truly within your grasp.