I've been swamped with deadlines. No kidding. Just buried. Everything is coming due all at once, as in "right-now-or-better-still, yesterday." Life is like that sometimes, don't you agree? But believe it or not I'm hanging in there and working really hard. My momentum is going strong. And I feel really good. Productive. Creative. Tired, but energized. (Is that even possible?) Oh, and did I mention productive?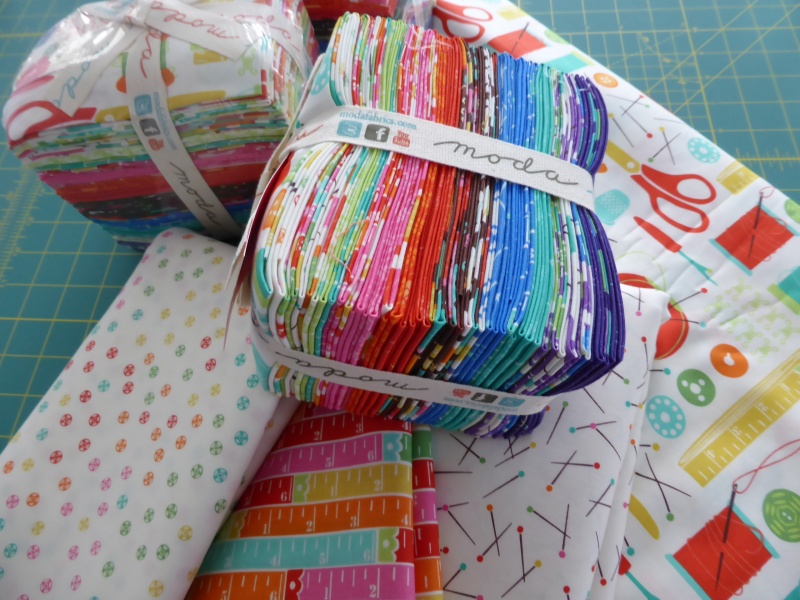 This is one of the fabric bundles I've been working with lately.
Yummy colors, don't you think?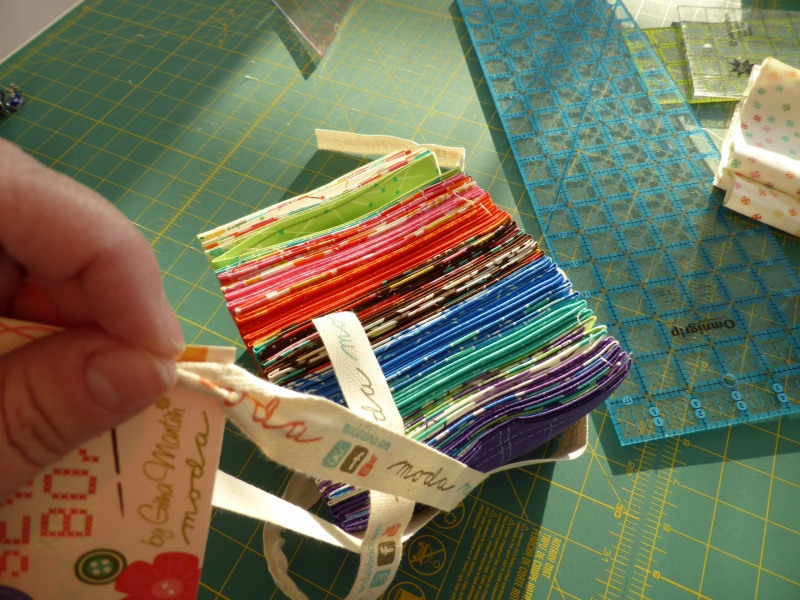 Oh, the anticipation of untying the bow……
One of the big things I've been working on lately is a brand new course for Craftsy. I can't begin to tell you how excited I am to be traveling to Denver soon to film this new, amazing, skill-building, piecing class. I've been developing the curriculum and been doing some marathon sewing in preparation. It is a lot of work. And I've put my heart and soul into this project because I want it to be really terrific. No. I want it to be awesome and I hope you'll think so, too.  I'm thrilled to be working with all the talented folks at Craftsy again. They are all such true professionals. It is a first-class organization, and I'm just so honored to be part of it! I promise to share more details as the course launch date comes closer. And I'll have a give-away on my blog, too, to celebrate the actual launch of the course. More big things are coming, and I promise to share!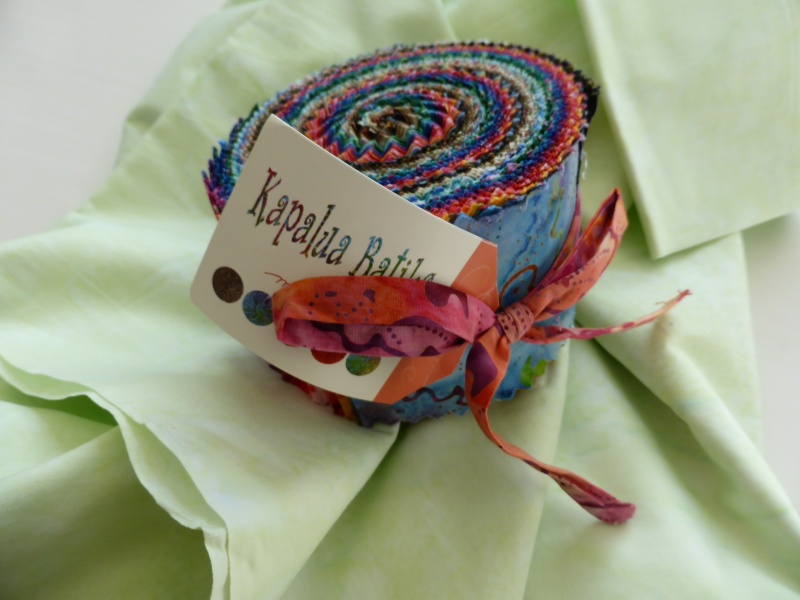 I made a luscious little quilt from this scrumptious Jelly Roll bundle and pale green batik background fabric.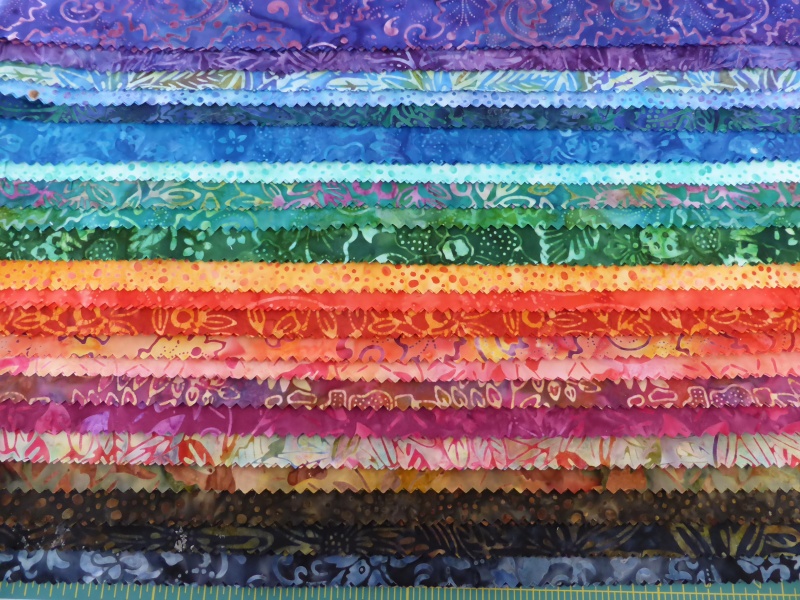 I thought you might enjoy a little eye candy. Aren't these just wonderful colors and fabrics? Be still my heart. Birgit Schuller quilted the quilt top and it is on its way back to me as I type this. She actually received the quilt at her home in Germany, quilted it, and shipped it back to the US in less than 18 hours. Now that's what I call a true friend!  I can hardly wait to see it in person and to share photos of it with you.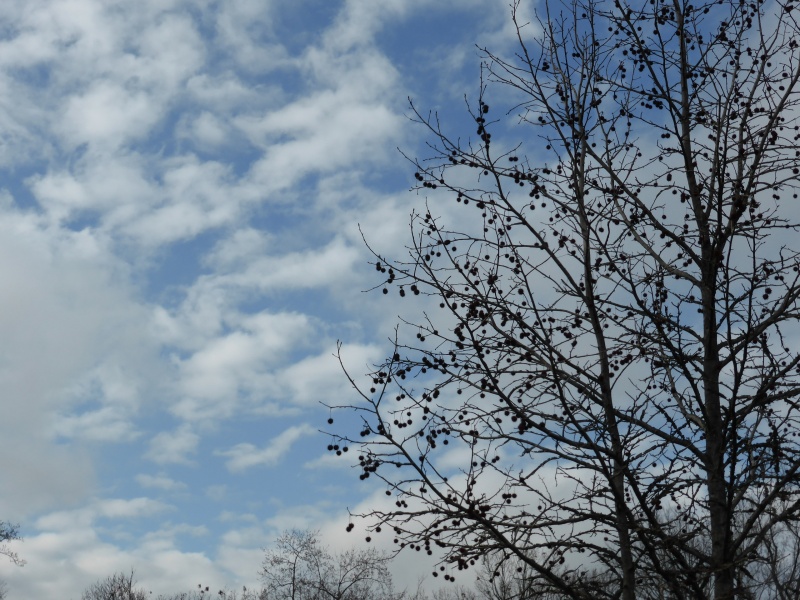 The view of brilliant blue skies and whispy-white clouds have greeted me almost daily on my walk.
In the meantime, I've managed to keep my one word for the year, GRATITUDE, at the forefront of my mind  as I tackle all the deadlines and potential stress zones. It is amazing how a heart full of gratitude has little room leftover for stress and worries. I've been taking walks as much as possible and since we've had a rather easy winter so far here in the mid-Atlantic region, the days have been mostly sunny with bright blue skies overhead.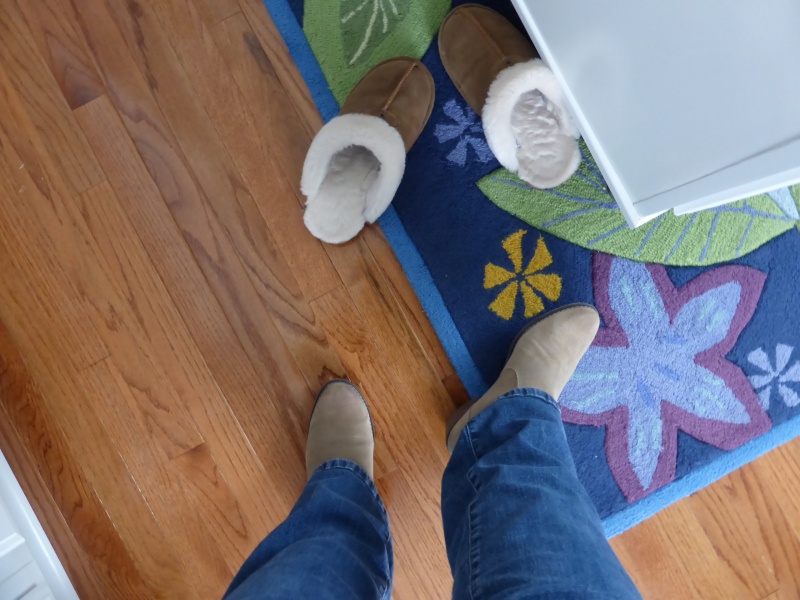 I just trade in my favorite pair of slippers for my boots and my faithful little dog, Divot and I hit the road.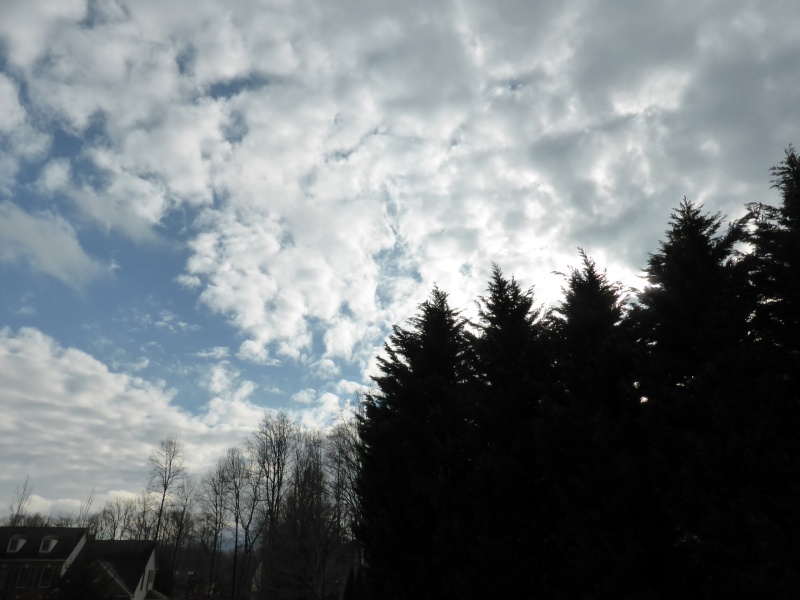 It is amazing how fresh air (even cold, fresh air!) and sunshine can help you keep your perspective.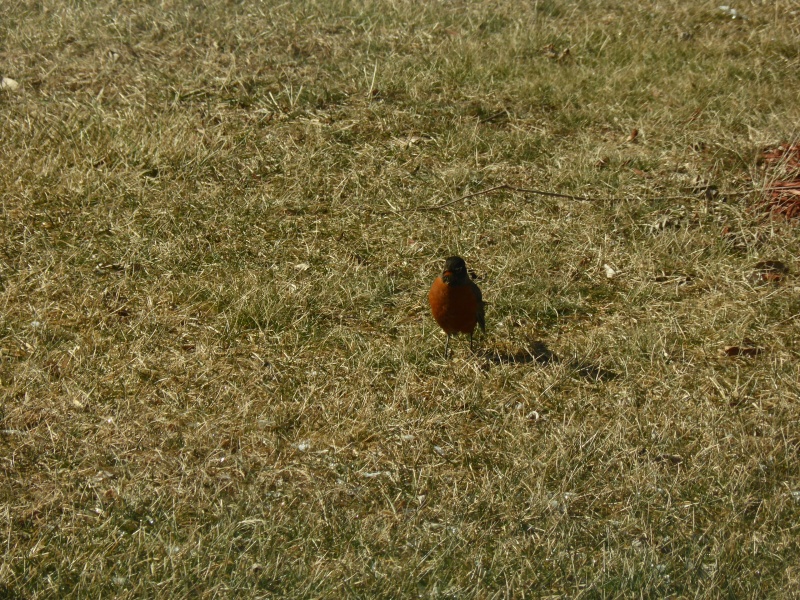 Now here's a sure sign of spring. The robins have returned already! Although the groundhog told us there would still be six more weeks of winter, so I don't think we're out of the woods just yet.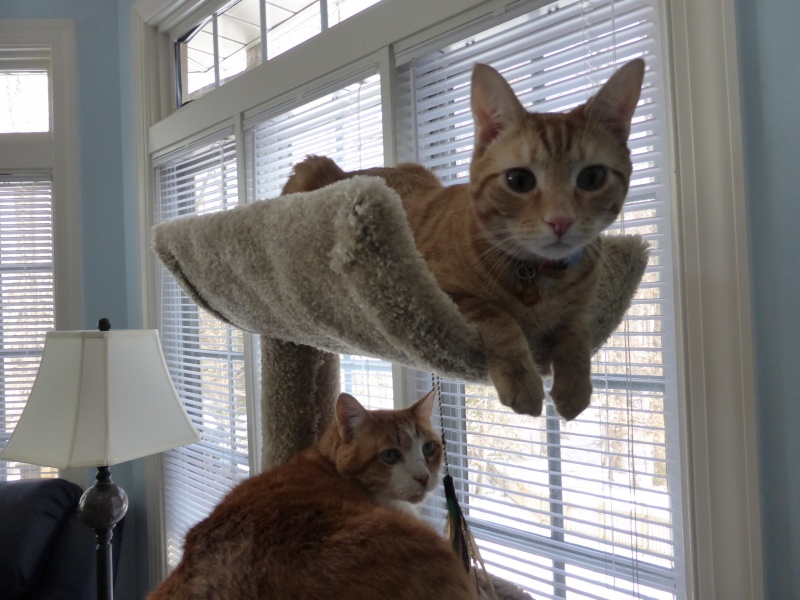 In other news….the cats have been keeping me good company while enjoying their new kitty condo. We put it right in front of a window so they can watch the birds at the feeder on our deck. This provides hours of endless entertainment. The squirrels love teasing them knowing full well the cats are no threat because they are strictly indoor kitties.
WORKSHOP OPPORTUNITY!
And if you are in the Northern Virginia or Washington DC area, I will be teaching my most popular class, LONE STARBURST, on Monday, February 24th from 10 am – 4pm in Woodbridge. This is such a terrific workshop — and lots of fun! All you need are 3 1/2 yards of background fabric and 1 Jelly Roll. That's it! (Of course, if you would rather use your own fabric than a Jelly Roll you can use 40 – 2 1/2″ strips from your stash…..) And you don't have to do any prep-work prior to class. So what are you waiting for? If you are interested in taking this fabulously fun workshop, email me at: moc.omnieylrebmiknull@ylrebmiK and I'll send you all the details. I really hope to see YOU there!

LONE STARBURST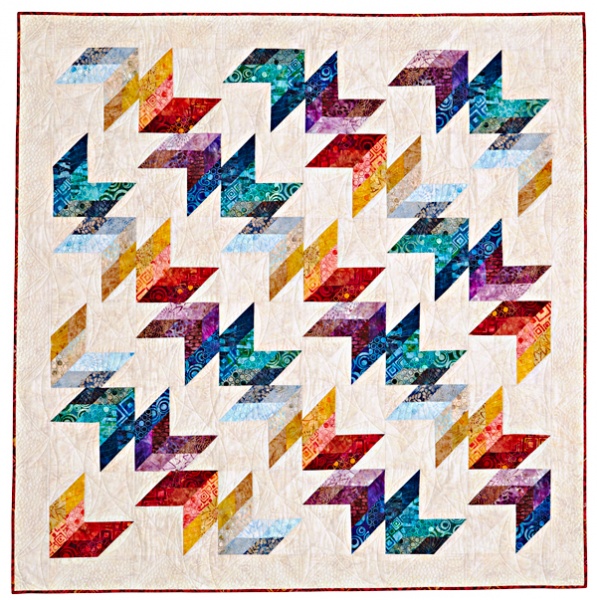 FLIGHT PLAN
Once you learn the technique, you'll be able to make this version of Lone Starburst which was featured in the recent December, 2013 issue of American Patchwork and Quilting Magazine!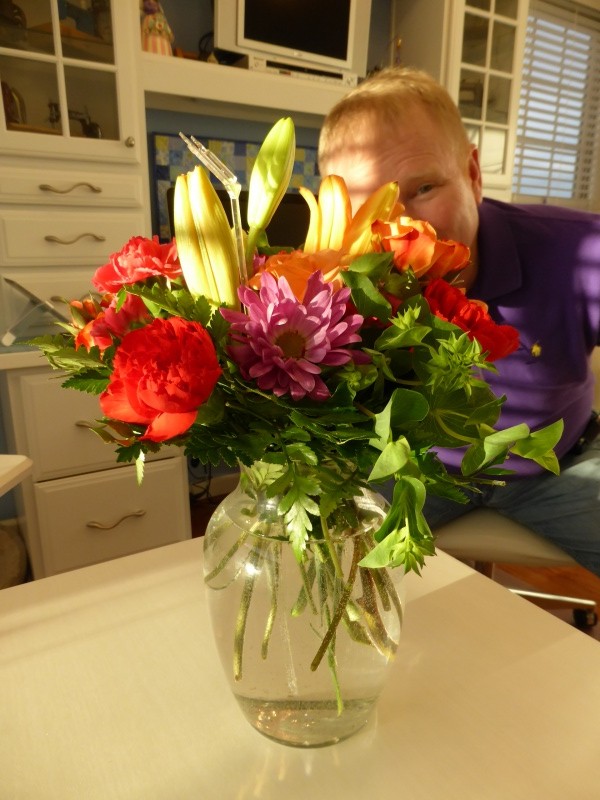 Photo bomb!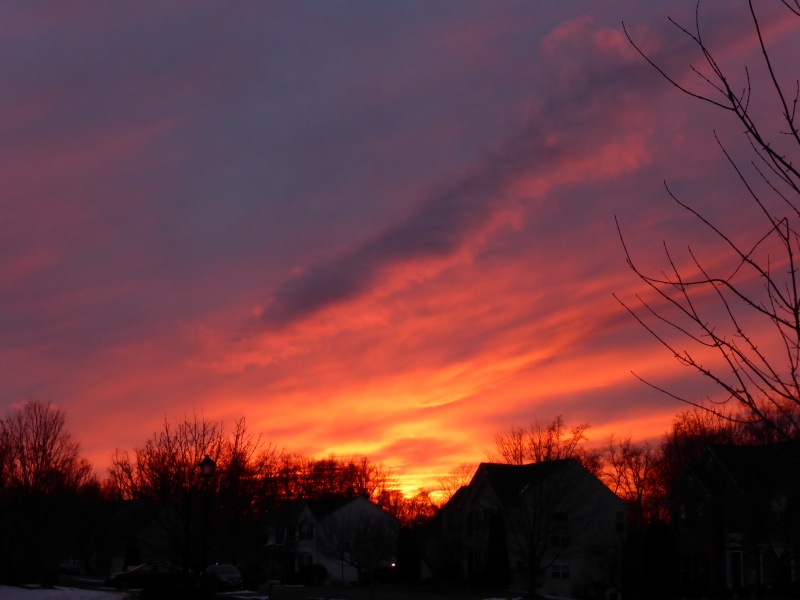 And besides some gloriously pretty days, we've enjoyed some pretty spectacular sunsets, too.
Yes, life is crazy-busy right now and is likely to remain so for the foreseeable future. But it is good. Really, really good.
Feeling oh-so-grateful. And blessed.
Here's hoping things in your world are well, too!