This is your personal invitation to join me in making the 2017 American Quilter Magazine Series Quilt,

GATHERINGS!
The first installment of this row-by-row quilt is featured in the current (July 2017) issue of American Quilter Magazine. I had such fun designing and making this beautiful basket quilt that I'm making it again — along with YOU — in real time as each issue of the magazine is published! I've designed it in two sizes, Queen and twin/double size.
This is a great stash-buster quilt; I encourage you to use fabrics you have on hand. Choose your favorite fat quarters you've been saving for a "special" project or raid your scrap bag and make these blocks completely scrappy. Let's make this together and share our journey! If you're not a subscriber to American Quilter Magazine, I encourage you to sign up for a subscription. This is my favorite quilting magazine — although admittedly, I'm a bit biased! I write a monthly column called "Kimberly's Korner" about current topics in the quilting industry and things which interest or are pertinent to quilters. Even if you're not a subscriber to AQ Magazine, you can follow along for FREE and make this splendid quilt. All you have to do is CLICK HERE for the free instructions and pattern. They will be available on my website each month immediately after the magazine is published.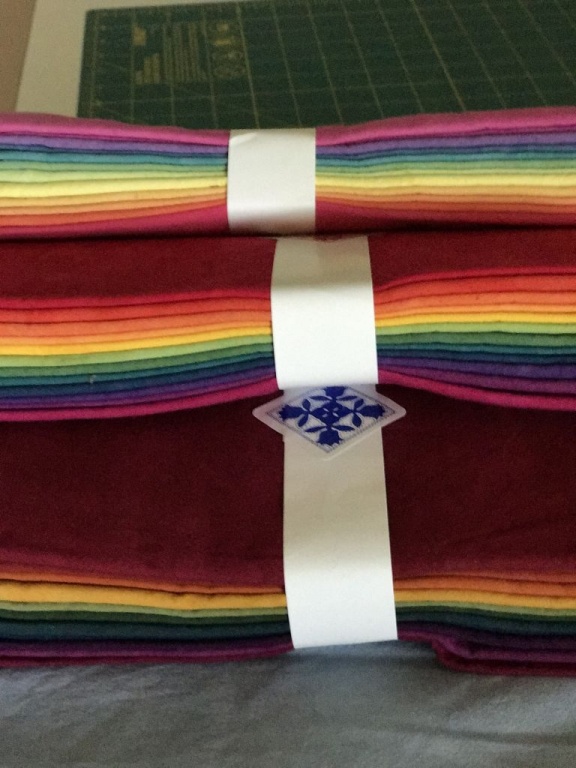 For my newest version of the quilt I decided to use fat quarter bundles from Cherrywood Fabrics. If you haven't made a quilt with these absolutely luscious fabrics, oh my goodness — you don't know what you're missing! I chose three fat quarter bundles of the Color Wheel in light, medium and dark. For the background fabric I'm using a soft, light blue. The fabrics are simply scrumptious and a dream to stitch. If you're interested, you can find out more by CLICKING HERE.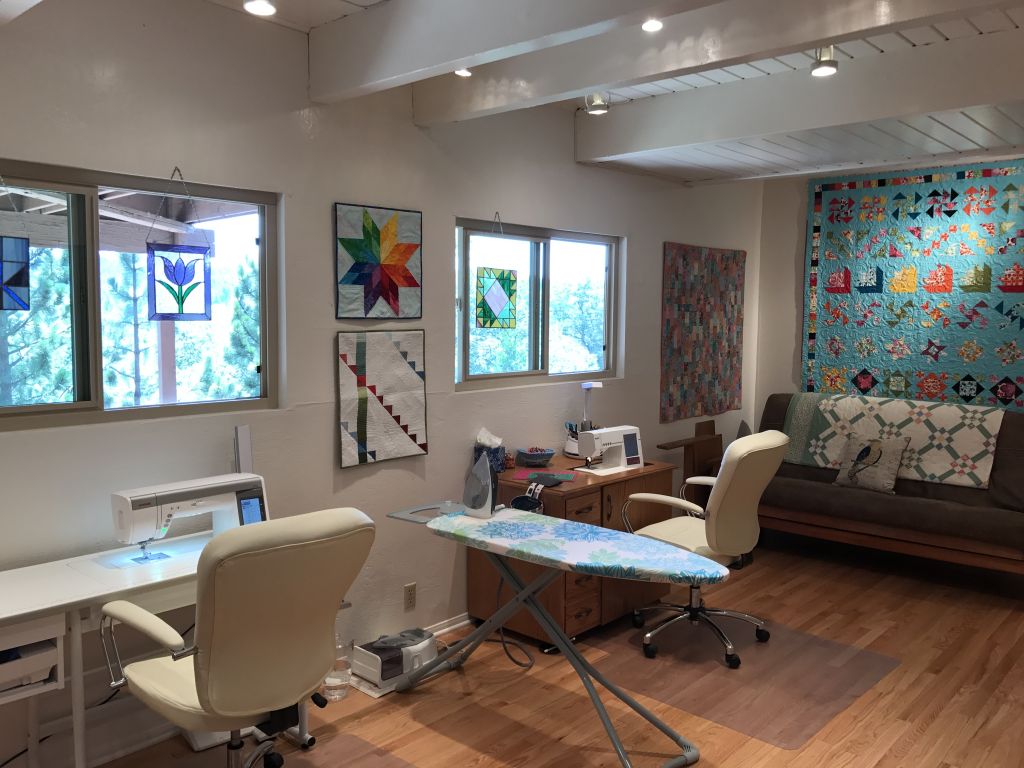 This week, I'm enjoying some dedicated sewing time at our cabin in the mountains in California. I love having time away to stitch from morning until late at night or even into the wee hours of the next morning without worrying about stopping to fix a meal or take care of laundry or other household chores. My time here is pure, guilt-free quilting!
Fortunately, I have two furry helpers acting as my Quality Control Managers.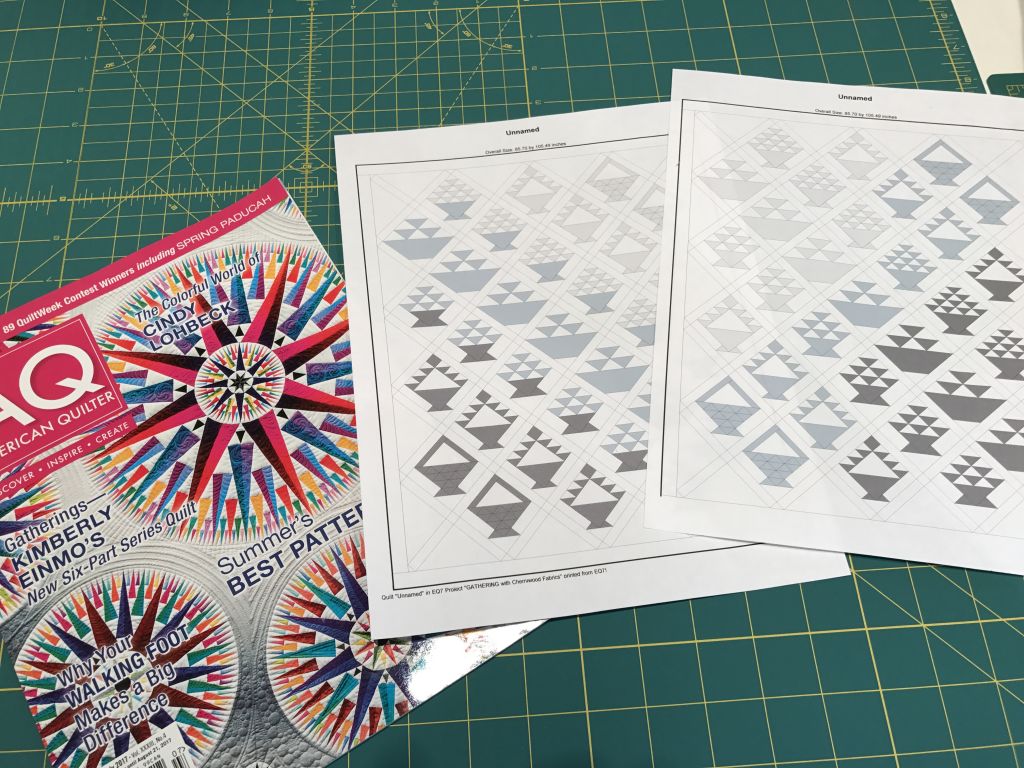 Armed with my copy of the magazine and two value-colorations of the layout from EQ software,
I'm ready to make Row#1 of the Simple Basket blocks.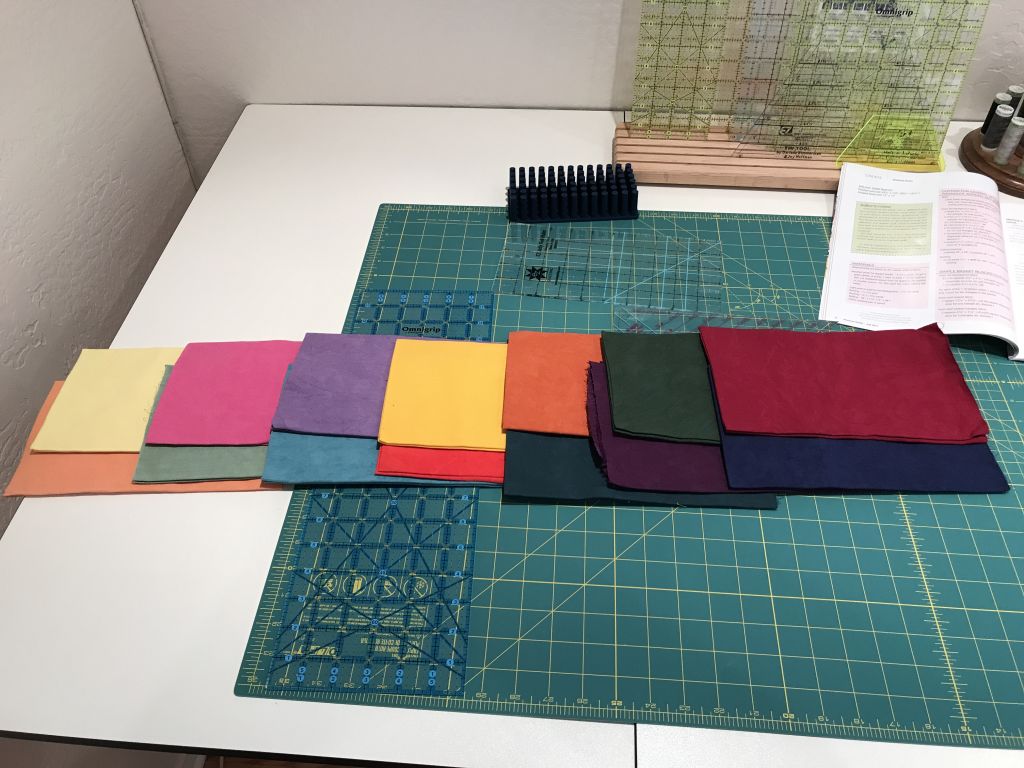 First, I chose fabric combinations for each of the seven blocks.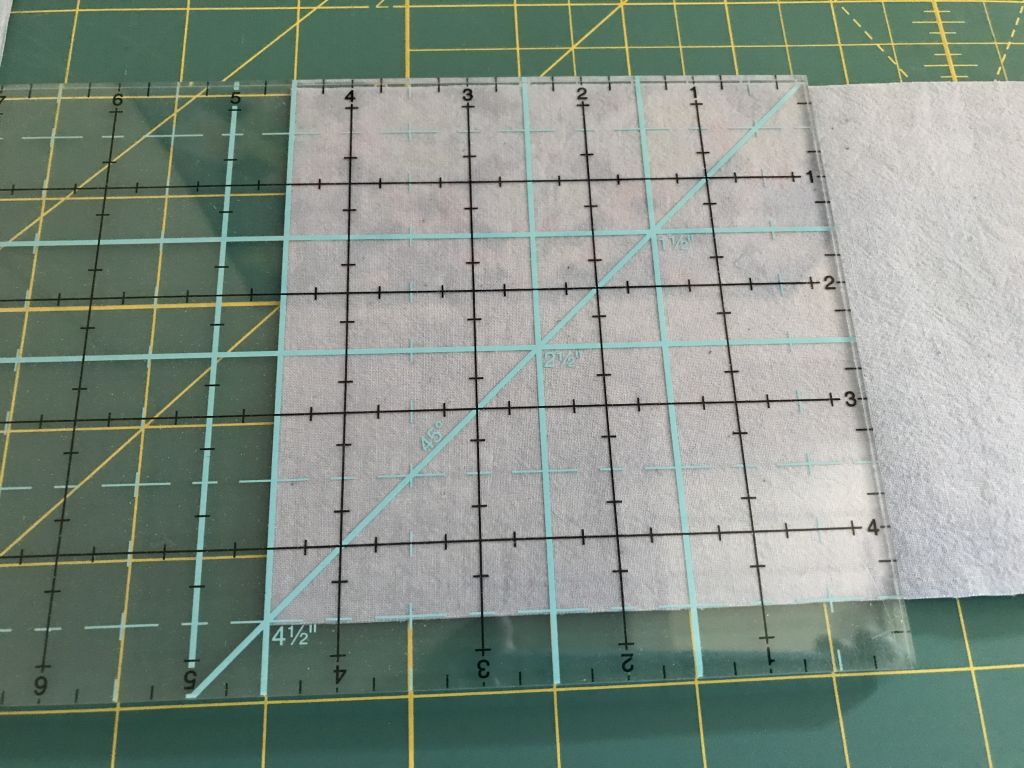 I cut squares and triangles from background fabric strips. The bright mint green lines on the EZ Jelly Roll Ruler makes it quick and easy to see at a glance exactly the size block I need to cut. By covering the raw edges of the fabric with the mint green lines, the units are 100% accurate!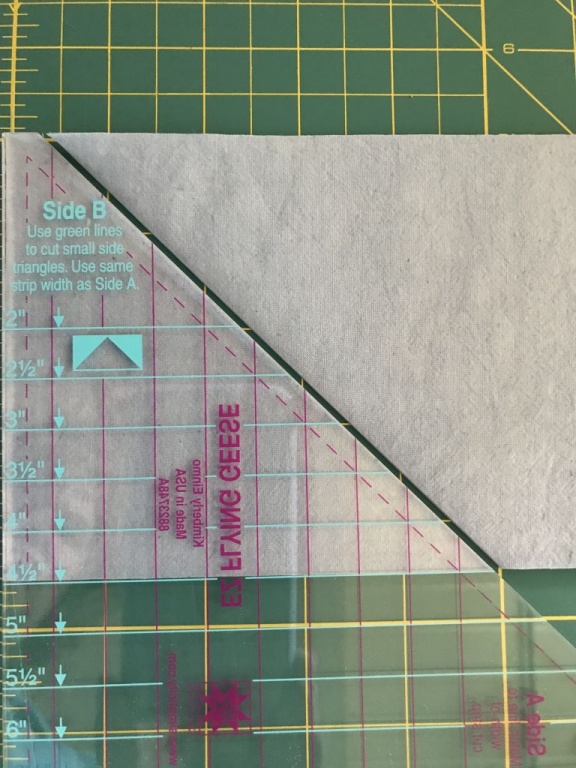 Even though the instructions are given in the magazine for traditional cutting methods, if you have my EZ Flying Geese Ruler, it is fast, easy and accurate to cut ALL the triangles using Side B of the ruler from whole and half size strips. No more pesky 7/8″ increments! To easily convert the traditional method instructions for use with my signature ruler, simply CLICK HERE.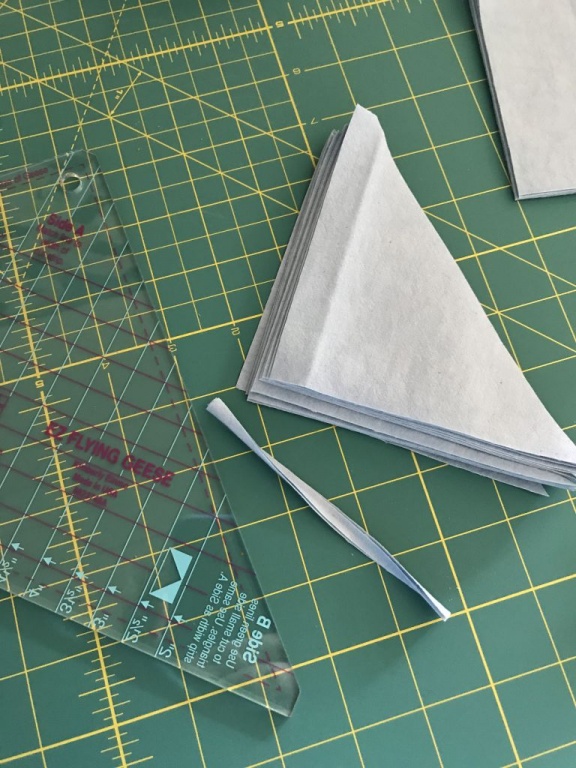 By using the EZ Flying Geese Ruler and 4 1/2″ strips of background fabric, I was able to cut all my squares and triangles for the seven blocks and had only this tiny sliver of fabric left over. NO wasted fabric!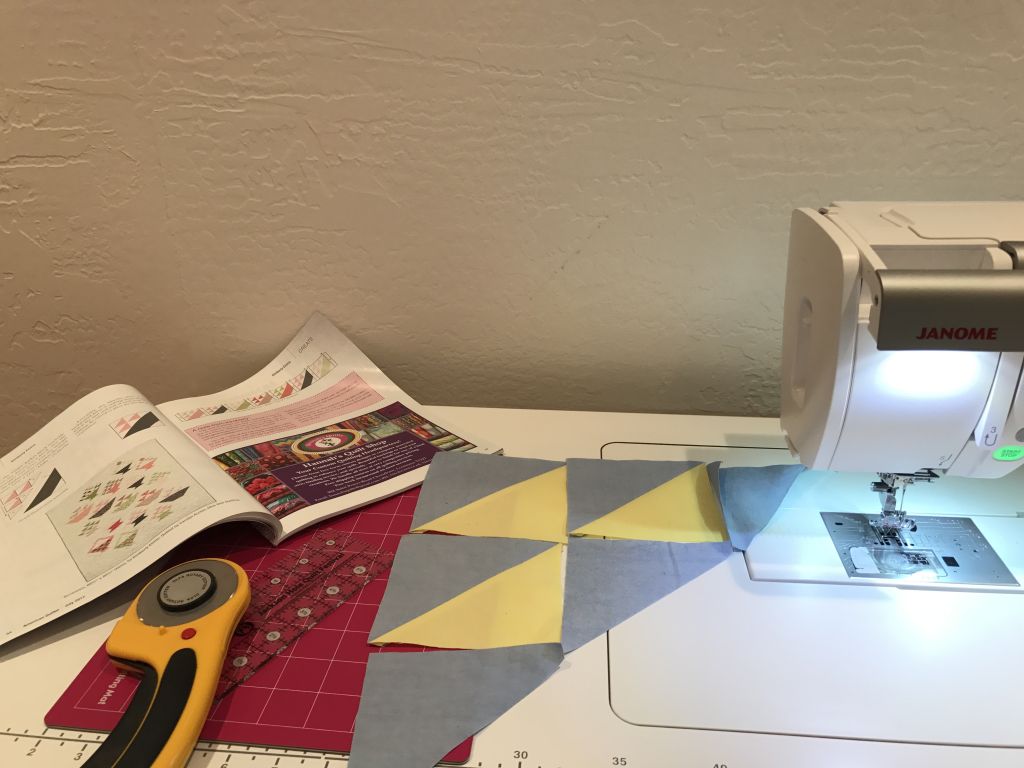 In about two hours, all seven blocks were pieced and trimmed. The blocks stitch together quite quickly. You'll be amazed!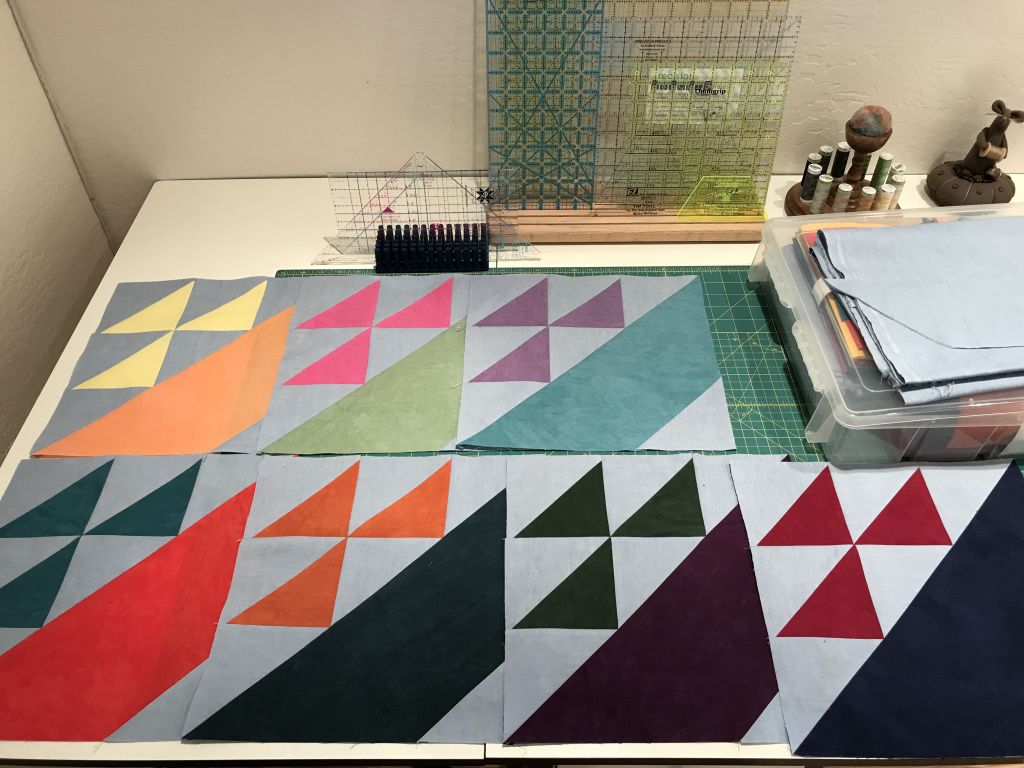 And just look how beautifully these 12 1/2″ unfinished blocks turned out! The values are shaded from light to medium to dark; I can hardly wait for the next issue of American Quilter to arrive so I can make Row #2! 
Won't you join me? Let's meet virtually and share photos of our progress. If you're on FACEBOOK, check out the new group I have started by CLICKING HERE.  This is going to be so much fun. I can't wait to see the fabric you've chosen and to follow along with YOUR progress!
Happy GATHERINGS!