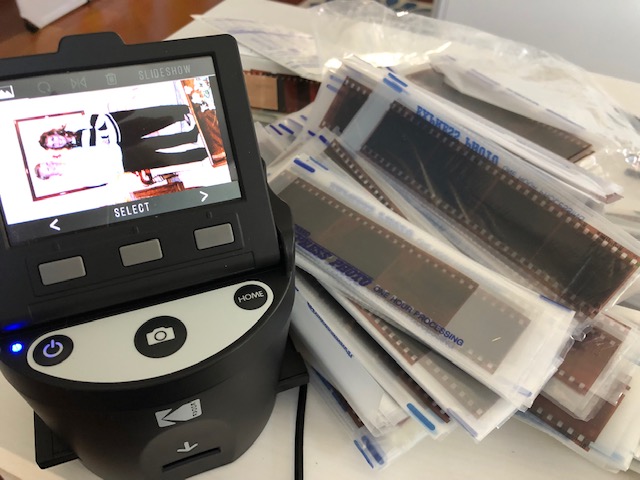 Thank goodness for digital cameras and photos. When Kent and I transitioned from using our old cameras with film for the relatively new digital photo technology in 2006, we were able to see and store all of our photos on our computers. Storage wasn't an issue; sorting through all of them was. But all of those printed photos, slides and negatives we had acquired leading up to our digital transition were unceremoniously stored (i.e. "dumped") into bins, any available boxes, and plastic tubs and carried with us through all of our many military moves. Those photos almost never made it into any photo albums (I did make first-year baby books for our boys) and although I kept taking photos of family, life events, and travels, the intended albums were always a pipe dream for "someday" while we were busy raising kids, pursuing careers and living life. The more household moves we made, the more of a mess those photo boxes and bins became. When my folks passed away, we inherited their many slide trays and carousels plus boxes and boxes of really old photos. Alas, all of those simply joined our menagerie of boxes and tubs and remained in dark storage areas waiting for me to find the time to deal with them. 
Most of the time, I simply put it out of my mind. Every time we moved though, I was forced to haul those heavy boxes and bins and shove them into a different, dark storage area with the guilty tug that "I need to make time to go through all of these and sort them out." Alas, I'm sure you know the story. Months turned into years and that time never came.
Enter Denise. My sweet cousin is the closest thing I have to a sister and although we went a number of years in our early adulthood where we lost touch, we reconnected about fourteen years ago when we lived in Dayton and she lives in Columbus. Denise is our self-appointed, family historian. She has created extensive family trees with different branches for relatives on Ancestry.com and as I recently learned, she peruses (dare I say, "trolls?") websites such as FindAGrave.com. (Interestingly, this strange tidbit of information is something I never knew.)
Denise has a wonderful husband, two school-age boys who are involved in scouting and sports, and an active family life plus she keeps busy with an estate jewelry business on Etsy.  She and I have talked for years about getting together someday to go through those thousands of photos to see if we could unearth any family treasures. Finally, after talking about it for years, that someday came this past week. We both set aside our own personal work and dedicated the week to being together, reminiscing, having fun, and organizing those photos.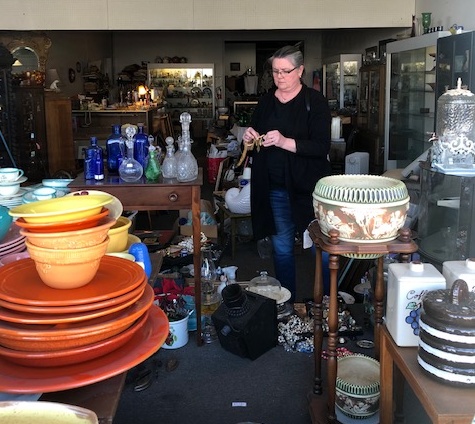 When she arrived, I took her to some local antique shops where we had a ball looking through the antiques and she actually found a couple of jewelry treasures to take home for her business.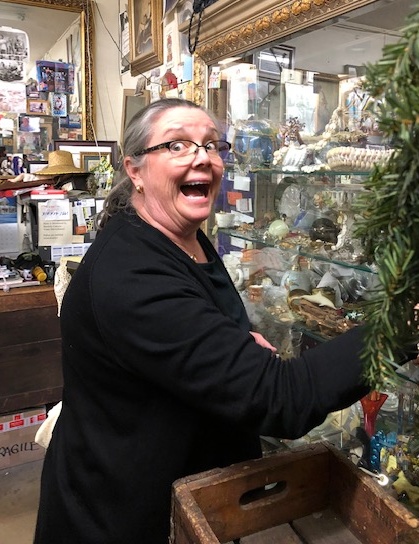 This gal can make me laugh like no one else. She's extremely funny and fun to be around. I had forgotten how much we would giggle and laugh when our moms, who are sisters, would get us together when we were kids. 
Since storage space here in our home is quite limited, the plethora of photo boxes and bins have been stored in our cabin in Lake Arrowhead. Although it typically doesn't snow a great deal in Lake Arrowhead, there was a major winter storm that dumped 18″ of snow the day Denise flew into LAX! We waited a day and then headed up the mountain in our 4 wheel drive Jeep, where we hunkered down for four days to tackle the herculean task.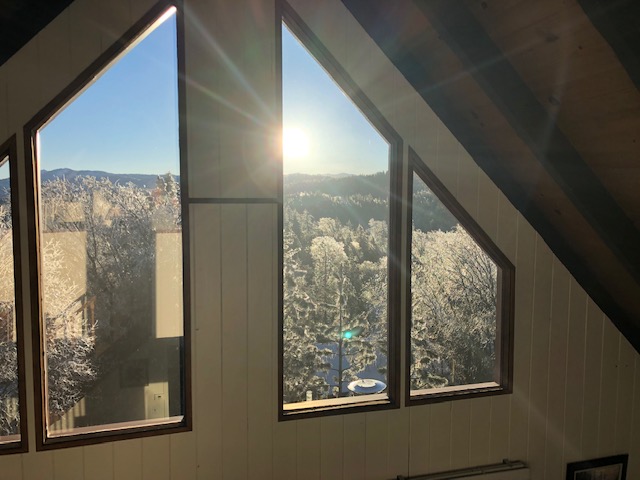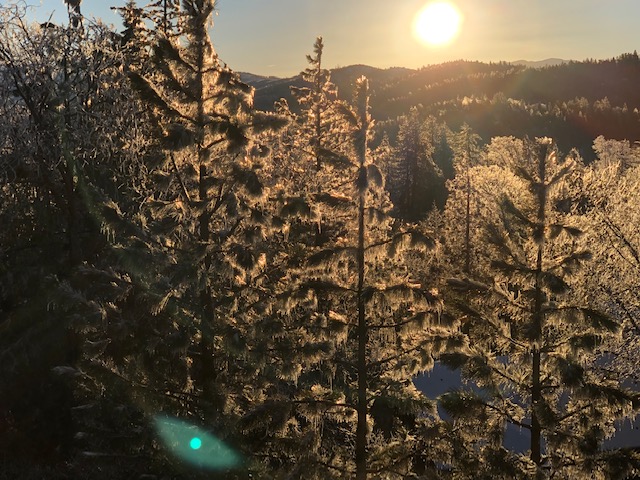 I knew there were A LOT OF PHOTOS. But even I was shocked when we actually pulled everything out and started sorting and sifting through the boxes. Thankfully, Denise is a trouper and she dove right in while we made many piles around the room. We each had a scanner. She began scanning actual photos and I took on the task of scanning the slides and unending sleeves of negatives. We listened to 40's music and talked almost non-stop. We relived memories through the eyes and faces of those staring back at us from the faded, curled-edge photos. She told me so many stories of our grandparents, aunts, uncles and cousins. I shared my recollections of stories from when I was small. We found photos of our Grandma and Grandpa I hadn't seen since I was a child and she had never seen at all! Somehow, it was strangely comforting to breathe life into those faces, many of which are now long gone.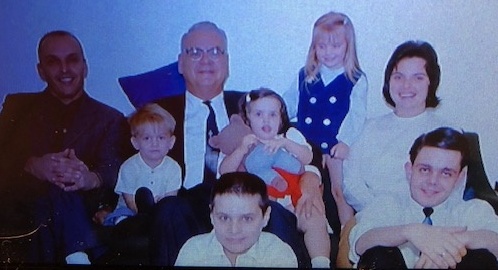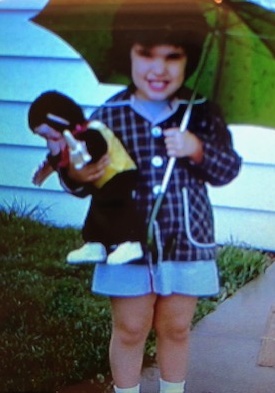 It took us more than five days. In all, we hand-scanned over 11,000 images. And we're still not finished. But at least everything that is left is organized, properly marked, and stored neatly waiting for the next time we reconvene the "Dale Family Recovery Connection Society." (I just made that up but gee, it sounds good, don't you think?)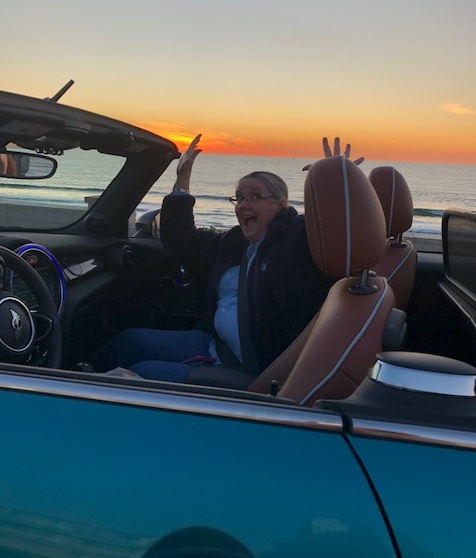 Of course, on her last night here we had to make a trip in the Mini Cooper to the ocean for a sunset photo despite the chilly temperatures.
Thank you, Denise. Thank you for coming and helping me get through the "photo-organization-project-undertaking-of-a-lifetime." You made a super-tedious task not only bearable, but fun and I'm grateful our family history is now (mostly) digitized and will be able to be sorted and shared with other family members for generations to come. 
Love you, 'Cuz.