I've sat down to write a blog post dozens of times. I've written paragraphs, then deleted them and tried to write again. Always the same: I just couldn't find the right words. I try to be very mindful when I do write a blog post, I never want to add to the "noise" of this clamoring world. There's already too much negativity and nonsense being put into the universe. I don't wish to contribute more of the same. But it's time for an update and what better time than to reflect on this past year and look ahead to the new one?
2021 was quite the doozy of a year, wasn't it? How was it for you? Did you come through brilliantly or did you experience a few bumps and scrapes along the way? Are you sad to see 2021 end or happy to say, "good riddance?" 
For me, there were so many changes and in hindsight if I were to assign a word to 2021, it would be GROWTH. I experienced a lot of personal growth in the past twelve months and it was sometimes painful. We began 2021 with a burst pipe and flood in our home and were forced to move out for almost two months to allow the workers to make renovations. But even with all of the upheaval we continued to push forward; growing to adapt to the changes brought on by the pandemic. At the one-year point last March, I finally felt as if I had hit a comfortable stride. I had grown with the challenges, changes and technology involved in the virtual world of teaching and social media, and things were moving along.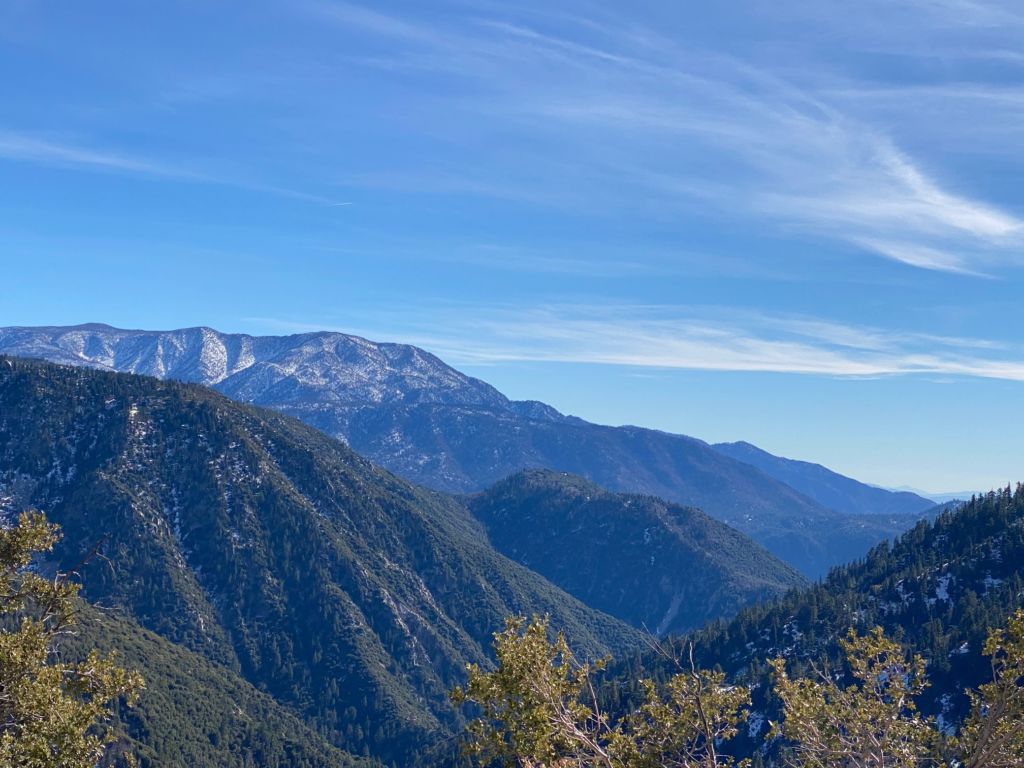 But in late June our world turned upside down when my husband's company offered him a tremendous promotion to a position he had longed for but involved a move overseas. If I'm really honest, I felt completely blindsided. I never saw this change coming; never thought it was even a remote possibility or that we'd have to move again so soon. After all, we had just spent the past three years really settling into our home in Southern California and Australia had never been on my radar. Once he accepted the position (with my love and complete support, of course) we immediately kicked everything into high gear to sell our home and sort our household goods and belongings into essentially four "piles:" One to ship overseas, one for things to go to our cabin, one for long-term storage, and one of things to donate. After having completed a big "downsize" in 2017, we found ourselves downsizing once again. We also had to make some tough decisions about our pets including hiring a pet transport company to handle the very difficult process of obtaining import visas which requires a six-month, quarantine-at-home time before they can enter Australia.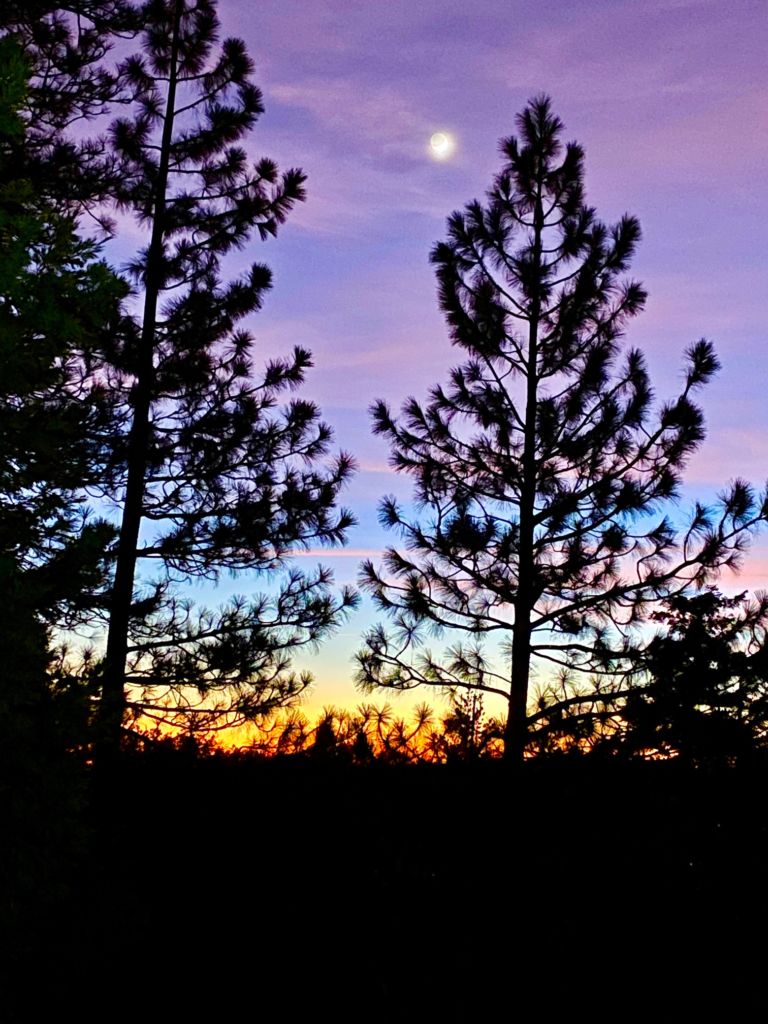 During the summer months I worked hard making endless decisions but also spinning my wheels and finding it difficult to be creative. In the spirit of full transparency, there were many days of tears. I struggled to find my footing and a way forward.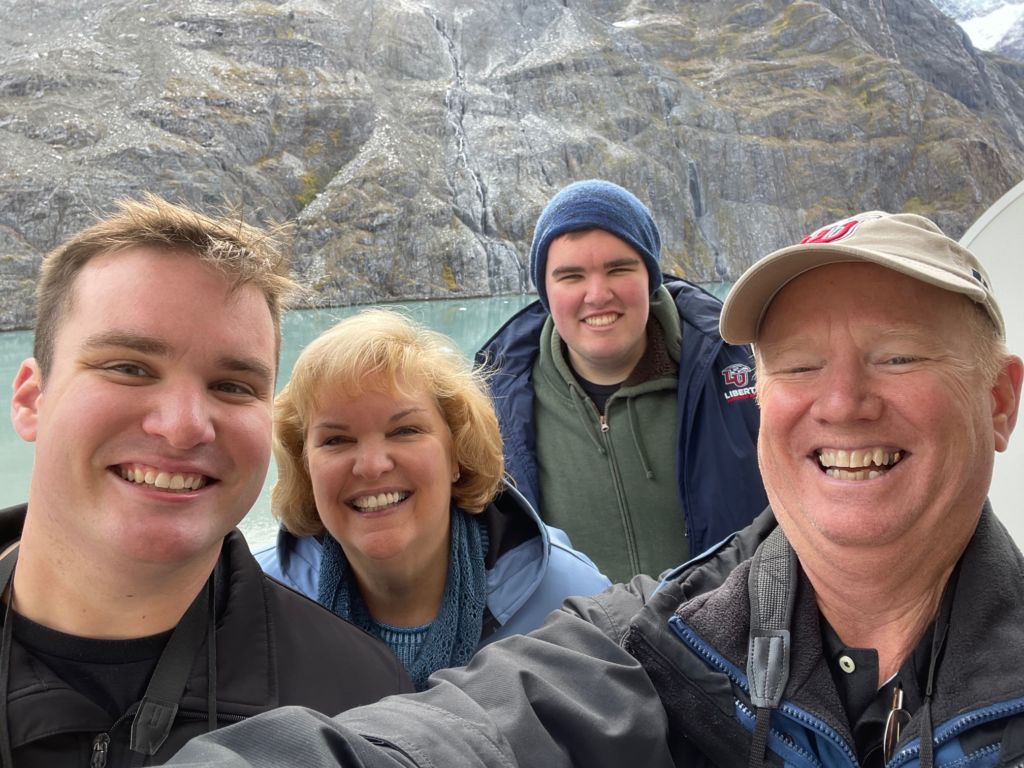 The day after we finally completed the complicated move of our household goods and we moved out of our house in mid-September, we treated ourselves to a family trip to Alaska. It was such a blessing, and we made many happy memories during our week away. I'll treasure those memories my entire life.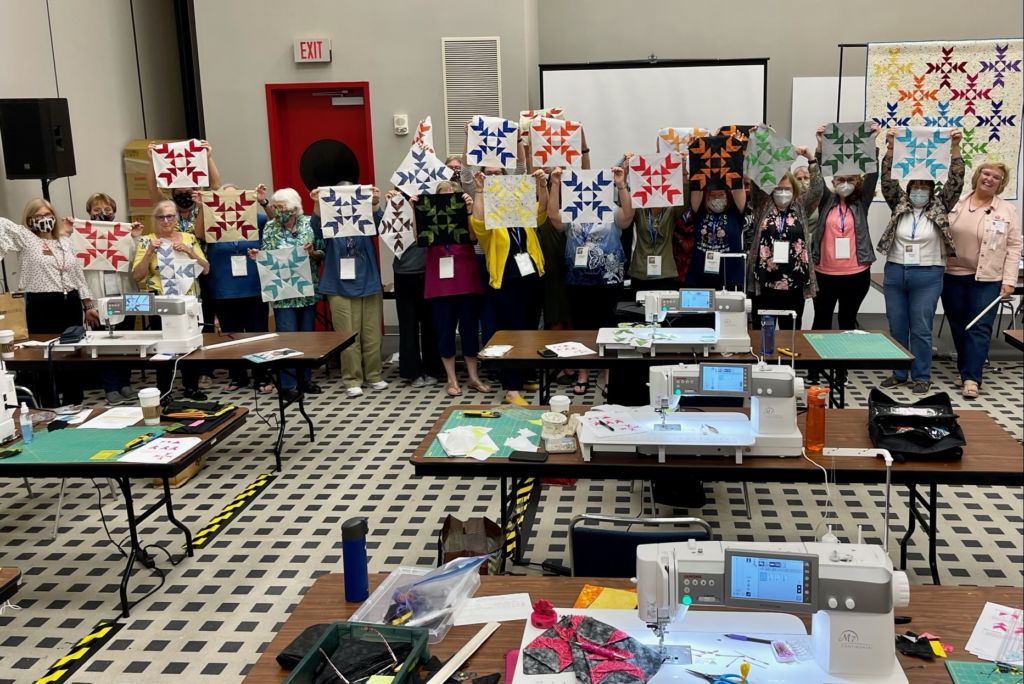 Teaching in the Janome classroom in Houston at Quilt Festival in October was a true highlight during this difficult year and I felt a sense of renewal and was energized by the amazing students who came with can-do attitudes and a willingness to learn despite the prevalence of COVID. I had a true moment of epiphany while talking to one of my peers at dinner one night. When she spoke about her talent as being a quilt artist and the need to continually nurture those talents in our lives, it was a light bulb moment to remind me that my true, God-given talent is that of being a teacher. God gave me the ability to share my love and joy of quilting with others to nurture that spark within them, help them improve their skills and grow as quilters.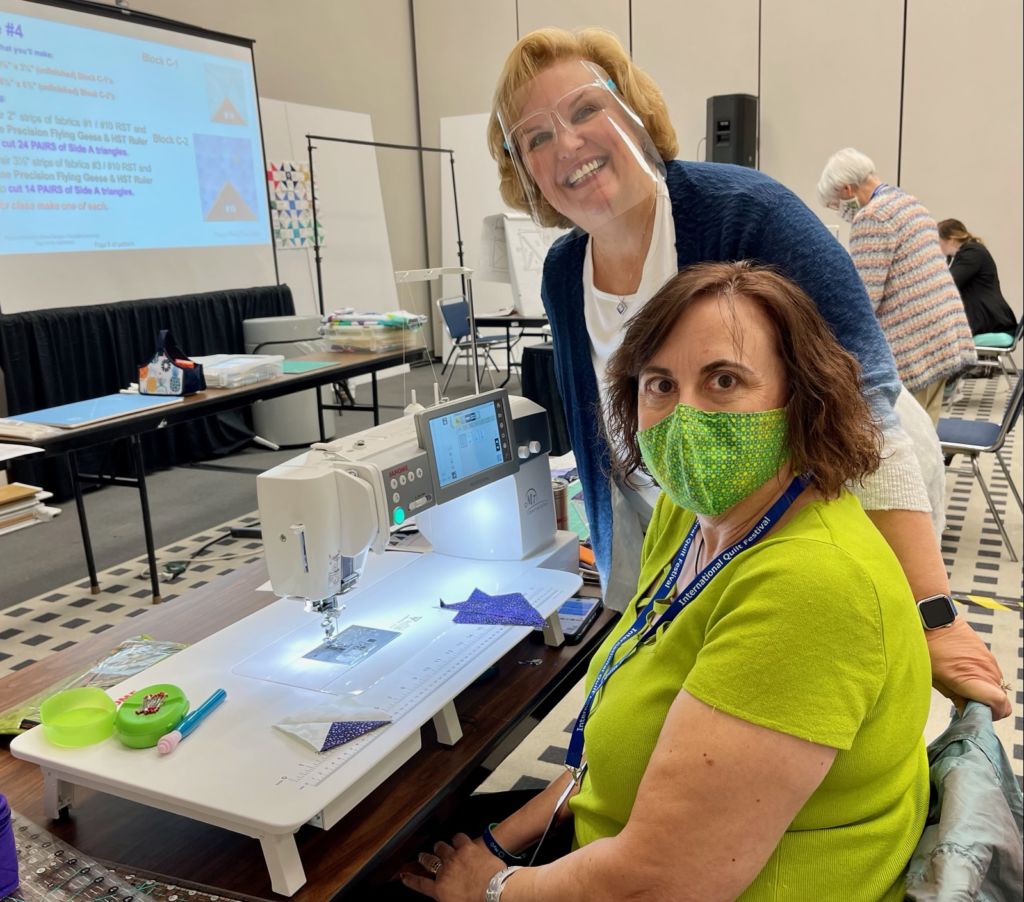 When I'm teaching, I feel I'm exactly where I'm supposed to be. I know without a doubt, no matter what happens in the future — where I'm lead or where I live, I will continue to teach and share my love of quilting and keep igniting sparks of creativity and joy wherever I go.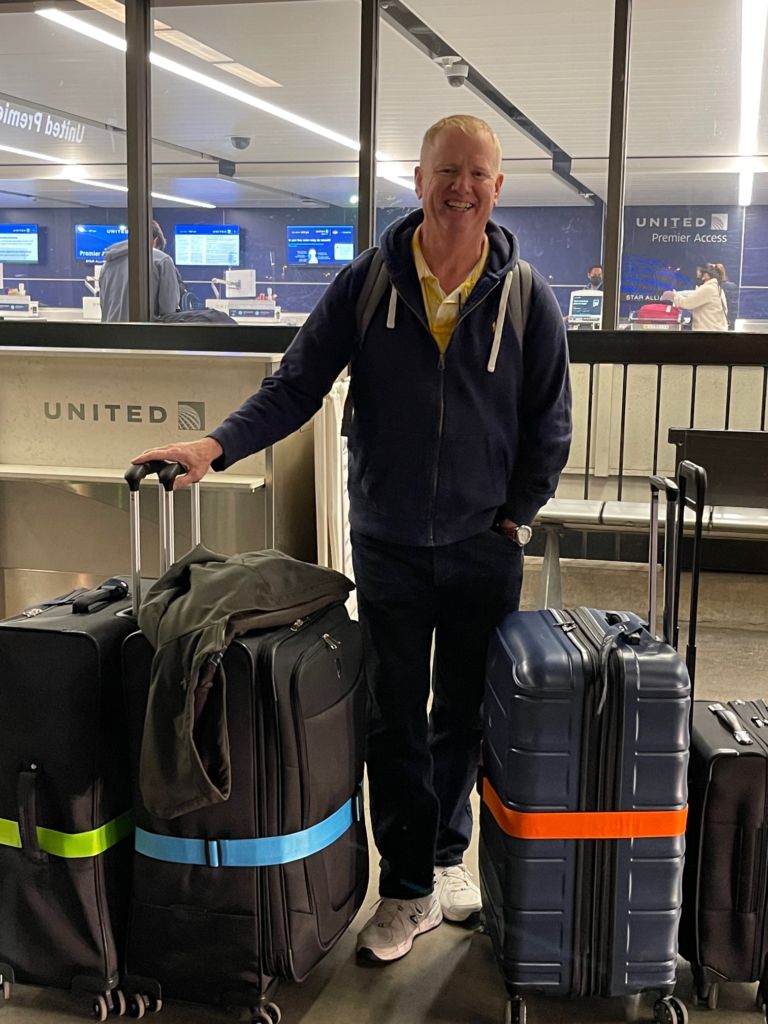 In early November Mr. Kim moved to Australia, and I settled in to a temporary, new normal living full-time in our cabin. Thank you to everyone who has written to ask about him, or who has prayed for him during this time of separation and transition. We are both grateful for your thoughts and prayers. While we dislike being apart, we focus on the time we will be reunited, next April.
Kent has been settling into his exciting new job and has been doing a lot of house hunting. The Lord provided and he found a home in a nice neighborhood. It has a perfect room for my studio with a view of beautiful sunsets. He tells me daily how impressed he is with the area and says I will love the artist-community vibe. He also tells me the people he has met in Alice Springs are absolutely lovely; always willing to help and have made him feel welcome and right at home. Apparently, the quilting community there has already heard I'm coming. When Kent met his new Australian counterpart at the site where he works, the man exclaimed that his wife (who is a quilter) said the quilting community is excited about my arrival!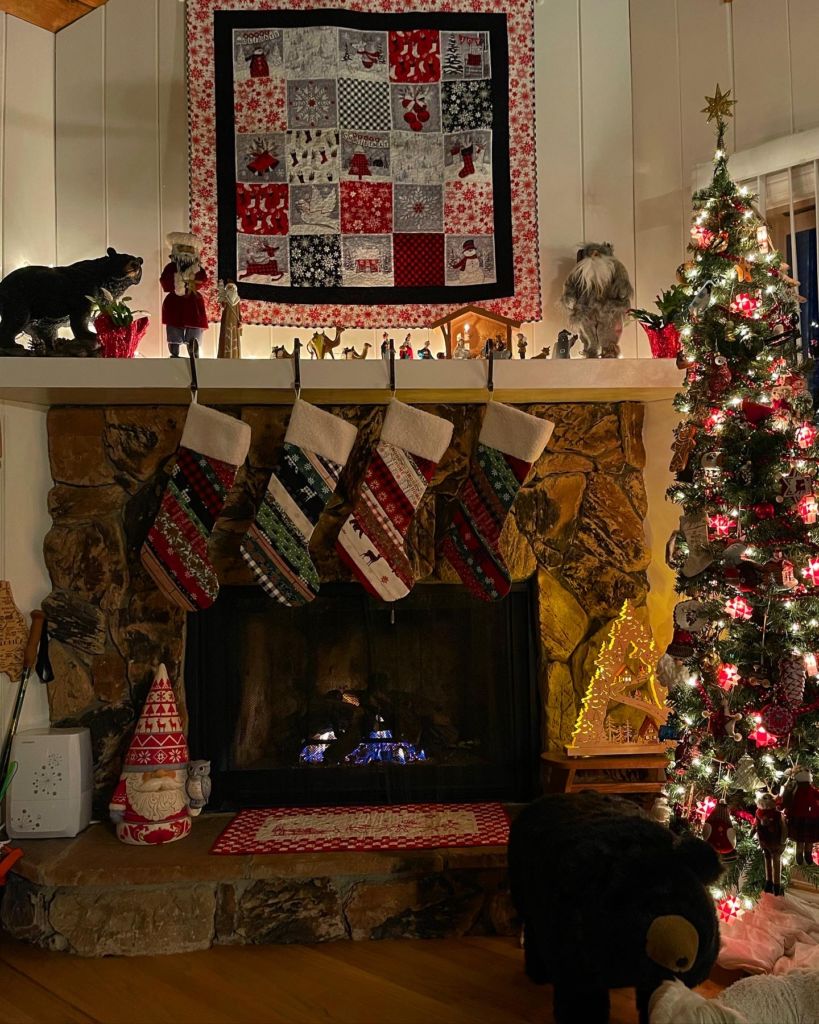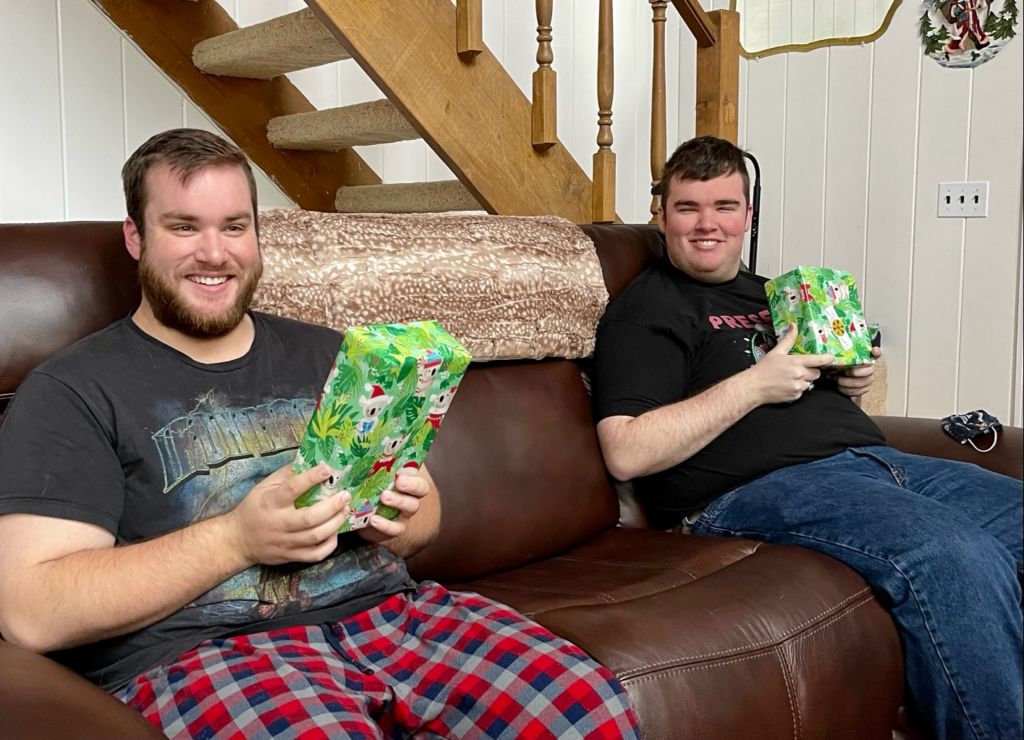 Christmas was quiet but lovely and I was happy the boys were able to fly out to be with me. A set of back-to-back storms forced them to change their return trip to Virginia twice but blessed me by being here to help me shovel the snow and ice dumped on California by those moisture-laden storms. I spent the days and evenings preparing all their favorite meals and loved every moment spent in the kitchen. We played endless games and watched old, goofy movies. How on earth did we ever get such fine young men?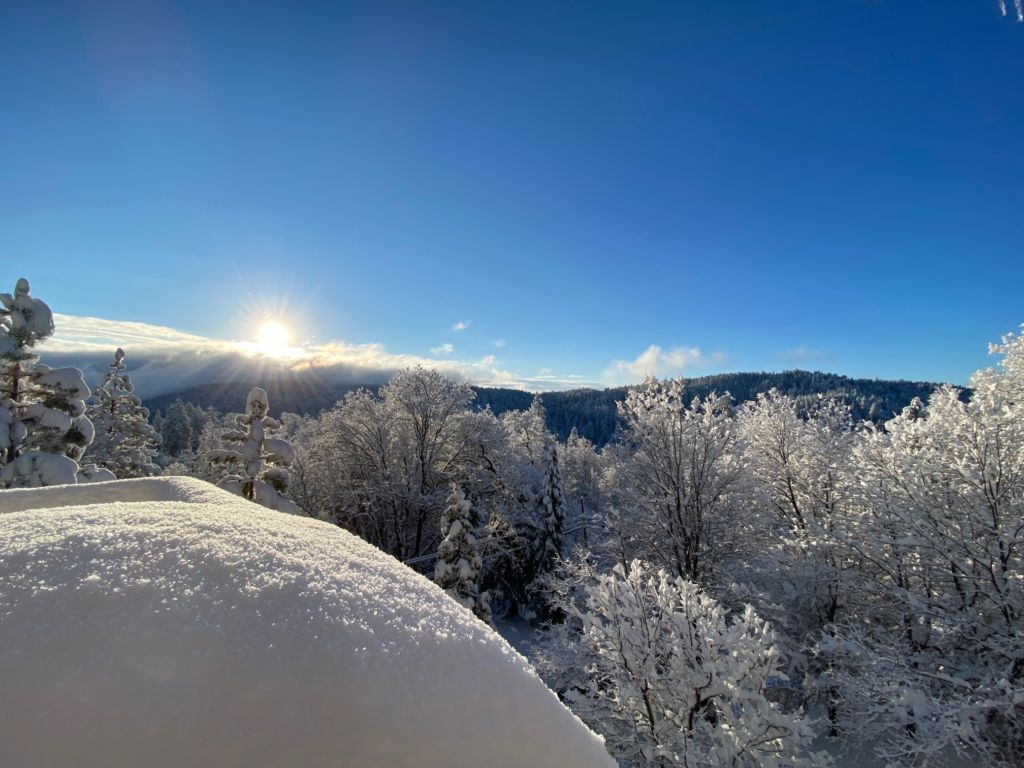 So here it is, New Years Eve and the old year is preparing to pass into the future. I'm glad to close the door on 2021 and looking forward to many new things. Incidentally, Mr. Kim is already in 2022 as I write this which is mind-bending when you think about it.
I've already chosen my ONE WORD for 2022. It is: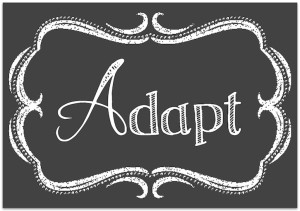 There will be many challenges and changes in the new year. Living another four+ months apart from my best friend is not my idea of how I would choose to live right now but I need to keep my eyes fixed on the day when we will be together again and THE ONE who has our future in His hands. When I think of God, who is already IN our future, it gives me great comfort to know it is He who directs my feet and makes my path straight. He's totally got this!
I'd love to hear from you. What are your feelings about 2021? Are you looking forward to a bright 2022? Please drop me a line and let me know your thoughts. Sharing our experiences of this past year are a great way to close the door and step forward into a new future, don't you think?
I wish you endless blessings for a wonderful new year!