I've got that classic John Denver tune running through my head. It's been a couple of busy weeks for this gal to say the least. But more than anything, it feels great to be home again.
I apologize for not posting a blog for such a long time, but when Kent had a business trip which took him to sunny Florida, I opted to go along for the ride and visit with my folks. Except it turned out to be anything but sunny! Other than one day of sunshine, our visit coincided with a period of unusually rainy weather — 11 inches of the wet stuff to be exact! The good people of the sunshine state were certainly delighted with the rain considering the extreme drought conditions, but it sure wasn't much fun for Kent and me. Nevertheless, we spent some good time with my folks, did a little shopping, ate at our favorite restaurants (like Sonny's real BBQ – yum!) and checked out the local sights. All in all, it was a nice trip. But I'm NOT a fan of Delta airlines. Don't even get me started about Delta! (I'll save that rant for another time….)
Today we opted to take the boys and hit the autobahn for a road trip. The weather was gorgeous (75 and brilliant sunshine) so we used our season passes to visit Legoland near Ulm, Germany. It was a fantastic day and such fun making memories with the kids. We had a great time riding rides and walking miles through the park. I thought you might like to see a photo or two. Or three. Or more. In no particular order…enjoy!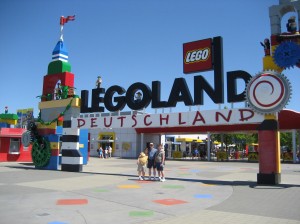 I'm not sure which "kid" was more excited today!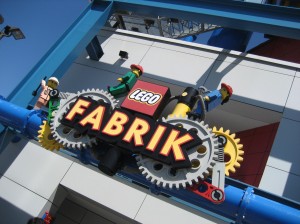 Too bad this "fabrik" wasn't the 100% cotton type.
This exhibit demonstrated how Legos are made.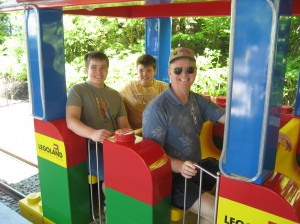 Although they prefer coasters and thrill rides, thank goodness these guys still ride the train with us. Willingly.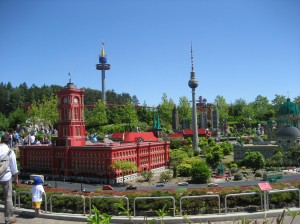 I love walking through the miniature version of some of the greatest cities in Europe made entirely from Legos!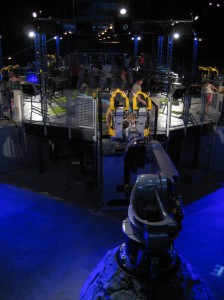 Voted "THE COOLEST" ride in the park by the Einmo Brothers, this Bionicle thrill ride consisted of a robotic arm which tossed and pitched the riders through the air in unbelievable twists, turns and thrusts in the dark with strobe lights flashing. I was feeling queasy, and I didn't even ride it.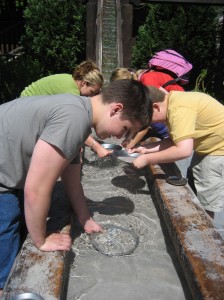 Fun in a pan (panning for gold.) Need I say more?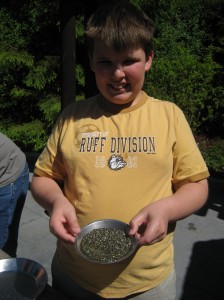 This little dude is convinced he struck it rich!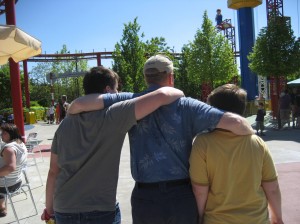 My vote for best candid shot of the day.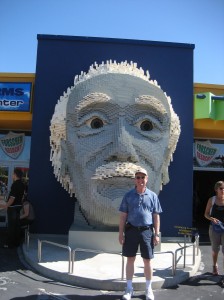 You've heard me say it a dozen times: "It's pronounced EINMO like EINSTEIN."
On a side note, did you know that Ulm, Germany was the birthplace of Albert?
This Lego version had eyes which followed you as you walked by. Kinda creepy, if you ask me.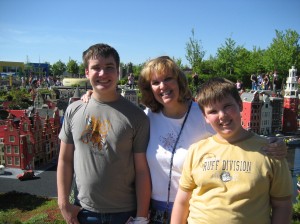 No, Josh is NOT standing on a step. He's just that much taller than me now. (Sigh.)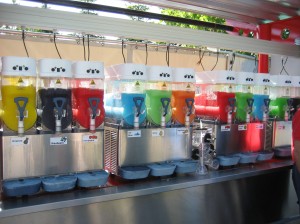 Frozen refreshment in a rainbow of colors! Think slurpees….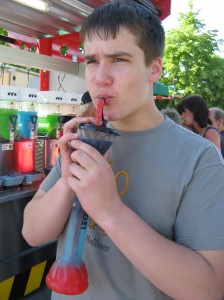 Mix-n-match your own tasty icee freeze for a quick cool down in the heat of the day.
This concoction left Josh with blue lips and a brain freeze!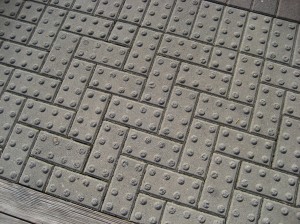 By the end of the day, I was getting tired.
It was then I noticed all the bricks in the park look like Legos.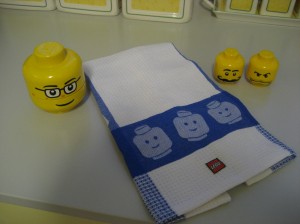 The boys used the money they've saved from their allowance and bought Lego sets.
For me, kitchen function meets fun. I came home with an egg timer, tea towel and Lego salt and pepper shakers. How cute are these?
So…..how did you spend your Saturday? What did you do for fun? Drop me a line and share your day. It didn't have to be anything special. But I'd love to know. Hope to hear from YOU!