Every gal needs a group of cronies where she can 'belong' and I'm no exception. Thankfully, I have found my gang and we're calling ourselves the Stitchin' Babes Roadies. (Cue: giggles.)
Remember a couple of weeks ago when I hosted the kit cutting party here at my house? (If you missed it, you can read about it by CLICKING HERE.) My friend, Melanie was there and I was asking about local quilt shops in the area because honestly (and surprisingly) there aren't a lot around the South Bay (LA) area. Melanie suggested we take a few short road trips so she could introduce me to the local quilt shops I need to see. So, true to her word, she organized the first such trip and yesterday four of us set off to visit our first shop (which may just be my new personal favorite LQS….just sayin') the Sewing Arts Center in Santa Monica, CA!
From the moment I walked inside, it felt like I had found "my tribe." The owner, Julie, and her daughter, Rachel, are as warm and welcoming as you could ever imagine and they employ a fabulous dream team of sweet and knowledgeable ladies who are ready and willing to help you search for just that perfect fabric, answer questions on specific techniques, or give you space to browse and dream and plan your next quilt to your heart's content!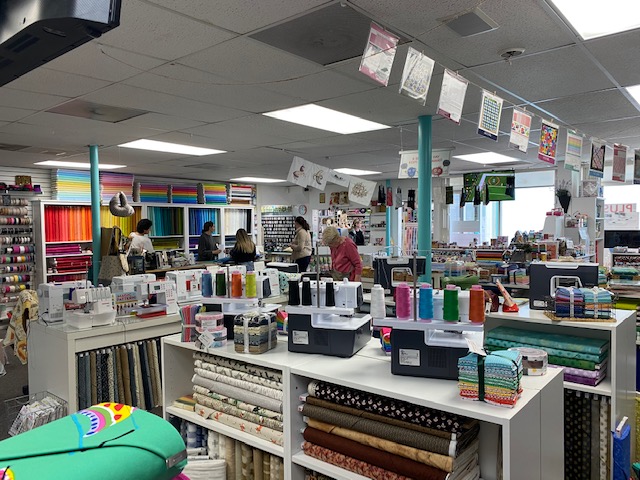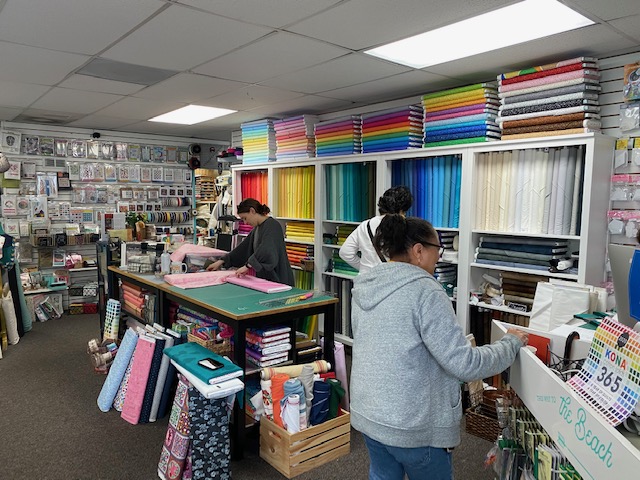 The shop is light and bright with plenty of room to navigate but it is packed full of fabric bolts and every kind of notion you could imagine! They have the shop laid out beautifully by color groups and it is also organized by themes; you can find all the hand work projects in one area (think: EPP, hand embroidery, threads, patterns galore,…..and did I mention the seemingly endless WALL O' BUTTONS?)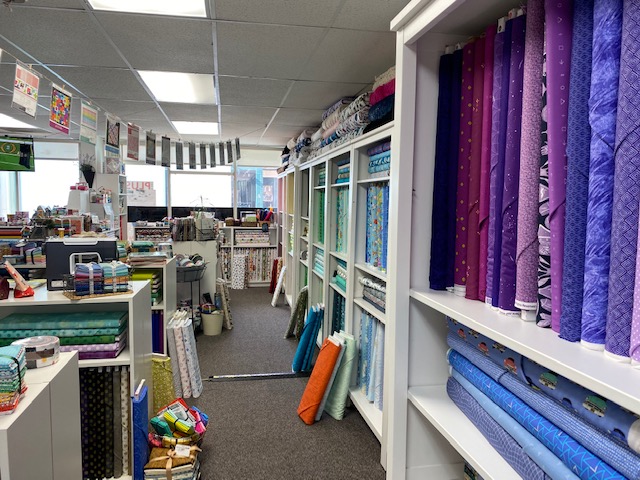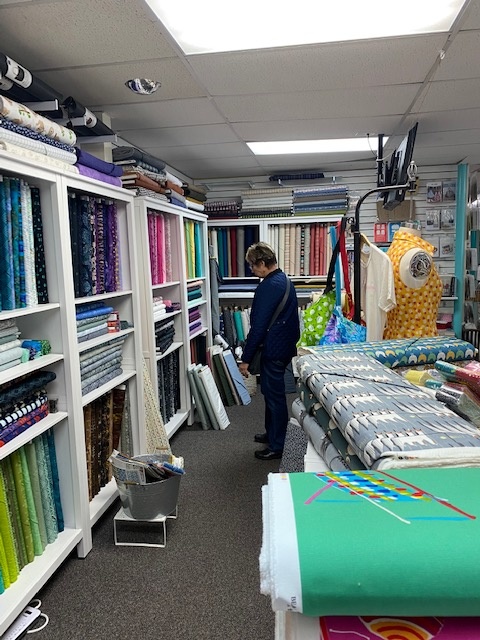 Rachel has made many of the shop samples, which hang in the classroom located at the rear of the shop. She's very talented! She also does the most incredible foundation piecing of teensy-tiny log cabins (wish I had taken a photo of her customized sewing tote) and other cute projects.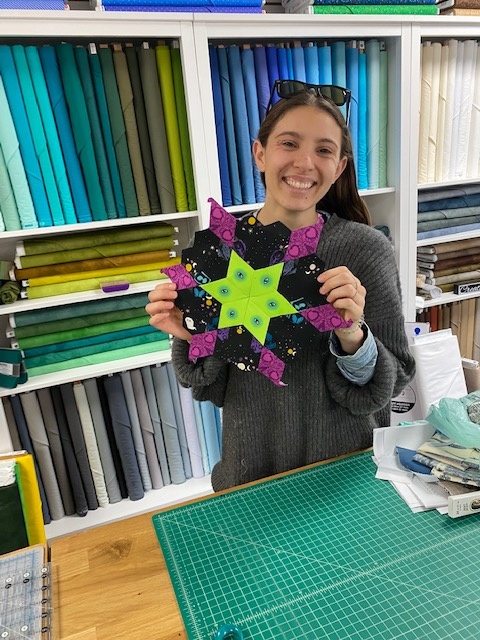 I might be just a little bit biased, but Julie has stocked her shelves with all the colors and vibrant styles of fabrics I personally love. And did I mention her extensive collection of precut bundles? She has more fat quarter bundles, jelly rolls and layer cakes than you can imagine! I was honestly trying to control myself when it comes to 'stash enhancement' until I heard that her ongoing special is this: Buy one precut bundle and get the second precut bundle for FREE! Every. Single. Day. (No kidding!) So, of course the fat quarter bundle of Makower fabrics I had been eyeing went straight into my pile and I picked out another one for FREE!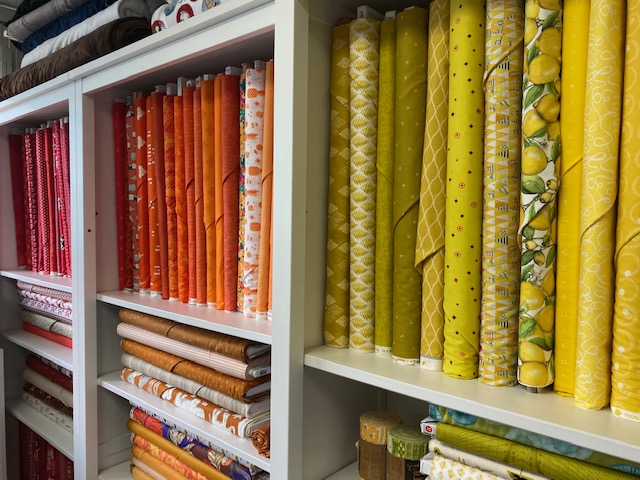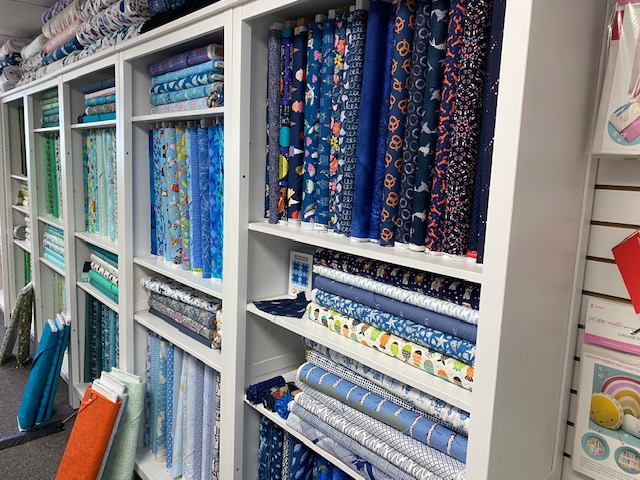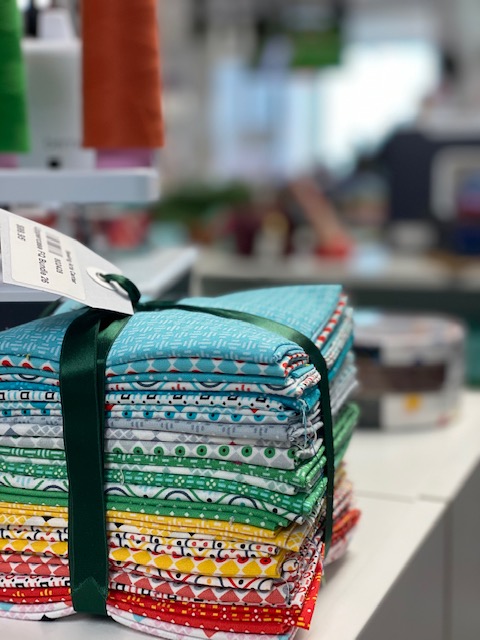 We shopped and talked and giggled and laughed. And it didn't hurt that I discovered we are LA Dodgers super fans! It was truly just what I needed. Quilty goodness infused with fun and friendship on a day out.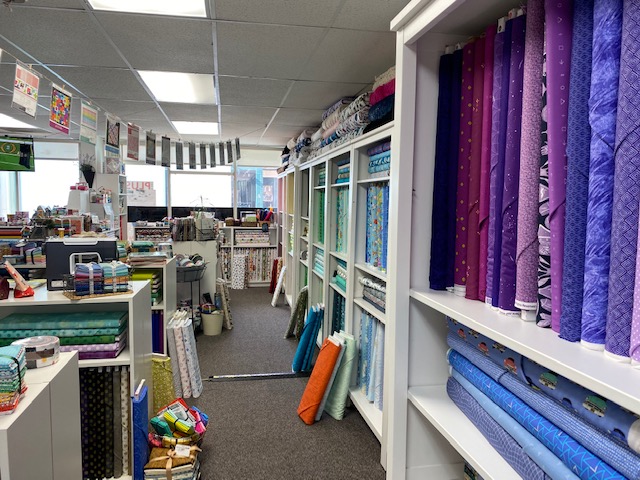 You can bet I'll be a regular customer at this shop. It's that awesome. And I had so much fun getting to know Pat, Marie and Melanie better during our drive and while we enjoyed lunch at a local eatery, where we planned our next roadie escape! (Bonnie and Julie, hope you'll join us…..)
Just in case you were wondering what came home in my tote bag, check out my textile retail therapy!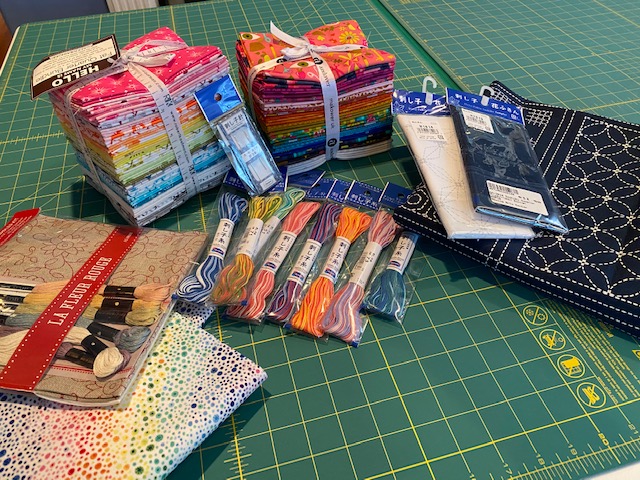 If you're every considering a road trip in Southern California, do yourself a favor and visit my new friends at Sewing Arts Center. Tell Julie I sent you. And pick yourself up a precut bundle (or two, or four) while you're there. You'll thank me for sure!
Monday: 10am-5pm
Tuesday: 10am-5pm
Wednesday: 10am-5pm
Thursday: 10am-5pm
Friday: 10am-5pm
Saturday: 10am-5pm
Sunday: 10am-5pm
3330 Pico Blvd. 
Santa Monica, CA 90405
(310) 450 – 4300