Even with a new book in the works, the AQS Quilt Show in Paducah on the near horizon, and a dozen or so other deadlines looming……
Sometimes, I just want to quilt. No, I just need to quilt. Just because. For no particular reason. Call it a case of stoking my creative mojo.
Such was the case recently. I had a few hours on a Sunday afternoon (while my sweet hubby was hard at work on our taxes; it's unfair, I know….) and I had the urge to make something quick and easy just so I could fondle some fabric. Sounds kinda creepy when I put it that way, but creepy it was not. Wonderful it was!
It began with this pile of luscious half yard cuts. I just adore the colors!
Pale blues, purple-y periwinkles, a dash of minty greens and a teensy squeeze of limey citrus, too.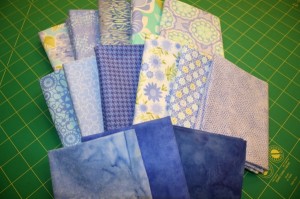 To keep things really simple, I simply pieced a random assortment of 2 1/2″ squares.
I used these perfect Aurifil threads to quilt my little "quiltlet."
As you can see, I had a helper as the afternoon sun came streaming through my studio window.
I use the term "helper" loosely, of course.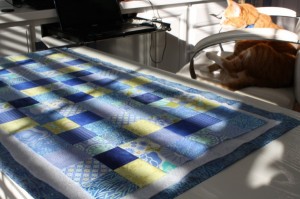 If you look closely, it looks like hand quilting, doesn't it!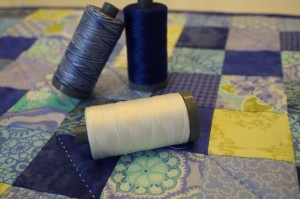 No, it isn't that technique involving the use of invisible thread.
I used my new Sashiko machine to quilt it!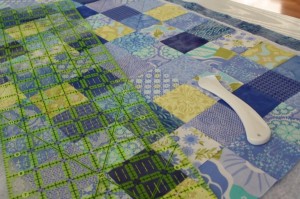 It was such a simple and fun process. I used my ruler and a Hera marker to create creases.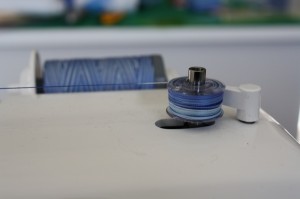 The Sashiko machine only uses thread in the bobbin. There is no top thread through the needle.
I have been so eager to use this machine (a Christmas present) and this amazing, variegated Aurifil 28wt. thread.
I loved using this Aurifil thread; the weight and feel of the cotton thread was perfection!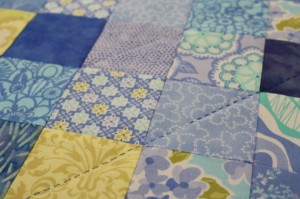 And I loved using my Sashiko machine! It makes gorgeous stitches that look just like hand quilting,
but done in a fraction of the time it takes to quilt by hand. I'm in love!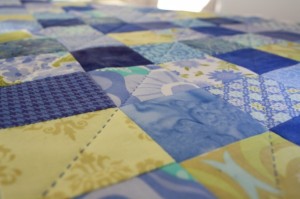 From start to finish, this little quilt took me about four hours to make.
I even finished the binding by machine!
I finished my little quilt and hung it in the open area of my desk on the wall behind my computer
where I can see it daily and be reminded that sometimes, it is necessary to just create.
For the pure pleasure and joy of it.
(And in case you're wondering, that blue item on the shelf is a glass stingray which was given to me
by my youngest son last year as a surprise while we were vacationing in Grand Cayman – after a trip to Stingray City.)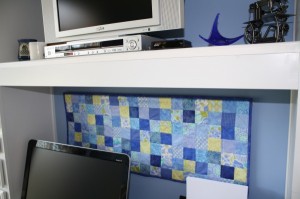 Just because.