Carolyn Archer
Longarm quilter extraordinaire of Ohio Star Quilting
Carolyn and I have been great friends for many years and she is one of the most fun and dearest people I know. She is also amazingly talented! She machine quilted some of the quilts for my first book, Quilt A Travel Souvenir, and has also quilted many of the quilts I have made since then including those which have appeared in numerous publications such as McCall's Quilting and Quick Quilts Magazines, Patchwork Tsushin (Japanese quilt magazine), American Quilter Magazine and Irish Quilting Magazine.
I recently had the delight and privilege of staying with her and her family (husband, Bruce, and their very talented daughter, Megan) in their home for several days while I was in Ohio. We had such fun – endless laughing, chatting, eating, stitching, and more laughing. I took photos of her studio, where she has not one, but two Gammill longarm machines and a Statler Stitcher. She has graciously allowed me to share the photos with you all.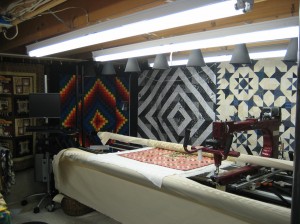 Carolyn converted their extra large basement into her workroom and studio. I really like the lighting Bruce installed which provides extra bright light. Carolyn lovingly refers to this as the "surface of the sun." Trust me when I tell you there are NO shadows in her workroom.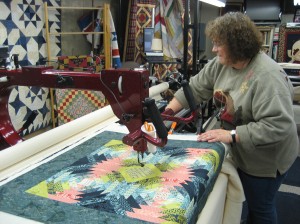 Carolyn doing what she does best. The little pineapple quilt is a four-block quilt I whipped up using Honey Bun strips (1 1/2″ strips) and my EZ Pineapple Log Cabin Ruler for a class sample. Her choice of quilting designs made this quilt sparkle! 
 Always by her side or at her feet is Hunter, their beloved Australian Sheppard.
He's also the official greeter for the customers who come to her door.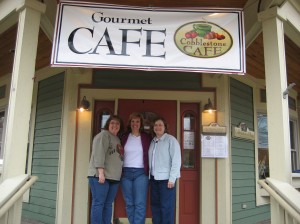 Girls' day out! We met another dear friend, Sandy Vining, for lunch at one of our favorite haunts, the Cobblestone Cafe in Waynesville, Ohio. After lunch, we shopped at the Fabric Shack. Does it get any better than this?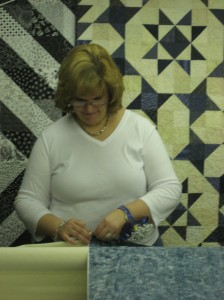 Carolyn put me to work and taught me to pin-baste a quilt top to the frame in preparation for machine quilting. She kindly suggested that I not quit my day job. (smile...)
Carolyn keeps a little plastic tube (picked up at a hardware store) on the handle of her machine to hold her scissors. Now that's clever!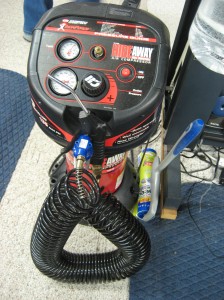 No more cans of compressed air — check out the awesome air pressure machine she uses to keep her machines clean! Since I'm a complete neat-freak when it comes to keeping my sewing machines free from lint, this is just the ticket for me. I think a little birdie needs to put a bug in my husband's ear.
"Oh honey! …..Mother's Day is just around the corner." (Hint, hint.)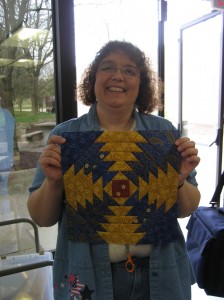 All smiles and a perfect pineapple block! Carolyn took a day off to play and stitch with friends. She attended the EZ Pineapple Log Cabin  workshop I taught for the Creative Quilters Guild in Centerville, Ohio in late March.
Carolyn is so easy to work with, her rates are fantastic and her turn-around times are fast. She'll listen to your suggestions and has an amazing knack for interpreting the "vision" you have for your quilt. I trust her implicitly! She is always busy with a steady stream of very satisfied, repeat customers, but if you'd like her to work her unbelievable magic on your quilt tops, contact her at:
513-933-9002 or at moc.rennurdaornull@3rehcraC. Be sure to tell her I sent you! 😉
Thanks, Carolyn, for a great visit with you in your home. I had a wonderful time! Looking forward to our next reunion and many more great collaborations!