For those of you out in blog land who celebrate the American tradition of Thanksgiving, I hope you all had a wonderful day and that you enjoyed a delicious meal surrounded by your family and friends. We were blessed to have my brother and his wife, Bob and Cheri, and my folks here visiting with us. We talked, laughed lots, and the guys had endless Wii bowling tournaments and pinochle card games.
Did any of you get up in the wee hours of the morning the day after turkey day to hit the stores for super-bargain shopping? If so, what great buys did you find? I'd love to know…
As for me, I stayed snug in bed and even slept in for a bit until 8:30am on Black Friday. Warm and cozy. 
 A virtual stitching open house
With Thanksgiving behind us and the Christmas season promptly ahead, I thought you might like to enjoy a virtual tour of an all-day stitch fest I held here at my house recently. I invited my neighborhood group of sewing gal pals over for a busy day of sewing. We even had a potluck lunch and husbands, a fiance, and neighbors dropped by throughout the afternoon to nosh and socialize. My very thoughtful neighbor, Stuart, even surprised us all by dropping off a Wright's famous hummingbird cake for us all to enjoy (thank you, Stuart!) It was the perfect combination of productivity and fun! But rather than tell you about it, let me share the day with you in photos.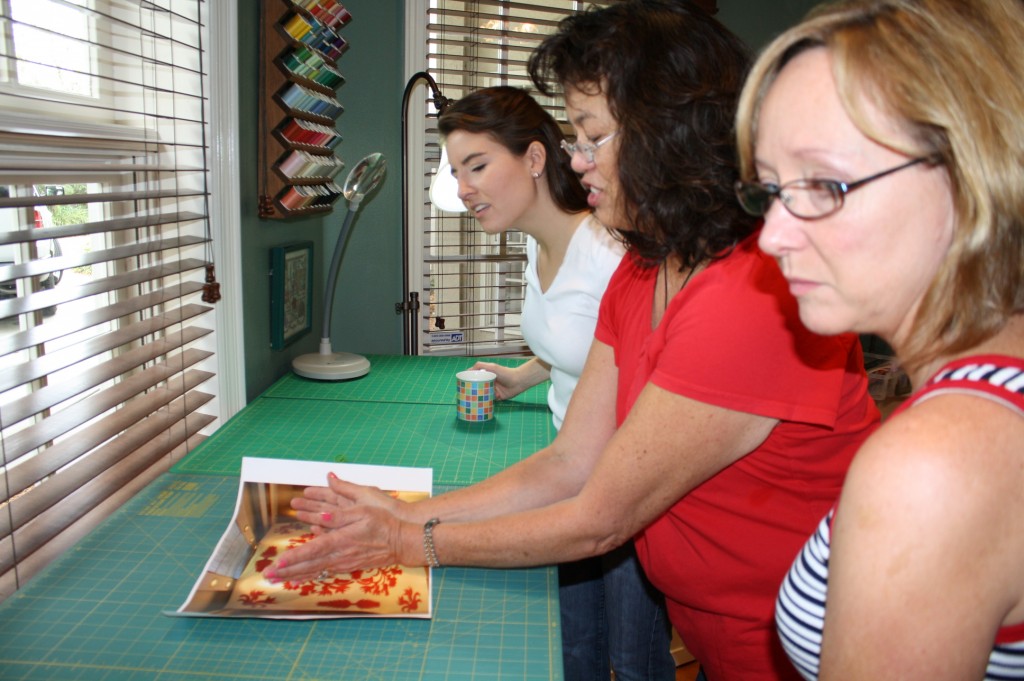 We began the morning with a little show and tell. Charm (center) told us about her recent
weekend quilt retreat where she designed a king-size family heirloom Hawaiian style.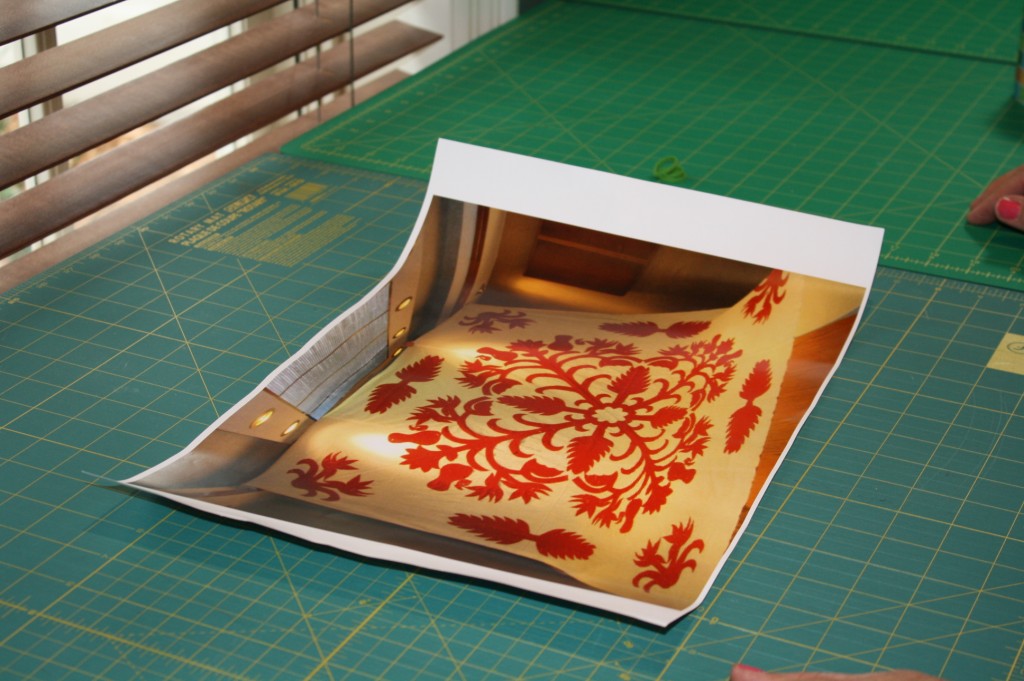 This is the king-size quilt she designed (every element was thoughtfully
chosen to represent each of her family members) and cut out in one weekend.
The red applique design is pinned to the backing by more than 1500 pins.
Simply stunning, Charm!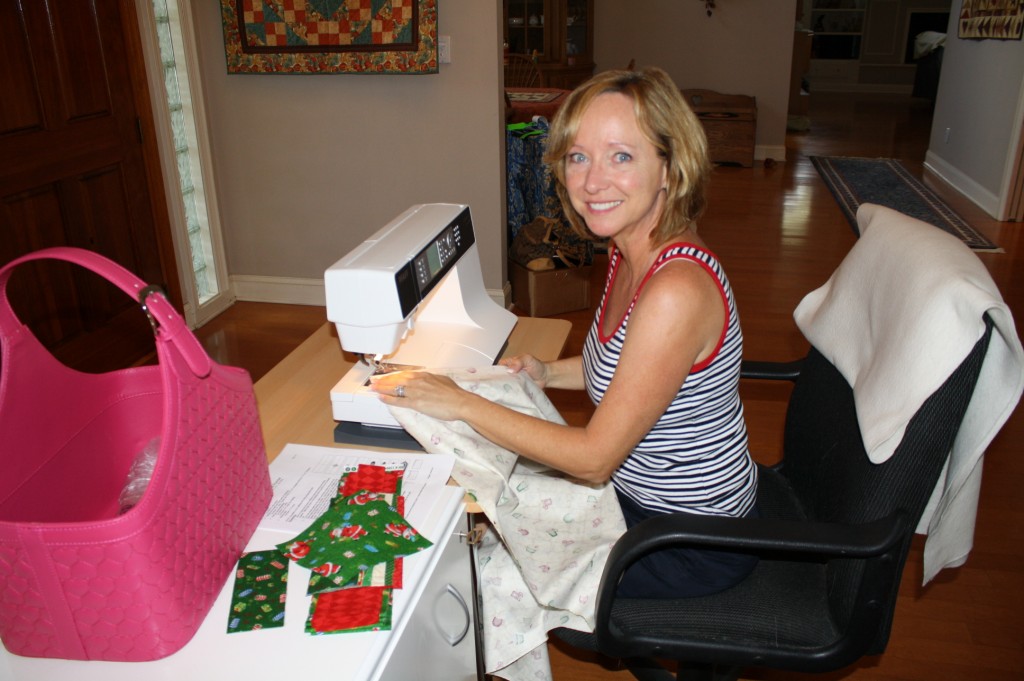 Jan stitching on her new Pfaff Creative 2.0. I think she really loves it!
She's been hard at work on a beautiful pinwheel baby quilt at home.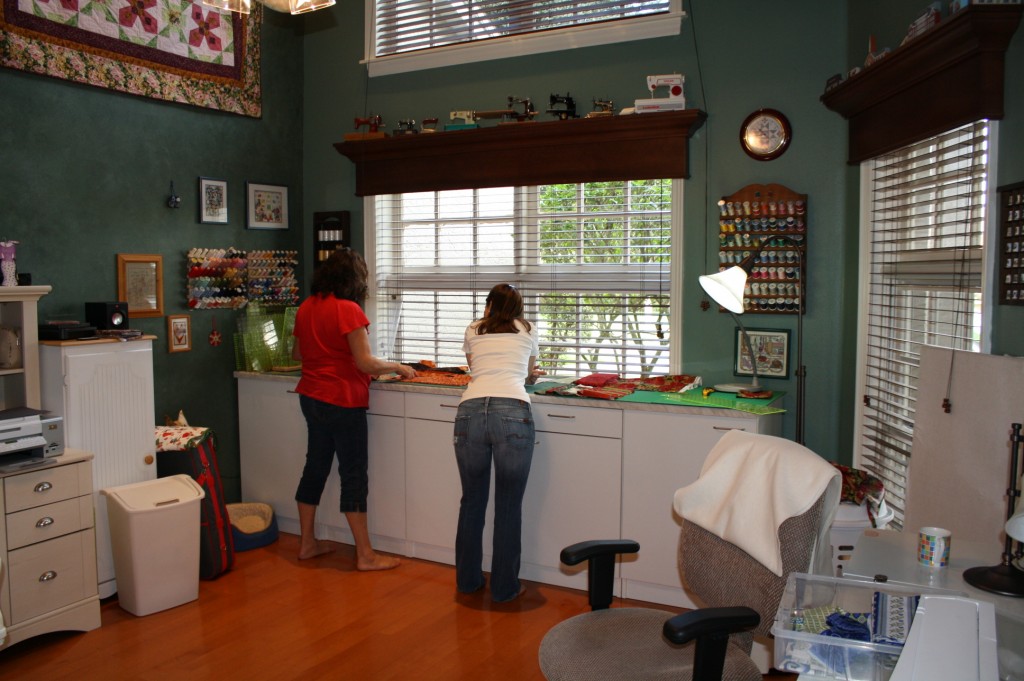 Charm and Caroline ponder their fabric placement in our
project for the day: a braided table runner.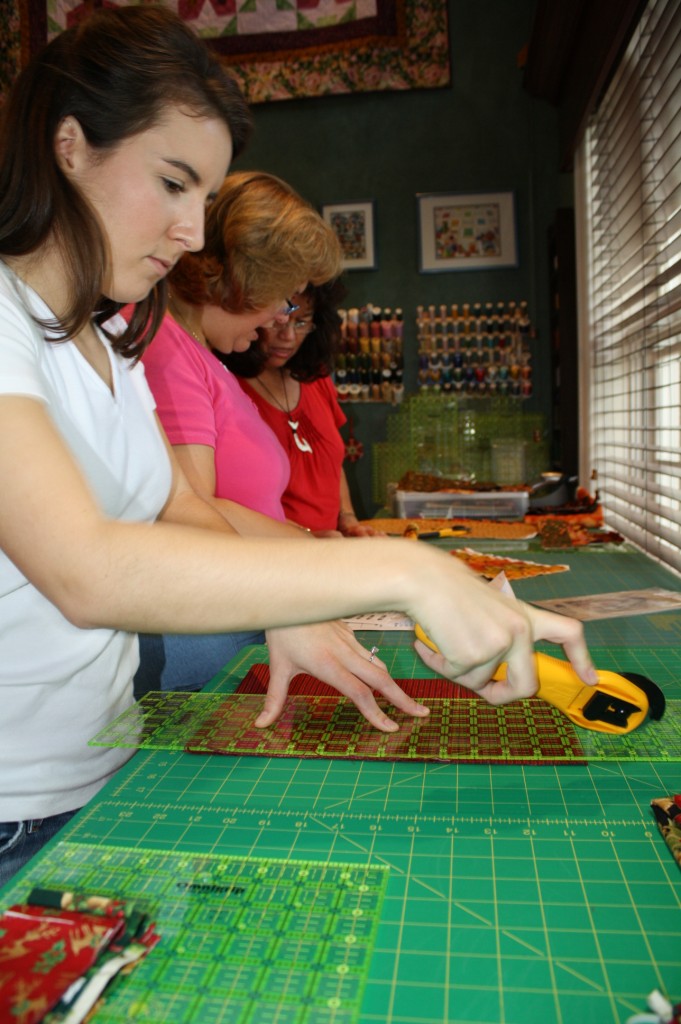 Once fabric choices had been made, we got busy cutting our strips.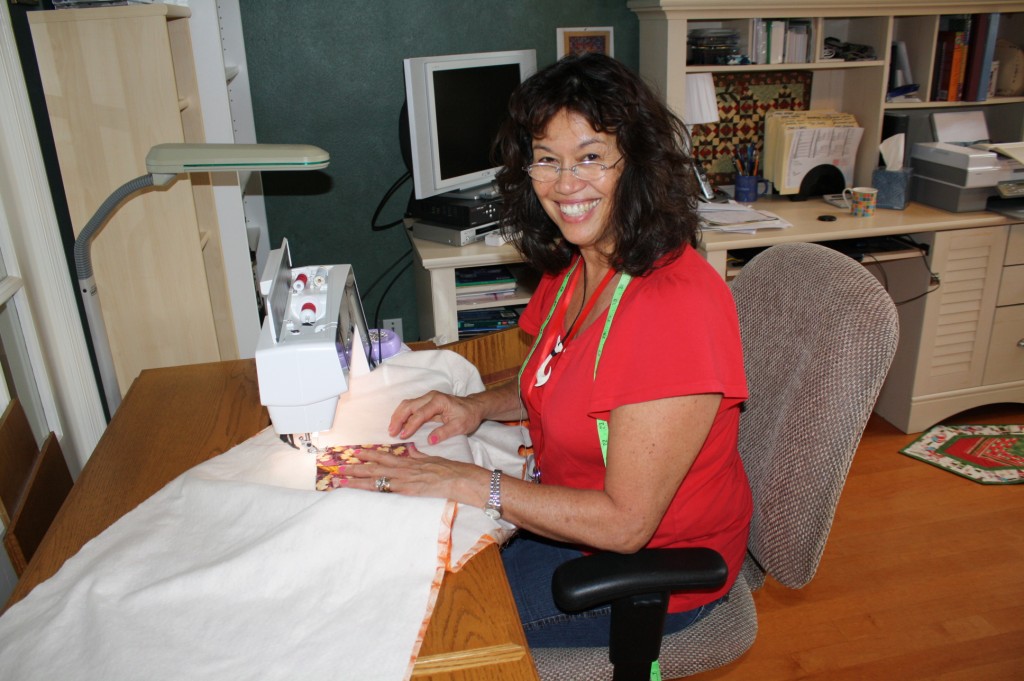 Charm just got a new Pfaff Creative Vision!
She's all smiles (well, to be fair, she smiles all the time) as she began stitching her project.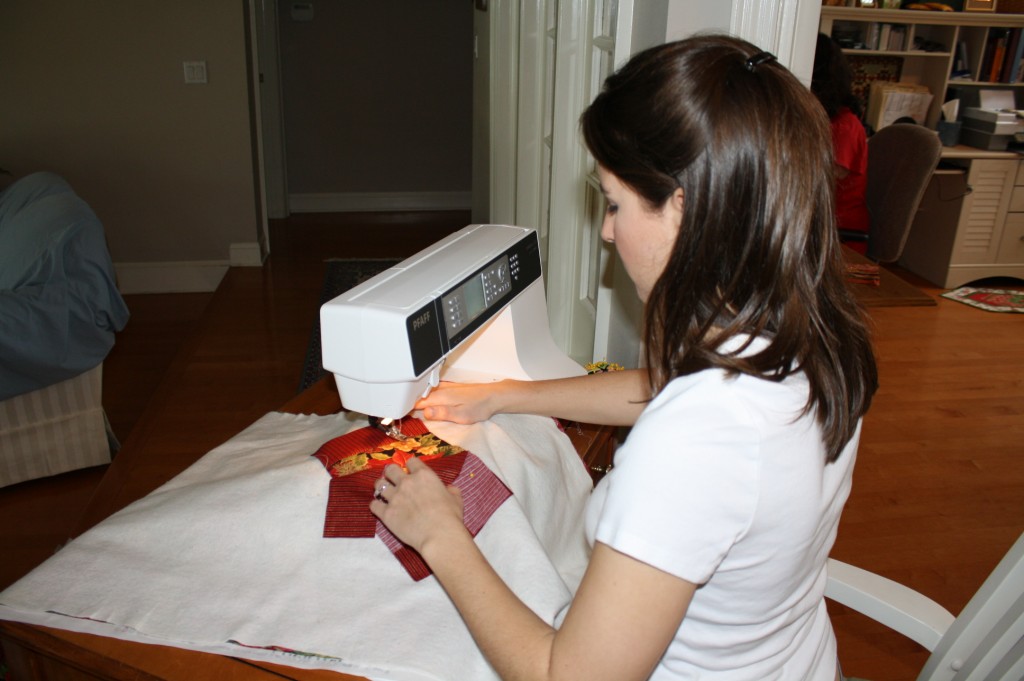 Caroline also got a new Pfaff Creative 2.0 as an early Christmas
present from her Mom and Dad. Talk about a happy girl!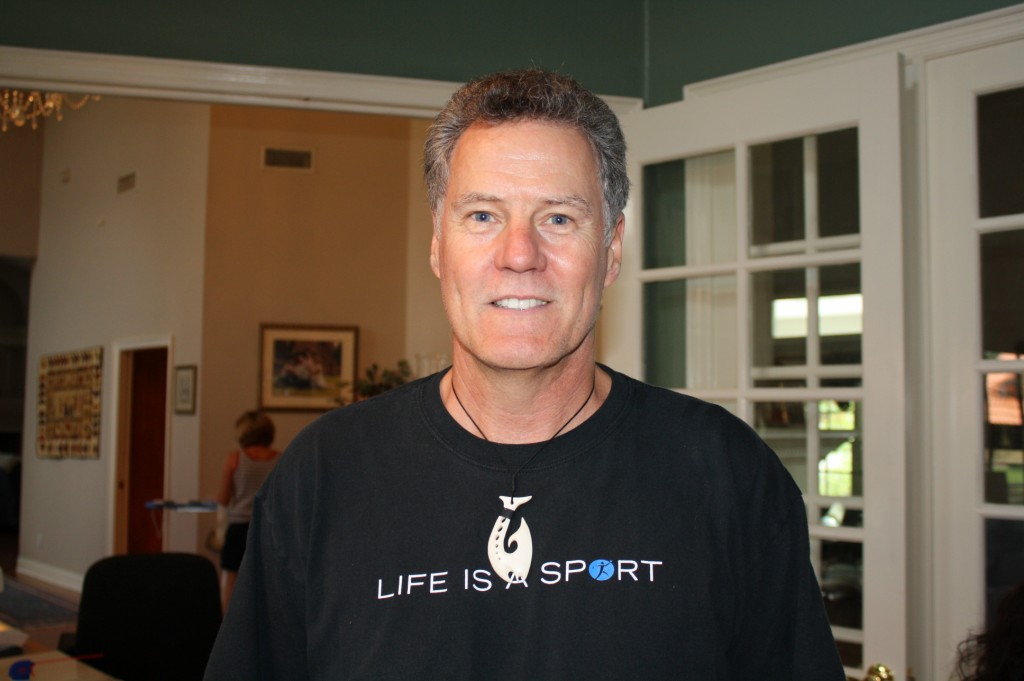 Charm's husband, Brian, stopped by for a bit. Check out the fish hook necklace he's wearing. He carved it from a cow bone at the same weekend retreat where Charm designed her Hawaiian heirloom quilt. He not only made one fish hook, he also carved the one Charm is wearing in the pictures.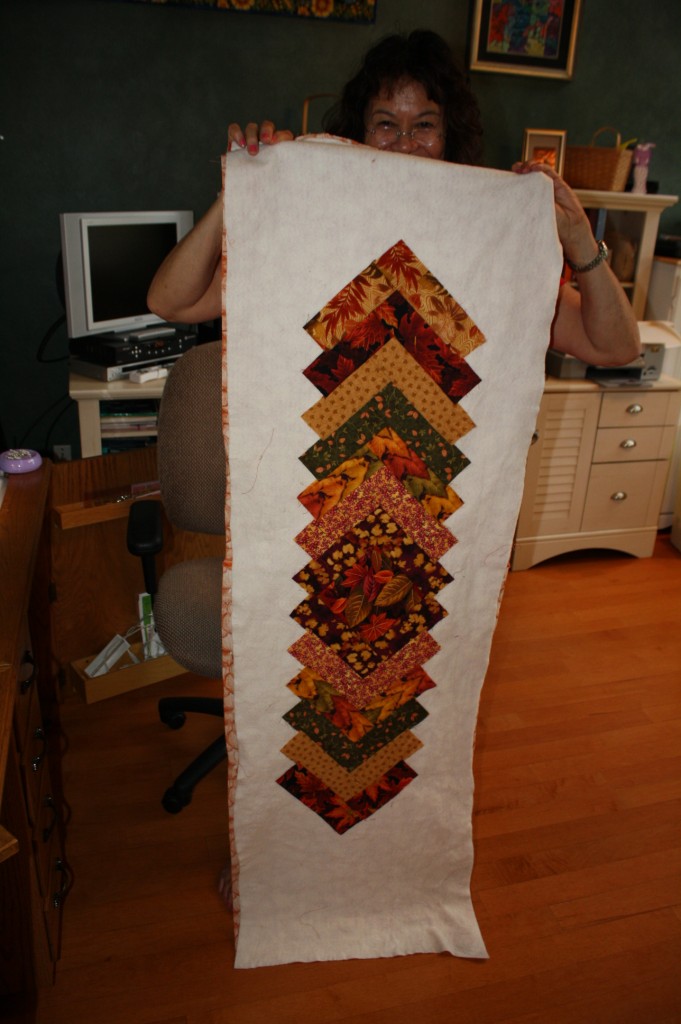 This table runner went together quickly using the quilt-as-you-go method.
Charm made her version in luscious fall colors.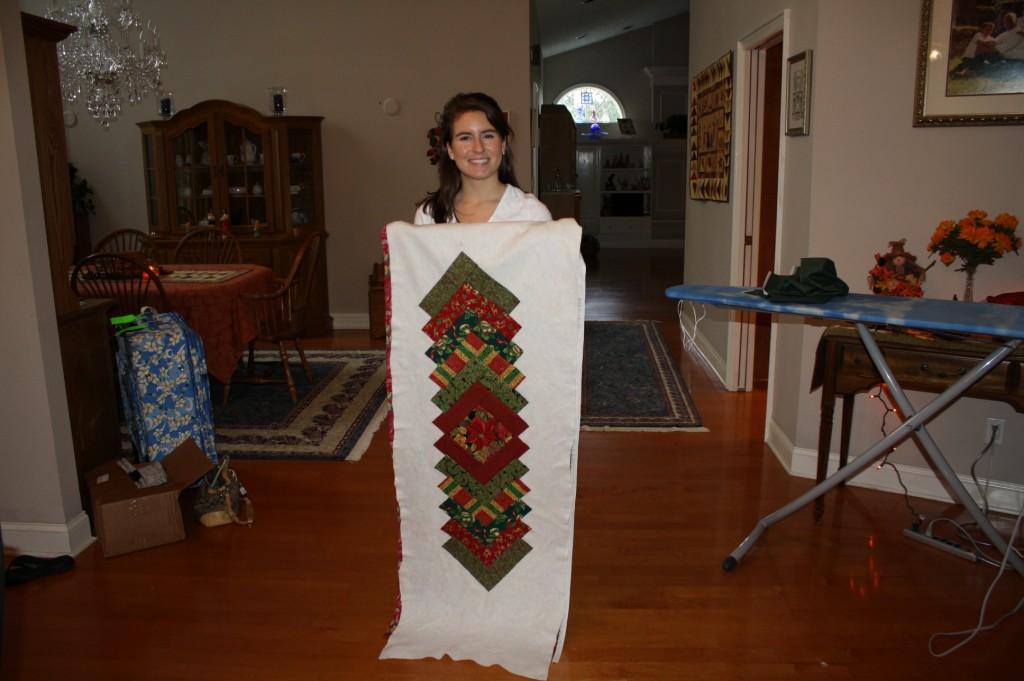 Caroline made her version using gorgeous, elegant holiday fabrics.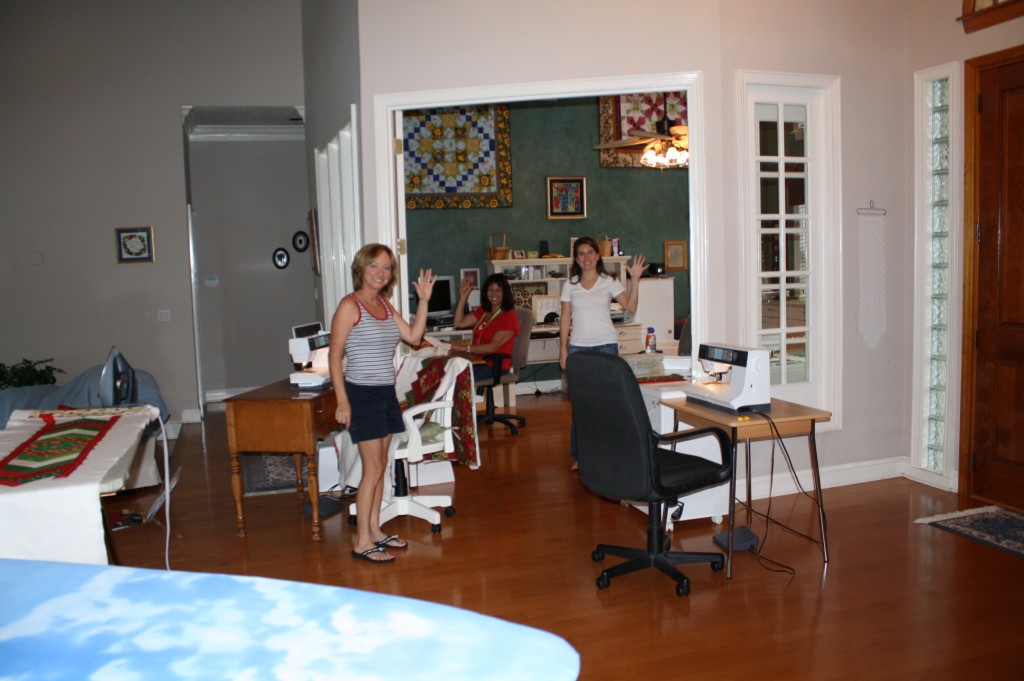 With a little advance planning and moving some furniture,
there was plenty of room for everyone to spread out and sew.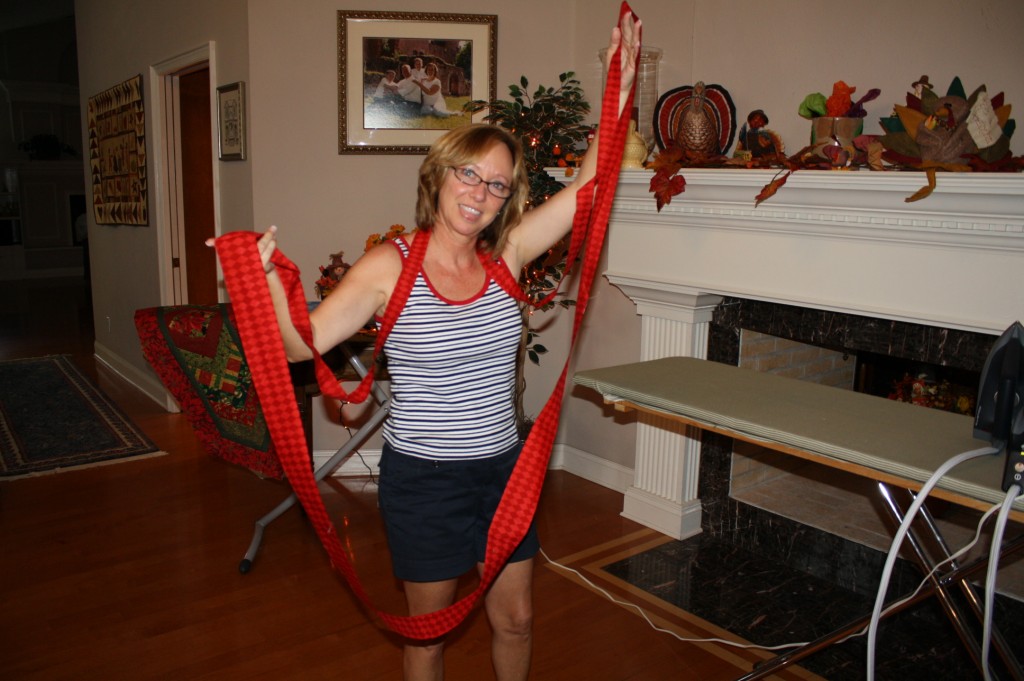 Jan had fun learning how to make straight-grain binding.
Maybe a little too much fun — she stitched all the ends together and formed a loop!
No harm done — that's what seam rippers are for.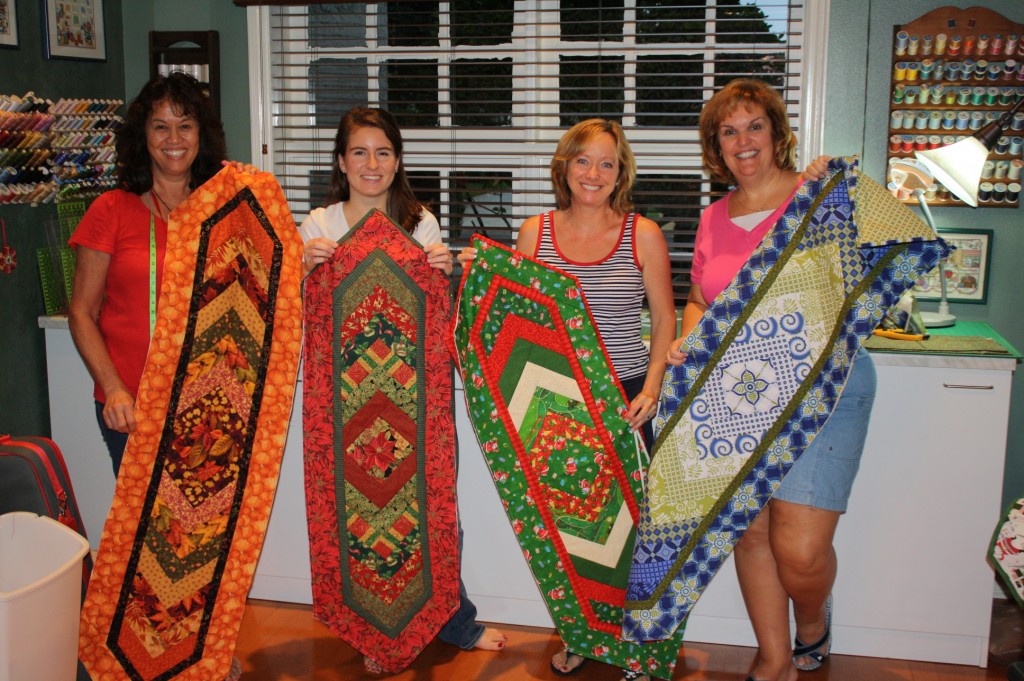 Table runners stitched and quilted all in one day.
All that was left was to add was the binding!

From left to right: Charm's, mine, Caroline's and Jan's.
They are all different lengths based on the place we plan to display them in our homes.?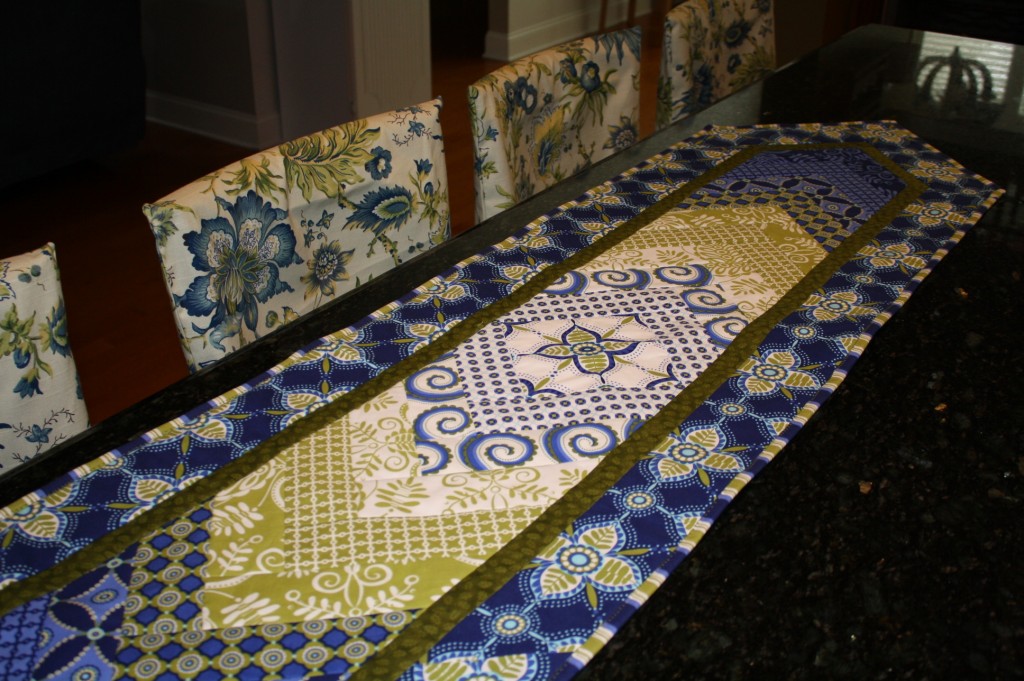 My table runner has found a new home on my kitchen island and
it complements my blue and green theme perfectly. I love it! 
Thanks, gals, for a fantastic day of stitching and gabbing. So….when's our next sewing day and what do you want to make?