Sigh.
Oops
Ok, really BIG sigh……..
Gosh, I hate to have to tell you this, but there's an itty-bitty error on the Chain Saw pattern of Jelly Roll Quilts & More. A typo. An oversight. A blip. An errata minimus. I don't know how many pairs of proof-reading eyes missed it in the final editing stage of the book, but as careful as we all tried to be, this goof just got by us.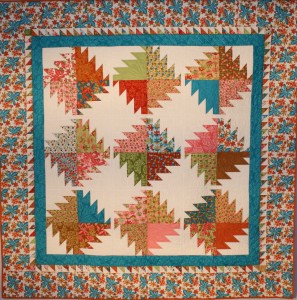 Now, don't panic. (Seriously.) It isn't all that bad. It just involves some block measurements, a bit of extra block trimming, and some adjustments on the sashing strips. You won't lose any points on your block, and nothing is wasted.
Sigh of relief.
The good folks who published my book have reprinted the pages with the corrections. (Thank you, all you wonderful people at AQS!) All you have to do is simply click here, and print out the corrections and tuck the page inside your book for handy reference. 
Aaaaahhhh. Now, doesn't that feel better?
And thank you — all you readers, book-buyers, library lenders, book borrowers, friends and comrades. Thank you so much for your understanding. Because sometimes, well …. sometimes, mistakes happen. But you know what? Don't sweat the small stuff.  And in the scheme of life, this really is small stuff.
Instead, go make a Jelly Roll quilt!  🙂