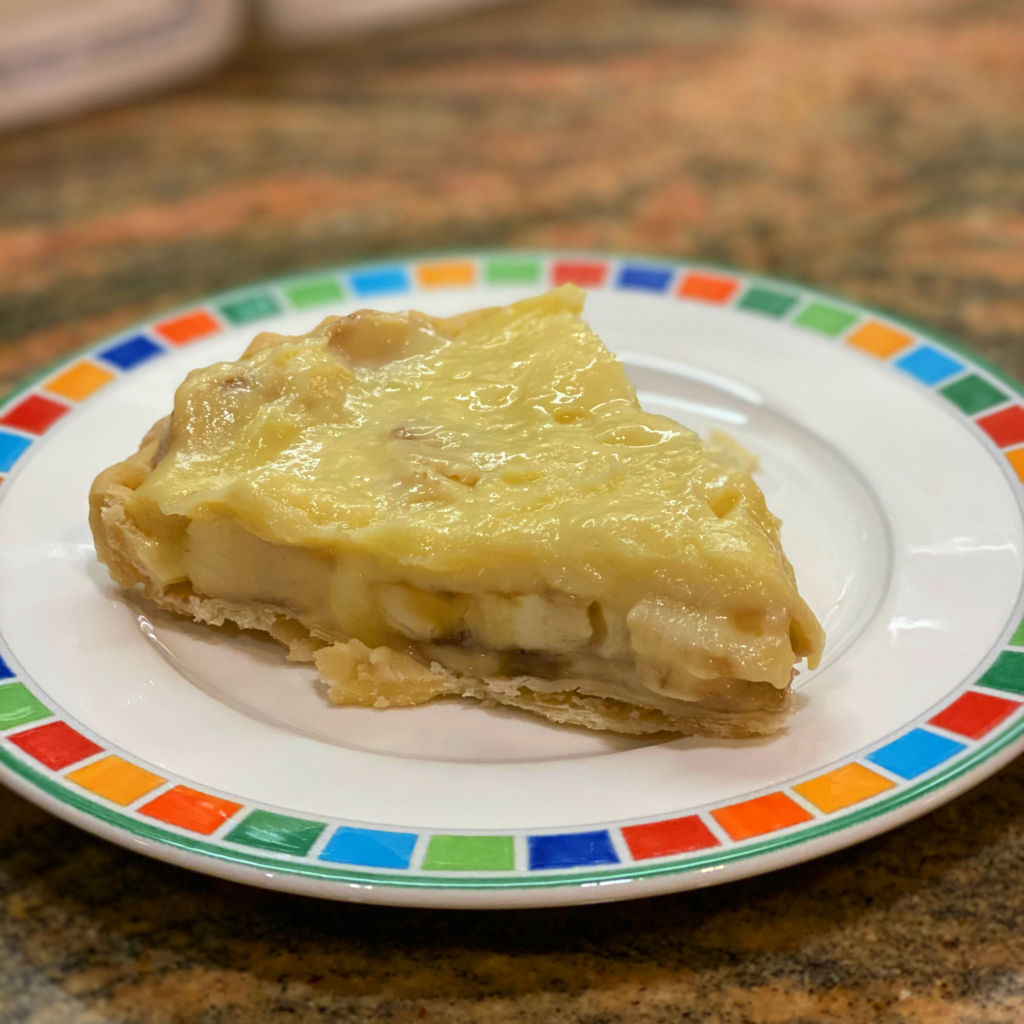 My Mom was an incredible pie baker; she had a talent for baking the most delicious pies! She made everything from scratch. Even the pie crusts. It was only in later years she finally began using Pillsbury chilled, rolled, and ready to bake pie crusts. But her homemade crusts were always better. Heavenly. Absolute perfection.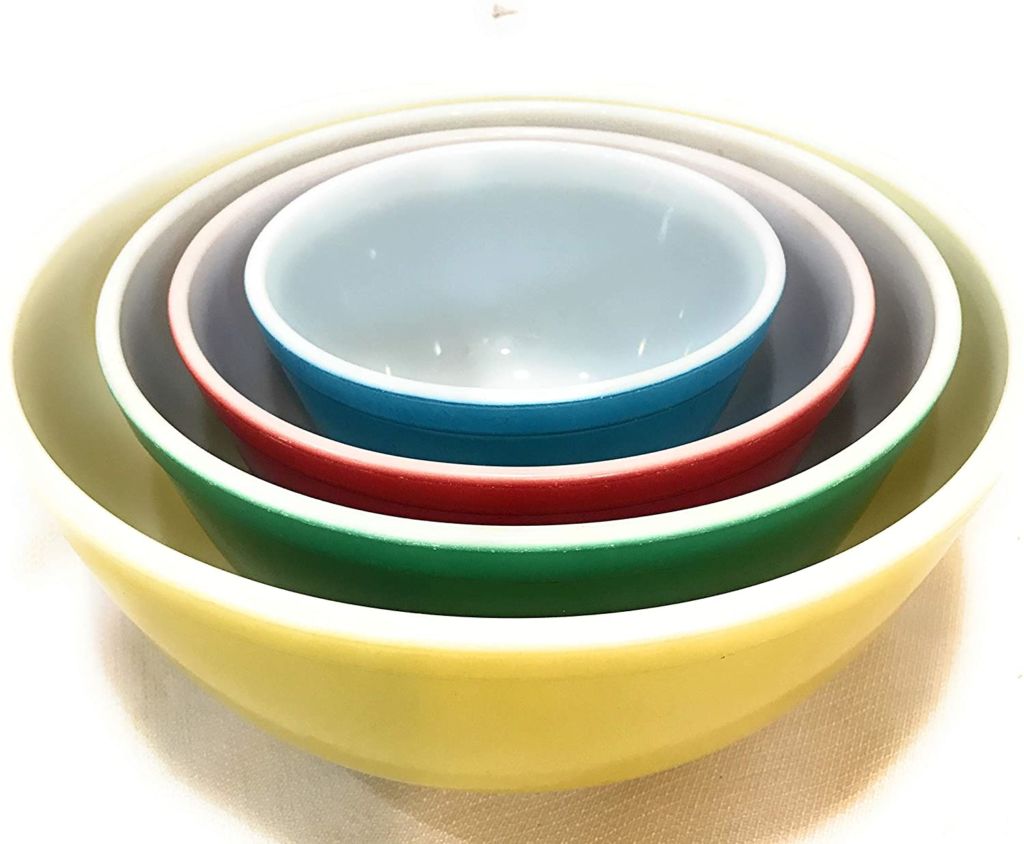 While spending these days at home, I have been reminiscing about fond memories from the past. Perhaps it is because everything has been temporarily derailed; all my travel and deadlines have been put on hold and I have more time to just… remember. And for the past several days I've been remembering times when my Mom would putter in her small, avocado green kitchen mixing ingredients in her Pyrex bowls with the avocado green hand mixer she had for more than thirty years.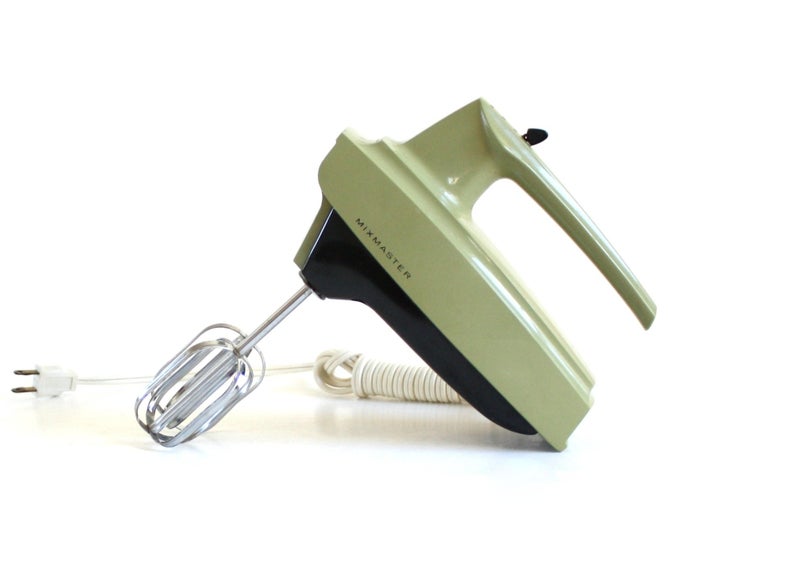 Mom loved to make all kinds of pies. She baked apple pie a lot. But she also loved to make cream pies; particularly banana cream and coconut cream pies. I remember my Dad — as if it were yesterday — sitting at the small table in our kitchen eating a piece of one of her freshly prepared pies. And he would declare, "It's the best pie you've ever made!" And he'd smack his lips and make the yummy sound and she'd say to him, "You say that every time." It's true. He did say it every time.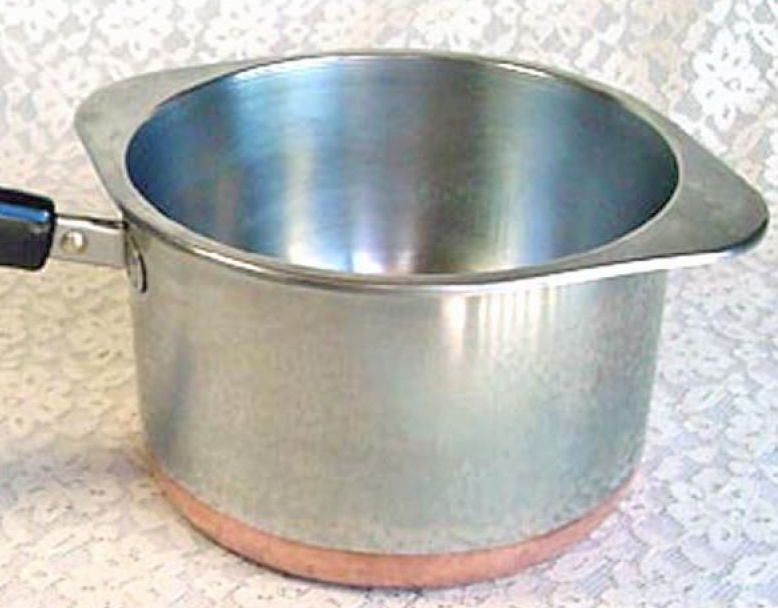 Yesterday, I got out Mom's Revere Ware double boiler and made banana cream pie from scratch. Just the way Mom did. When Kent saw I was baking a banana cream pie he asked, "Aren't you going to need Nilla Wafers?" And I assured him my Mom never made banana cream pie with Nilla wafers. He shrugged and mumbled something about it not being as good as if it had Nilla wafers, but I was not deterred. 
My goodness…the smell in my kitchen and the taste of that fresh cream filling! It brought back a flood of memories of my Mom and how she used to let me lick the spoon and the pan when she had emptied it. She always scraped out the pan so completely though, I used to wish she would leave just a smidgeon more of the good stuff on the sides of the pan. 
We didn't even wait for dessert after dinner. We each had a piece right in the middle of the afternoon. And when Kent took a bite, he closed his eyes and smiled. I asked him if he missed the Nilla wafers and he said (while putting another bite into his mouth), "What wafers?" Then he declared, "It's the best pie you've ever made!" And I just grinned and quietly thanked my Mom in my heart. 
Oh, the sweetness. The pie and the memories. 
Mom's recipe: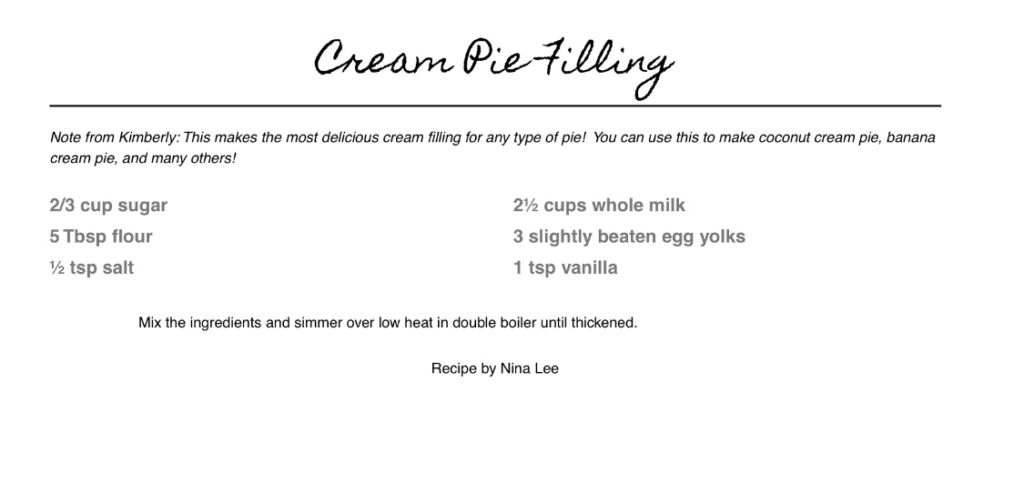 Use a pre-baked pie shell and line the bottom with banana slices. After the cream is cooled slightly, pour over the bananas. Serve room temperature or chilled. Enjoy!