I've tried to write this blog post at least a dozen times. Each time I tried, I simply couldn't find the right words. Even as I write this, the tears are streaming down my face. But now I'm ready.
To say the past two months have been some of the most difficult of my life is an understatement. After spending a lovely Christmas holiday with my Mom in the assisted living facility where she lived, her health took a steady downturn in early January and a series of strokes left her in increasingly poor health. I visited her on several occasions during this time and each visit was more difficult than the last. It was hard to see my Mom, once so feisty, become increasingly frail and unable to communicate coherently.
In early March another stroke or series of strokes caused her quality of life to become very bad. We knew the end was near. It was heart wrenching for my brother, his wife, and my niece and her family who lived close by my Mom because they visited her almost every day. Miles away, my heart would skip a beat every time my phone would ring. Finally, Kent and I decided we needed to be there with her no matter how long her final journey home might take. 
We arrived on a Thursday and spent the day with Mom and our family members. That evening her room was crowded with all the immediate family and my sister-in-law's parents, who were my parents' closest friends for many decades. In what might have been a very sad time, we shared stories about my Mom and we smiled and remembered so many good times. Because we all believe in our Savior and the gift of eternal life, we found ourselves at peace in this moment as we laughed a little and talked about how eager my Pop would be to see his "beautiful bride" once again. My parents lost two infant daughters at their birth long before my brother and I were born; so we talked about how my Mom would finally be reunited with those precious baby girls she had never seen in this life. The time we all spent crowded around my Mom's bed that Thursday evening was truly a gift. A gift of love, a gift of peace.
Mom was not alone.
After everyone had left, Kent and I asked to take the "night watch" with Mom. Around 10pm, I sent Kent out for some iced tea and I spent time alone with Mom. Just her and me. I played different versions of her favorite hymn, I Come to the Garden, on my iPad. I sang softly to her, reminisced out loud about the wonderful times she and I had while I was growing up, and the times she helped me after both our boys were born. I held her hand. I prayed. It was so peaceful. And she was not alone.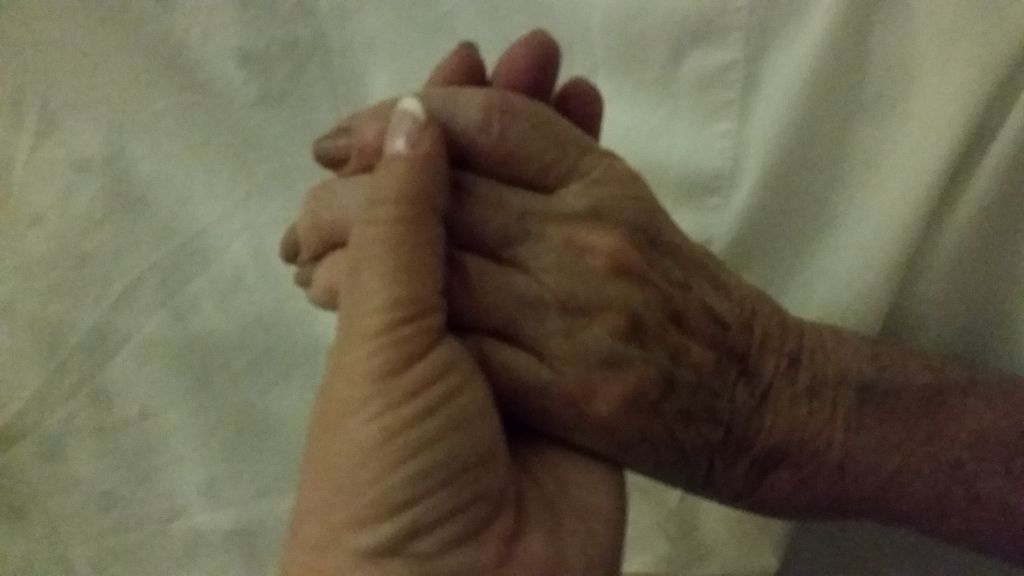 On Friday morning my brother and his wife, and Kent and I were all together around Mom's bed. We held her hands. We prayed. We assured her that we are all fine; she had fought the good fight and spent a life well lived. We told her it was all right to leave us, to be reunited with my Dad, see those beautiful little girls and meet Jesus face to face. I held her hand and whispered that I loved her dearly and told her I would see her in heaven one day.
When Mom took her final breath she was not alone.
She'll never be alone again.
What a comforting thought.