…which is a sneak peak of a pattern yet to come.
I couldn't leave Christmas 2009 behind without sharing one last Christmas quilt with you all. Of course it's my plan that you'll be seeing this wonderful new design again in the near future (think: exclusive pattern, magazine feature, or inclusion in the next manuscript….)
But first, let me share a little background. Do you remember way back when I wrote that I was ready to move on to working with Christmas fabrics after making so many projects from autumn colors? Well, the day after I posted that blog I got an email from my dear friend and creative buddy, Birgit which read:
"Do you know what you do to me when you post questions like yesterday's "What to do?" (about the Christmas Jelly Roll and fabric) on your blog? I haven't done any math regarding if or if not one Jelly Roll would be enough for a design like this — but I had to do something with trees. Sorry for dumping my ideas on you like this, but I don't have time to do anything with them right now. Use it, if you like. See

attached file for my answer…"
Birgit had worked on a new design idea and shared it with me, and I loved it. Especially the clever tree border! A flurry of emails followed between us as we both worked to "tweak" the design using Electric Quilt software. Even though she is in Germany and I'm in the US, the Internet has shrunk the distance between us (thanks to email!) and we had a great time making our own version of the quilt at the same time — sharing notes and ideas along the way. She chose a wonderfully elegant, planned fabric palette for her version, and I opted to make my quilt from a Jelly Roll pack with some additional yardage for the background. I'm very excited to share the end result with you all: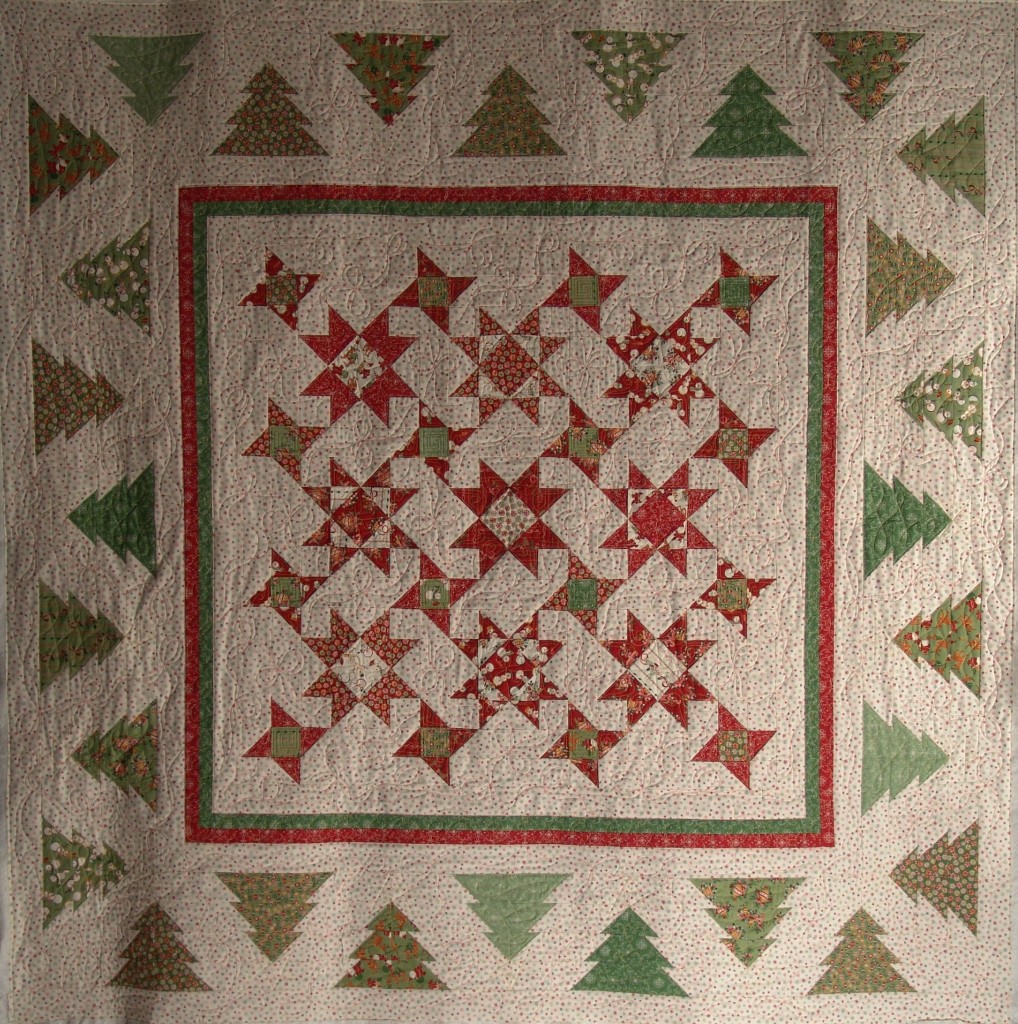 I shipped my quilt top and backing to Birgit and she quilted it with fun, whimsical designs which compliment the scale, cute patterns of the fabric and scrappiness of the Jelly Roll strips perfectly!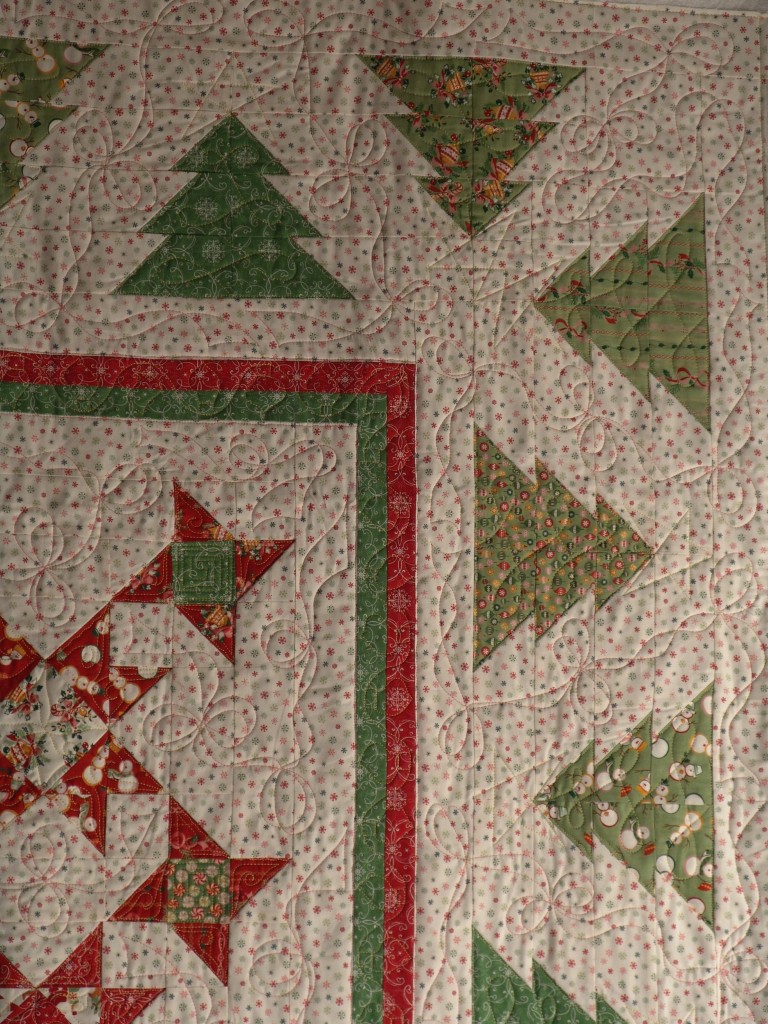 I just adore the pieced border of trees! And you wouldn't believe how easily the blocks 'fit' together to make the piecing fast and fun. The quilting in the background looks like candy ribbons and the trees are quilted with yelllow thread which makes the swirls stand out against the tree fabrics, complete with a star on top of each tree!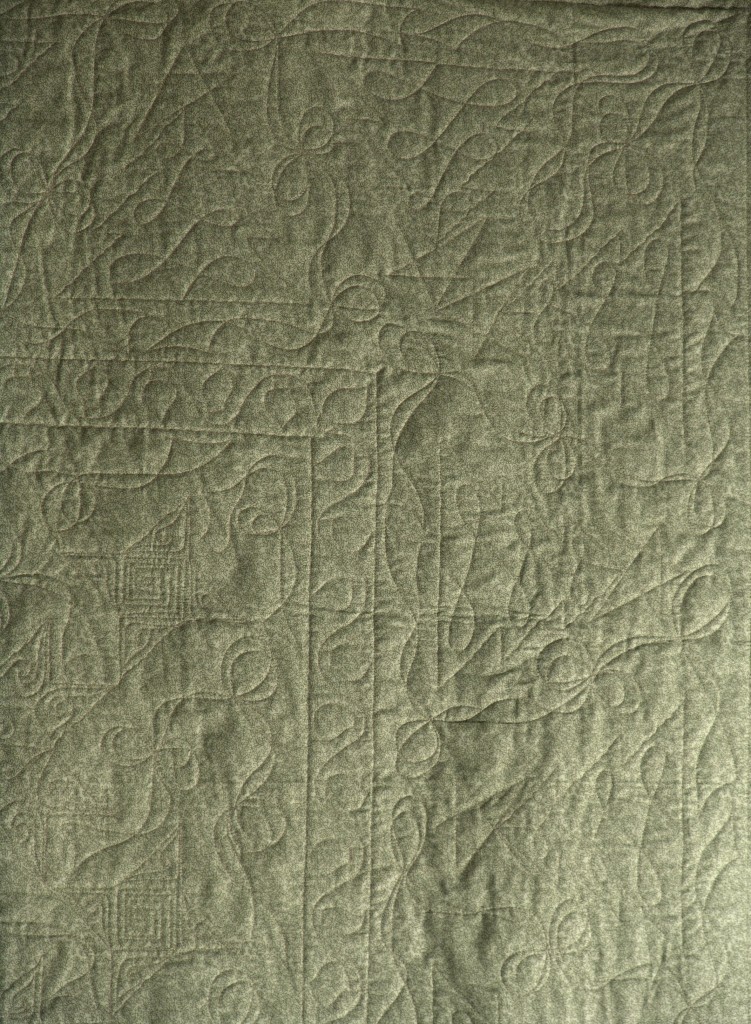 Here's close-up look of the quilt backing. The quilting is spectacular and the perfect compliment to the design and fabric.
Take a look at Birgit's gorgeous version of the same pattern: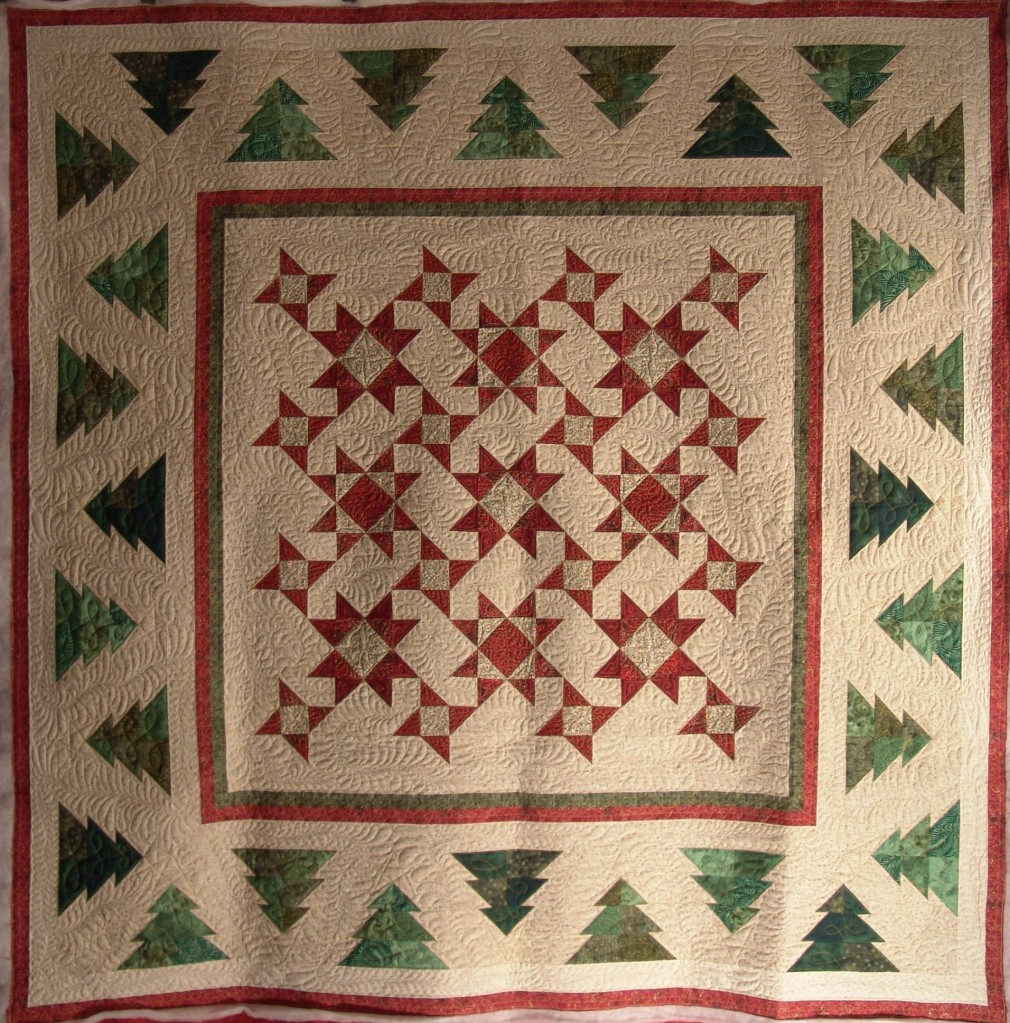 Her version is so beautiful and elegant. It is simply stunning! The feathers are the perfect compliment to the fabrics and background areas.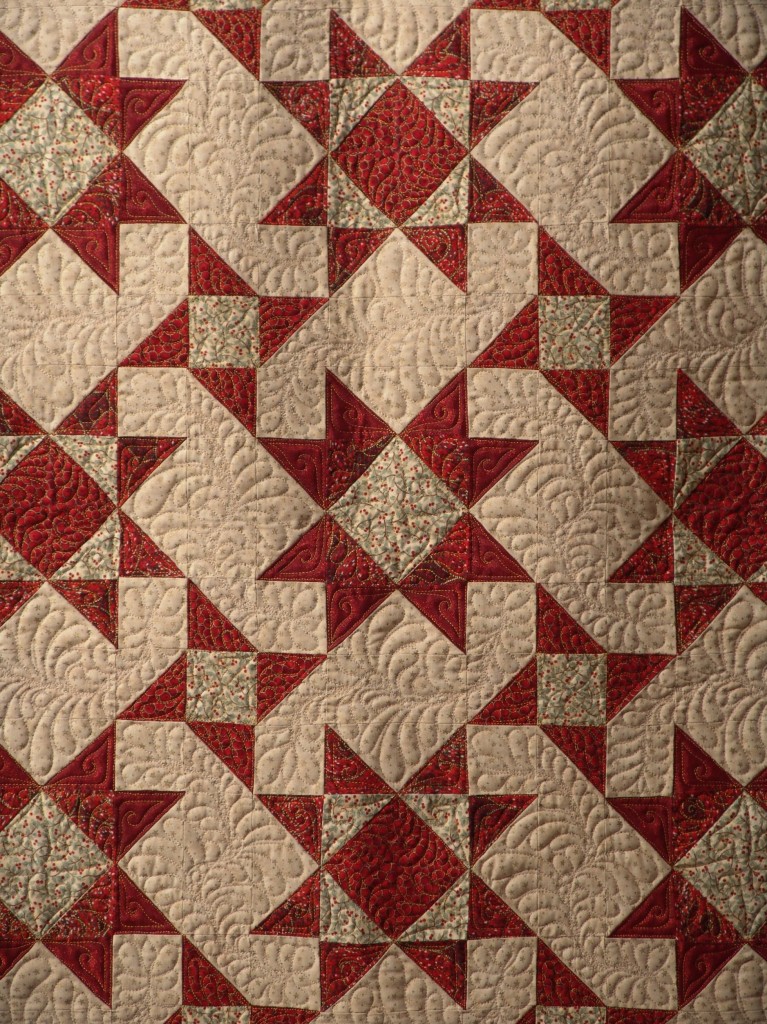 Take a close-up look at the exquisite quilting….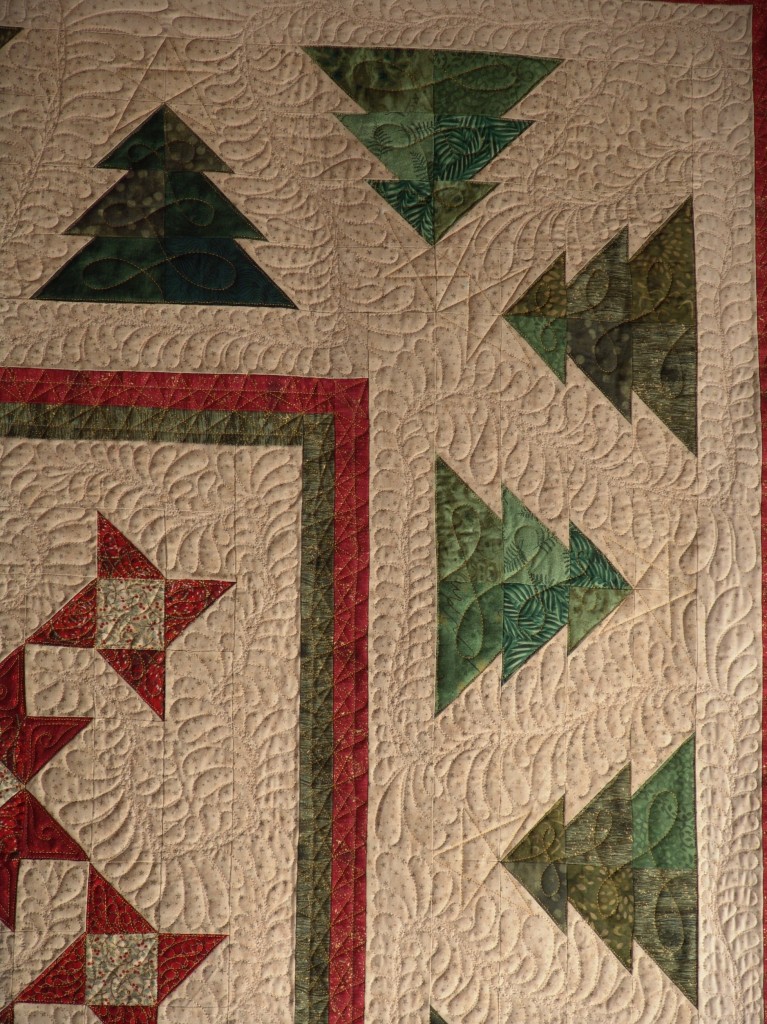 …and the gorgeous border. The fabrics are luscious!
Thank you ever so much, Birgit! I had such a great time making this quilt at the same time you made your version. I'm already thinking ahead to our next collaboration. More on that to come….
In the meantime, I hope you all will consider a special request from my dear friend, Evelyn Langston Terhune. I received the following note from her:
I have decided to run a HUGE pattern sale now through January 20th.  ALL Patterns $3 each or 2/$5 with all kits in stock $5 off.  I need to get money in to pay my 2010 Medical deductible and the 20% insurance doesn't pay when I go to Houston [for upcoming surgery].  Please help out and tell any friends who sew or sewing groups you are a member of to help me get the word out.  To get the discount they just need to place an order at

http://www.ozcrafts.com/ and type in the message line: "Start the New Year Sewing". If they don't find the message line they can put it under Country on the address when they check out.  Prices will be adjusted here and reflected on their charge card receipts.  Thanks so much for you help.  Evelyn 
Evelyn has been battling cancer for several years now and I have never witnessed anyone going through such a tough time handle it with more grace and optimism than her. She will be having surgery soon (after having spent much of the past year enduring radiation and chemo) so I hope you will check out her website and help if you can. Tell her that Kimberly sent you! And please add her to your prayers for the upcoming surgery to be a complete success!
Thanks "sew" much and God bless you all. See you in 2010. Here's to a fantastic new year for all of us!