There's lots going on over here at "Einmo Studios Central" these days. With my new book release and the new Craftsy class launch, I've been busier than a bee tending five hives. (I just made that up.)
So, first things first.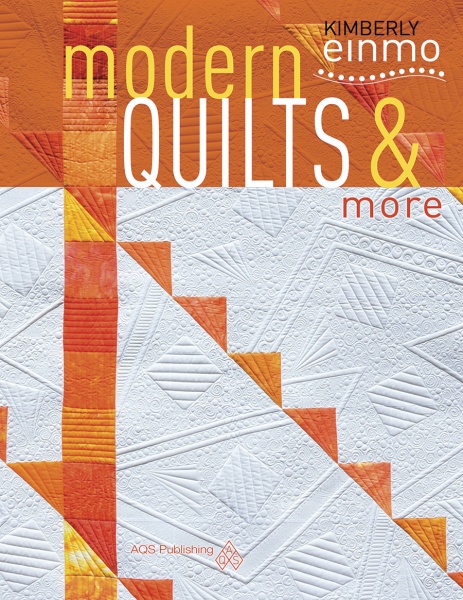 Judi Madsen quilted my Orange Zest quilt in my new book, Modern Quilts & More and she blogged about it HERE.  You can pop right over then, read her blog and leave a comment for your chance to win an autographed copy but don't forget to come back and finish reading this blog. There's lots more in store, I tell ya!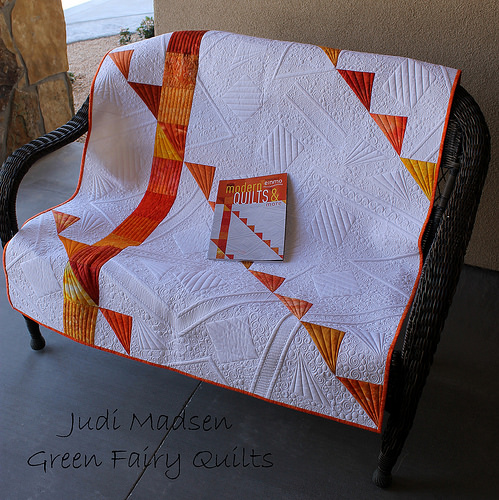 Okay. You stopped at Judi's blog and left a comment for a chance to win, right? Well, welcome back!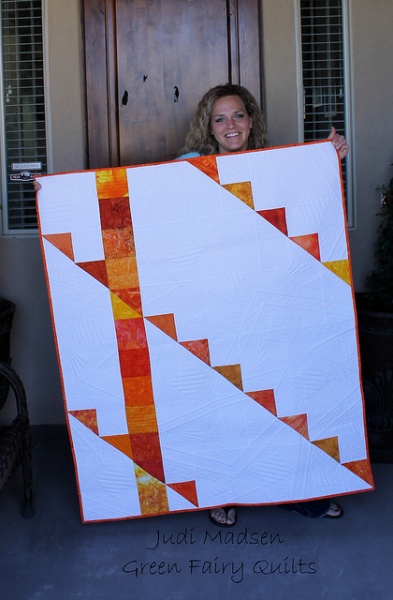 Judi did a magnificent job quilting Orange Zest. It makes the cover just sparkle. Don't you just love it? And by the way, Judi, I think your hair is adorable!  Honestly, I can't begin to thank Judi enough for quilting this quilt for me.  She is quite an exceptional artist but more importantly, I'm very honored to call her my friend! Is anyone out there loving the color orange as much as I am right now? Simply scrumptious!!! (Sorry for the shameless sharing of HER photos.) But honestly, I've barely had that quilt in my possession for more than 24 hours.  It has lived either at her house or at the AQS headquarters, so I don't have wonderful photos of it like she does.  Gosh, I hope she doesn't mind.) So let it be known that the photos shared here on my blog are hers and hers alone!
Other tidbits to share…..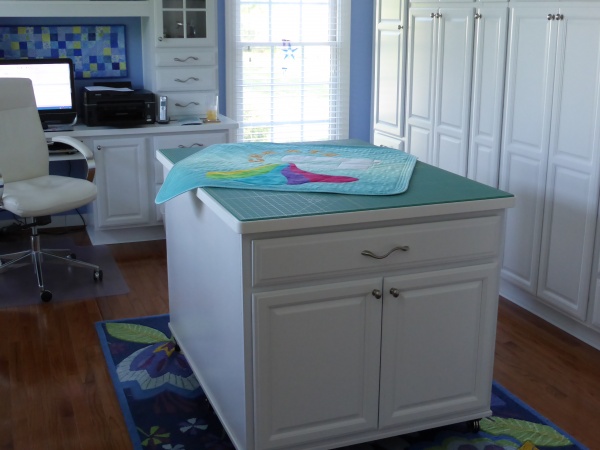 In other happenings, I'm very happy to say that I completed a brand new quilt yesterday for an Invitational Quilt Exhibit for next year's Road 2 California Show! Goodness me, I wish I could show you and tell you more about it. But the exhibit coordinator wants this one to remain "hush-hush" for the time being. I promise, more on this to come in the future. You're going to love this new special exhibit, though. And I'm 'oh-so-busting-my-buttons-with pride' excited about having been asked to create an original quilt for this exhibit. (If you squint your eyes, you can see it laying perfectly flat on my cutting table.) Yep, finished it yesterday — label and all!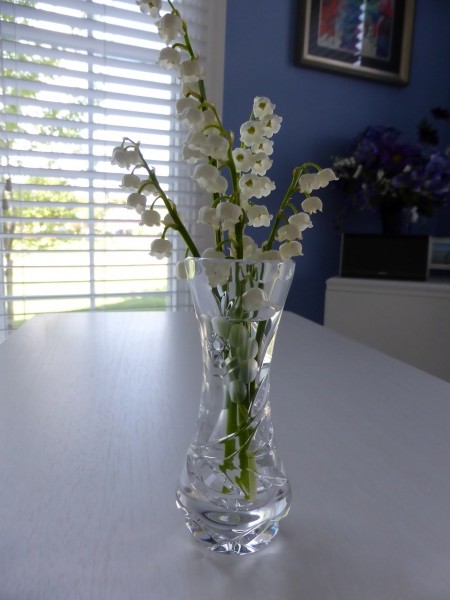 I love that spring has really sprung here in Northern Virginia these past two weeks. The dogwoods are in full bloom as are the redbud trees. And yesterday, when I took my son to his drum lessons I picked a few tiny stalks of wild Lily of the Valley flowers. I can't begin to tell you how intoxicating they smell! I put this lovely crystal vase with the blooms next to our bed last night and the scent was absolutely heavenly! Still enjoying them this morning….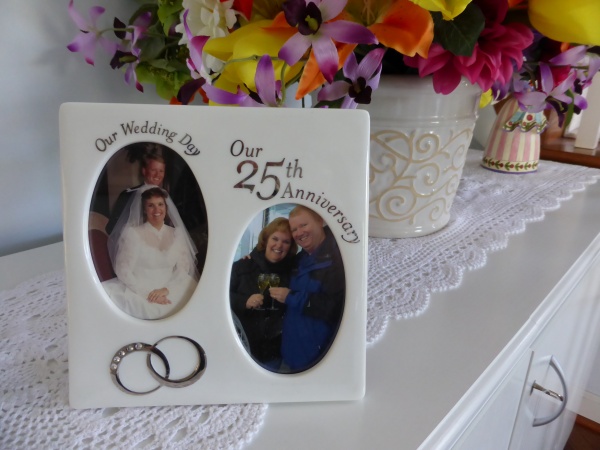 And last but not least, I wanted to share this gorgeous photo frame given to us by some very dear friends, Joe and Faith Bratton, who were married on the same day and same year as Kent and me! We didn't meet until about 5 years ago, but what a lovely coincidence to know another couple who have been married exactly the same number of days and years as us! We saw the Bratton's right before our shared silver anniversary last year and they gave us this gorgeous photo frame. I put photos of us on our wedding day and also from our anniversary trip to London and Paris last fall in it. What a wonderful remembrance and keepsake! We've hardly changed a bit, don't you think? (NOT!)
Well, that's the update from this end. Check back in a day or two for more updates and another chance for a book giveaway!
Happy weekend, everyone!