After six very intense weeks of packing, cleaning, moving, remodeling, and unpacking, I feel as though I'm finally coming to the surface for some air. I have been so single-minded about getting our family moved to our new home that I've let many things slide for the time being while I took care of just getting ourselves packed up and moved out of our former house. As far as transitions go, this one has had its share of ups and downs and we've all worked very hard and used muscles we didn't know we had!
For those of you who have emailed with questions or comments, please be patient with me. I'm woefully behind in sending replies out to everyone. I'll get to them all eventually. As you know, sometimes "life" must come first. For me, this is one of those times.
In the meantime how about a brief, rather random, photo show for a recap of recent events?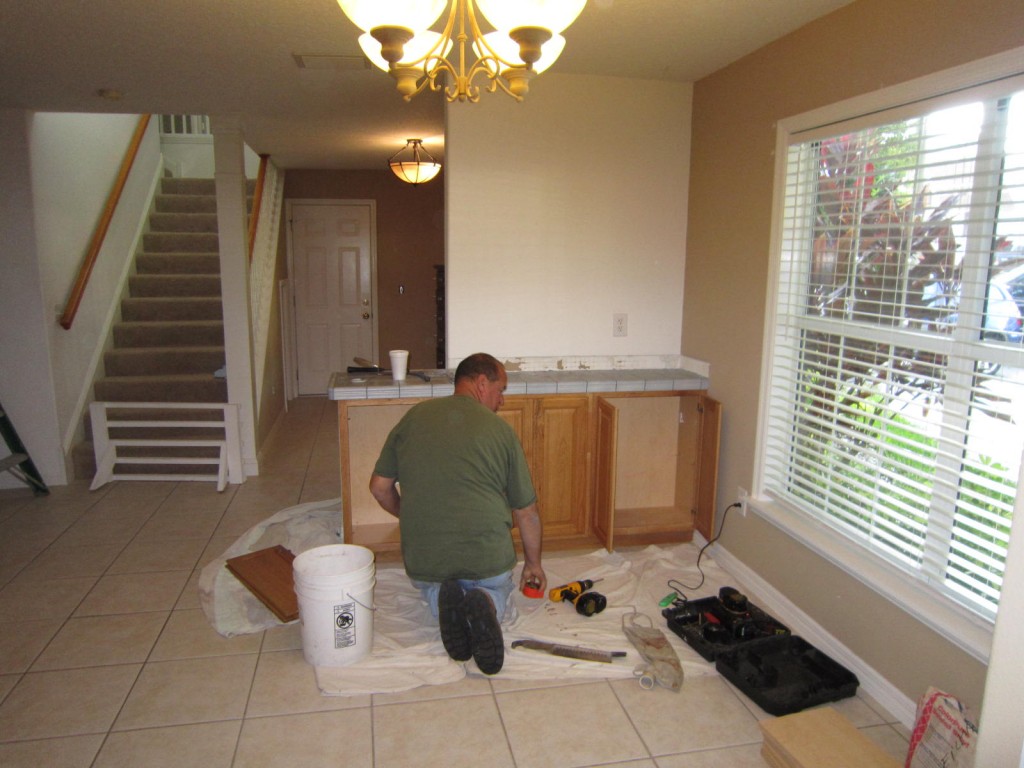 Right after we bought the house, we had some remodeling and updating
done including fresh paint (my colors) and new floors.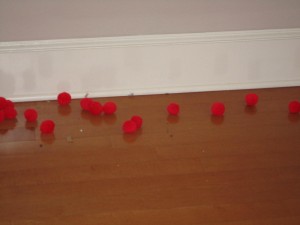 Guess what we found when we moved the piano?
Snicker's favorite toys: red pom poms.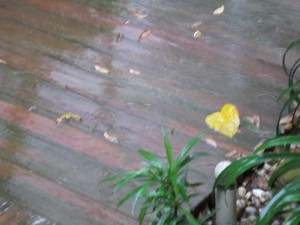 After weeks of no rain and a minor drought, the very day we chose to move it rained poured. Quite literally, we got more than 4 inches of rain on the day the moving van loaded and transported our furniture. At that point, there was nothing to be done but work through the rain and cope. We did our best to keep our sense of humor.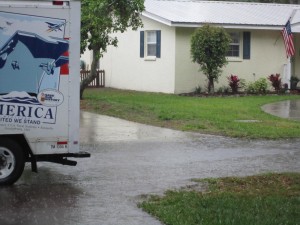 Although the photo doesn't show it, the street in front of our house flooded.
Suffice it to say, we spent moving day completely soaked to the bone!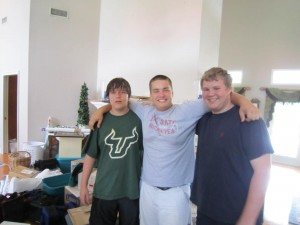 It's good to have a football defensive lineman in the family. Son #1 (middle) along with two football friends, did an outstanding job of helping us move boxes and other heavy items. They worked so hard, and were happy with pizza (lots of it!) sodas, and brownies.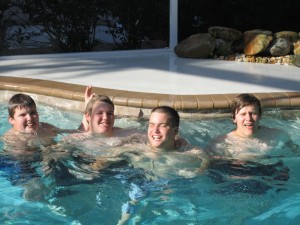 A few days after the BIG MOVE, we invited them back for a swim in our pool.
The water was (surprisingly) icy cold, but you know how hearty teenagers are!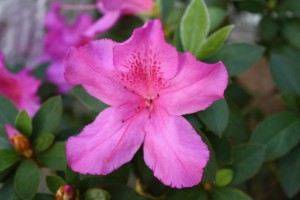 There have been small surprises amidst the hard work to make me smile.
I found this blooming in the back yard. Glorious!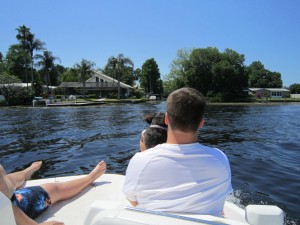 After weeks of hard work, we treated the family to a
"fun" day of boating on the lake last Saturday.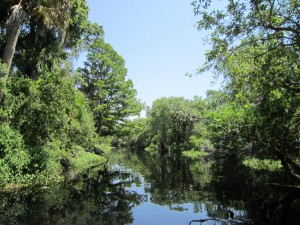 The small inlets leading to the lake are simply enchanting
and possess a Floridian beauty all their own.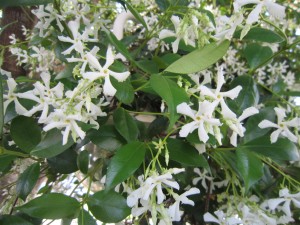 Another floral surprise. At first I thought honeysuckle was growing on our lamp post in front of the house. But now I'm convinced it is night-blooming jasmine. The heady fragrance is so powerful and almost overwhelming after dusk. I love it!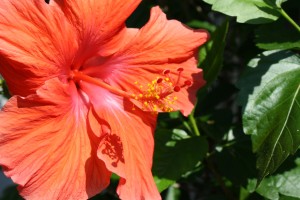 This salmon pink/orange hibiscus surprised me yesterday.
I'm going to enjoy having hibiscus growing in my back yard.
Moments of quilting fun….
Amidst the chaos, there have been a few wonderful quilting moments to savor. I had the privilege of presenting a trunk show to the Manatee Patchworkers' Guildin Bradenton, FL, last week. What a fabulous, welcoming group of quilters. I enjoyed my time with them so much; they were all so gracious, talented and fun-loving! (I couldn't find my camera amongst the boxes at home, hence, no photos. 🙁 )
Last Friday night, I taught a mystery quilt class at Scrap and Sew. We had a ball! Everyone had a great time and they all seemed to excited about the quilt when the mystery was revealed.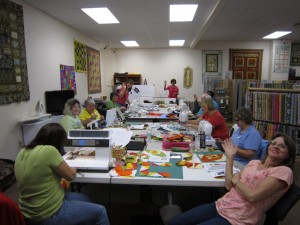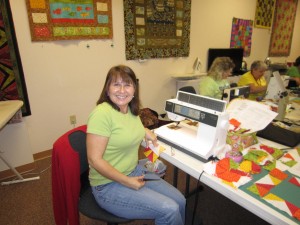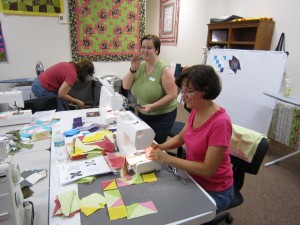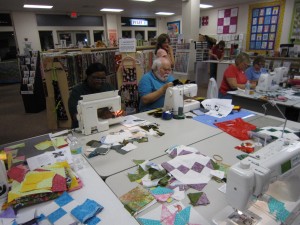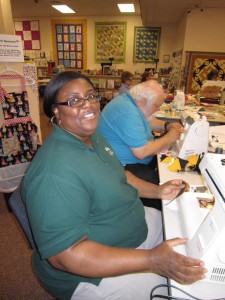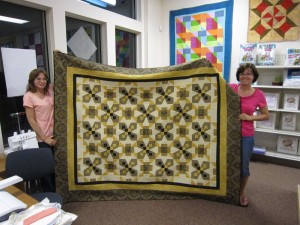 Rebecca (right) brought a finished quilt for "show and tell" from a mystery class I taught last year at the shop. Her color choices of black and gold give this quilt an extremely sophisticated and elegant look! (Shop owner, Tess, is on the left.)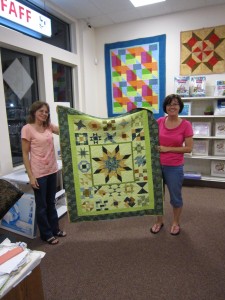 Another fabulous finish — Rebecca's version of Jelly Roll Magic from a class last year. I love how she added two rows to make the quilt rectangular! I love adore this quilt!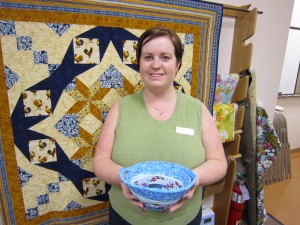 One of the nicest surprises was Katie  (be sure to check out Katie's blog and quilting podcast here) made this wonderful (in-my-favorite-color-blues) fabric bowl especially for me! I just love it and it will be a treasured part of my sewing room. Thank you so very much, Katie! In fact, once I get my sewing room unpacked and organized, I'll put that sweet little blue fabric bowl right next to my machine to hold my favorite notions.
Which reminds me….it's time to dive back in and finish the unpacking. The sewing room is next. But at least I had a few moments this morning to resurface.