Last week, I experienced the restorative power of friendship and laughter with two dear friends who came for a sewing retreat here in my mountain studio. Words are simply inadequate to express how much this gift of time and the safe space to open up, be silly, creative, and truly authentic meant to me. We talked, we laughed, we sewed, and we visited the quilt show, Road2CA for a day in nearby Ontario, CA. 
At the end of a fruitful day of seeing gorgeous quilts and shopping in the vendor hall, we enjoyed dinner out at a fantastic Chinese restaurant with the Janome sewing educators and Regional Manager that same evening. Oh, what fun!
Back at the cabin, the three of us decided to make the new Teddy Tote by Sew Many Creations. (If you'd like to make your own Teddy Tote, you can buy the pattern by simply CLICKING HERE.)
I particularly enjoyed the number of different presser feet we were able to employ to accomplish different tasks. I used the M foot to use an overcast stitch to finish inside seams, the zipper foot (I absolutely LOVE the design and ease of functionality of Janome's zipper foot!) and the G foot and Utility Stitch #4 was a revelation to me for the most perfectly beautiful topstitching ever!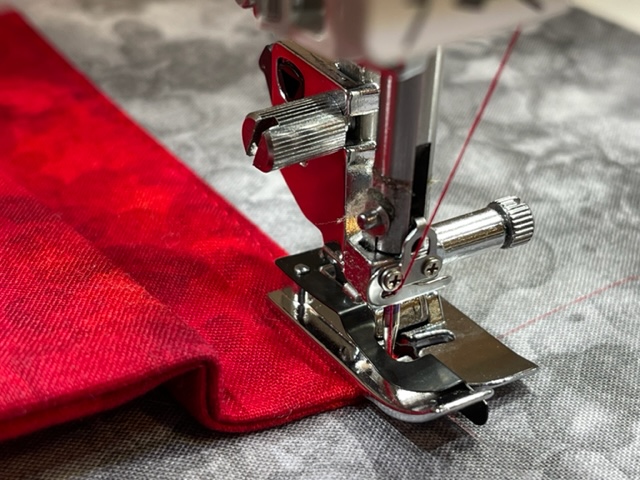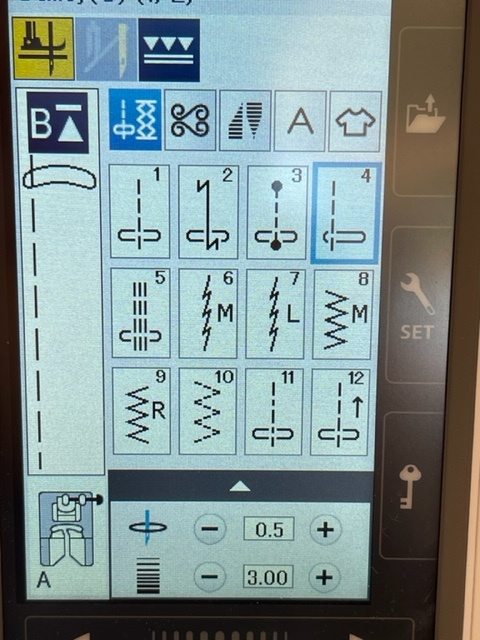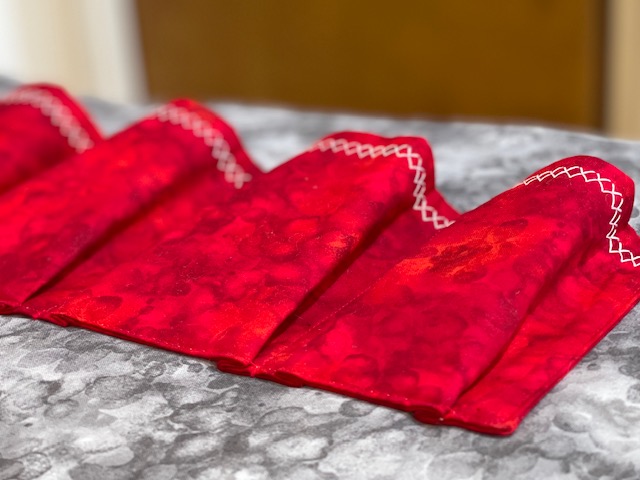 Rest assured, we had all kinds of 'help' from the resident Quality Control Managers, although some fell asleep on the job. 
On Friday, even though it was quite cold and blustery (but very sunny!), we visited the village for a yummy lunch at the Belgian Waffle Works (we unanimously agreed they have the world's best-tasting waffles; light, crispy, yet melt-in-your-mouth-soft!) and then went for a ride on the Lake Arrowhead Queen! It was such a fun and relaxing, "touristy" afternoon out!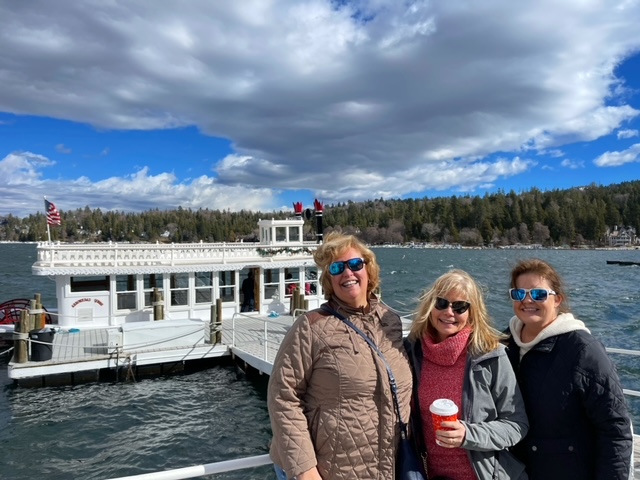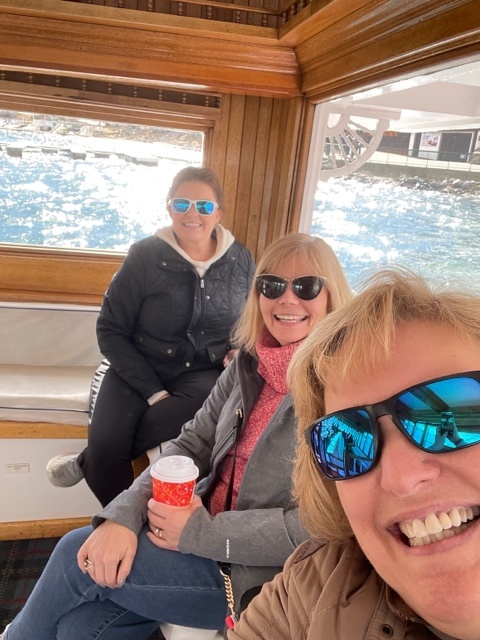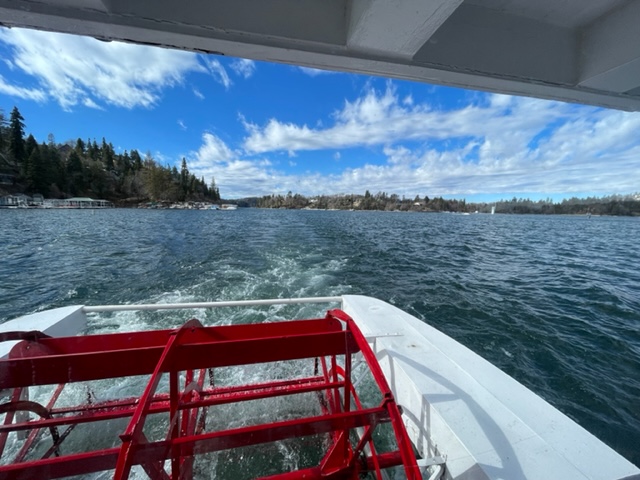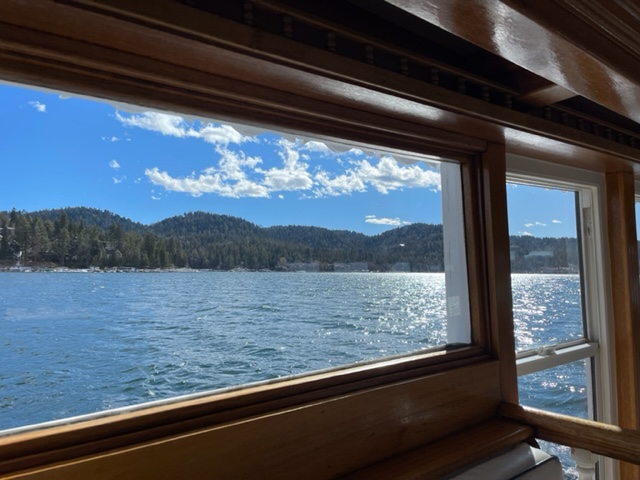 Back at the cabin, we got back to work on our totes and accomplished quite a lot despite fits of giggles, silliness and sharing funny stories along the way.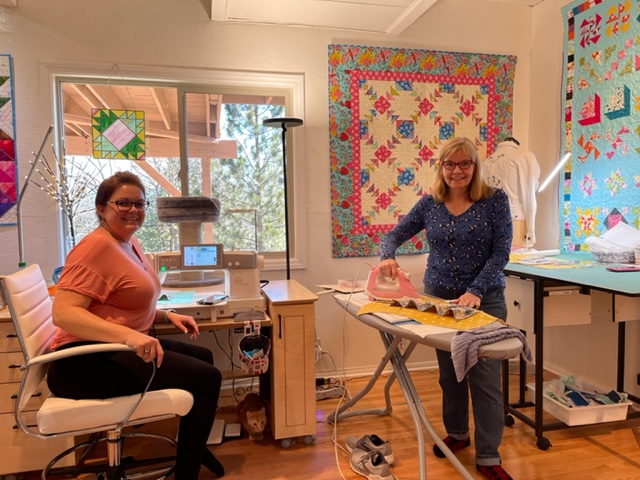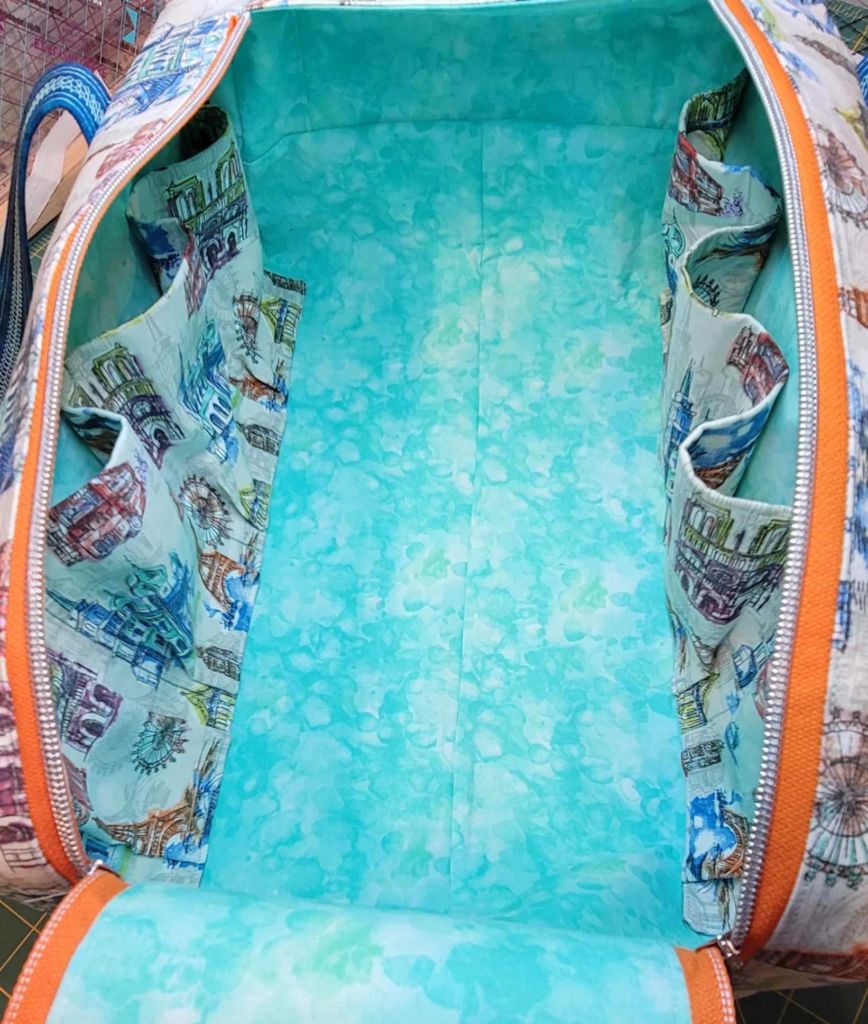 We worked on each step together and felt such an amazing sense of satisfaction at finishing these amazing sewing totes! They are roomy, sturdy, and have plenty of pocket space and storage.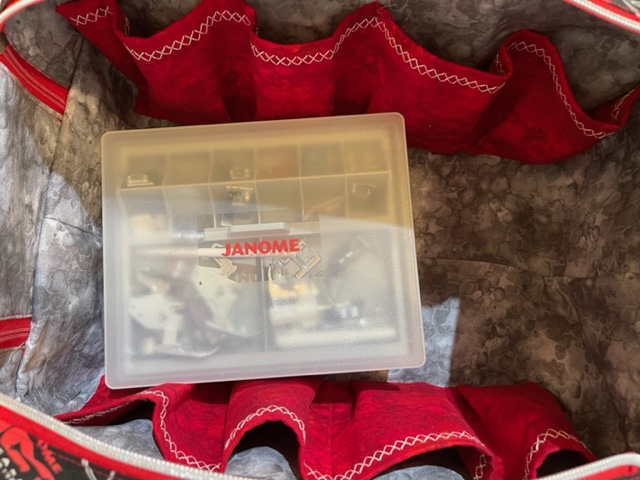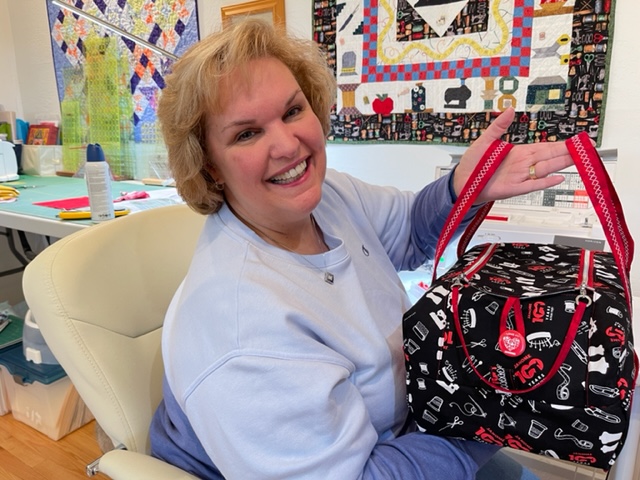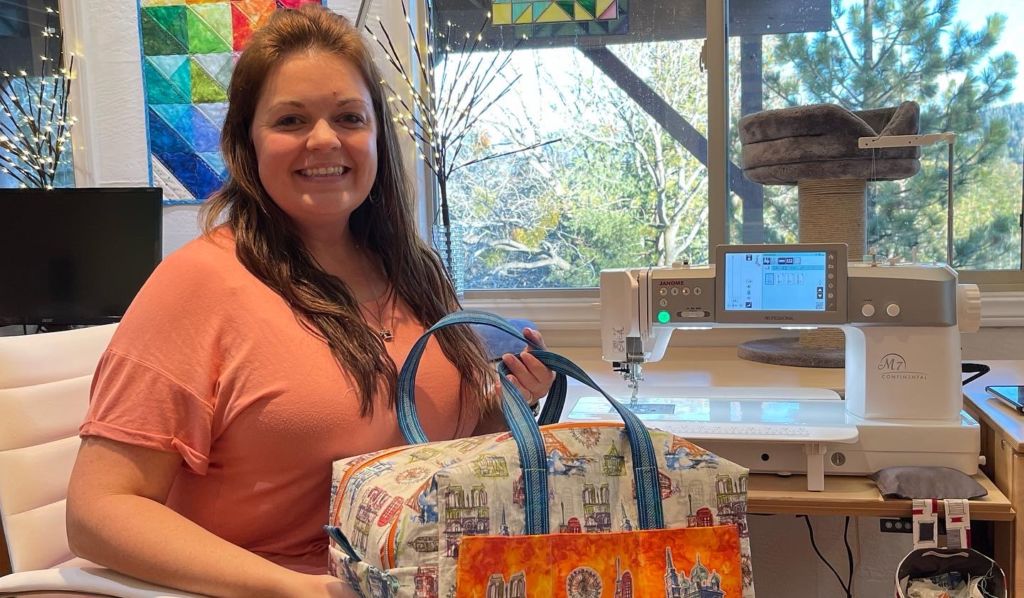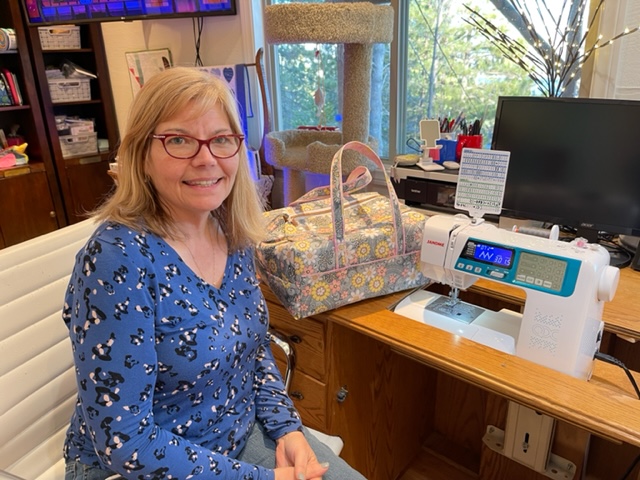 But the very best part? For me, it was the sheer happiness and restoration I felt after a long spell of a quiet life lived tucked away in the mountains since Kent moved to Australia. It felt so wonderful to connect with true friends and to share our love of creativity, friendship and passion for sewing on our Janome sewing machines! 
Anne had a fabulous idea I want to share. She suggested we use permanent markers to sign the inside of our totes to mark the date and event of our special Janome Girls' Retreat! We took it one step further and added fun quotes and things we giggled about all weekend, so whenever I open the tote, I will be reminded of those fun things we shared and laughed about until we almost couldn't breathe!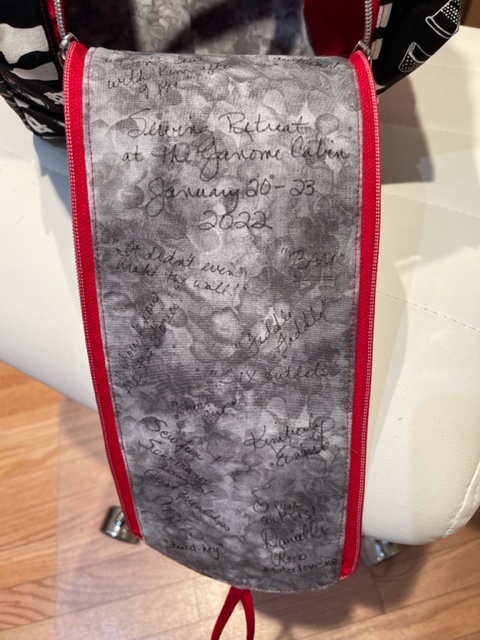 The thing I learned going forward is that I need to carve out time for weekend sewing retreats with friends. It's not a luxury, it is a necessity and one I haven't allowed myself the time or space for in my schedule in years past. That changes here and now!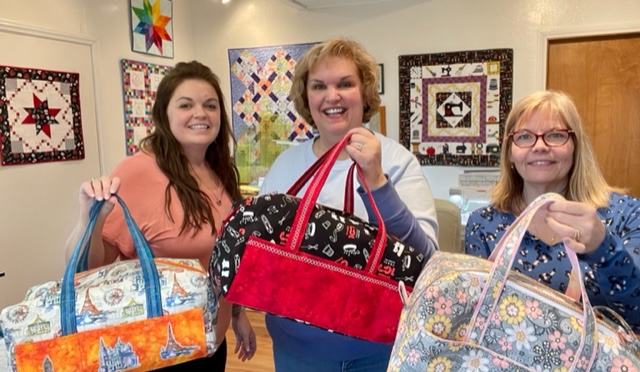 So….who's up for the next Janome Girls' Sewing Retreat?