We sincerely want to thank you all — so many people have reached out through Messenger, texts and emails to check on us. Part of the reason for writing this update is to let you all know the status of things and how we are doing. Its difficult to respond to each person individually, so please be patient if you don't hear from me immediately. We're dealing with a lot at the moment.
To say the snowstorms that rocked the San Bernadino mountains in Southern California were truly historic is an understatement. Now, almost two weeks later, residents are finally able to make progress to dig out, assess damages, and begin to put their lives back together.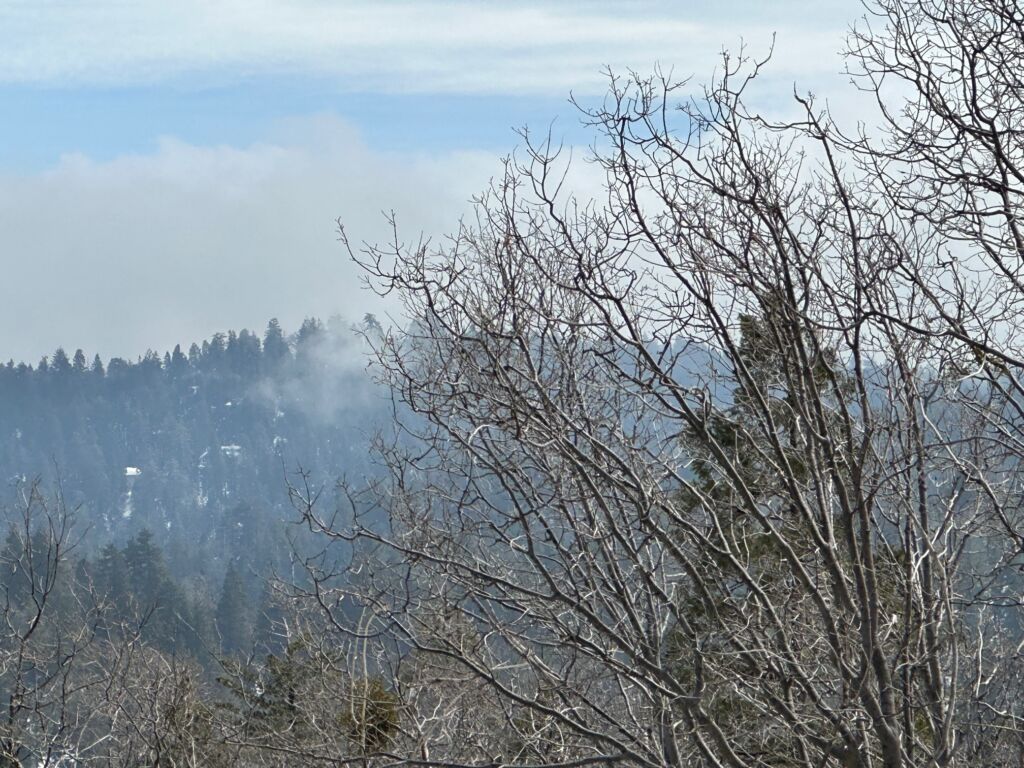 Structure fires ignited by gas leaks from buried gas meters and lines destroyed at least five homes in the community. Firetrucks have not been able to access those homes to battle the blazes and because fire hydrants are buried in drifts up to 14 feet high, firemen have to first dig them out to access them. As I sit here writing this update, I can see smoke from yet another house fire across the way and there are news helicopters hovering above. My heart goes out to everyone because there cannot be a single person up this mountain who has not, in some way, been affected by this catastrophic event. 
Two of the three local grocery stores were "red tagged;" meaning they were either deemed unsafe to enter because of the compromised roof or in one case, the roof caved in and destroyed the entire store; only four outer walls were left standing. All total, Lake Arrowhead received somewhere between 9 – 10 feet of snow. The post office has been closed for 13 days. Many local businesses have yet to reopen. 
As for us, with chains on our tires, Kent and I made it down the mountain late last week to restock supplies. But before we could drive back up the mountain, the government declared a state of emergency and closed ALL roads leading to and from the mountain communities. No one was allowed up or down. The outrage and angst this caused local residents was intense! Families could not reach loved ones utterly trapped inside their homes. Food trucks and caravans loaded with humanitarian supplies such as medicines, baby formula, diapers, insulin, and basic food items, were turned away and people and pets were left starving without the ability to get help. We were stuck at the bottom of the mountain and ended up spending nights in hotels waiting for the roads to be reopened. Mr. Kim left on a business trip this past Sunday, and I stayed behind moving from hotel to hotel because they were oversold due to so many people being displaced by the storms — both the mountain snow and torrential rainfall in lower elevations which caused a lot of flooding.
Josh had remained at the cabin with the cats and rationed food by revisiting former college habits of eating ramen noodles. Truly, he had enough food although he had long since run out of things such as bread, milk, juice, eggs, fresh veggies and fruit. 
First, the good news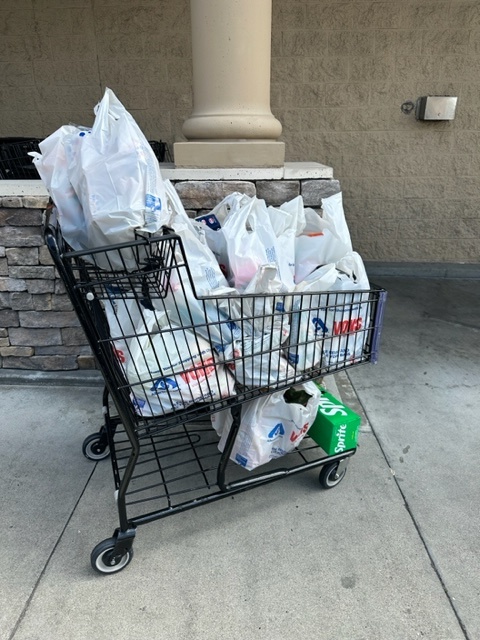 Finally, armed with proof of residency, I was able to drive up the mountain yesterday fully stocked with bags of groceries.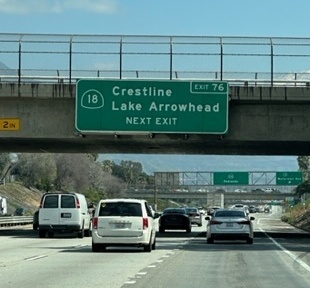 When I finally arrived at the top of the mountain along the Rim of the World Highway (Rt. 18) I was shocked by what I saw. Damage to homes — IF you could even see them underneath the mounds of snow — was immense. Roofs caved in. Decks collapsed. Fallen trees. In many cases, the snow was so high you could only see the second story of a house. There were hundreds of people working to dig out. I've honestly never personally witnessed anything like it before. After I exited Rt. 18, some roads were only plowed to one lane. But at least most roads were plowed and I made it back up to the cabin on our access road.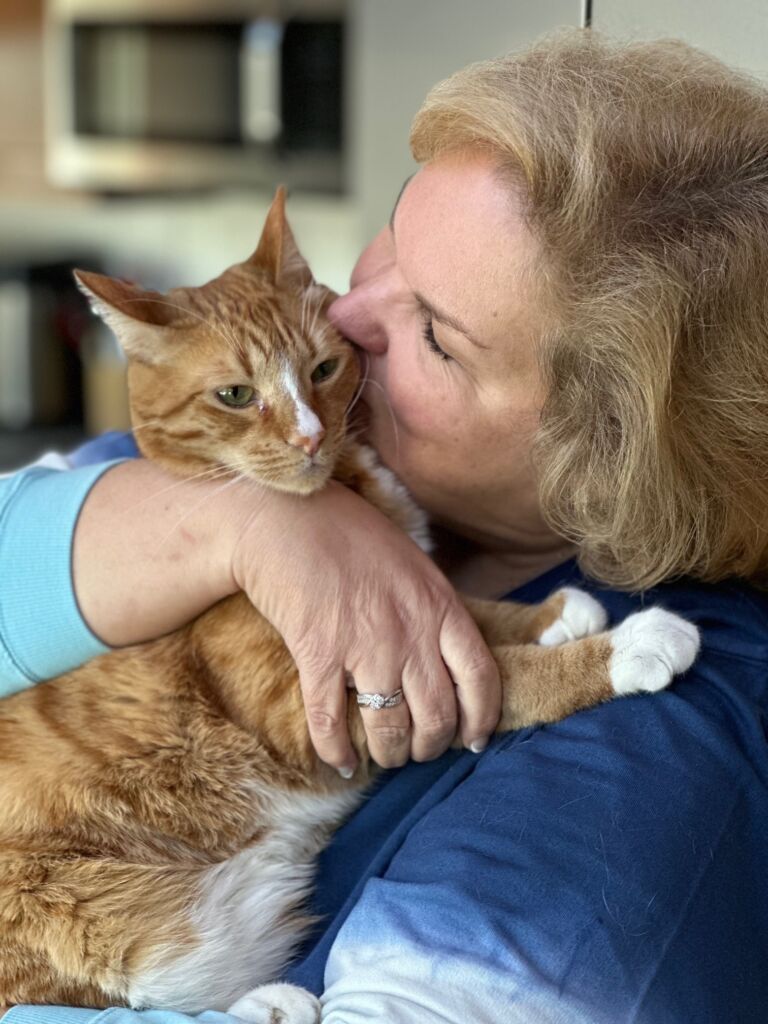 It was such a relief to be home and I was overjoyed to give Josh and all the cats hugs and kisses! 
Next, the not-so-good news
But, it wasn't long before we realized a big problem. I looked out the back door and saw this:
Sure enough, our newly re-built deck had buckled under the extreme weight of all the snow! From the view beneath the deck from my studio windows we saw two of the three support posts and the main support beam had fractured and broken!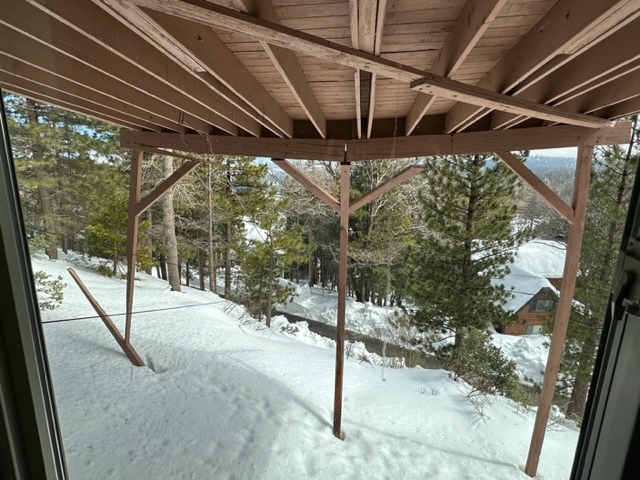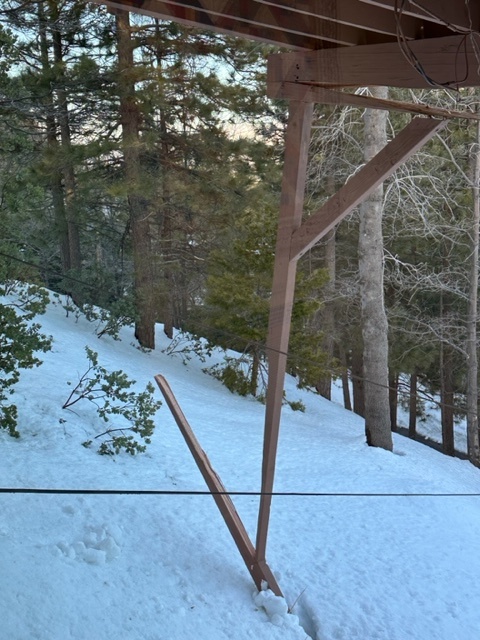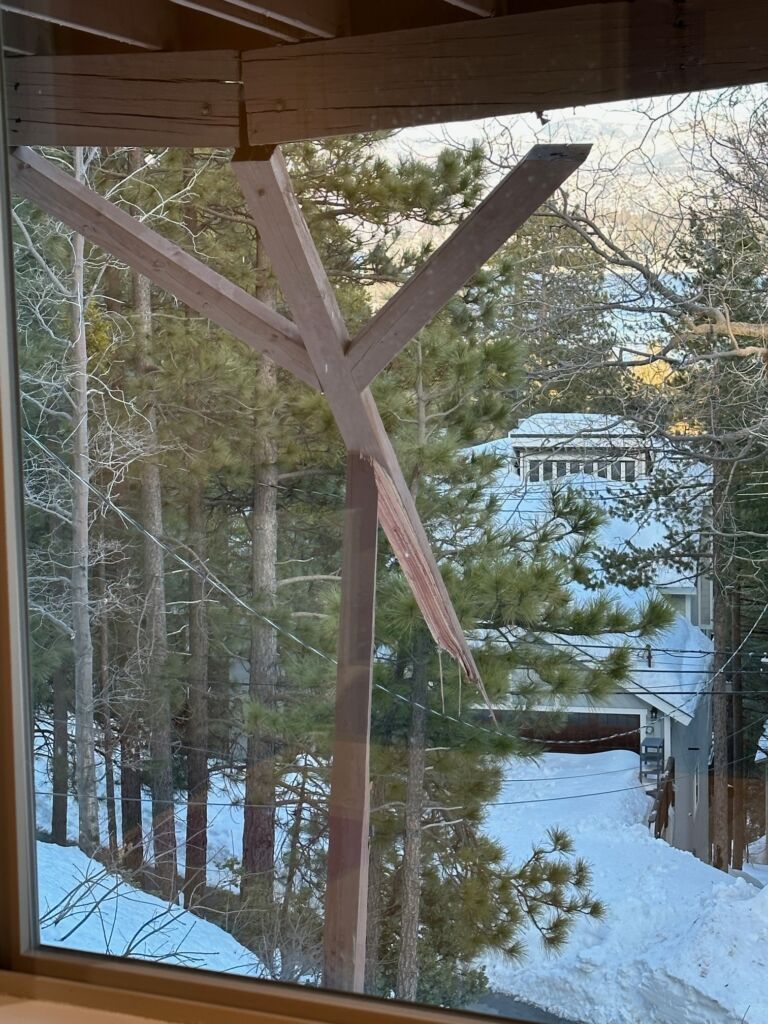 Josh quickly went to work and singlehandedly cleared more than half of the snow off the deck before it got too dark.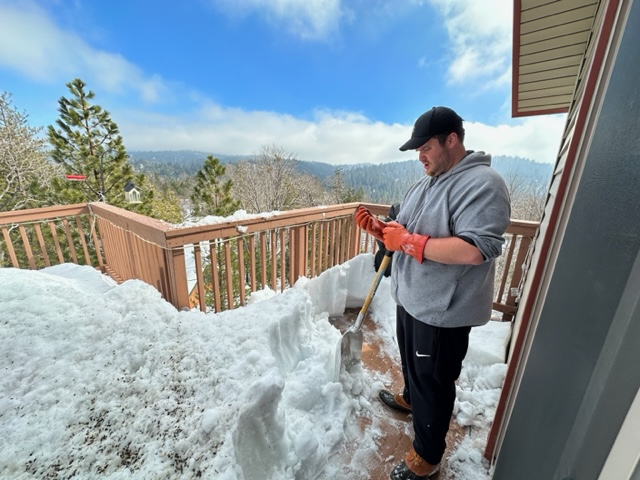 By moving the snow off the deck and away from the house, we feel IF the deck collapses, our hope is it will fall away from the house and away from the generator and gas meter and gas and water lines directly below.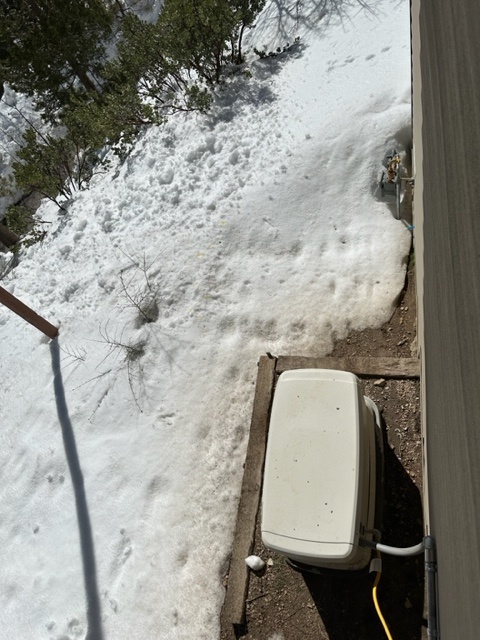 There are power lines which come up the side of the hill from the main street below and attach to the house underneath the deck. If the deck falls, it will take out those power lines. Plus, the deck connects to our side walkway to the main (and only accessible) door to the cabin. Believe me, my first phone call was to our insurance company to file a claim! Please be assured, we're taking proper precautions and making safety the top priority.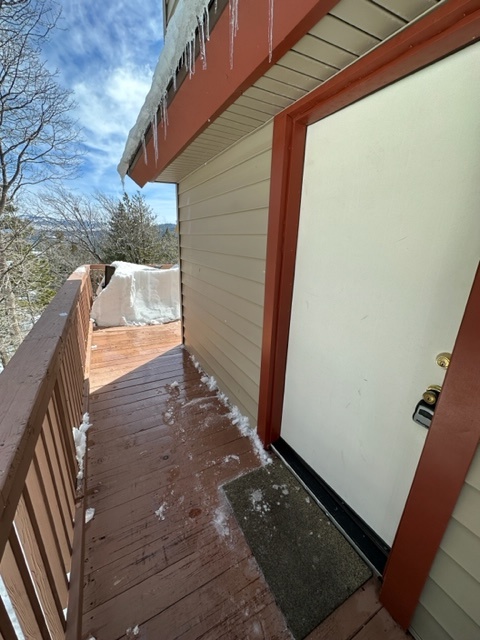 May I tell you about Josh?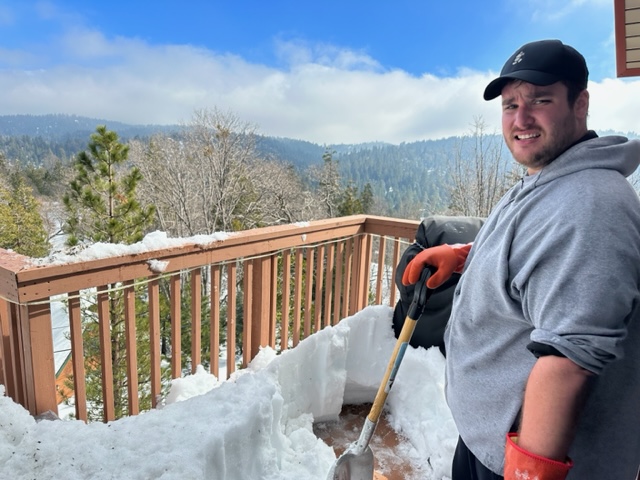 Would you please indulge me for a moment while I praise this amazing guy who is our son? He has been up here for the past two weeks working tirelessly EVERY SINGLE DAY to not only shovel thousands upon thousands of pounds of snow from our parking deck, walkway, and the access road, but on his own he volunteered his time and energy to dig out the gas meters of several of our neighbors' homes to ensure they are uncovered with no gas leaks which might spark fires!
He personally felt so bad about the buckling of our deck but we have assured him over and over it wasn't the priority. Digging out front doors and cars and access to the road so escape routes could be established was far more important than our deck. Truly, no parents could be prouder of his hard work, dedication and willingness to do whatever it takes to get the job done. I honestly don't know what we would have done without him being here during this horrendous weather event.
So there you have it….the most current update from our little corner of the world. Many of you have reached out to us saying that Lake Arrowhead and the San Bernadino mountains have made national news recently. Please continue to pray for those who are still without power, food, or who have not yet been able to reach family or the pets they left behind. Our hearts break for those hurting, starving, or who have lost their homes. 
As for us, while I admit to being truly battle-weary from all the struggles and upheaval we've gone through in recent months, we're on our way to a new and exciting future. It will take time, but we'll get there. We're leaning in to our faith and finding peace amidst the storms of life. We all go through storms; no one is immune. But we can choose how we respond to those storms and we're choosing to take things day by day and look to the Lord for help and endurance. 
Stay tuned for some very happy and exciting updates in a few weeks and I'll continue to post status updates in the days ahead. Thank you all for your prayers and concern. We feel them and appreciate each and every one of you for caring about us. Your thoughts, love and concern have lifted our spirits so much. God bless you!