First, the good news.
I have chosen a winner! I loved reading all the wonderful comments you left on the last post. Thank you all "sew" much for taking time to drop me a note. Oh my goodness, I wish I was independently wealthy and could afford to send each and every one of you who left a comment on my blog, one of my new books Jelly Roll Quilts & More. But since I promised to pick a winner, congratulations go out to Thimbleina — she is the winner of an autographed copy of my book with my sincere hopes she'll be inspired to pull the Jelly Roll out of her cupboard and finally use it! 🙂
Surprise, another winner!
But I was so tickled with the responses to my blog that I chose another winner from the entries; this time, from those folks who contacted me directly through my email address and sent me a photo to share with you all. Congratulations to Robin Fremer — she sent me a photo of this beautiful quilt she made using those luscious Bali Pops. It is lovely!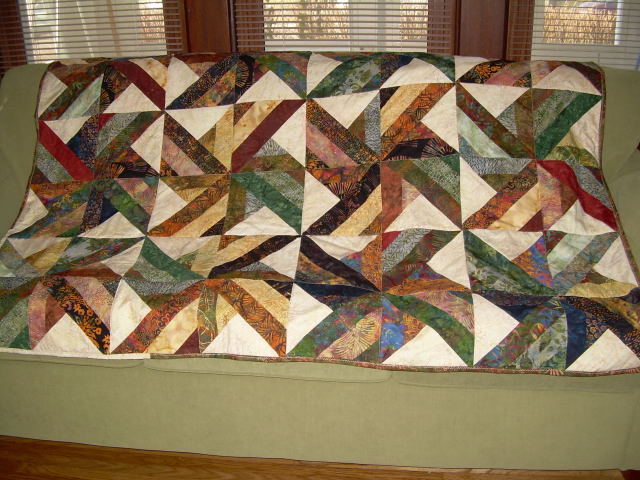 Thank you, Robin and Thimbleina! Please contact me at moc.omnieylrebmiknull@ylrebmiK and send me your mailing address; I'll put a book for each of you in the mail right away. Again, thank you all so much for responding and for all the really kind and encouraging comments about my new book!
And now, the not-so-good news.
I've heard many stories directly from the mouths of nationally known teachers and quilters that they have been a victim of a crime. Quilt theft. As shocking and truly inconceivable as this seems to me, apparently it's true and it happens. And now, it appears to have happened to me. I just wouldn't have thought it was possible.
Two weeks ago, I gave a presentation for a quilt shop open house here in the local area. It was quite crowded — there was standing room only — and everyone was pleased at the enthusiastic turnout of quilters and sewers. The owner of the shop had asked the teachers for the winter and spring season to present their class projects and even though I will be teaching a mystery quilt class in a few weeks (and therefore, didn't have a class project to show) I took quite a few of my little quilts and class samples to share. One of the quilts I took with me, Charming Circles, is featured in my new book. After all the presentations were done I was happy to mingle, meet the ladies, and demonstrate how my rulers work to anyone who was interested in learning my techniques. I happily spread out my quilts across the table and passed them around to anyone who wanted to see them.
At the end of the open house, my husband (I call him my  CEO — which stands for "Carries Everything Out") began to pack up my quilts, samples, and rulers and he asked me if everything was accounted for. I looked through the pile and at that very moment I had a niggling feeling in the back of my mind that "something" was missing. But I honestly couldn't remember what it was. I told him I thought one of my quilts was missing — but I couldn't think of which one. Always the detail-oriented guy, he asked me if I had made an inventory sheet of everything I had brought with me that day, and sadly, I admitted I hadn't taken the time to do so.
Big mistake. Big……huge!
Fast forward to today. This afternoon we were photographing each of the quilts from the book on a quilt rack my Dad built for me. All of a sudden, it hit me like a lightning bolt — my Charming Circles quilt was not in the pile with the other quilts and immediately I knew: it had not come home from the open house! That was it! That was the quilt I couldn't remember and was missing the day we packed up at the shop!
Immediately, I called the shop owner to ask if she had seen the quilt, which sadly, she had not. Just to be sure, we went through every possible nook and cranny it "could" be here at home. But in my mind — no, in my heart, I knew it was gone that day.
I can hardly wrap my mind around the idea someone could have willingly — no, make that knowingly — taken the quilt and stolen it. How could it be possible that someone could feel so "entitled" to just take what doesn't belong to her? Surely quilters — such kind, generous, caring, creative, talented, giving people — could not be so low as to think they can just steal a quilt which doesn't belong to them. How does she sleep at night? How does her conscience allow her to go about her daily routine? Does she have my quilt hanging in her home? Or, guilt ridden, does she have it stashed in the back of a closet or drawer never to see the light of day again; to be enjoyed or inspire someone in the future? It is simply more than I can comprehend or imagine.
And because I was working on such a tight deadline when I made it last winter, I sent the quilt off to my editor without so much as taking a picture of it. Which means, I don't have a photo of my quilt at all. Just this (from the book):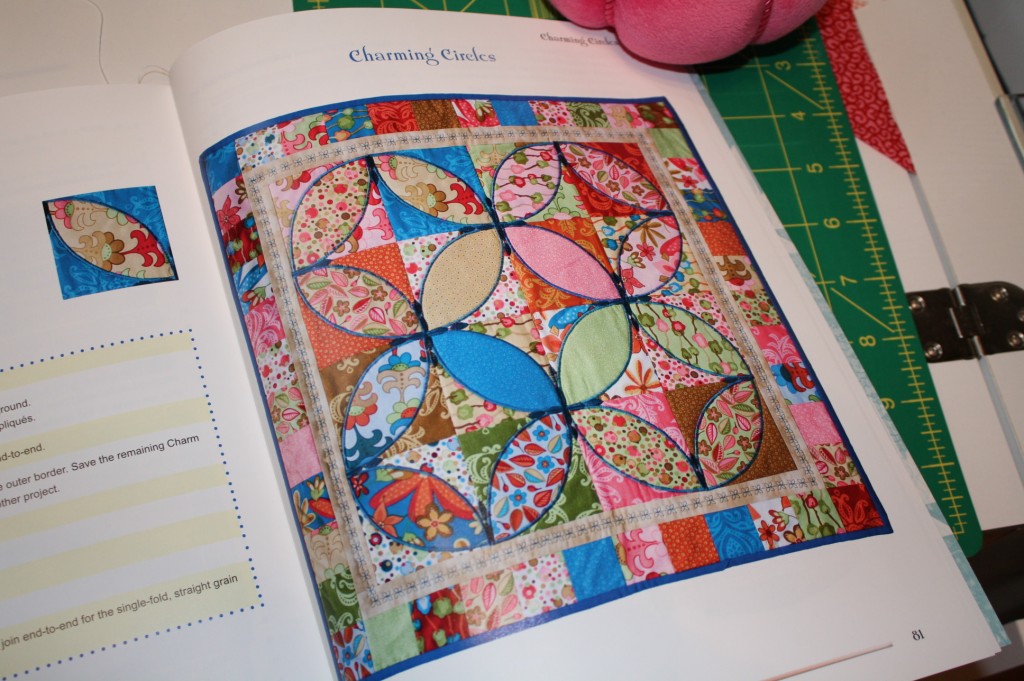 If someone out there is reading my blog and has my Charming Circles quilt, please return it to me. No questions asked. Really and truly. Or if you see my quilt — just ask the person who has it if they would please give it back. I would just like my quilt returned. Sure, the quilt is small (only 22″ x 22″) and no, it hasn't won any awards. But that's not the point. The point is, I made that quilt and it is special to me. It was meant to be part of a collection that would help inspire many other quilters to create a quilt from precuts or scraps. It wasn't yours to take. So please send it back. Think about how you would feel if someone took a quilt you had made. Not too good, am I right?
Well, readers, thank you for letting me vent my frustration and sadness. Gosh, I wish this never had to happen. But it has and unfortunately, it has made me wiser and much more cautious. I hope I don't end up just worrying about the quilts I take to show and share with others, when I should be spending my time simply sharing and caring.
 And now…..the news about ANOTHER giveaway!
My friend Mary at Quilt Hollow was kind enough to put a link on her sidebar about my new book. (Thank you, Mary!) And since she put up the link, I've received quite a few comments about the giveaway. SO……I've decided to open up the comments again and hold a drawing for another book on Friday, January, 22nd. I'll still send out books to the first two winners — but now I'll add another one for you all who are just now finding out about the giveaway. So go ahead — make my day — and leave me a comment telling me why you'd like to win this autographed book! 🙂