As many of you know, 2009 has brought its share of struggles and hardships for our family and me. I've tried hard to overcome the tough times during the long, dark days of winter and regain some much needed momentum in recent weeks. While the rough road is not completely behind us yet, we have clung to our faith and made progress. Things have begun to get better, bit by bit, day by day.
I stumbled upon hope this morning with God's promise that brighter days are ahead – perhaps just around the corner. It happened as I took the dog outside in the back yard for a walk when I first noticed an unexpected glimmer of color amongst the brown blades of grass and washed-out green moss.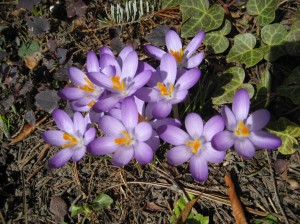 As I looked a bit closer, I noticed a few purple blooms in a small clump poking their heads up through the ground. Right then and there, I said a little prayer to thank the Lord for sending me encouragment that spring is imminent and our future is full of promise – even though we don't have all the answers right now and we can't see what's in store for us in the future.
As I took a few more steps around the corner, I stopped dead in my tracks. This is what I saw: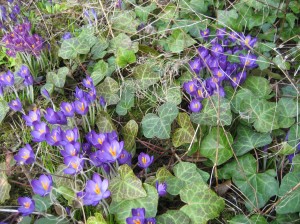 Hundreds of pretty purple posies, forming an ever-growing purple carpet amongst the moss, ivy and grass. I had no idea these spring flowers were even sprouting out of the ground yet, let alone in full bloom! With tears in my eyes, I thanked the Lord again for not only showing me there is hope for the future, but that the future has more wonder in store than I can possibly imagine!
Spring is almost here. I can feel it in my soul!
How can anyone look at these tiny bits of perfect artistry and not feel joy? Here are a few more images I snapped with my trusty Canon PowerShot this morning.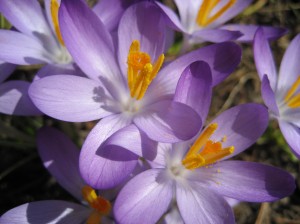 To any of you out there who are feeling down, discouraged, or anxious…..take heart. Spring is on the way, and the sun will shine again. That's a promise!