First, a disclaimer. Thank you all for the comments you left here on my blog and on social media about my previous post. I appreciate your interest and support in my current studio saga. However, I want to be absolutely clear: In the last post I was not maligning Lowe's or suggesting Home Depot is a better option. In fact, my blog wasn't about either home improvement store. It was about finding the right person to help me design a space that works for me. In fact, I had great success in using the custom kitchen cabinetry services at Lowe's in 2012 in Virginia so naturally, this was my first choice for this studio design. And I would have been perfectly happy to use an independent kitchen/bath cabinetry company had I found one near me with competitive prices. I chose Home Depot because of the designer and her willingness and ability to translate my ideas into a functional space.
The Process Continues
While we were in the process of finding the right designer, some other work proceeded as originally planned. I had the green walls painted, the cherry fireplace mantel painted white, and we took out the shag carpeting and had hardwood floors installed to match the existing Brazilian Cherry floors in the rest of the house. 
In early May, six weeks after we had actively begun the process of designing my studio, we placed the order for the Kraftmaid cabinetry. I was contacted shortly afterward and given a date to accept delivery of the cabinets, which was almost 8 weeks from the order date. This was based on the company's orders, workload and construction turn-around time. I was also informed the solid wood cabinets would need at least one week after the date of delivery to "acclimate" to the climate while sitting in our home. Once delivery was confirmed, the installation team (contracted through Home Depot) would contact me to set up an installation date. The would happen within one to two weeks after delivery.
During the next two months, my front room remained a pseudo construction zone of it's own. My cutting island and sewing machine cabinet were there, along with several dozen boxes of my studio supplies. Being the total neat-nick I am, this was not an easy situation to live with. I like things to be tidy, clean and uncluttered and this room — the front room we had to walk through to come and go through the front door — was not easy to cope with day after day. I had to learn to turn a blind eye to the, shall we say, the chaos of moving.
The Curio Cabinet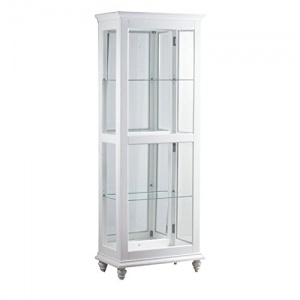 I wanted a curio cabinet to display my collection of antique toy sewing machines in my studio so I set about finding one either through a local furniture store or online. Do you have any idea how difficult it is to find such a thing? Of course, there are thousands of curio cabinets for sale out there. But the one I had in mind had to be modern, sleek, lighted, with a bright white finish. I found only ONE which matched all these criteria online and set about placing the order through Amazon. I was contacted by an independent cargo delivery company shortly thereafter with a delivery date of one week away. I was excited and was up bright and early on the morning it was to be delivered. I stayed home all day, waiting for a delivery or a phone call. Around 4:30pm, I searched to find a phone number for the delivery company but because their office was located on the East Coast, they were closed. I was up early the next morning making phone calls. I finally spoke to a live person on the other end of the line who located my shipment and was told they had tried to delivery it the previous day. I argued, insisting I had been home all day without anyone contacting me either by phone or coming to our front door. After waiting almost an hour on hold, the agent returned and said, "This is being delivered to Manassas, VA, correct?" 
"WHAT? No! It is supposed to be delivered to our home in California!"
The best the agent could do was to reroute the large, heavy box to their warehouse in Baltimore rather than have it delivered and left to the new owners of our previous home. It was a clerical error on the part of Amazon (they had erroneously used my previous billing address rather than the current one) and I'd have to work through them to get the issue corrected. Suffice it to say, it isn't easy to find someone at Amazon to speak to. Almost everything is automated but I needed to get this issue fixed quickly! Because the curio cabinet was sold through a third party seller, it took more than a dozen phone calls over the next two weeks to get the new address updated on my account. I even considered cancelling the shipment altogether. But with the box sitting somewhere in a warehouse in Baltimore, I was told it would be weeks before I would receive a refund since the seller would have to receive the item back at their headquarters. Finally after two more weeks, I was assured the address snafu had been corrected and the curio cabinet would be on its way to California for delivery one week later.
Except it wasn't. 
One week later, I called for a status update for my delivery window and guess what? My curio cabinet was still sitting in Baltimore. More phone calls. More pie-crust promises (easily made, easily broken). This went on for another five weeks. Five weeks of phone calls, broken delivery dates, assurances the curio cabinet was on it's way to California. And yet, it continued to sit in Baltimore. By this point, I had too much money, effort and time invested to let this go. I spoke to supervisors. I spoke to supervisor's supervisors. And always, I was promised it would be shipped. FIVE WEEKS. (And yes, we completely saw the irony of the timing of the five weeks in correlation to how long it took to find the right designer.)
On the sixth week, I received a call that the curio cabinet had arrived in Ontario, California. But there was a problem. (Big surprise.) They weren't sure exactly which boxcar it was in and didn't know when any of the suspect boxcars would be unloaded. 
Sigh. 
Ultimately, it would be yet another two weeks before the curio cabinet finally made it's way to our garage. I wasn't even home at the time but fortunately our son accepted delivery when they showed up to delivery the curio cabinet. There was another hitch. It arrived in pieces and would need to be assembled. But lucky for me my guys got right to work and had it assembled in no time. There's a silver lining to every cloud!
The cabinets arrive
After almost two full months, the cabinets were finally delivered to our home. The delivery team stationed them in the front room and they waited there for a little more than a week while becoming acclimated to the new climate. 
Next up: Installation begins and other issues.